The government has legalized the sale of CBD products. But it doesn't regulate them.
Most states don't regulate them. Some industry groups or publications issue awards and certifications, but they don't have any power to regulate, either.
So how do you know what companies to trust, and which ones make the best CBD products for medical conditions, health, and wellness? Specifically, how do you know whether Blue Moon Hemp is any better – or any worse – than the "next guy?"
It's not easy. There are literally hundreds of producers who flooded the market after CBD was legalized in 2018, and many who've been around much longer than that. Most make big claims for their products, but there's no way for a consumer to verify them. And there's no way to try all of them, especially since it can cost $50, $100, or $200 just for a bottle of CBD oil.
What you have to do is dig into the details. What's the company's background and governing philosophy? What type of experience do their founders and employees have in hemp farming, cannabidiol extraction (cannabidiol is the full name for CBD), and organic product production? Exactly what is in their products, and how are they manufactured?
That's what we do in creating these reviews. We dig into the details.
And the details of how Blue Moon Hemp sources, designs, and produces its CBD products are interesting – considering their relatively low prices.
Here's what we've found.
Blue Moon Hemp: The Background
When you're trying to unearth details about a company, transparency is a very good sign. Blue Moon Hemp is pretty forthcoming about the processes that it uses to produce CBD but strangely quiet about who's behind the company or what their backgrounds are. We know that the CEO is named David Fleischer because he appeared at an industry event on behalf of Blue Moon Hemp a few years ago. But that's about it.
As for the company itself, we know that it started operating in 2015. We know that its operations are based in Kentucky, where hemp farming standards are among the strictest in America (although their administrative headquarters are in Florida). We know that Blue Moon Hemp provides good customer service and offers discounts to service members.
We also know that the company's sold a lot of CBD; they brag about having sold more than a million bottles of oil, as they do about winning the "Best Hemp Company" award at the 2019 Cannabis Awards. We don't know, though, whether the award was based on the quality of their products or their business model.
But that's about it. Blue Moon Hemp says nothing more about the company, just that its goal is producing high-quality cannabidiol products that are affordable for all customers.
Thankfully, the company is more transparent about the methods they use to manufacture those products.
Blue Moon Hemp: The Approach
The fact that Blue Moon Hemp uses only Kentucky-grown hemp is already a good sign. What's even better is that they purchase only from a single non-GMO organic farm, which grows only one strain of hemp. That ensures consistency throughout their production and product lines, an excellent quality if you've ever bought CBD (or weed) and said "hmmm, that wasn't as good as it was last time."
The cannabidiol used in Blue Moon Hemp products is CBD isolate, meaning that all of the other components naturally present in hemp have been removed. Some people like that approach, because hemp contains a minuscule amount (less than 0.3%) of psychoactive THC. That's nowhere near enough to get you high, but may occasionally (very rarely) cause a positive drug test.
However, hemp contains a number of other cannabinoids as well, plus the terpenes and flavonoids that determine its taste, aroma, and color. Removing everything but the CBD nullifies what's called the "entourage effect," the ability of the other components to boost the potency of CBD. In short, CBD isolate isn't as effective as full-spectrum CBD that contains all of the hemp's components.
One more thing: the company describes its products as being "rich in cannabinoids and other beneficial compounds," even though it also brags about using CBD isolate. Both can't be true.
There's one more question to be asked: why does Blue Moon Hemp use the cold press method to extract cannabidiol from its hemp? That process removes more of the CBD's potency than the supercritical CO2 or standard CO2 method used by almost all premium CBD producers.
We don't know for sure, but our guess is they've chosen cold press extraction because it's less expensive – and one of the company's prime selling points is that their prices are lower than their competitors'. That could also be the reason that they use hemp oil as a carrier, rather than a more effective and more expensive MCT coconut oil. Hemp oil isn't a bad choice, it's just not the best one. We should note that the other ingredients added to Blue Moon Hemp's products are natural, which is certainly important.
This all leads us to one basic conclusion. The company uses production methods that are pretty good and definitely safe, but not good enough to place them on the top rung of providers. However, if you're shopping for less expensive CBD products – and these are definitely cheaper than many of the high-end products on the market – Blue Moon Hemp is a good choice.
Blue Moon Hemp CBD Oils and Capsules

This company isn't best known for its CBD oils. Since oil is the most popular product category among consumers, though, we'll tackle Blue Moon Hemp's oils first.
These are all CBD isolate products, so they don't have the entourage effect that makes CBD as effective as possible. Add the fact that the cannabidiol is extracted via a method that doesn't optimally preserve potency, and you end up with CBD oil that's not as strong as many competitive products.
Blue Moon Hemp makes up for it on the other end, though, by selling an assortment of potencies much higher than most of those competitors. Their oil (labeled as tincture) is available in 17mg/ml, 33mg/ml, 67mg/ml and 100mg/ml strengths. That collection is noteworthy, in part, for containing no low-potency options. But when you allow for the decreased strength inherent in their products, that's a pretty good range of choices.
The oils are all available in berry, peppermint, and natural flavors, the first two containing "natural flavorings" without further description.
The same ingredients (CBD Isolate and organic MCT oil) are also available in gel caps, with each capsule containing 25mg of cannabidiol. The company doesn't say what the capsules are made of, so we assume that they're not necessarily vegetarian or vegan.
Blue Moon Hemp CBD Vape Products

Here's the product this company is best known for CBD vape juice. It's produced with CBD isolate, the ingredients to make it vapable (propylene glycol and vegetable glycerin), and "natural flavorings." The available flavors are Kush (flavored like the pot strain), Red Devil (a mix of tropical flavors), Mango Moon (mango and peach), Flan (caramel and vanilla), and Pure (with natural hemp flavor).
These vape juices all have a fairly high concentration of CBD, at 33mg/ml. They are not meant to be administered sublingually (under the tongue), the way that regular CBD oil is dosed.
Additionally, the company is one of the few to offer CBD for weed-style consumption. There's CBD isolate shatter (Pineapple Express, Blueberry OG, and Sour Diesel) with added terpenes to simulate the effects of either Indica or Sativa strains, and full-spectrum hemp flower (Bubba Kush, Sour Space Candy, and Cowdaddy Crush). Blue Moon Hemp also sells Kratom capsules.
Blue Moon Hemp CBD Gummies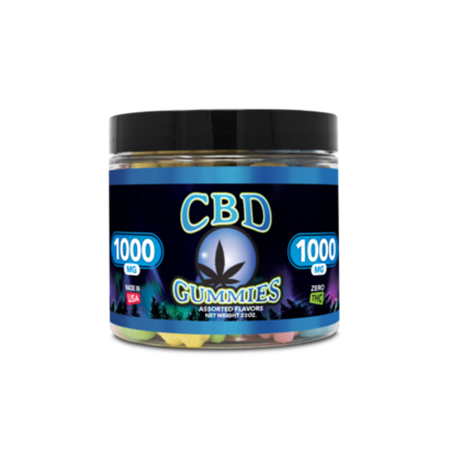 These gummies actually taste pretty good, with an assortment of sweet-and-sour natural flavors in various shapes (drops, worms, and bears). Each is infused with seven milligrams of CBD isolate, and the ingredients used for taste, color, and consistency are all-natural.
The second variety of Blue Moon Hemp gummies contains ten milligrams of CBD, along with five milligrams of sleep-encouraging melatonin, for use at bedtime. Both varieties of the gummies are sold in several sizes of jars and pouches.
Blue Moon Hemp CBD Topicals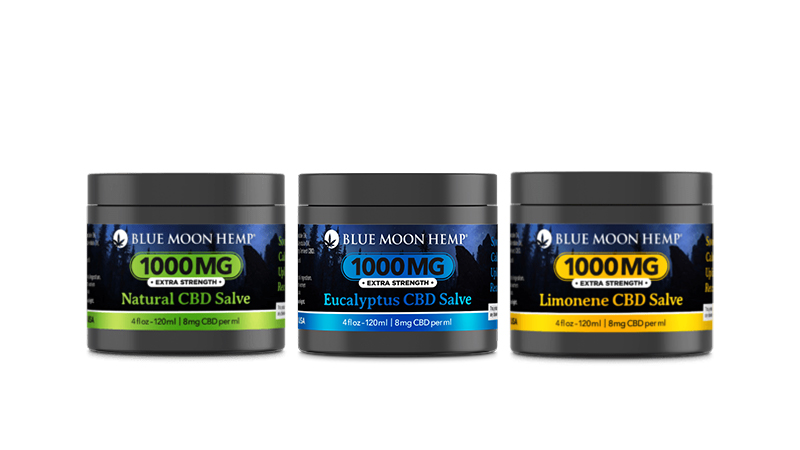 There's just one type of CBD topical on the menu, and it's a salve sold in three varieties. The "natural" salve contains an assortment of natural and essential oils as well as CBD isolate; the limonene salve has a pleasant orange-y aroma, and you can guess what the eucalyptus salve smells like. The latter has the added benefit of helping to alleviate muscle and joint pain.
Blue Moon Hemp CBD for Pets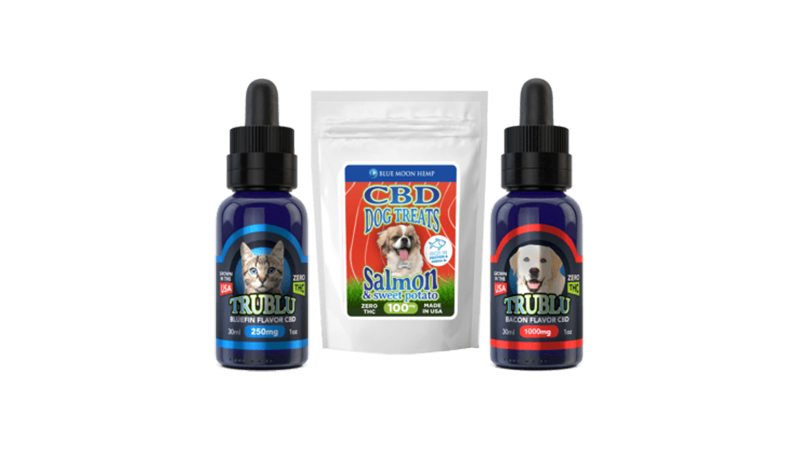 The final entries from Blue Moon Hemp are CBD pet oil and dog treats. The CBD isolate oil is available in natural bacon flavor for dogs (with a choice of 33mg/ml, 17mg/ml, and 8mg/ml) and natural tuna flavor for cats (the only option is 8mg/ml). Those are very strong oils for smaller pets, so tread lightly with the dosages until you know how yours will react.
The dog treats contain 5mg of CBD isolate per treat. In a thoughtful design touch, the flavorings actually come from real salmon and sweet potato, providing the omega-3 fatty acid benefits of salmon, and the vitamins and fiber contained in sweet potato.
Blue Moon Hemp: The Verdict
Blue Moon Hemp's CBD products are much less expensive than those sold by high-end vendors that you'll find online, or even in your local CBD store. In fact, some are as much as 50% cheaper.
The company claims that's possible because they buy ingredients in bulk. But as we've speculated, the real reason may be that the company takes some short cuts in their production methods.
In any event, none of the short cuts make Blue Moon Hemp CBD less safe; they just make the products a little less effective than those produced with fully-optimal methods. What's important, to our minds, is that the products are good – and definitely a good value.
We wouldn't put Blue Moon Hemp on our shortlist of the best CBD producers. But they're a very good vendor to check out if you don't want to spend top dollar for CBD oil, vape juice, or other products.