CBD oil is being advertised as the next holy grail of skincare products. Companies infuse CBD into creams, gels, lotions, massage oils, bath bombs, and more. CBD is extracted as oil or powder and then typically mixed with a carrier oil like olive, hemp, or coconut oil — all of which boost the absorption and effectiveness of this compound.
The reason why CBD oil has become popular in skincare lies in its interaction with the human endocannabinoid system (ECS). When applied orally or topically (to the skin), it can tackle skin problems from different angles, revitalizing the skin and even easing some disorders
More importantly, the above is reflected in scientific evidence, which suggests that CBD may be an effective way to treat acne, eczema, or psoriasis.
CBD oil is legal in all 50 states under 2018, so in this article, we'll explore the potential benefits of CBD for skincare — and point you in the right direction to finding the best brands whose products actually work.
CBD Oil for Skin: Best Products in 2022
1. Royal CBD (Overall Winner)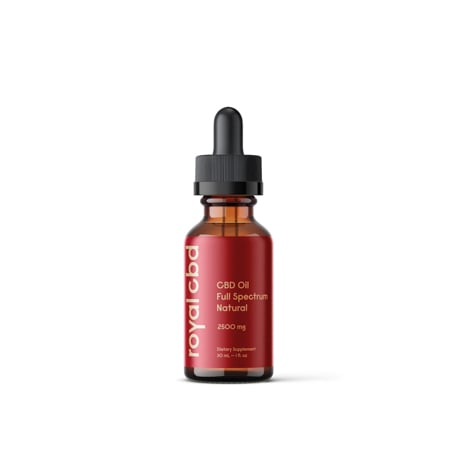 Product Details
Pros
Cons

Made from locally grown organic hemp
Extracted with supercritical CO2
Infused with full-spectrum CBD
Available in 4 strengths and flavors
Up to 2500 mg of CBD per bottle
3rd-party tested for potency and purity
Great natural flavor

Not available in local CBD stores (this may soon change)
No vapes in its product line up
Why We Recommend Royal CBD Oil for Skin Care
Royal CBD specializes in making full-spectrum CBD extracts from organic hemp. The plants used for the production of Royal CBD oils are sourced in Colorado, which is known for some of the best conditions for growing hemp. The company uses CO2 extraction to ensure the highest purity and consistent potency of its products with no toxic solvents on the way. The entire Royal CBD lineup is meticulously tested in a certified laboratory for purity and declared CBD potency.
We have two favorite products from Royal CBD when it comes to skincare: the full-spectrum oil and broad-spectrum salve.
The oil comes in 4 strengths — (from 250 mg to 2500 mg of total CBD — and 3 flavored options (Berry, Mint, and Vanilla). This product is made from the whole hemp plant, meaning it contains all the non-psychoactive cannabinoids, traces of THC (less than 0.3%), terpenes, and flavonoids. These substances create the entourage effect, which is a synergy between all phytonutrients from hemp, making them more effective together than in isolation.
The salve is infused with 500 mg of broad-spectrum CBD, containing all of the above except that there's no THC in the formula. The salve is also infused with a cayenne pepper extract to enhance the anti-inflammatory and painkilling properties of cannabidiol. It has a nice warming effect and actually makes a difference when it comes to skin health.
2. Gold Bee (Best Organic)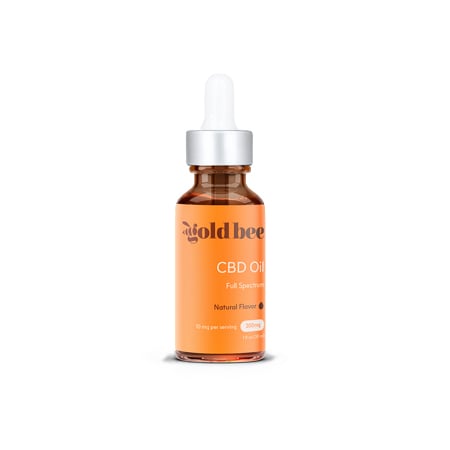 Product Details
Pros
Cons

Sourced from US-grown organic hemp
Contains full-spectrum CBD
Up to 33 mg CBD/mL
Great potency range for beginners
Third-party tested for potency and purity
Great honey flavor

No high-strength CBD oils
Why We Recommend Gold Bee CBD Oil for Skin Care
Our runner-up company offers unique CBD oils infused with a delicious fruit & honey flavor that masks the botanical taste of natural hemp extracts. This is actually one of the best-tasting CBD oils we've tried during our 8-year long history with CBD products. The guys at Gold Bee have created their blend of organic CBD-rich strains by partnering with farmers from Colorado.
Gold Bee has 3 concentrations of CBD oil: 300 mg, 600 mg, and 1200 mg of CBD per bottle. Similar to Royal CBD, these are full-spectrum oils, so you're getting the synergy from the whole hemp plant. Studies have shown that full-spectrum CBD is superior to CBD isolate when it comes to inflammation and pain, so these are good products if you're looking for something to deal with skin problems — and for a general skincare routine.
We hope to see some CBD topicals from Gold Bee in the future.
3. CBDistillery (Runner Up)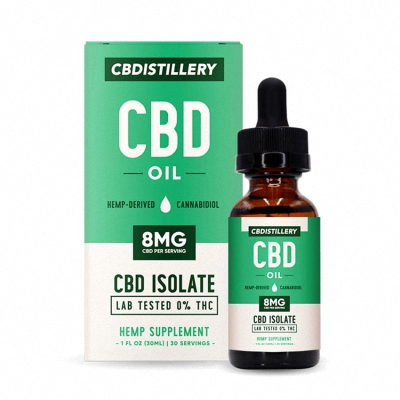 Product Details
Pros
Cons

Available as full-spectrum or broad-spectrum CBD
Extracted with CO2
5 potency options to choose from
Up to 166.6 mg of CBD per bottle
Third-party tested for potency and purity
Very affordable

Made from non-organic hemp
No flavored options
Why We Recommend CBDistillery CBD Oil for Skin Care
CBDistillery was one of the first companies to enter the CBD market in 2015. Since then, the brand has not only become one of the largest CBD providers in North America, but it also managed to grow its product selection and master their formula while maintaining quality. On top of selling an impressive range of different CBD products — available as full-spectrum or broad-spectrum CBD (pure oil) — CBDistillery also has a hashtag #CBDMOVEMENT, under which they provide education to their community.
One of the great things about CBDistillery is freedom of choice. CBDistillery covers the entire potency range for CBD oils, from 250 mg to a massive 5000 mg of total CBD. At 166 mg of CBD per milliliter, the strongest bottle provides enough CBD to get you supplied for months to come — or help you deal with more serious skin problems.
CBDistillery offers the most affordable products. Prices start at $20 per bottle of CBD oil (250 mg).
4. CBD Pure (Good Value)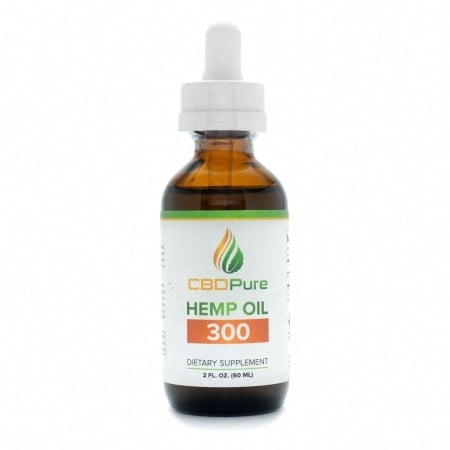 Product Details
Pros
Cons

Sourced from organic Colorado-grown hemp
Extracted with supercritical CO2
Lab-tested for potency and purity
90-day return policy

Only two forms of CBD available
Low potency
Why We Recommend CBD Pure CBD Oil for Skin Care
In our opinion, CBD Pure is the best company for those who have never used CBD oil for skincare. The potency of these oils is great for beginners, starting at 100 mg of CBD per bottle up to the recently added 1000 mg concentration. The newest product caters to those who already have some experience with CBD but don't take more than 30 mg daily.
CBDPure's products are designed for mild-to-moderate skin problems, so if you're looking for something more concentrated, we recommend that you choose something from the two above brands. One thing is certain: you won't be disappointed with the quality of its CBD oil. CBDPure is a living example of transparency, plus they have a 90-day return policy that allows you to get a full refund for your product if you're not satisfied with the results.
You can also try out CBD Pure's cream for an all-around skincare approach.
5. Charlotte's Web (Best Variety)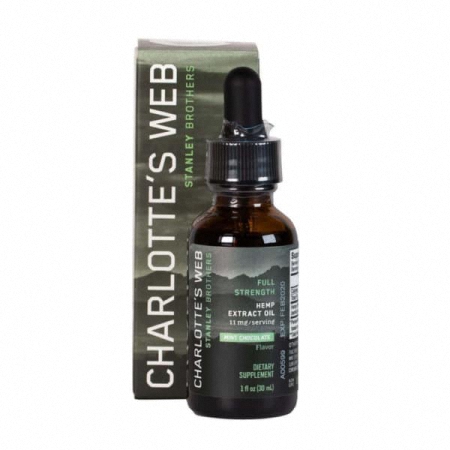 Product Details
Pros
Cons

Sourced from U.S.-grown hemp
Third-party tested for quality
Broad selection of products
Well-known brand
Veteran discount

Non-organic hemp
Olive oil extraction
Why We Recommend Charlotte's Web CBD Oil for Skin Care
Charlotte's Web was started by the Stanley Brothers who also contributed to the global CBD rush. The brothers have helped a young girl (now late) Charlotte Figi reduce her seizure attacks from several a day to one case a week. These were the times when cannabis was seen as a drug by most parents. Since then, parents have become the most supportive group when it comes to cannabis legalization in the United States Charlotte's Web uses an olive oil extraction technology to produce its CBD oils, which is thought to be inferior to CO2 but more "natural." The unique extraction method, along with a wide range of high-quality products, has made Charlotte's Web one of the most reputable brands on the market.
CBD and Skin Disorders: A Brief Overview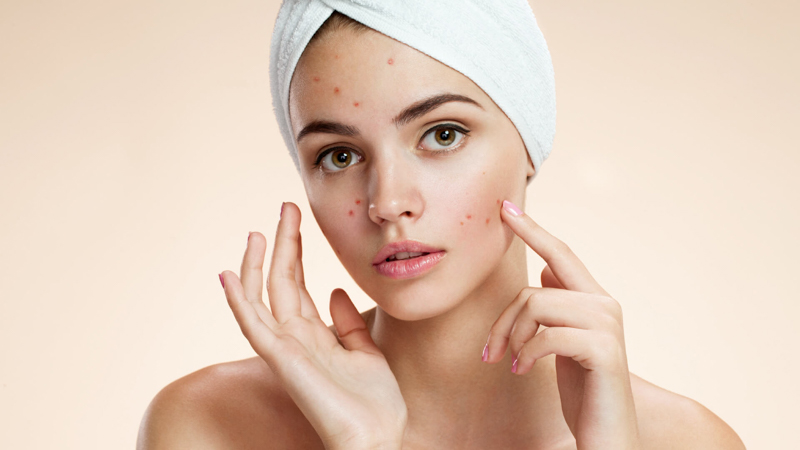 The majority of skin disorders aren't life-threatening. They do, however, negatively affect the quality of patients' life (1).
Skin disorders can profoundly impact the way patients look at themselves and their future lives. Some people develop avoidance-coping mechanisms, even if they aren't suffering from any symptoms at the moment.
According to one study, people with skin ailments have a lower-than-average quality of life and psychological functioning compared to healthy subjects. They are also at a higher risk of developing depression, anxiety disorders, and suicidality (2).
In a 2019 study, the authors revealed that cannabidiol (CBD), the non-psychoactive substance of the cannabis plant, helps the body maintain the homeostasis of the skin on top of improving barrier formation and regeneration (3).
As mentioned, research also pointed to CBD as an effective way to improve atopic dermatitis, scleroderma, acne, psoriasis, hair loss, keratin disorders, itching, tumors, and pigmentation disorders.
CBD has been shown to help treat different types of skin cancer, including Kaposi sarcoma. It can also help relieve the symptoms of hidradenitis suppurativa, a skin disorder that involves painful bumps under the skin (4).
Another 2019 study has discussed the efficacy of CBD-infused cream as a topical treatment. The authors concluded that CBD is safe and non-invasive, especially for people suffering from inflammatory skin conditions (5).
Below we focus on the mechanisms of action behind the health benefits of CBD oil for skincare.
How Could CBD Oil Help Improve Skin Health?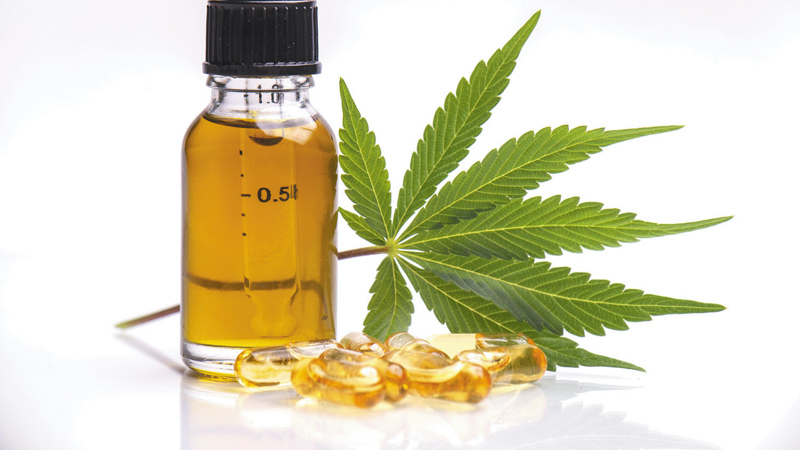 The research into the benefits of CBD oil for skin is in the early stages, but we already have some interesting news for you.
When it comes to skincare, CBD and other cannabinoids are beneficial antioxidants and anti-inflammatory agents. We also know that CBD oil contains a wide range of other nutrients, such as B-complex vitamins, essential fatty acids, and trace minerals.
Earlier in the article, we've mentioned that humans have an endocannabinoid system (ECS). The ECS is the major regulatory structure within our bodies; it helps the body maintain an internal balance between all essential functions (homeostasis). The skin has its own endocannabinoid system, which keeps various systems and organs in the body in good health.
The major cause of most skin disorders is some kind of imbalance that manifests itself in inflammation. CBD can help restore that balance through its interaction with the ECS — hence its versatility in skincare products.
In the next section, we share the most common effects of CBD oil on the skin.
CBD Oil for Wrinkles and Anti-Aging
CBD is a phytonutrient — it comes from a plant — so it's not surprising that it comes with antioxidant properties (6). The antioxidants in CBD can help a topical product lessen the noticeable signs of aging by counteracting damage done by free-radicals. They also reduce the look of inflammation, so CBD anti-aging creams can diminish problems like skin dullness, ruddy tone, or wrinkles.
Of course, you can use CBD along with plenty of other antioxidants to boost the health benefits of CBD. There is no "the best" antioxidant to seek out. You should rather focus on finding the most effective combination of antioxidants in one product to maximize their positive effect on the health of your skin.
CBD Oil for Sensitive Skin
Another positive effect of CBD oil on the skin is its soothing potential, especially for sensitive skin (7). It has substantial skin-normalizing and skin-calming properties that can minimize problems with skin sensitivity, redness, and reactivity. CBD's soothing effects can also help keep everyone's skin in check, as all skin types are affected by environmental stressors.
CBD Oil for Acne-Prone Skin
Acne is an inflammatory condition. Although many factors can trigger acne, applying anything that has anti-inflammatory effects and helps soothe the skin is likely to reduce acne-related redness and breakouts.
Multiple studies have shown that CBD oil has remarkable anti-inflammatory effects when applied to the skin. This makes CBD a decent ingredient for acne-prone skin.
Researchers have also found that CBD can decrease excess sebum (oil) production due to its balancing effect on the flow of skin's oil through the endocannabinoid system (8).
Still, more conclusive, longitudinal studies are needed to confirm these preclinical findings.
What Skin Conditions is CBD Oil Best for?
CBD's antioxidant and anti-inflammatory properties allow it to address issues with inflamed and irritated skin.
According to Awais Spall, a chemist and cannabis researcher with a background in skincare, CBD is a promising compound when it comes to the treatment of a wide range of skin disorders.
"Many people dealing with rosacea and eczema have found CBD to be helpful in stopping the inflammatory cascade of itching and dryness. CBD can also be effective in moisturizing dry skin, improving cell regeneration by upregulating cell-turnover, and reduce pain and itching by easing inflammatory nerve pathways known as transient receptor potentials."
Conditions that can be potentially alleviated by using CBD include:
Acne
Eczema
Ichthyosis
Hives
Psoriasis
Rosacea
Seborrheic dermatitis
Atopic dermatitis
Dandruff
How Does CBD Work in Skin Care Products?
Dr. Spall explains that CBD's protecting and balancing effects primarily come from its interaction with the endocannabinoid system and cross-engagement of these paths with various other receptors in the body.
"We've recently discovered that the outer layer of our skin, the epidermis, has a dense network of CB1 and CB2 receptors. CBD interacts with these pathways and other nerve pathways across the epidermis and dermis," says Awais.
For example, when you apply CBD topically, it signals the endocannabinoid system to modulate the activity of CB1 and CB2 receptors, producing anti-inflammatory, neuroprotective, antioxidant, and painkilling effects.
Speaking of different routes of administration, let's take a look at the most effective ways to take CBD oil for skincare.
How to Take CBD Oil for Skin Care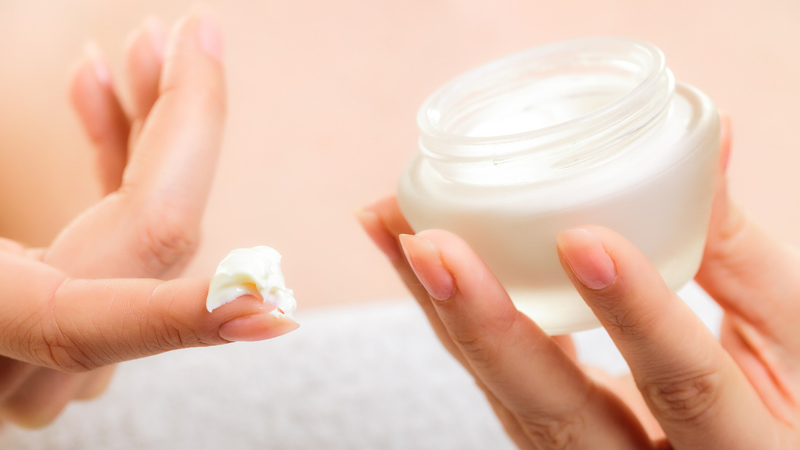 CBD oil is available in many different forms. Choosing the right product for skincare depends on your goals with CBD and the problem you want to address.
If you want to treat your skin from the outside or relieve localized problems, CBD topicals like creams and lotions will be your best bet. As mentioned, the topical application causes CBD to engage with the cannabinoid receptors located in the skin's endocannabinoid system.
For regular supplementation, or when the problem derives from inflammation or imbalances within the body, it may be worth considering a sublingual or oral product, such as oil or CBD Gel Caps. Some people also vaporize CBD since this method provides the highest bioavailability and fastest onset of effects. For example, this woman from the UK allegedly won against eczema using CBD vape pens daily.
Capsules and edibles are good if you don't want to take CBD oil sublingually or inhale the thinners from a vape pen's cartridge. These forms of CBD provide longer-lasting effects — up to 8–10 hours — but have a delayed onset. Oral products usually demonstrate their effects after around 40–120 minutes from ingestion.
How to Find the Right CBD Product for Skin Care
With so many CBD products for skincare available, you need to do your homework about any company you're about to hand out your hard-earned money. There are a few steps you can take to ensure that you're buying a high-quality product, including:
Pay attention to labels. The only INCI-compliant term for CBD is "cannabidiol", not CBD oil or hemp seed oil.
Reputable brands selling CBD skin products list the total CBD content in milligrams, adding instructions, and recommended servings per use. This is a sign that you're buying from a legitimate company, although there is no one-size-fits-all CBD dosage per skin application; we just know skin contains receptor sites that respond to cannabidiol and can interrupt the signals that cause skin problems.
Look for third-party certification on the purity and potency of the CBD product to ensure you're getting what the company claims.
Purchase products in stable packaging. Steer clear of jars, clear bottles, or any containers that expose this delicate phytonutrient to excess light or air, which causes it to lose potency.
Choose full-spectrum products. Full-spectrum CBD evokes synergistic effects from all of the hemp compounds, known as "the entourage effect." In other words, the above compounds enhance the effectiveness of CBD by amplifying its positive effects while diminishing any unwanted reactions. If you're afraid of taking even trace amounts of THC in your CBD oil — full-spectrum CBD contains 0.3% or less — you can choose a broad-spectrum product, in which the THC was purged after initial extraction. For those allergic to other compounds from hemp, CBD isolate will be the best option. Isolates contain pure CBD that has been separated from the other substances.
CBD for Pet Skin Problems: Does It Work?
All animals, except insects, have an endocannabinoid system that works the same way regardless of species. A study on mice has shown that CBD could support the body in lowering allergic inflammation. The study has also highlighted the protective mechanisms of the endocannabinoid system in contact allergy in the skin.
If you believe your dog or cat could benefit from CBD, consult the idea with a veterinarian knowledgeable about CBD oil and cannabis in general.
Final Thoughts on Using CBD for Skin Care
Skin conditions have a negative impact on the quality of lives of patients who have been diagnosed with them. These ailments affect both the way patients look at themselves and the way they perceive their future.
Several studies have shown that CBD can help ease these skin disorders without any adverse effects.
Thus, it's safe to assume that CBD can be added to one's skincare routine without health concerns. Aside from soothing irritated skin, moisturizing it, and improving the regeneration of skin cells, CBD can help with a wide range of skin conditions.
However, there is no standard dosage for CBD. Figuring out the right amount of CBD for your situation is an experimental process. Patients or pet owners who are planning to use CBD for themselves or their pets should make an appointment with their doctors or veterinarians prior to purchases.
Do you use CBD oil for skincare? Are you happy with the results? Share your stories in the comments!
References:
Tóth, Kinga Fanni et al. "Cannabinoid Signaling in the Skin: Therapeutic Potential of the "C(ut)annabinoid" System." Molecules (Basel, Switzerland) vol. 24,5 918. 6 Mar. 2019, doi:10.3390/molecules24050918
Ibid.
Tóth, K. (2019 Mar. 6). op. cit.
Eagleston, Lauren R M, et al. "Cannabinoids in Dermatology: a Scoping Review." Dermatology Online Journal, U.S. National Library of Medicine, 15 June 2018, www.ncbi.nlm.nih.gov/pubmed/30142706.
Palmieri, B, et al. "A Therapeutic Effect of Cbd-Enriched Ointment in Inflammatory Skin Diseases and Cutaneous Scars." La Clinica Terapeutica, U.S. National Library of Medicine, 2019, www.ncbi.nlm.nih.gov/pubmed/30993303.
Atalay, Sinemyiz et al. "Antioxidative and Anti-Inflammatory Properties of Cannabidiol." Antioxidants (Basel, Switzerland) vol. 9,1 21. 25 Dec. 2019, doi:10.3390/antiox9010021
Tóth, Kinga Fanni et al. "Cannabinoid Signaling in the Skin: Therapeutic Potential of the "C(ut)annabinoid" System." Molecules (Basel, Switzerland) vol. 24,5 918. 6 Mar. 2019, doi:10.3390/molecules24050918
Oláh, Attila et al. "Cannabidiol exerts sebostatic and antiinflammatory effects on human sebocytes." The Journal of clinical investigation vol. 124,9 (2014): 3713-24. doi:10.1172/JCI64628