The higher the CBD content, the less of it you need to hit the higher doses of CBD.
People with more severe health concerns have a lot to benefit from using stronger CBD oils.
However, just because a CBD oil lists a higher number of CBD on the bottle doesn't mean it's the strongest. There are other factors to consider — such as what other compounds are included in the formula, how it was made, and what carrier oil is used.
In this guide, we'll share with you some of the strongest CBD oils we've tried. We'll also teach you what to look for when shopping for high-potency CBD oils in 2022.
Our Top 5 Strongest CBD Oil Recommendations
Royal CBD's 2500 mg CBD Oil — Editor's Choice, Best Overall
Gold Bee's 2400 mg CBD Oil — Runner-Up
CBDistillery's 5000 mg CBD Oils — Best Value
Charlotte's Web's 60 mg/1mL — Most Popular Brand
CBDPure's 1000 mg CBD Oil — Easiest for Beginners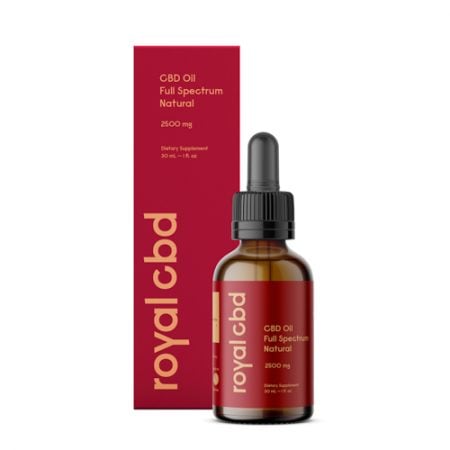 Rating: 5
Royal CBD has always been the go-to for many CBD users. They are, after all, one of the most trusted brands in the market.
Royal CBD carries its own high-potency CBD oil. At 2500 mg of full-spectrum CBD oil per 30 mL bottle, a single serving of this oil provides a high-dose of 83 mg CBD.
Their high-potency CBD oil is perfect for people with mild to moderate symptoms. This is a popular option for people suffering from chronic pain, muscle spasms, sleep problems, stress, and anxiety.
What we love about this brand:
2500 mg of full-spectrum CBD oil extracted from organically-grown hemp
83 mg of CBD per serving
Gluten-free, non-GMO, all-natural ingredients
Natural flavor
Laboratory-tested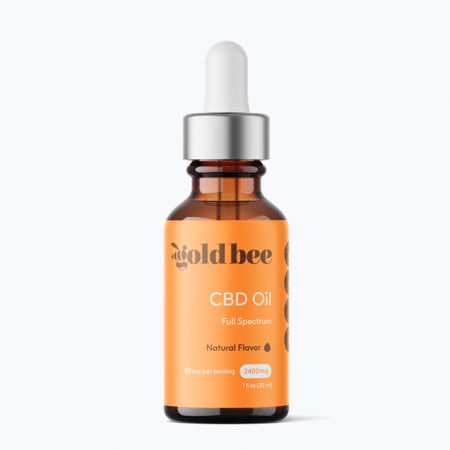 Rating: 4
Gold Bee's strongest CBD oil may not be as potent as the first CBD oil, but it most definitely deserves a spot on our list.
What makes this oil particularly potent — despite having a lower CBD content compared to other products on this list — is the exceptionally high concentration of terpenes in the oil. Terpenes like bisabolol, myrcene, and linalool provide an added boost to the various health benefits of this oil.
One 30 mL bottle of Gold Bee's CBD oil contains 2400 mg of full-spectrum CBD oil suspended in organic MCT oil.
What we love about this brand:
1200 mg and 2400 mg of full-spectrum CBD oil
A high concentration of terpenes in the oil
Extracted from US-grown, 100% natural hemp
Available in two flavors — kiwi with honey and natural hemp
Third-party lab tested
3. CBDistillery 5000 mg CBD Oil — Best Value

Rating: 4.5
CBDistillery offers the strongest CBD oil in terms of raw CBD content at 5000 mg per 30 mL bottle. The compounds are suspended in fractionated coconut oil to increase bioavailability and facilitate better absorption.
This CBD oil is one of the most potent on our list, with one full serving giving you 167 mg of full-spectrum CBD.
CBDistillery's maximum-strength CBD oil helps relieve persistent pain made worse by chronic inflammation. It also helps reduce mood problems and lessen stress and anxiety. Their CBD oil is perfect for people suffering from moderate symptoms.
What we love about this brand:
5000 mg of full-spectrum CBD oil
167 mg of CBD per serving
Non-GMO, naturally-cultivated industrial hemp
Natural flavor
Third-party tested
4. Charlotte's Web 60 mg/1 mL — Most Popular Brand

Rating: 4
Charlotte's Web carved a niche for itself in the industry after the founders created their own CBD-rich cannabis strain to help a little girl suffering from a rare and severe form of epilepsy.
Even now, Charlotte's Web remains one of the most recognizable brands in the market.
The strongest CBD oil this company offers comes in two sizes — 30 mL and 100 mL bottles. One serving gives you 60 mg of full-spectrum CBD oil sourced from all-natural, USA-grown hemp.
What we love about this brand:
1800 mg of full-spectrum hemp extract
60 mg of CBD per serving
No additives or artificial dyes
Available in four flavors — orange blossom, lemon twist, mint chocolate, and olive oil
Third-party tested
Charlotte's Web's CBD oil works best for people with mild to moderate health problems. It helps relax the body after a tiring day, ease stress, and decrease pain and inflammation.
Because it's made from whole-plant extract, you also benefit from the entourage effect. This is a concept where the entire range of compounds produced in the cannabis plant (cannabinoids, terpenes, amino acids, fatty acids, etc.) work together to produce a stronger action than any of these compounds on their own.
5. CBDPure 1000 mg CBD Oil — Great Option for Beginners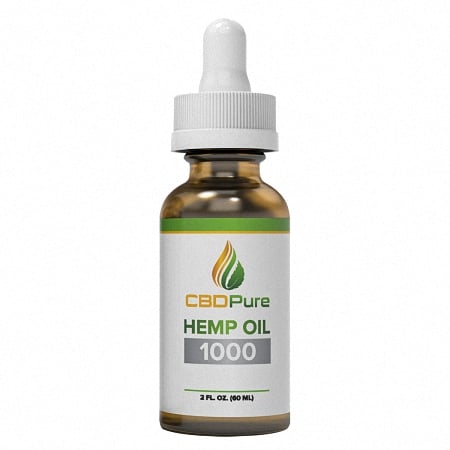 Rating: 3
This CBD oil is strong, but not nearly as strong as the other options on our list. This makes it a little better for people new to CBD who likely need a higher dose — but aren't yet sure how their body will respond to high-strength CBD.
These 30 mL bottle contains 1000 mg of premium-grade, full-spectrum CBD oil extracted from organic hemp. One dropper gives you enough cannabinoids and terpenes to provide relief for several hours at a time.
What we love about this brand:
1000 mg of full-spectrum hemp extract per bottle
33 mg of CBD per serving
No preservatives or artificial flavorings
Natural flavor
Third-party tested
What are the Benefits of Using a Strong CBD Oil?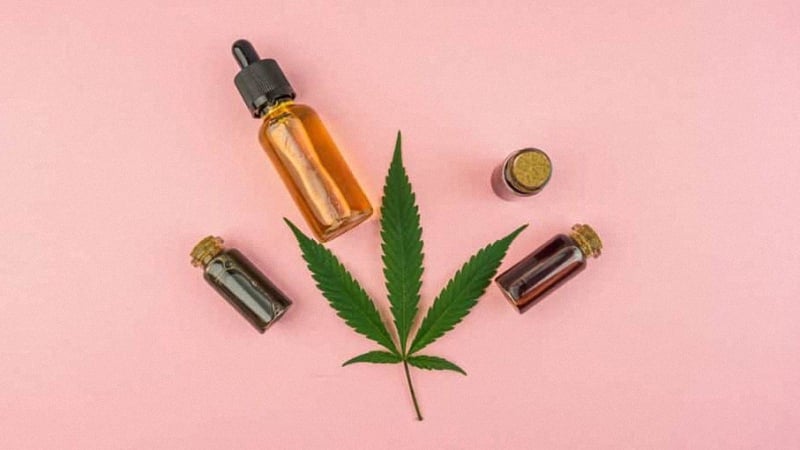 CBD is known for its long list of beneficial properties.
It's been shown to be effective against pain, inflammation, stress, and anxiety. Studies have also shown CBD can help regulate mood and sleep problems.
While a low dose of CBD may help relieve symptoms, some people need higher levels of CBD to feel the same results.
The potency of your CBD oil matters most when using it for more severe or chronic (long-lasting) health issues. The stronger the CBD oil, the greater the benefits, even with smaller doses of oil.
If you've been using CBD for a long time, it's possible you may have developed some tolerance to CBD. This may be the reason why your usual dose is no longer working for you and why you'll need to adjust the dosage.
Buying the strongest CBD oil can also save you some money in the long-run.
Stronger CBD oils usually cost more upfront, but the cost per milligram of CBD is much lower overall. You need a smaller volume of oil per dose, so a single bottle will last much longer.
What to Look for When Shopping For The Strongest CBD Oil?
Here are four points to consider while you shop for strong CBD oils online or in-store:
1. The Type of CBD Matters
Most experts agree full-spectrum CBD oils have a much more versatile set of effects than pure, isolated CBD products.
Full-spectrum CBD oils provide more health benefits because of something called the entourage effect. The active ingredients found in these products work together to produce a greater level of benefit when used together than taken separately.
2. Read Customer Reviews and Feedback
When choosing your CBD oil, be sure to read reviews customers made about the product. You'll get tons of information about the product, the manufacturer, and the effects (and side effects as well) of the CBD oil from these reviews.
Look for mentions on reputable websites, expert review sites, and forums with experienced CBD-users like Reddit.
3. Check Third-Party Laboratory Results
Visit the manufacturer's website to learn more about their products' quality.
Trusted brands are transparent about the quality, potency, and safety of their CBD oil. They send samples of their products to accredited and licensed laboratories for testing. These tests look for the presence of toxins, harmful residues, heavy metals, and pathogenic microorganisms.
It's important these labs are listed as "third-party" labs. This implies that the facility doing the testing has no affiliation with the CBD company itself. This ensures that all the results are completely unbiased and honest.
Reputable CBD oil manufacturers provide online copies of their products' laboratory results. The test results can be found on the manufacturer's website.
4. Compare Prices & Assess the Value of the Oil
You should also consider the product's price and determine its value compared to similar products.
When comparing value, you need to get the cost per milligram of CBD. This is the best way to compare two or more oils with different potencies and bottle sizes. It shows you the cost for every milligram of the active ingredient in the formula — which, of course, is the CBD.
To do this, you'll have to divide the selling price of the product by the total milligrams of CBD found in the bottle.
For example, if product A costs $100 and contains 1000 mg of CBD — it means every 1 mg of CBD costs around $0.10 ($100 divided by 1000 = $0.10).
If product B, on the other hand, costs $250 and contains 5000 mg of CBD. This gives you $0.05 per 1 mg of CBD.
When you compare the two, you'll find that product B costs more upfront but has nearly twice the value overall ($0.05 per mg compared to $0.10 per mg for product A).
How to Use Strong CBD Oils?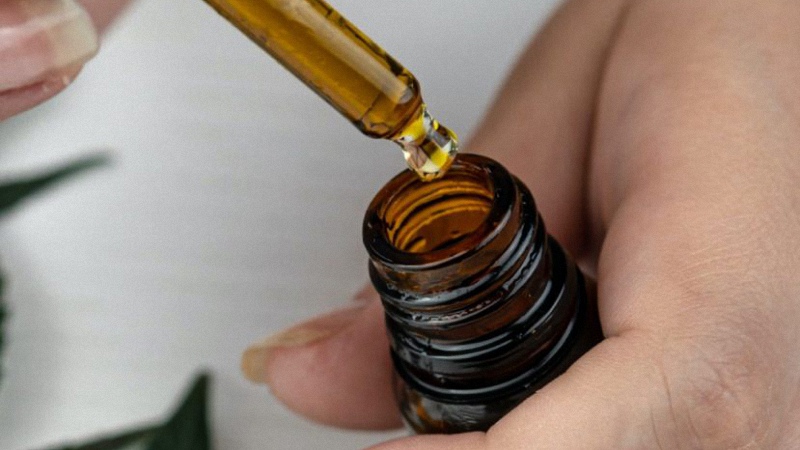 If you don't like the way CBD oil tastes, it can help to disguise the oil with some food. The effects can be felt between 30 minutes and an hour, depending on your metabolism.
However, for faster symptom relief, we recommend placing the oil under your tongue and holding it there for a couple of minutes. Small capillaries (blood vessels) located under your tongue will absorb the CBD and allow it to enter the bloodstream much more quickly.
Most products tell you to take a full dropper once or twice daily, but if you're using high-potency CBD oil for the first time, you might want to start with a lower dose.
You could start with half a dropper at first and then simply increase the dosage if you didn't feel any improvement after about three to five days. Doing this helps you avoid some unwanted side-effects from accidentally taking too much.
It also allows you to assess your body's reaction to the higher CBD dose, making it easier for you to find the most effective dose that controls your symptoms.
Remember, CBD is a personalized form of therapy, and the only way you can find your "sweet spot" is to be patient and consistent.
High-Potency CBD Oils vs. Low-Potency CBD Oils
Using the strongest CBD oil may be better for more severe symptoms and chronic health problems.
However, CBD is known to present a bell-shaped dose-response. This means that CBD is most effective at a certain dose. Taking too much CBD oil could end up reducing the overall benefits you receive in a similar way to taking a dose that's too low.
It's better to find the correct dose for your body and sticking to it.
To find the right dose, it's best to start low and increase gradually over time. When you start to feel signs of improvement, you've likely found your optimal dose.
For CBD to become more effective beyond its threshold dose, it will need the help of the other cannabinoids, terpenes, and flavonoids found in the plant. This is why full-spectrum and broad-spectrum CBD oils work better than pure CBD oils. The entourage effect makes the CBD oil more potent in reducing symptoms.
Staying Safe While Using High-Potency CBD Oil
CBD is a safe, non-toxic, and non-psychoactive cannabinoid, but it also produces some side effects.
These side effects may include dry mouth, dry eyes, drowsiness, headache, changes in appetite, and alterations in digestive function.
Fortunately, the side-effects of CBD are generally very mild and short-lived. As the effects of CBD wear-off, so do the side-effects.
If you experience side-effects, try reducing your next dose or taking your CBD oil with a meal.
CBD also interacts with other drugs, so before trying the strongest CBD oil, be sure to speak with your physician first, especially if you're taking other medications.
Final Thoughts: What's The Strongest CBD Oil in 2022?
The list we've shared with you are our top 5 strongest CBD oils. We've particularly chosen them based on the reviews we've gathered and our own experience in using them as well.
Of the five brands, our top favorite is Royal CBD. Their CBD oil is potent, and we're pleased with its premium quality.
Our second favorite is Gold Bee. They offer a smaller range of CBD oils to choose from but contain the strongest potency of terpenes and other hemp-derived phytochemicals.
Choosing strong CBD oils is sometimes more advantageous than buying lower-strength CBD oils. With just one serving, its high CBD content already gives you better control over your symptoms.
Buying stronger CBD oils also allows you to save money, especially if you don't need a high dose of CBD for your daily needs. One bottle can last you a long time.