Your first thought when seeing this company's name might have been: "I'm looking for CBD, not pot!"
Not to worry. Cannabidiol (the full name of CBD) is extracted from hemp, and hemp is one form of the cannabis plant. 4 Corners Cannabis is a well-respected CBD producer; its products aren't made from marijuana, won't get you high, and are legal for sale in all 50 states.
If you've traveled around America, you probably also noticed the "4 Corners" identifier in the name and wondered if it had anything to do with the famed geographic spot where four Western states (Colorado, Utah, New Mexico, and Arizona) meet. It certainly does.
The company is based on the Colorado side of 4 Corners, which explains why it was one of the first producers in the nation to create CBD products for sale. Colorado was one of the first states to decriminalize cannabis (in 1975), to legalize medical marijuana (in 2000), and to legalize the recreational use of pot (in 2012).
As you'll learn in our detailed review, Colorado's permissive (many would call it enlightened) attitudes played a major role in the founding and development of 4 Corners Cannabis – which has become a leader in the CBD industry.
Here's that review.
4 Corners Cannabis: The Background
Justin and Brian Jasiewicz, two Colorado brothers, had had a combined three decades of experience cultivating and producing marijuana when recreational weed was legalized in Colorado. Somewhat surprisingly, that was just about the same time that they decided to switch to growing hemp and producing CBD.
Their "conversion" was largely due to their attendance at a Cannabis Cup competition, where they saw the enormous interest in CBD. They used their cannabis-growing experience to experiment with hemp plants, saw the vast potential in the medical benefits of cannabidiol, and took the plunge. They formed 4 Corners Cannabis the following year, in 2013.
The brothers' commitment from the start was to quality. Many of their early competitors (and even more of today's vendors) bought hemp from other farmers or cannabidiol products from outside producers. 4 Corners Cannabis has always insisted on complete control from start to finish, so the company has grown all of its own hemp and produced its own CBD since the early days.
Of course, their long history on the "marijuana side" of the cannabis industry allowed them to do a better job growing hemp than most of the other companies that were getting into CBD. They've streamlined the process of cultivating hemp with high cannabidiol content and developed their own processing methods to produce outstanding CBD products.
The company also goes out of its way on the educational side, providing some of the most complete information available to customers on how to choose and use CBD.
4 Corners Cannabis hasn't changed its manner of operations since 2013 (except, naturally, to grow their capacity and output), despite the death of one of the brothers a few years ago.
This company is an excellent example of how a dedicated CBD company should function.
4 Corners Cannabis: The Approach
You already know the basis of 4 Corners Cannabis's approach to CBD production: ensuring high quality by controlling every element of production.
Everything starts in the company's own hemp fields. Before planting, 4 Corners Cannabis pays close attention to plant strains and genetics, choosing only the ones with optimal cannabinoid and terpene content, mold, and pest resistance. And any plants which don't produce up to expectations are composted, not used. The farms are organic, pesticide-free, and carefully tended.
Cannabidiol extraction can be a controversial subject, but even though 4 Corners Cannabis uses a safe method that's generally considered to be less efficient than supercritical CO2 extraction, there's a method to the madness.
Based on their deep experience, they believe that ethanol extraction with organic sugar cane is a better choice. The company feels it's on a level with supercritical CO2 when it comes to CBD potency, but more effective at extracting the other beneficial compounds in hemp. Many might disagree – but 4 Corners Cannabis experts know more than your trusted reviewers and their products are terrific, so we'll happily sign on to their choice of extraction method.
Many companies "go cheap" when it comes to the other ingredients used to produce CBD products. This one doesn't; it uses all top-shelf ingredients like MCT coconut carrier oil, organic oils and extracts for flavoring, organic beeswax in its salves, and Kosher food grade vegetable glycerin in its glycerin tinctures for vaping or adding to food. It also goes the extra step to purchase fair-trade and environmentally-conscious policies when purchasing additives.
Nearly the entire 4 Corners Cannabis product line features full-spectrum CBD, which includes all of hemp's natural components (including a minuscule amount of THC). That ensures the maximum "entourage effect" that boosts the effectiveness of CBD. There are a few THC-free alternatives offered as well, just for the people who (largely erroneously) believe that full-spectrum CBD could be the cause of them to fail a drug test.
We really can't think of anything this company doesn't do properly to provide optimal benefits to its customers.
4 Corners Cannabis CBD Oils

Like many producers, 4 Corners Cannabis calls its CBD oils "tinctures" even though a tincture is literally produced with the help of alcohol. We'll call these products oils because alcohol isn't involved.
The company offers three varieties of its standard CBD oil: avocado, cinnamon, and coconut. They all contain full-spectrum cannabidiol, and the only differences between them are the carrier oil that's used and the organic flavorings that may be added.
It's a thoughtful approach. The first option uses avocado carrier oil both as a flavoring and as an alternative for those allergic to the usual MCT coconut carrier oil. The second uses less-preferable but non-allergenic vegetable glycerin as a carrier (and is flavored with organically-extracted cinnamon), and the third contains just CBD, MCT oil, and limonene (a natural orange extract). Each oil is available in three potencies, 16.7mg/ml, 33.3mg/ml and 66.7 mg/ml.
Another 4 Corners Cannabis oil, glycerin CBD oil, also uses vegetable glycerin as a carrier but is designed so it can be used normally (dropped under the tongue), mixed into beverages or food, or even vaped. It comes in the same potencies and includes limonene for flavoring.
Finally, the company makes two varieties of THC-free CBD oil, choco mint, and coconut citrus. Each contains MCT coconut carrier oil and organic or natural flavorings and is available in 33.3 and 66.7mg/ml potencies.
4 Corners Cannabis Edibles

4 Corners Cannabis currently produces one edible, CBD-infused honey. It's made from local Colorado honey and full-spectrum cannabidiol and contains 20-25mg of CBD per teaspoon. It's an easy and tasty way to consume CBD.
4 Corners Cannabis Topicals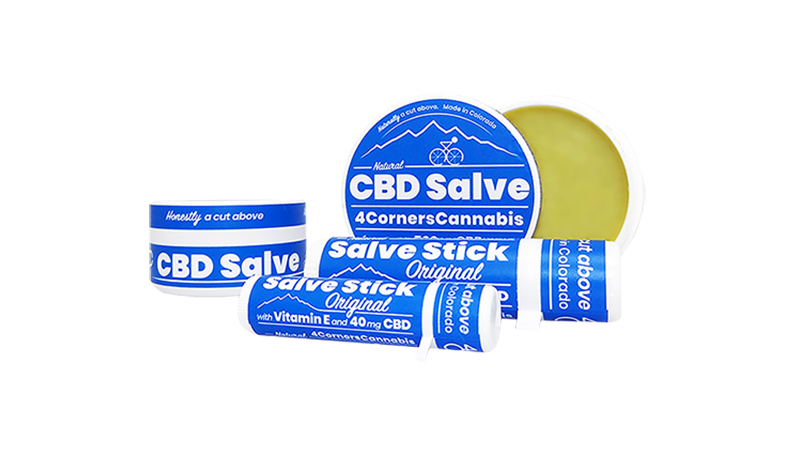 Most of the company's cannabidiol-infused topical products are manufactured in the form of salve. The standard version contains only full-spectrum organic CBD, MCT coconut oil, and organic beeswax (for consistency and spreadability), plus added vitamin E. A similar version contains THC-free instead of full-spectrum cannabidiol.
An alternative salve also contains organic menthol, to provide a cooling sensation that eases pain while the CBD is being absorbed by the skin and taking effect. (Topicals can't help with full-body pain or other issues, since CBD can't penetrate the epidermis.) All salves except the THC-free version are available in stick applicators as well.
4 Corners Cannabis also produces a grapeseed/Joboba massage oil, which is infused with full-spectrum CBD.
4 Corners Cannabis Pet CBD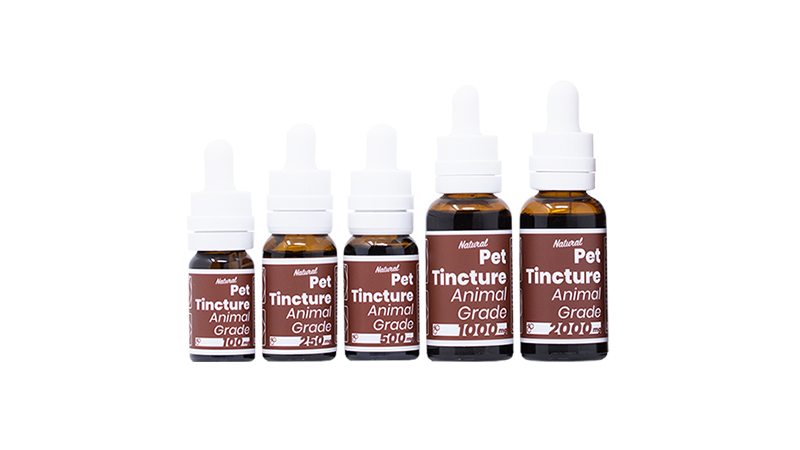 Many companies simply repurpose their regular CBD oil and slap a "for pets" label on it. 4 Corners Cannabis does more than that, making sure there's no limonene in their pet CBD since that additive can build up in dogs' and cats' livers and poison them. They've also added a lower-potency option for pets, 10mg/ml. That may still be pretty strong for smaller pets but dosage information of CBD per drop is also provided, making it simple to safely give your best friend a few drops of the oil.
There are three varieties of the company's pet CBD: natural (containing nothing but CBD and hemp seed oil), peanut butter (with organic peanut butter flavor added), and unflavored oil made from THC-free cannabidiol.
4 Corners Cannabis: The Verdict
We delivered the most important part of our verdict earlier when evaluating the methods 4 Corners Cannabis uses to create its products:
"We really can't think of anything this company doesn't do properly to provide optimal benefits to its customers."
It's too bad that the CBD product line isn't more extensive since everything that 4 Corners Cannabis produces is extremely high-quality and works quite well. On the other hand, we assume that – in the same way, that they compost any hemp plants that don't meet their standards – the company simply uses its expertise to only create and sell the products they feel are up to those standards.
Given their track record of performance, we'll take them at their word that their solvent extraction method for cannabidiol really does work best for their products, and that's really the only open question in our minds.
There are a number of excellent CBD providers out there. 4 Corners Cannabis is clearly one of the very best.