Scientific studies, as well as anecdotal evidence, are pointing out to CBD as an effective painkiller and anti-inflammatory agent. The research on cannabis and pain relief has given rise to a variety of products that are specifically designed to address different forms of physical discomfort.
CBD has become a popular alternative for sportspeople and professional athletes when it comes to tendonitis. This painful condition is characterized by inflammation in tendons, which are responsible for almost every movement in the human body, including blinking your eyelids.
Overuse of any muscles can result in tendonitis, so the condition is strongly associated with physical activities like exercise or heavy-duty jobs such as mining. Tendonitis is more likely to occur as people age and can also stem from pre-existing health conditions such as arthritis and diabetes.
In today's article, we cover everything you need to know about using CBD oil for tendonitis, including our overview of the best CBD brands and products for this condition in 2022.
Best CBD Oil for Tendonitis
Editor's Choice: Royal CBD
Best Value: Gold Bee
Runner Up: CBD Pure
Best THC-Free: Hemp Bombs
Best Variety: CBDistillery
New consumers often find it difficult to choose the right CBD oil for tendonitis, considering how many different brands and products are available online and in-store. The choice can be overwhelming, and the research involved in comparing these products requires much time and effort.
To save you time on researching different brands, we've put together a list of the top 5 CBD companies and their products in 2022 after comparing dozens of brands over the years.
Each company listed below uses organic, non-GMO hemp, makes its CBD oils with supercritical CO2, and tests its products in independent laboratories for potency and purity.
1. Royal CBD (Editor's Choice)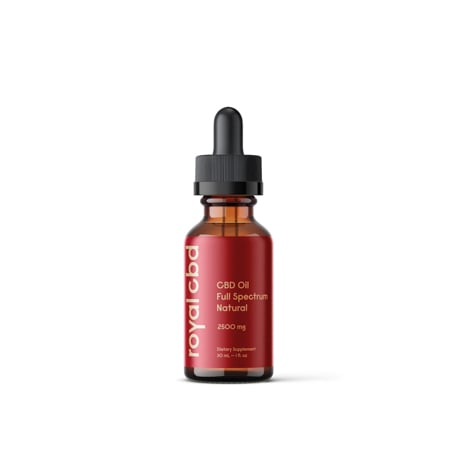 Product Details
| | |
| --- | --- |
| Potency | 250 mg – 2500 mg |
| Available Flavors | Natural, Berry, Mint, Vanilla |
| CBD per serving | 8.3 mg – 83.3 mg |
About Royal CBD
This California-based company specializes in making premium full-spectrum CBD extracts in traditional formats. On top of its best-selling CBD oil, Royal CBD also offers softgel capsules, THC-free gummies, and two types of topical products.
Customers can choose from 250 mg, 500 mg, 1000 mg, or 2500 mg of CBD per bottle. These oils are great for any type of consumer, from those with mild symptoms to people who have serious tendonitis and thus need more CBD in their daily routine. The strongest version of Royal CBD oil carries 83 mg of full-spectrum CBD in every milliliter.
The "full-spectrum" means that this oil has been extracted from the whole hemp plant, and as such, it contains all the beneficial phytonutrients from hemp, including trace cannabinoids, terpenes, flavonoids, and essential oils. These compounds enhance the efficacy of CBD oil, translating to better results than you would achieve with CBD isolate.
The entire Royal CBD collection is made from organic US-grown hemp and rigorously tested at every stage of production.
Read our full Royal CBD review HERE.
Pros
Cons

Made from locally grown organic hemp
Extracted with supercritical CO2
Infused with full-spectrum CBD
Available in 4 strengths and flavors
Up to 2500 mg of CBD per bottle
3rd-party tested for potency and purity
Great natural flavor

Not available in local CBD stores (this may soon change)
No CBD vapes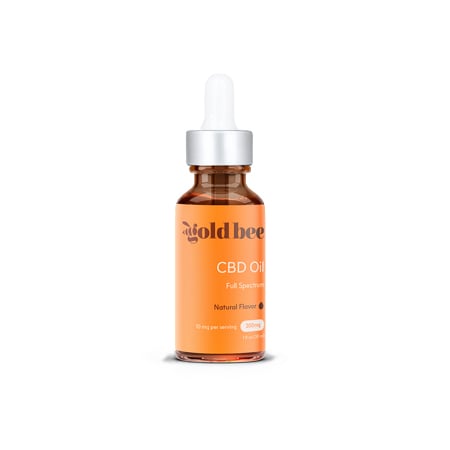 Product Details
| | |
| --- | --- |
| Potency | 300 – 1200 mg |
| Available Flavors | Natural, Honey |
| CBD per serving | 8.3 mg – 33.3 mg |
About Gold Bee
While Gold Bee doesn't offer any high-potency oils like Royal CBD, these guys seriously make the best-tasting full-spectrum CBD oil out there. It comes in the honey flavor and does a perfect job of masking the earthy taste of the hemp extract.
Gold Bee CBD oils are a decent option if this is your first time with CBD, and you're looking to try different doses or if you have some experience with CBD oils but your daily dosage doesn't go beyond 40 mg. Gold Bee makes all its products using organic ingredients, including the hemp, carrier oil, and flavorings.
Pros
Cons

Sourced from US-grown organic hemp
Contains full-spectrum CBD
Up to 33 mg CBD/mL
Great potency range for beginners
Third-party tested for potency and purity
Great honey flavor

No high-strength CBD oils
3. CBD Pure (Runner Up)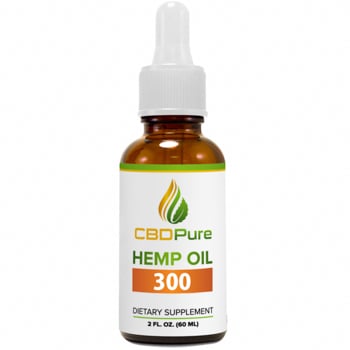 Product Details
| | |
| --- | --- |
| Potency | 100 – 1000 mg |
| Available Flavors | None |
| CBD per serving | 3.3 – 33 mg/mL |
About CBD Pure
Similar to Gold Bee, CBD Pure is a good company if you use lower doses of CBD to deal with tendonitis. This brand sells two types of products: CBD oil and softgel capsules. Both products come from Colorado-grown hemp and are gently extracted using CO2.
CBD Pure specializes in making full-spectrum extracts, which several studies confirmed to be superior to isolate-based products when it comes to pain management and inflammation. You can choose from four potency options: 100 mg, 300 mg, 600 mg, and 1000 mg.
The company offers a 90-day satisfaction guarantee program for those looking for a risk-free way to try out its products. If you decide CBDPure's products aren't for you, you'll get a full refund when you send the order back.
Pros
Cons

Sourced from organic Colorado-grown hemp
Extracted with supercritical CO2
Lab-tested for potency and purity
90-day return policy

Low potency
No topicals available
4. Hemp Bombs (Best THC-Free)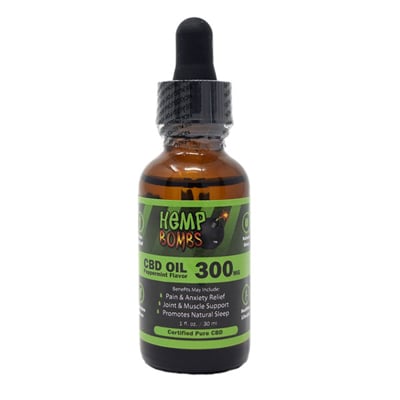 Product Details
| | |
| --- | --- |
| Potency | 125 – 4000 mg |
| Available Flavors | Natural, Acai Berry, Orange Creamsicle, Peppermint, Watermelon |
| CBD per serving | 4 – 133 mg/mL |
About Hemp Bombs
Hemp Bombs is one of the best choices if you're searching for CBD oil based on isolate or products featuring the broad spectrum of cannabinoids. These products have been designed mostly for people interested in the benefits of CBD for thyroid health. Hemp Bombs CBD oils are flavorless and odorless, meaning they're more versatile than full-spectrum extracts. But on the other hand, since this isn't a full-spectrum product, you won't get the entourage effect from the other cannabinoids and terpenes.
You can find Hemp Bombs CBD oil in a wide range of potencies, from 125 mg to 4000 mg of CBD per bottle. There are 4 flavor options available, including Acai Berry, Peppermint, Watermelon, and Orange Creamsicle.
Pros
Cons

Sourced from organic hemp
Extracted with CO2
0% THC
Available as broad-spectrum or isolate
Third-party tested for CBD and contaminants
Up to 4000 mg of CBD per bottle
5 strengths to choose from

Infused with synthetic flavorings
No "entourage effect" from other cannabinoids and terpenes
Most people don't need such high doses of CBD oil in their routine
5. CBDistillery (Best Variety)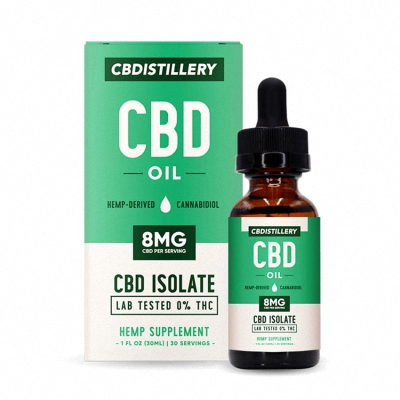 Product Details
| | |
| --- | --- |
| Total CBD | 250 – 5000 mg |
| Available Flavors | None |
| Potency | 8.3 – 166 mg/mL |
About CBDistillery
CBDistillery sells some of the most affordable products when it comes to using CBD oils for tendonitis. This pioneering company has helped shape the American CBD market as we know it today, founded in 2016 as a daughter brand of Balanced Health Botanicals.
CBDistillery's product line up features two types of CBD oil on type of other formats: full-spectrum and broad-spectrum CBD. The full-spectrum version contains the original profile of the whole hemp plant, while the broad-spectrum option has had the traces of THC removed after initial filtration.
When browsing through CBDistillery's products, you'll notice they cover the entire potency range for CBD extracts. You can buy bottles as little as 250 mg to a massive 5000 mg of total CBD. If you don't mind the fact the company doesn't use organic hemp to produce its CBD oils, you can trust them as your next vendor, especially if your budget is tight.
Pros
Cons

Available as full-spectrum CBD or pure CBD oil
Extracted with CO2
5 potency options to choose from
Up to 166.6 mg of CBD per bottle
3rd-party tested for potency and purity
Very affordable

The hemp isn't organic
No flavored oils available
The website gets clunky sometimes
Best CBD Creams for Tendonitis

Using CBD topical products for tendonitis can speed up the healing process and reduce some of its pesky symptoms, such as chronic pain and inflammation. In this section, we'll show you the top 2 products that are getting excellent reviews from people with tendonitis. We've tried them first hand and here's what we think about each product:
This CBD Icy Menthol Roll-on Gel combines the cooling pain relief from aloe vera and menthol with 350 mg of broad-spectrum CBD. The formula has been designed to help with sore or injured areas of skin and muscles, including tendonitis.
What makes this product stand out from the other topicals we've tested for tendonitis is the convenient roll-on application that makes the gel easy to use and dramatically improves the absorption rate of the gel.
This is an all-natural product; you won't find any synthetic additives in it.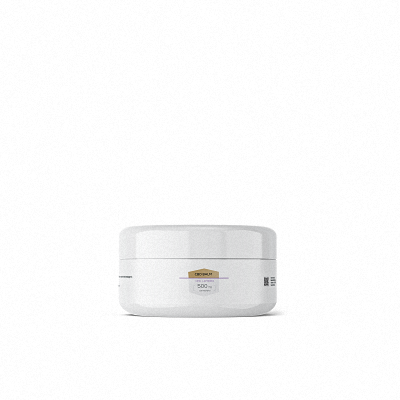 A more concentrated product in Royal CBD's line-up, this CBD-infused cream is designed to bring about a gentle warming sensation to sore muscles and joints. The cream is packed with 500 mg broad-spectrum CBD; each bottle contains an array of beneficial cannabinoids and terpenes from hemp plants — with zero THC.
On top of infusing this cream with a decent amount of CBD, Royal CBD uses organic oils as the cream's base, including olive oil, coconut oil, and beeswax oil. The formula combines other therapeutic compounds for improved pain relief, such as beeswax, a blend of ayurvedic herbs, and cayenne pepper extract for the extra warming touch.
The formula of this cream leverages the entourage effect achieved by the broad spectrum of cannabinoids and terpenes, enhancing the benefits of CBD for sore, achy muscles and joints.
Why People Are Turning to CBD to Heal Tendonitis

Tendonitis often doesn't require a treatment with prescription medications; it is often treated with OTC painkillers called NSAIDs, such as ibuprofen, naproxen, and aspirin.
Although the above meds are used to relieve minor pains, taking them in combination may cause one drug to lose its effectiveness. Two similar drugs taken for the same condition can increase the risk of dangerous adverse effects, such as heart attack or gastrointestinal bleeding (1).
People with severe tendonitis also turn to corticosteroid treatment for pain management. Athletes use these injections for immediate pain and inflammation relief (2).
Studies show that corticosteroids are more potent painkillers than oral NSAIDs. However, consistent corticosteroid use may cause the tendons to weaken, compromising its functioning and even causing greater damage to them.
The said side effects have caused people to seek alternative, safer treatments for tendonitis.
Many studies have highlighted cannabidiol (CBD) as a potent anti-inflammatory and analgesic agent (3).
For example, CBD can be an effective tool for the management of arthritis, which affects the connective tissues like tendons and ligaments.
Another recent study has found that CBD oil has anti-inflammatory, immunomodulating, and painkilling properties for rheumatoid conditions.
The study has also underlined the lack of efficacy of traditional prescription drugs. These drugs have even led to uncontrolled rheumatic pain. Rheumatic conditions involve inflammation of the body's connective structures, such as tendons, muscles, joints, bones, and ligaments.
CBD has also been shown to produce better effects for the above symptoms when taken along with tetrahydrocannabinol (THC).
When it comes to the anti-inflammatory and painkilling benefits, cannabinoids like CBD and THC are comparable to opioids, but they have one advantage over conventional analgesics — they don't cause adverse side effects.
In 2020, the World Anti-Doping Agency (WADA) approved CBD for athletes in its updated World Anti-Doping Code. WADA is an organization that monitors drug use and abuse in sports worldwide.
CBD & Symptoms of Tendonitis: Where Does CBD Help?
Tendonitis causes swelling and pain in the tendons. Symptoms may last for as little as several days to a few weeks, depending on how severe the injury is. Recovery time from tendonitis can last from two days to six weeks.
Tendonitis can turn into tendinosis if left untreated; this is a more serious case of tendon degeneration that involves chronic pain, movement restriction, and joint stiffness.
Tendinosis appears when the tendon starts running low on collagen due to overuse, while the tendons are not completely regenerated.
Collagen is the amplest protein in the human body; it controls elasticity, strength, and structure of the skin and bones.
Tendinosis is more difficult to heal than tendonitis, usually lasting around three to six months. Treatment options include massaging, stretching, shockwave therapy, or surgery.
People suffering from severe tendinosis may wear temporary braces, slings, or splints on affected areas. Sometimes, surgery is needed to realign and repair tendons when they get raptured.
CBD for Pain Relief
CBD interacts with the body's endocannabinoid system (ECS), which is a complex neurochemical network involved in pain modulation on top of many other functions.
The ECS consists of two major receptors: CB1 and CB2. These receptors are found throughout the body and engage with the molecules called endocannabinoids.
The word "endo" comes from Greek and means "from within," which refers to the cannabinoids produced by our body. They have an almost identical structure to phytocannabinoids — the ones produced by cannabis plants (Phyto = from the plant).
Endocannabinoids and phytocannabinoids regulate the body's physiological functions to help it maintain homeostasis. Homeostasis refers to the body's ability to self-regulate the above functions in order for us to stay healthy.
When ingested, CBD indirectly signals the ECS to activate these receptors and thus help treat various types of discomfort experienced throughout the body. Unlike THC, CBD is non-intoxicating, so it won't produce a high.
One study investigating the use of CBD in pain management has pointed to CBD as an effective alternative to opioids. The research team has found that patients with chronic pain cut down on their opioid intake after taking CBD. The patients have also reported improved quality of life within eight weeks of consistent CBD supplementation. According to the study, CBD may be an effective replacement for traditional opioid treatment.
Another study — based on rodent models — has found that transdermal use of CBD may relieve pain associated with rheumatoid arthritis. Although the results came from rates, they may be relevant in humans, as all mammals have the same endocannabinoid system.
CBD for Inflammation
Another benefit of plant-based cannabinoids is its ability to regulate the immune system's response to inflammation.
Inflammation is a natural physiological response to injuries or the administration of harmful substances.
CBD is known for its potent anti-inflammatory effect. When CBD starts interacting with the ECS, it signals the macrophages to block the release of cytokines.
Cytokines are proteins that trigger inflammation, while macrophages are white blood cells that control infections.
In a study performed on rats, CBD taken orally in subsequently higher doses has helped reduce edema or inflammation on the "participants'" paws.
The rats have also experienced reduced swelling a few hours after CBD was administered for the first time.
The results have emphasized the need for further clinical trials on humans to test if CBD would produce similar results.
The Pros and Cons of CBD Oil for Tendonitis
Pros
The World Health Organization (WHO) has reported that CBD has a good safety profile.
CBD may be able to alleviate symptoms of tendonitis, such as pain and inflammation. It's also a safer alternative to prescription medications due to the lack of severe side effects.
Studies have highlighted CBD as an effective tool for the management of other rheumatic diseases. The results of these studies may motivate other scientists to conduct studies on CBD's effects when it comes specifically to tendonitis.
Cons
Despite a well-established safety profile, CBD has a few potential side effects that include dry mouth, dizziness, or diarrhea.
Traces of THC in full-spectrum CBD oils may result in a false-positive result for THC on a drug test, especially if taken regularly in very large doses.
CBD may interact with other medications, causing collateral side effects.
CBD Oil vs. Alternative Treatments for Tendonitis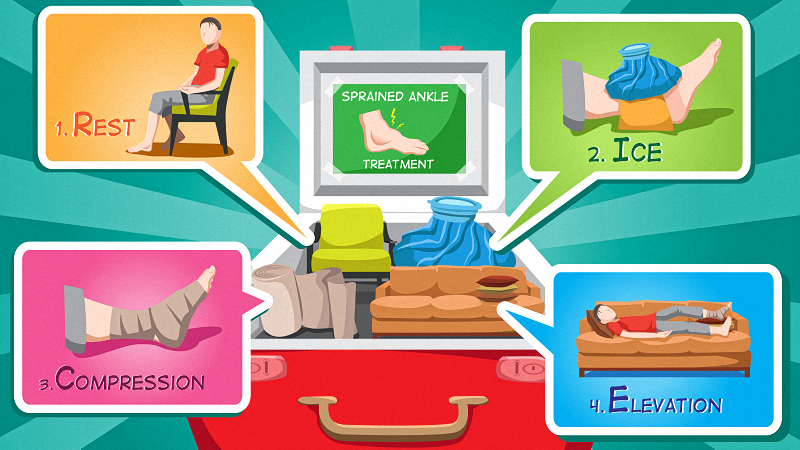 Tendonitis is an ailment that requires the patient to rest. Most doctors start with implementing the RICE (rest, ice, compression, and elevation) treatment as a common method to heal tendonitis at home.
Other than that, some physicians may recommend physical and occupational therapy.
Occupational therapy aims at improving the person's motor and cognitive skills for daily living. Examples of occupational tasks a therapist may suggest are getting enough of quality rest, writing, or cooking.
Physical therapy usually helps people speed up recovery from injuries by either increasing mobility by easing pain or aligning the bones and joints. This type of therapy can be used throughout the entire treatment, from diagnosis to full recovery.
Other pharmaceutical-free ways to heal tendonitis involve using some topical creams that are designed to temporarily relieve pain or reduce muscle swelling associated with tendonitis. These creams may be infused with essential oils that may enhance your CBD routine.
The most common essential oils to lessen pain and inflammation include:
Peppermint oil, which contains menthol and is useful for soothing sore, achy joints and muscles.
Marjoram oil is usually applied to reduce coughs and headaches but can also relieve pain and inflammation.
Lavender oil is known for both its fragrant smell and the ability to reduce inflammation and pain.
Chamomile use can support the user in various conditions other than pain and inflammation; people use it to speed up wound healing, improve digestion, and relieve the sleeping difficulty.
All of the above treatments may be used as complementary resources for oral medications.
If you want to take an all-around approach to your tendonitis treatment with CBD, you can add a topical cream, salve, or lotion that contains CBD combined with the aforementioned essential oils to support CBD's pain-relieving properties.
Buyer's Guide: How to Choose the Right CBD Product for Tendonitis
CBD products can be broken down into three categories: full-spectrum CBD, broad-spectrum, and CBD isolates.
Full-spectrum CBD oil is the most complete product among these three types because it contains the original chemical profile of the hemp plant used for extraction. This includes CBD, trace cannabinoids, terpenes, essential oils, and waxes. These compounds improve your body's ability to process CBD, increasing its efficacy — especially in conditions involving inflammation and chronic pain.
Broad-spectrum CBD products contain all the cannabinoids, flavonoids, terpenes, and fatty acids — but with the THC completely removed.
CBD isolates are pure CBD. All other compounds are eliminated through a series of filtration processes. CBD isolates contain 99% CBD.
Some people turn to broad-spectrum CBD because such products may evoke the entourage effect, but they don't carry a risk of testing false-positive for THC, unlike full-spectrum products.
Regardless of which option you decide to go for, here are a few tips that will help you save time and money on your next purchase:
Only buy from reputable brands that produce high-quality CBD oil and can prove it with respective certificates from a third-party laboratory.
Choose products extracted with CO2. CO2 extraction is by far the best method to produce full-spectrum CBD oil. It doesn't require additional heat or solvents, so it can yield consistently potent products without the risk of causing contamination.
Look for CBD oil made from organic hemp. Hemp plants are bioaccumulators, meaning they can absorb every substance from the environment they grow in. Farming practices are of paramount importance from the buyer's perspective because organically cultivated hemp yields clean, CBD-rich flowers for extraction.
Reach out to other customers online and read reviews before purchasing any CBD products.
Consult with your doctor to learn about the best CBD products and other supplementary treatments for tendonitis.
How Much CBD Oil Should You Take for Tendonitis
There is no dosage standardization when it comes to CBD products. The US Food and Drug Administration (FDA) classifies hemp-derived CBD oil as health supplements, and as such, it hasn't issued any CBD dosage guidelines for using CBD to treat specific conditions.
Several factors may influence the CBD dosage, including body weight, metabolism, unique body chemistry, age, gender, and the severity of symptoms.
Initially, users are recommended to start on low amounts and gradually increase the dose if there are no noticeable signs of relief.
Research indicates that the CBD dosage may range from 1 to 50 mg of CBD per day, with lower doses for stress relief, and higher doses for intense pain, seizures, or severe sleep problems.
The best way to figure out the optimal dose for your individual situation is to consult a medical professional that will be knowledgeable about using cannabis to treat tendonitis.
How to Take CBD Oil for Tendonitis
As mentioned, CBD is available in various forms to suit every person's lifestyle and symptoms.
For inflamed, swollen muscles, CBD topicals such as salves, gels, and creams may provide the best results.
These products have different textures and consistencies. CBD salves use oils as the base; lotions use water; creams typically consist of a mixture of the two.
Topical CBD products should be applied to problematic areas for a quick but short-lasting effect. You may need to reapply the products after a few hours.
CBD oil also comes in sublingual drops that are suspended in carrier oils like coconut oil, olive oil, or hemp seed oil. Tinctures are a variety of CBD oil that is made using alcohol instead of CO2.
CBD-infused edibles, such as gummies bear, are one of the most popular products. These sweet treats look similar to regular gummy bears but are infused with a premeasured amount of CBD for easier dosage.
If you prefer to inhale CBD for fast relief and the highest bioavailability of all consumption methods, you can try CBD vape pens that contain concentrated CBD liquid.
Bioavailability is expressed in percentages and refers to the amount of CBD that enters the bloodstream upon ingestion. Based on studies, the bioavailability of CBD vapes can reach 56% compared to 35% for tinctures and 20% for oral products.
What is Tendonitis?

Tendonitis occurs when the tendons, which is the tissue connecting the muscle with the bone, gets inflamed. This condition is a common sports ailment, where a part of the body containing tendons is either overworked or overloaded.
Overwork means the frequent repetition of movement, such as weight lifting. Strength training carries a high risk of damage to the tendons in general — particularly when it comes to arms or legs.
When talking about overload, people usually refer to a sudden increase in speed. An example of tendon overload is when you start running at high speed immediately after running for a while at a low pace. Repeated tendon overload can result in the Achilles tendon, where the tissue located at the back of the lower leg begins to swell.
Tendonitis may also result from deformities, infections, or other medical conditions such as diabetes, Haglund's deformity, and gonorrhea.
Types of Tendonitis
There are several different types of tendonitis. That's because this condition may involve other parts of the body. It can occur in the elbow, knee, wrist, shoulder, and heel.
Below we cover the most common forms of tendonitis.
Tennis Elbow
Tennis elbow stems from inflammation in the tendons on the outside of the elbow. Pain may start in the forearm and spread to the wrist and fingers. As you may have guessed by the name, this condition is common among tennis players, but it can also happen to painters, plumbers, construction workers, and artists whose work involves constant arm movements.
Golfer's Elbow
Golfer's elbow refers to the inflammation of the forearm, where the swell appears the inside of the elbow and forearm.
Golfer's elbow can be triggered by a variety of activities that involve repetitive hand movements, including flexing, throwing, gripping, and swinging. Wall climbing, bowling, and baseball are common sports that may cause golfer's elbow.
Achilles Tendonitis
This type of tendonitis affects the largest tendon in the body known as the Achilles tendon. This tissue connects the calf muscles with the heel. The most exposed group to this condition is runners, but Achilles tendonitis may also happen to a person who has a sudden increase in pace during any physical activity.
Rotator Cuff Tendonitis
Also known as bicep tendonitis, this condition involves shoulder pain triggered by an inflammation of the biceps tendon. People with the rotator cuff tendonitis often experience pain from the shoulder blades to the upper arm,
It may be caused by heavy lifting or frequent stretching of the arms overhead, such as in swimming or in sports that involve throwing. A person that has a rotator cuff tendonitis may have problems falling asleep or reaching any object or surface located behind the back and above the head.
Comparing Tendonitis vs. Arthritis
Tendonitis can sometimes be confused with arthritis because of the tendon's relation with the joints. While both conditions are characterized by inflammation, the source of this inflammation helps distinguish one condition from the other.
Tendonitis involves inflammation in the tendons, which may cause difficulty in tendon movement. Meanwhile, arthritis is the inflammation of the joints, followed by joint pain.
Tendonitis can be easily diagnosed if a person has performed any physical activity that might cause injuries. Meanwhile, arthritis may be triggered by aging, compromised immune system, or cartilage deterioration.
Final Thoughts: Does CBD Oil Work for Tendonitis?
Tendonitis is a condition caused by the inflammation of tendons, which are tissues that bind the muscles and the bones. It is a common ailment among physically active individuals, especially among athletes and physical workers whose work requires repetitive movements that can either cause the overload or overuse of tendons.
Natural remedies, such as CBD oil or topicals, can be used to heal tendonitis. However, the most important aspect of your recovery should be giving your tendons some serious rest. If you fail to heal your tendonitis, it may require surgery and rehabilitation.
No studies have been conducted to specifically examine the efficacy of CBD oil for tendonitis. Nevertheless, research shows that CBD can help relieve the symptoms of the condition, such as inflammation and pain.
You may use CBD in various forms to address your tendonitis. Their effectiveness will heavily depend on their quality, but you should always take factors such as your age, weight, and severity of symptoms into consideration. This will help you choose the right type of CBD for your situation.
If you plan to include CBD oil for your tendonitis treatment, make sure to consult a physician with experience in CBD studies to gain more valuable insight into this subject. A trusted practitioner may help you choose the right starting dose and establish the right CBD routine.