You never know what you're going to find if you stop by a CBD store, or a health food store, a gas station, or a drugstore that's started to sell CBD products.
Some will carry a wide range of oils, topicals, edibles, and vape juice. Others may offer – at most – only a few types of CBD products, manufactured by just one or two companies.
Whether the store's selection is tiny or plentiful, one fact is almost always true: you've never heard of any of the brands. To be honest, you're likely to face a similar issue when shopping online for cannabidiol (the full name for CBD). An enormous number of producers have jumped into the marketplace since CBD's legalization for sale nationwide in 2018, and none of those companies has really established itself as a dominant brand name.
If you do happen to recognize a brand that you see at a store or online, however, chances are good that it's CBDistillery. The producer has been profiled in a number of publications and on TV news shows. And after getting its start as an online vendor, the company has expanded its reach dramatically and is stocked by more than 2,000 retail outlets nationwide.
You won't find these products everywhere. Many stores simply stock the CBD brands that offer them the best profit margin, so you'll often see shelves filled with what seem to be generic products. Cannabidiol isn't a commodity, though. The quality of the product will usually determine whether you find CBD to be a godsend or just a disappointment.
And if you see CBDistillery products on a store's shelf, or find their online website – you've gotten lucky. This is an outstanding CBD producer.
Let's see what makes them so good.
CBDistillery: The Background
The story starts in 2016, several years before the passage of the Farm Bill that made CBD legal for sale in all fifty states. Andrew Papillion and Lincoln Sorenson were in Colorado, which was a legal cannabis state. That allowed them to start CBDistillery and sell cannabidiol locally, under the corporate umbrella of Balanced Health Botanicals (its sister companies are CBDistilleryRX and BOTA Hemp, which creates hemp-based skin care products). Over the years, they began selling to customers across America and in other nations.
Papillion remains as the company's Chief Product Officer, and CBDistillery has grown from a five-person operation to a much larger one with nearly 100 employees. It now operates a state-of-the-art 25,000 square foot manufacturing and fulfillment center that's cGMP and ISO-9001 certified to meet national and international quality standards.
The producer's mission statement is rather vague, vowing to "bring CBD to the world" and "provide an alternative path to a healthy and balanced life." But there's nothing wrong with those goals as long as a company does it ethically and responsibly, and CBDistillery seems to walk the walk.
The company is among the industry leaders belonging to the advocacy organization The Hemp Roundtable, it provides a wealth of CBD education resources online, it was one of the first producers to put its third-party testing results online, and it has always offered discounts to first responders and current and former members of the military. CBDistillery has also placed pro-CBD billboards in high-traffic locations like Times Square and spearheads a media and social media #CBDMOVEMENT campaign aimed at making CBD more visible and socially acceptable.
You won't see CBDistillery in a lead role when it comes to research into the benefits of cannabidiol, or the development of innovative new production methods. But the company creates top-notch CBD products while being a good example of how to do things right, in both the industry and the community.
CBDistillery: The Approach
There's no shortage of "budget" choices when you're shopping for CBD. It's easy for producers to cut corners in order to manufacture a sub-optimal product, and then sell it for an attractive price.
CBDistillery is one of the notable exceptions. They set out to sell CBD at affordable prices, and they still do so today without sacrificing quality. We're not sure how they manage that difficult balancing act, but we assume that volume has a lot to do with it. The parent company now ships more than 10,000 CBD products daily (directly to customers and to resellers) from its Colorado facility.
With an operation that big, we didn't expect to find that CBDistillery follows all of the best practices. It does.
The company depends on vertical integration, meaning it controls everything from seed to shelf. Hemp is organically-grown on nearly 1,000 acres of farmland in Colorado, Kentucky, and several other states; CBDistillery doesn't own all of that land, but the crops are grown according to their specifications.
Two different processes are then used to extract cannabidiol from the hemp. Supercritical CO2 extraction, widely viewed as the method that preserves the greatest amount of the plant's potency, is used to create full-spectrum and broad-spectrum CBD. Ethanol extraction, believed to provide the greatest control over the plant's chemical components, is used to make CBD isolate.
Different CBDistillery product lines feature different types of cannabidiol. Some contain full-spectrum CBD, which retains all of hemp's natural components and provides the most robust "entourage effect" to boost the effectiveness of CBD. Broad-spectrum and CBD isolate remove just the minuscule amount of psychoactive THC that's naturally present in hemp (and could inadvertently trigger a positive drug test). Broad-spectrum CBD still retains the other cannabinoids, terpenes, and flavonoids intact. CBD isolate contains only the cannabidiol.
CBDistillery uses the best choice of carrier oil (in products that require it), MCT coconut oil. And the company avoids using artificial ingredients; in fact, it rarely adds ingredients of any kind to its CBD products unless they're absolutely necessary for performance.
To sum up those last seven paragraphs: these products are terrific.
CBDistillery CBD Oils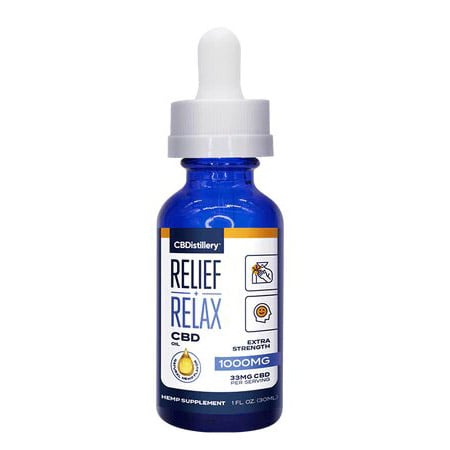 The CBDistillery lineup offers a choice of full- or broad-spectrum CBD oil in three different potencies: 17mg/ml, 33mg/ml, and 83mg/ml. The oils containing full-spectrum cannabidiol contain only CBD and MCT coconut carrier oil, while extra terpenes are added to the broad-spectrum oils to make up for the lack of THC content. The minimal number of ingredients means the maximum performance of the CBD, and we like that. The only downside is that there are no flavoring agents, so all of these oils have a somewhat raw hemp taste.
CBDistillery offers two other "specialty" oils.
The first is a combination of full-spectrum CBD and CBG; CBD (cannabigerol) is a "minor" cannabinoid found in hemp but is now believed to have health and wellness benefits that are somewhat different than those contributed by CBD. The cannabinoids are present in the oil in an even 1:1 ratio (either 17mg/ml of each, or 33mg/ml of each), and terpenes are added to the mix as well. Once again, this is an unflavored oil.
Finally, the CBDistillery Sleep Tincture contains 15mg/ml of CBD and 5mg/ml of CBN (cannabinol). The latter is a lesser cannabinoid that's created when THC ages, and it's believed that its mildly intoxicating effect can help make sleep easier. Be aware that CBN may trigger positive drug tests for marijuana.
CBDistillery CBD Capsules

The company's CBD capsules come in softgel form, and in the same two varieties as its oils: full-spectrum and broad-spectrum. Each contains 30 milligrams of cannabidiol plus MCT carrier oil, and since the only information provided on the softgels is that they're made from "gelatin," we assume that they're not vegetarian or vegan products.
CBDistillery CBD Edibles

The only edibles produced by CBDistillery are gummies, and there are just two choices. They're good ones, though.
Each variety contains 30 milligrams of broad-spectrum cannabidiol, each is fruit-flavored, each contains all-natural ingredients (including cane sugar and tapioca syrup), and each is kosher and vegan. What's different about the second variety is that the gummies also contain two milligrams of melatonin, for use at bedtime as a sleep aid.
An additional alternative is the CBD isolate powder that CBDistillery sells by the gram and can be mixed into food or drink as desired, or blended into other skin care products. The company offers full-spectrum powder, broad-spectrum powder, and CBG powder as well, also sold by the gram.
CBDistillery CBD Topicals

The selection of topical products available from CBDistillery is much larger, in part because it includes some produced by its sister company, BOTA. There are salves, sticks, warming and cooling creams for localized relief and skin support, as well as skin care creams for hydration and protection, body creams with added shea butter, nourishing body lotion, hand lotion, and lip balms.
The topical salves and skin care creams are made with full-spectrum cannabidiol; most of the rest contain CBD isolate.
CBDistillery CBD for Pets
There's one entry here as well: a 5mg/ml full-spectrum CBD oil for dogs and cats. This is a much lower potency than the oils the company sells for human consumption, and the dosage is a good one for all dogs except small ones. Small dogs or cats should be given less than a full milliliter dose. The only other difference between CBDistillery's human and pet oils is that the one for pets uses hemp seed oil instead of MCT coconut oil; hempseed is a good choice because some pets can be allergic or sensitive to coconut.
CBDistillery: The Verdict
This is probably not hard to guess: we think CBDistillery is one of the best CBD producers in the marketplace.
With a long history (measured in CBD years) of creating high-end formulations, nationwide rollouts without compromising the company's integrity or quality, strict maintenance of standards, and praiseworthy transparency, CBDistillery is an example for other companies in the industry to follow.
That's not to say there aren't a few things we'd like to see added or changed; a wider selection of potencies would be high on our wish list. But we still love CBDistillery products – and their very reasonable prices – just as they are.