Naysayers who claim that CBD oil doesn't work for them are probably consuming low-quality CBD oil that actually may not carry any CBD at all.
High-quality CBD products can significantly improve one's quality of life in a myriad of areas, from inflammation to low mood, pain, and seizures.
For most people, pain is the number one reason for trying CBD oil. If you've ever typed "CBD oil near me," chances are you've done so because you were in pain and everything you've tried so far has come to no avail.
You've got that right! CBD is often the last resort for both acute and chronic pain sufferers.
It's a natural compound capable of modulating signals on many levels, with the most promising effects on inflammatory and neurologically triggered pain.
All of this without the side effects associated with commonly prescribed medication.
But how do you find high-quality CBD oil from a reputable manufacturer amidst the sea of mediocre companies?
This is something you'll learn from our guide to finding the best CBD oil for pain relief.
We'll cover:
How CBD can reduce pain
Why full-spectrum CBD is better for pain than isolate
How to use CBD oil to fight pain
The best dosage for different levels of pain
How to buy CBD oil
Our top 10 recommended CBD brands
Let's start with our industry overview.
Best CBD Oil for Pain: Top Brands for 2022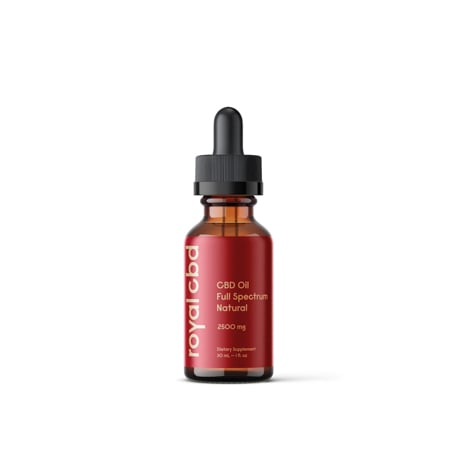 Product Details
| | |
| --- | --- |
| Potency | 250 mg – 2500 mg |
| Available Flavors | Natural, Berry, Mint, Vanilla |
| CBD per serving | 8.3mg – 83.33 mg |
Why Royal CBD is the Best CBD Oil for Pain:
Royal CBD is a relatively new brand. Rooted in California, this company was started in 2017 by a group of cannabis aficionados who decided to sell organic CBD products from premium-quality ingredients to raise the industry standards.
As much as we're distanced from new brands — everybody tries to cash in on the booming industry — I liked Royal CBD's dedication to quality and I love how consistent their products are in terms of helping with pain management.
These are full-spectrum extracts, so you're getting the synergistic effects of all valuable hemp compounds, needing less oil to achieve the desired effect. Surprisingly, the natural CBD oil tastes surprisingly neutral for a full-spectrum product, but we guess it's due to exceptional filtration — the oil has a nice, golden-brown color and viscous consistency.
Depending on the type and severity of pain you're experiencing, Royal CBD offers 4 different potency options, from 250 mg to 2500 mg of total CBD. Overcoming troubling pain can also contribute to improvements in your sleep quality, let alone the boosted immune system.
Pros
Cons

Made with US-grown organic hemp
Extracted with CO2
Infused with full-spectrum CBD
Available in 4 different strengths and flavors
Up to 2500 mg of CBD per bottle (88.3 mg/mL)
3rd-party tested for potency and purity
Great natural flavor

Only available online, no physical presence yet (typical of newer brands, and this may soon change)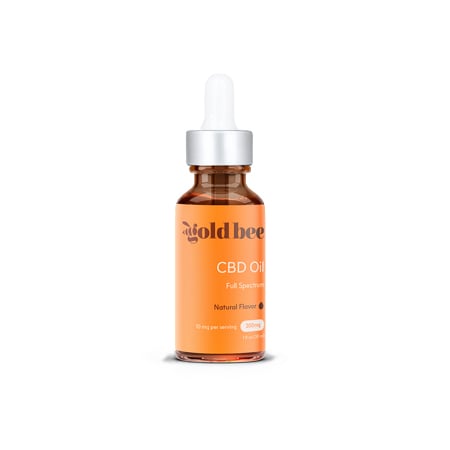 Technical Details
| | |
| --- | --- |
| Total CBD Count | 300 – 1200 mg |
| Available Flavors | Natural, Honey |
| Potency | 10 – 40 mg/mL |
About Gold Bee
Many people believe that all the good things happen in California, and judging by how many premium companies this state is breeding makes us support those claims.
Gold Bee is a premium CBD manufacturer with a mission to destigmatize hemp, which has been unfairly demonized for decades, and provide the health benefits of CBD at affordable price. Gold Bee has partnered with its local farmers as well as with growers from Colorado to create their proprietary blend of high-CBD strains, resulting in concentrated extracts that resemble the original hemp plant in their structure.
The Gold Bee CBD oil is available in a standard potency range, ideal for new consumers and those whose CBD dosage doesn't exceed 30 mg CBD daily. Similar to Royal CBD, Gold Bee uses organic hemp plants and incorporates full-spectrum CBD into its oil, so you're getting the entire range of cannabinoids, terpenes, and other phytonutrients from hemp. You don't need as much oil for pain relief as with broad-spectrum products or isolates.
Other products from Gold Bee include CBD capsules, gummies, and topicals.
The guys at Gold Bee are well aware that not everyone is ready to commit on the first date, hence their risk-free 30-day trial period. If you decide that you're not into their products after 30 days, you can send them back for a full refund.
Pros
Cons

Sourced from US-grown organic hemp
Made with full-spectrum CBD
Up to 40 mg CBD/mL
Great potency range for new users
Third-party tested for potency and purity

No high-strength CBD oils
3. CBDPure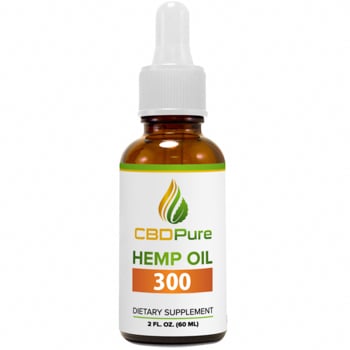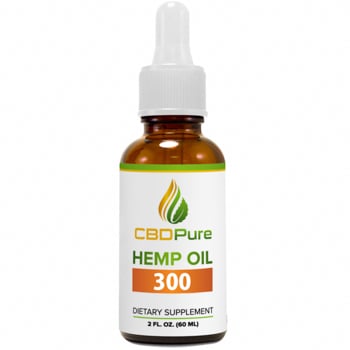 Technical Details
| | |
| --- | --- |
| Total CBD Count | 100 – 600 mg |
| Available Flavors | None |
| Potency | 1.6 – 10 mg/mL |
About CBDPure CBD Oil
If you value transparency, CBDPure is a textbook example of an honest company that goes above and beyond in making every detail of their activity as transparent as possible.
Despite having a lower potency range than Royal CBD, these products deserve the second place in our ranking of the best CBD oil for pain because of how they are manufactured. CBDPure makes its extracts from organic hemp, using supercritical CO2 extraction and rigorously testing their products in third-party laboratories for potency and potential contaminants.
What made us trust this company was their amazing satisfaction guarantee program. If you buy the CBD oil and decide it's not working for you, simply return the package and you'll get a full refund. Of course, we didn't return the product because it actually made the pain more manageable, but it's good to see that a company has so much trust in its own products.
Pros
Cons

Made from organic Colorado-grown hemp
Extracted with supercritical CO2
Lab-tested for cannabinoid profile and purity
90-day return policy

Poor product selection
Low potency
4. Hemp Bombs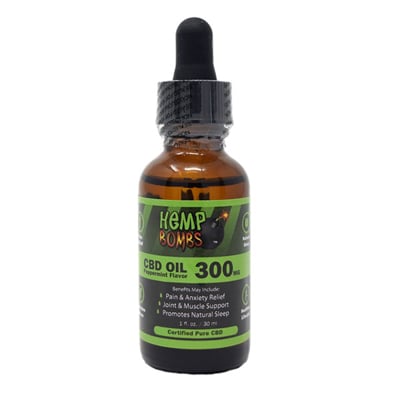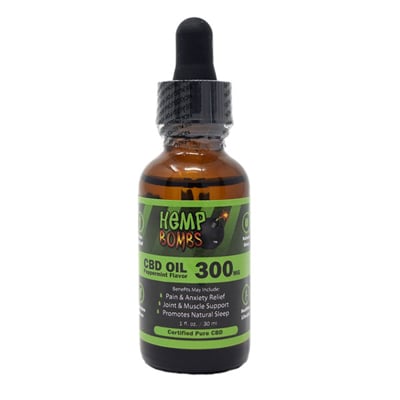 Technical Details
| | |
| --- | --- |
| Total CBD Content | 300 – 4000 mg |
| Available Flavors | Natural, Acai Berry, Orange Creamsicle, Peppermint, Watermelon |
| Potency | 10 – 133.3 mg/mL |
About Hemp Bombs
Before switching to full-spectrum extracts, Hemp Bombs was our favorite CBD oil provider. And despite the change of preferences, we still consider Hemp Bombs the best brand when it comes to broad-spectrum extracts and CBD isolates.
Hemp Bombs extracts are sold in a few different potency options, from 300 mg to a whopping 4000 mg of CBD per bottle. Both their broad-spectrum extracts and isolates contain 0% THC and are generally less expensive than full-spectrum CBD oil.
Now, isolates are great if you benefit from CBD but can't take any THC in your product due to periodical drug tests at work. They're also more affordable than whole-plant extracts, but unfortunately, they do not provide the entourage effect, which makes them a less preferred option among consumers.
One great thing about Hemp Bombs — aside from its incredible product lineup — is the variety of flavors these oils are available in. You can choose from flavors like Acai berry, Orange Creamsicle, Peppermint, or Watermelon. All Hemp Bombs extracts are suspended in premium MCT oil for improved absorption.
Pros
Cons

Sourced from organic hemp
Extracted with supercritical CO2
THC-free
Available as broad-spectrum or isolate
Tested in a 3rd-party lab for potency and purity
Up to 4000 mg of CBD per bottle
5 strengths to choose from

No "entourage effect" from other cannabinoids
Most people don't need so much CBD in their routine
Infused with synthetic flavorings
5. CBDistillery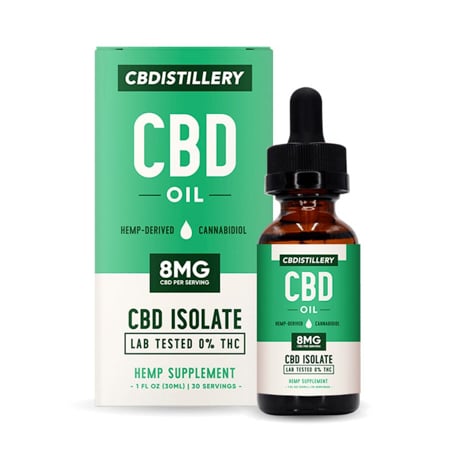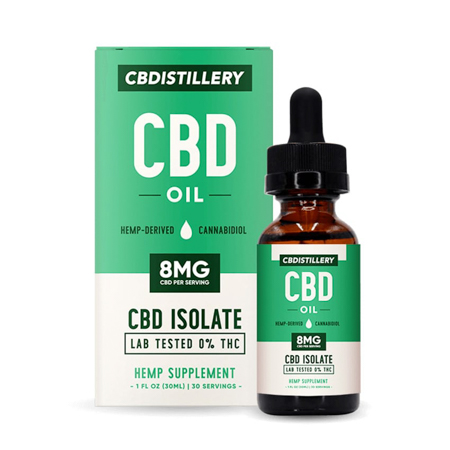 Technical Details
| | |
| --- | --- |
| Total CBD Count | 250 – 5000 mg |
| Available Flavors | None |
| Potency | 8.3 – 166 mg/mL |
About CBDistillery
CBDistillery is one of the pioneers in the industry, and one of the largest CBD brands in North America. The company was launched in 2016 as a daughter brand for Balanced Health Botanicals.
Throughout the years, CBDistillery has reformulated its line of CBD oils and it now sells CBD extracts in two formats — "full-spectrum" and "pure oil." The pure oil version contains CBD and other cannabinoids from hemp but without any THC. Any traces of THC have been removed after the initial extraction.
You can choose between five different potencies, from 250 mg to 5000 mg of CBD per bottle, covering every range of potencies you would ever need. If you want the best value for your money, we recommend choosing the higher potencies — the larger the strength you choose, the further your oil will get you.
Pros
Cons

Available as full-spectrum CBD or pure CBD oil
Extracted with CO2
5 potency options to choose from
Up to 166.6 mg of CBD per bottle
3rd-party tested for potency and purity
Very affordable

The hemp isn't organic
No flavored oils available
The website gets clunky sometimes
6. NuLeaf Naturals

Technical Details
| | |
| --- | --- |
| Total CBD Content | 240 – 4850 mg |
| Available Flavors | None |
| Potency | 48.5 mg/mL |
About NuLeaf Naturals
Holding the reputation of one of the most trusted CBD brands in the US, NuLeaf Naturals was one of the first companies to enter the American CBD market. Despite its stellar rap among CBD consumers, NuLeaf Naturals has never decided to go beyond the traditional CBD oil.
The company only sells full-spectrum CBD oil drops for humans and pets, and given the quality of its products, we're not surprised they don't want to expand their line — why distract yourself from chasing perfection?
These organic, CO2-extracted oils offer 48.5 mg of CBD in each mL. You can choose from the following sizes:
5 mL – 240 mg of CBD
15 mL – 725 mg of CBD
30 mL – 1450 mg of CBD
50 mL – 2425 mg of CBD
100 mL — 4850 mg of CBD
As you can see, the potency remains the same regardless of the size of your bottle, so NuLeaf Naturals is the best option if you use CBD for pain, know your dosage, and want to plan your supplies ahead.
Pros
Cons

Sourced from organic hemp grown in Colorado
Extracted with supercritical CO2
Contains the full-spectrum of cannabinoids
Lab-tested for potency and purity
5 bottle sizes to choose from

Only one product type available
More expensive than competitor brands
7. Diamond CBD

Technical Details
| | |
| --- | --- |
| Total CBD Count | 250 – 3500 mg |
| Available Flavors | None |
| Potency | 8.3 – 116.6 mg/mL |
About Diamond CBD
Diamond CBD offers hemp-derived CBD oils unflavored versions, from 250 to 3500 mg of CBD per bottle. With such a wide potency range, this company caters to different types of consumers and different levels of pain. DiamondCBD also sells CBD vape liquids, topicals, honey infusions, capsules, and gummies, all of which are made using full-spectrum extracts.
The only doubt we have about this company is its claims about the CBD potency in its extracts. Diamond CBD claims its oil has a 7 times higher concentration of CBD than competitor brands. Unfortunately, we couldn't verify that statement, but on a positive note, the oil worked exceptionally well, especially for headaches.
Pros
Cons

Sourced from organic hemp grown in Scandinavia
Extracted with CO2
Made with full-spectrum CBD
Lab-tested for potency and potency
Outstanding product selection

Some of the company's claims are far-reaching and can't be verified
8. VerifiedCBD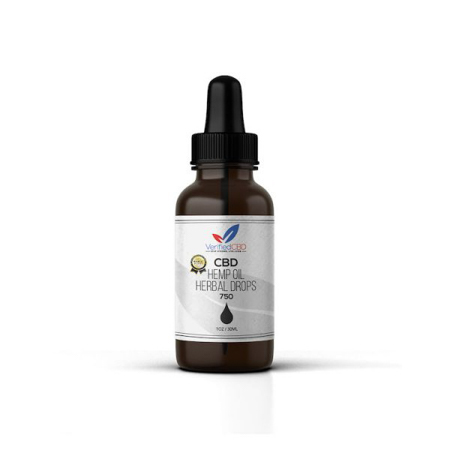 Technical Details
| | |
| --- | --- |
| Total CBD Count | 300 – 3500 mg |
| Available Flavors | None |
| Potency | 10 – 116.6 mg/mL |
About VerifiedCBD
VerifiedCBD is a Florida-based company that has been selling high-quality CBD oil for pain since 2014. The company offers full-spectrum CBD extracts including their flagship products — CBD oil drops. On top of that, VerifiedCBD sells CBD capsules, topicals, sleep spray, gummies, and CBD products for pets.
The VerifiedCBD CBD oil is available in 5 strengths, including 300 mg, 500 mg, 1500 mg, 3000 mg, and 3500 mg. All of their products are made with organically grown hemp from US farmers and extracted with supercritical CO2 for the highest purity.
VerifiedCBD doesn't share much information about its activity on the website, but the company's customer service will be happy to provide answers to all your questions via phone, mail, or contact form.
Pros
Cons

Sourced from organic hemp plants
Extracted with supercritical CO2
Contains the full-spectrum of cannabinoids and terpenes
Lab-tested using HPLC equipment
Worldwide shipping
9. Endoca

Technical Details
| | |
| --- | --- |
| Total CBD Count | 300 mg – 1500 mg |
| Available Flavors | None |
| Potency | 10 – 50 mg/mL |
About Endoca
Endoca is one of the most well-known European companies specializing in making raw/decarboxylated extracts. It's a true maverick on the market because all of Endoca's extracts are also infused with raw hemp oil to provide the user with the additional benefits of CBDA, the inactive precursor of CBD.
Endoca CBD oil is available in two strengths: 300 mg and 1500 mg. Endoca recommends the higher potency for more serious health concerns, especially those involving pain. The company uses delicate heat under filtration to preserve the valuable terpenes from the source plant.
Pros
Cons

Sourced from organic hemp plants grown in Spain
Extracted with supercritical CO2
Full-spectrum CBD
Tested in GMP certified laboratories for potency and over 200 contaminants

Bitter, earthy taste
Compromised potency of CBD due to the higher CBDA content
10. Green Roads CBD

Technical Details
| | |
| --- | --- |
| Total CBD Count | 300 – 1500 mg |
| Available Flavors | None |
| Potency | 10 – 50 mg/mL |
About Green Roads CBD
Green Roads CBD has been selling full-spectrum CBD oil for quite a while, but recently, the company has reformulated its products, introducing the broad-spectrum CBD lineup on top of their improved classic formula.
The Green Roads CBD oil is available in 3 potencies: 300 mg, 750 mg, and 1500 mg, offering between 10–50 mg CBD in each mL. As mentioned, you can choose between broad-spectrum and full-spectrum CBD; the broad spectrum means that the extract has CBD and other minor cannabinoids, but with no traces of THC.
All of Green Roads CBD products are sourced from non-GMO hemp and extracted with supercritical CO2 so the end product remains pure and potent. Green Roads CBD displays lab reports from third-party testing on its website.
Pros
Cons

Extracted with supercritical CO2
Up to 50 mg of CBD per mL
Third-party tested for CBD content and purity
Manufactured by licensed pharmacists
Affordable

No flavored versions available to mask the taste of hemp
The hemp isn't organic
What is CBD?
CBD (or cannabidiol) has become extremely popular for pain management over the last few years. Its effectiveness in reducing pain and a high safety profile has made it a popular option for many people to self-medicate instead of relying on traditional painkillers.
The reason why CBD has such great analgesic potential is the way it interacts with the endocannabinoid system within our bodies.
People have been using cannabis medicinally for centuries, if not millennia. The earliest records of the therapeutic use of hemp date back to ancient China, when the legendary emperor Shen Nung added cannabis to the official Chinese pharmacopeia, mentioning its use for gout, rheumatism, gastrointestinal disorders, inflammation, and bacterial infections.
That's because all mammals have endocannabinoid systems. The endocannabinoid system is the prime network in our bodies that is responsible for maintaining the neurochemical balance known as homeostasis.
This system regulates a variety of vital processes, including:
Mood
Memory
Cognitive performance
Immune function
Pain transmission
Stress management
Temperature control
The chemical balance in the gut
Appetite
Fertility
Neurogenesis (formation of new healthy cells)
How Does CBD Work?
The endocannabinoid system produces its own neurotransmitters known as endocannabinoids or our inner cannabis. These endocannabinoids are released to bring the balance back to the above processes whenever they go out of whack.
The endocannabinoids engage with two types of cannabinoid receptors: CB1 and CB2. CB1 receptors are mostly found in the brain and the central nervous system — THC triggers them to get us "high" — whereas CB2 receptors are associated with CBD and its modulatory effect on the endocannabinoid system.
When the homeostasis gets disturbed, this may give rise to a whole range of health problems, from a weakened immune system to autoaggressive disorders and cancer; the spectrum is very broad. At some point, the body isn't capable of producing enough endocannabinoids to solve the problem.
CBD signals the endocannabinoid system to produce more of its natural endocannabinoids. On top of that, it makes them more available for the body by blocking an enzyme that breaks them down.
Moreover, CBD also acts on more than 60 molecular pathways.
Not to mention that it's not psychoactive.
Unlike THC, CBD won't get you high because its chemical structure prevents it from tapping to the same CB1 receptor areas in the brain where THC binds. In fact, CBD can even counter the psychoactive effects of THC.
Cannabidiol is available for sale in many different forms, but in this article, we'll focus only on CBD oil.
What is CBD Oil?
CBD is one of the primary compounds from a group of chemicals known as phytocannabinoids. It's completely non-psychoactive (in a way marijuana is) and offers a wide range of health benefits.
CBD can be sourced from hemp or marijuana. While marijuana-derived CBD oil is subject to the same regulations as other marijuana products, hemp-derived CBD products are federally legal thanks to the 2018 farm bill. You can find them over the counter in local health stores, head shops, cannabis dispensaries, and online stores.
CBD oil is a combination of a CBD extract and a carrier oil that makes it easier to absorb, dose, and store. Most CBD oils carrier fats like MCT oil or hemp seed oil — which is then incorporated into a full-spectrum extract or CBD isolate.
Cannabinoids like CBD are fat-soluble, which means their bioavailability increases when you take them with fats. By dissolving cannabinoids in an oil solution, the CBD becomes more bioavailable. Bioavailability refers to the amount of CBD that reaches the bloodstream after ingestion and is expressed in percentages.
Because of its convenience, ease of use, and long shelf-life, CBD oil has become the preferred method of consumption for most users.
CBD Oil vs. Hemp Seed Oil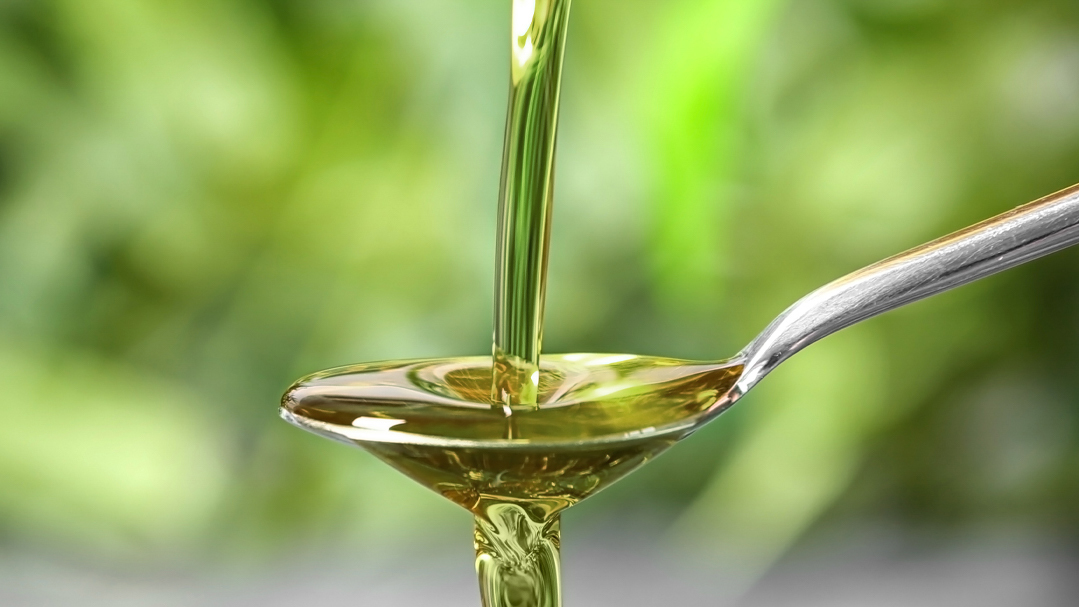 There's a common misconception that CBD oil and hemp oil are the same products.
But in fact, CBD oil and hemp oil are worlds apart, both when it comes to their chemical makeup and health benefits.
Hemp seed oil is extracted from hemp seeds. These seeds are a very good source of protein, healthy fats, vitamins, and trace minerals — but they have no phytocannabinoids inside.
Therefore, hemp seed oil can be taken as a food supplement or food additive. You can also incorporate it into a fat base to make your own hemp-infused skin care products.
CBD oil, on the other hand, comes from cannabis flowers. These flowers have glandular trichomes on their surface, which is where cannabinoids and terpenes are secreted. It has many well-documented health benefits, from inflammation relief to neuroprotection and painkilling properties.
But before we elaborate on the health benefits of CBD oil, let's cover the basic forms of CBD extracts.
Different Types of CBD Oil
CBD extracts vary in terms of their cannabinoid spectrum, which is how we actually categorize CBD oil products. Currently, you can encounter three main types of CBD oil:
1. Full-spectrum CBD
Full-spectrum is exactly what it sounds like; it contains all the natural substances found in hemp plants, including traces of THC. It also has terpenes and other important nutrients that enter into synergy with cannabinoids to produce the entourage effect — also known as the "whole-plant medicine." The entourage effect is the reason why scientists believe full-spectrum CBD to be more effective than its isolated form. The obvious downside of such products is their distinctive, botanical taste due to the presence of all the natural waxes from the plant.
2. Broad-spectrum CBD
Broad-spectrum CBD is similar to full-spectrum oil; it contains all the cannabinoids and terpenes from the hemp plant, but without any THC — the THC is removed during filtration. They're believed to be less beneficial than full-spectrum extracts but more effective than pure isolate.
3. CBD Isolate
As the name suggests, CBD isolate is the purest form of CBD you can find. It's processed in a way that separates the CBD from all hemp compounds, leaving behind a translucent crystal that can be turned into powder and infused into a variety of products. The main advantage of using isolates over full-spectrum CBD is the lack of THC, which may benefit people who are subject to drug testing at work or those who can't access full-spectrum products in their state/country. Another benefit of CBD isolate is the lack of odor and taste; this feature makes isolates more versatile as a product; you can use it in dressings, desserts, topicals, tinctures, vape oils, and more. However, isolates won't give you the entourage effect and may call for higher doses to be effective.
Top Benefits of CBD Oil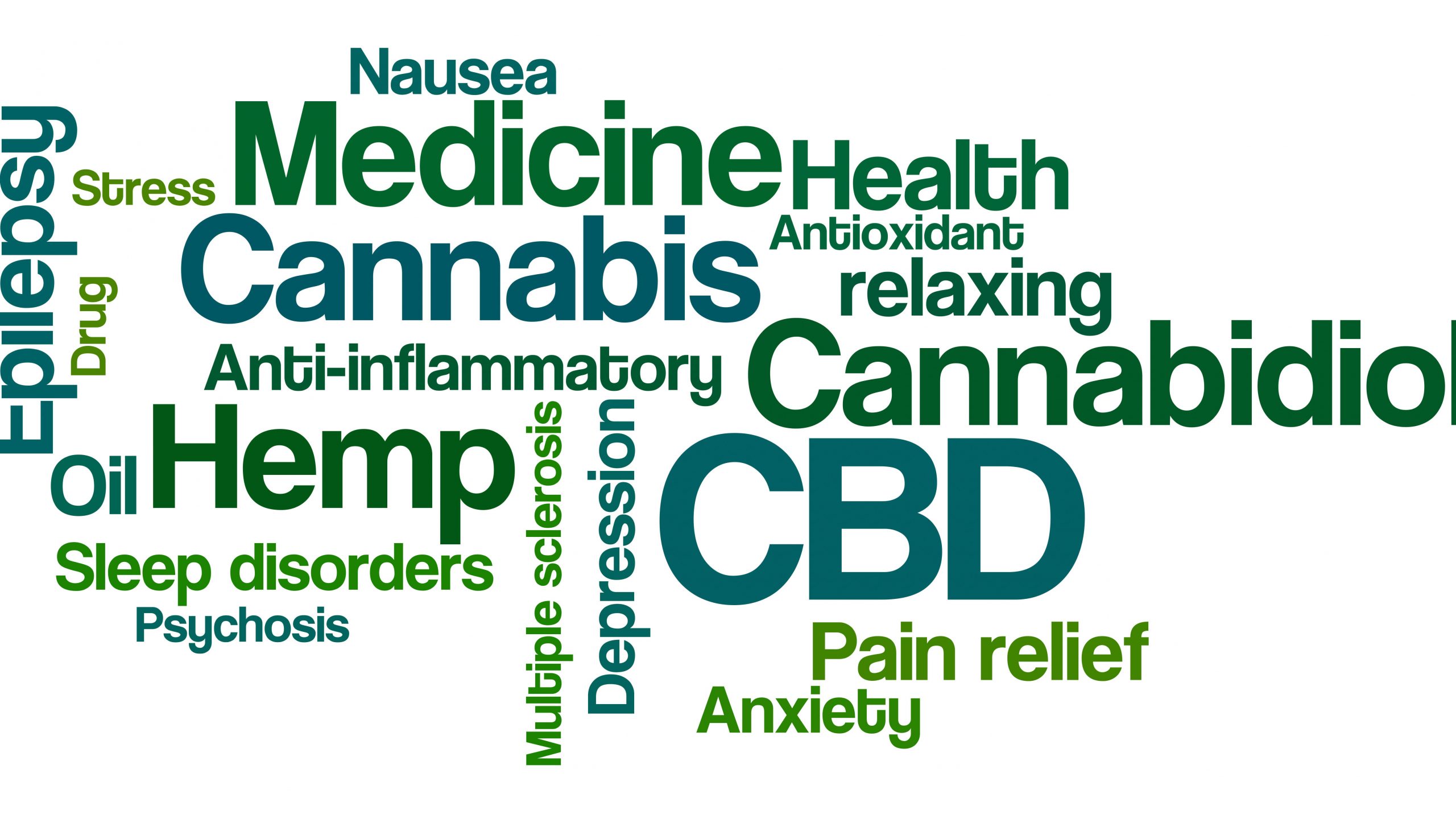 As mentioned, CBD oil has a long list of well-documented health benefits. Nevertheless, there are certain conditions where CBD can prove particularly helpful.
These include the following:
1. Anxiety
CBD oil has natural antidepressant-like properties according to scientists. When taken at the right dose, CBD can help lower anxiety, reduce paranoia, improve mood, and enhance emotional stability. It can also relieve stress and the symptoms of PTSD and panic disorders.
In a 2014 trial, 24 subjects diagnosed with a social anxiety disorder were successfully treated with 600 mg of CBD and placebo prior to giving a public speech. The patients that were administered CBD experienced far less anxiety, stress, and cognitive impairment than the placebo group. In addition, CBD helped lower cortisol levels, resulting in minimized stress.
2. Epilepsy
Epilepsy is one of the best-researched areas with regards to CBD. The first-ever cannabis-based drug that has been approved by the FDA to treat this condition was based on cannabidiol — we're talking about Epidiolex.
This drug may help reduce severe and rare forms of epilepsy, making it easier to manage their symptoms. For most states that question the medical use of cannabis, treating epilepsy with CBD oil is often the only exception.
In the early 2000s, CBD has become popular in reducing the number and severity of epileptic seizures in children. This happened about the same time Charlotte Figi and their parents were looking for a way to treat her seizures. During that point, the girl wax having around 60 seizures in a day.
Since then, scientists have started researching the anticonvulsant properties of CBD in a series of clinical trials, confirming the previous findings.
3. Insomnia
Insomnia is the most common sleep disorder, affecting about 30% of adults in America. It's estimated that for 1 in 10 patients, this condition is chronic.
The problem with not getting enough quality sleep is that it can wreak havoc on your health if it becomes chronic. Permanent sleeplessness can negatively affect your regular functioning, cause a loss of cognitive performance, and lead to an array of medical problems, from hypertension to hormonal imbalances and stroke.
It appears that CBD can help insomniacs regulate their sleep-wake cycle in a natural way. When taken at lower doses, CBD enhances our daily alertness, one of the driving factors for a properly functioning sleep-and-wake routine. At higher doses, CBD was proven to induce sedation by lowering a person's blood pressure and setting the right gears in the body to put you faster to sleep.
CBD oil can also help relieve insomnia by reducing anxiety and pain.
4. Inflammation
Acute inflammation is a proper reaction of our bodies when we get hurt or injured, but once it turns into a chronic condition, it can give rise to serious health problems, including the whole array of auto-immune illnesses. CBD and other cannabinoids have been mentioned multiple times in scientific literature as "novel anti-inflammatory drugs."
5. Pain
CBD was first reviewed for chronic pain in a 2008 review of studies conducted between the years 1980 and 2007. The researchers concluded that CBD was an effective painkiller without causing adverse side effects.
In 2007, CBD was shown to reduce neuropathic pain in a double-blind controlled study.
Another study — conducted in 2016 — concluded that CBD may help in the management of arthritis pain in rats. At the end of the study, the scientists found significant improvements in the inflammation and discomfort markers in the affected joints of the rats.
CBD Oil for Pain: Research, Benefits & How to Use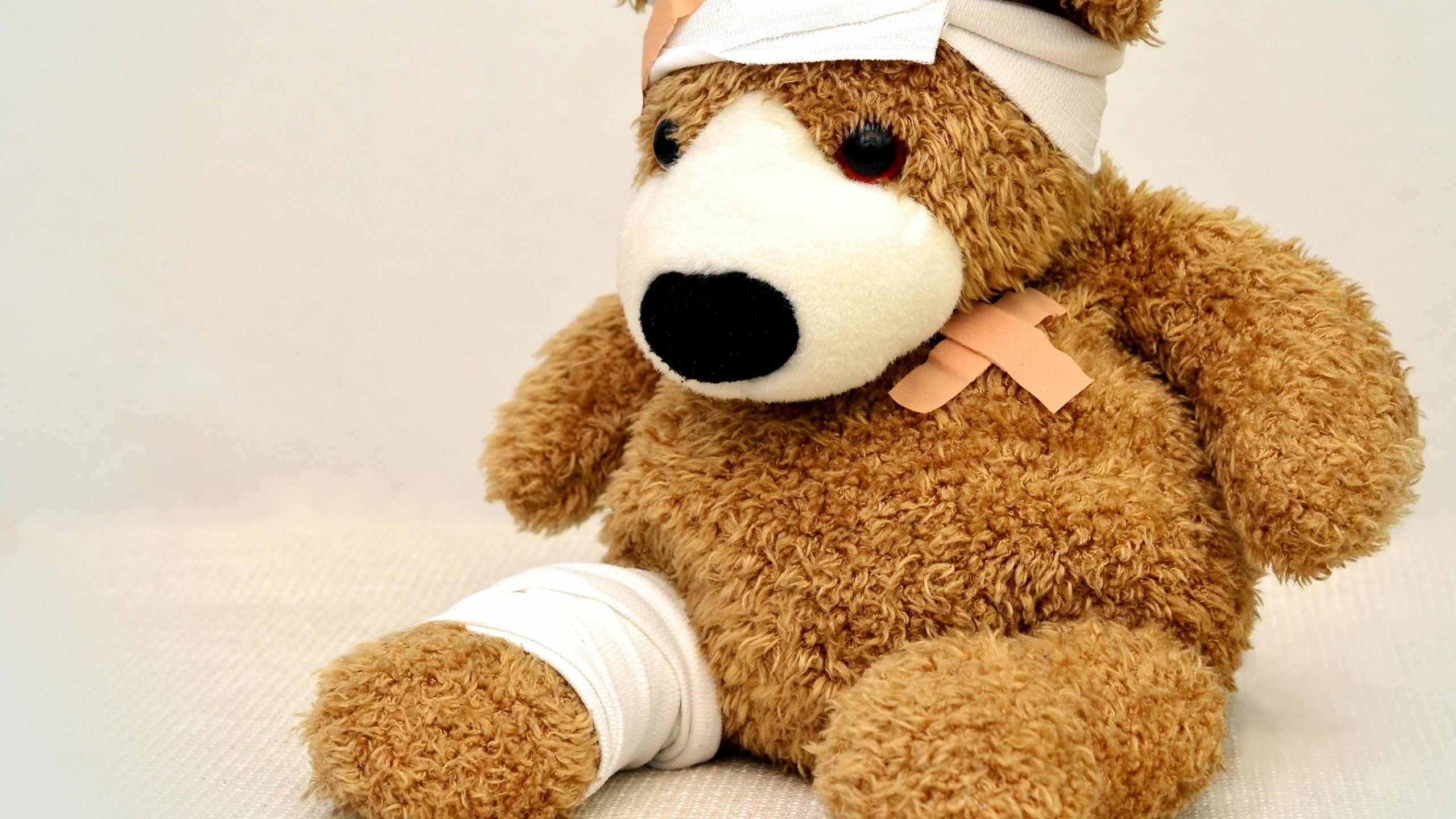 Here we cover everything about using CBD oil for pain. We'll highlight the major studies with regards to CBD and pain transmission, explain the benefits from the user's perspective, and discuss different dosages.
Let's start with the science behind using CBD oil for pain.
How Can CBD Alter Pain Signaling?
Dealing with pain is difficult because pain is just a signal that something wrong is going on within our bodies. The causes of pain are many and diverse, hence the difficulty. People can be in pain due to injuries, inflammation, neurodegeneration, or simply because there's something wrong with communication between neurons in the brain.
If you really want to alleviate pain, you need to get to the roots of the problem, which is what CBD does best.
Simply put, CBD oil can help relieve pain by:
Acting as neuroprotectant and antioxidant
Reducing inflammation
Exerting immunomodulatory effects on immune blood cells
The exact mechanism behind the effects of CBD oil for pain is still being studied by scientists. Nevertheless, current findings are very promising, to say the least.
Benefits of CBD Oil for Different Pain Conditions
Pain can have many faces. From arthritis to chronic pain and migraines, pain-related conditions can compromise your quality of life and how you perform on a daily basis. Hopefully, CBD oil can help the management of those conditions or, at least, make the symptoms bearable.
Here's what researchers say about using CBD oil for different types of pain.
CBD Oil for Arthritis
According to preclinical studies, CBD oil can be one of the most effective options for the management of arthritis and other forms of localized pain triggered by chronic inflammation.
Scientists have found a clear link between the pathophysiology of osteoarthritis and a poorly functioning endocannabinoid system. Osteoarthritis is a degenerative pain condition marked by high levels of inflammation. By stimulating the activity of CB1 and CB2 receptors, CBD can help bring the body back to homeostasis by modulating immune responses, reducing inflammation, and easing pain as a result.
CBD Oil for Chronic Pain
CBD has been tested on animal studies to prove its painkilling properties, repeatedly demonstrating its efficacy on rodent models. And since rats and mice have endocannabinoid systems just as we do — they respond to cannabinoids in a very similar way to humans —the findings from such studies are more relevant with reference to humans.
Now we need more clinical trials on humans to determine how CBD can work for specific pain-related illnesses. Scientists believe that the versatility of CBD when it comes to chronic pain stems from its remarkable anti-inflammatory properties.
CBD Oil for Multiple Sclerosis
Preclinical evidence from animal studies shows that CBD oil can help with pain conditions like multiple sclerosis due to its neuroprotective, antioxidant, and anti-inflammatory properties. It's estimated that debilitating pain affects 50-70% of patients with multiple sclerosis.
The animal study we're mentioning was conducted at Cajal Institute with a goal to find out whether or not CBD can induce a reversed inflammatory response in mice. It took as little as 10 days for the mice to show better pain management, improved motor skills, and general relief in the symptoms of their illness.
Interestingly, there are many other research papers suggesting that CBD has above-average painkilling properties. In fact, there have been over 20,000 scientific studies on the therapeutic effects of cannabinoids on different types of health conditions.
CBD Oil for Injuries and Muscle Soreness
CBD can be administered either internally or topically.
When it comes to inflammatory pain that comes from within our bodies, the best way to use CBD oil is to place it under the tongue and wait until it gets absorbed through special capillaries in your mouth. It helps alleviate the muscle inflammation that often troubles us after workouts.
Many athletes also use small doses of CBD oil before working out to enhance their focus and improve muscle endurance so they can push their limits a bit further in a natural way.
If you're troubled by localized pain due to an injury, consider applying CBD topically. CBD easily penetrates the skin, reaching the CB2 receptors in its deeper layers and relieving inflammation as a result. Its neuroprotective and antioxidant properties can also improve regeneration capacities.
CBD Oil for Migraines
Migraines are debilitating headaches that can last for anywhere between 4–48 hours. The worst part about migraines, however, is that scientists still don't know what exactly causes them. Recently, researchers have concluded that migraines may derive from a condition called "clinical endocannabinoid deficiency." Since CBD oil can naturally help our bodies produce and maintain more endocannabinoids, CBD could be a promising natural alternative to conventional treatment options, such as painkillers or botox.
How to Use CBD Oil for Pain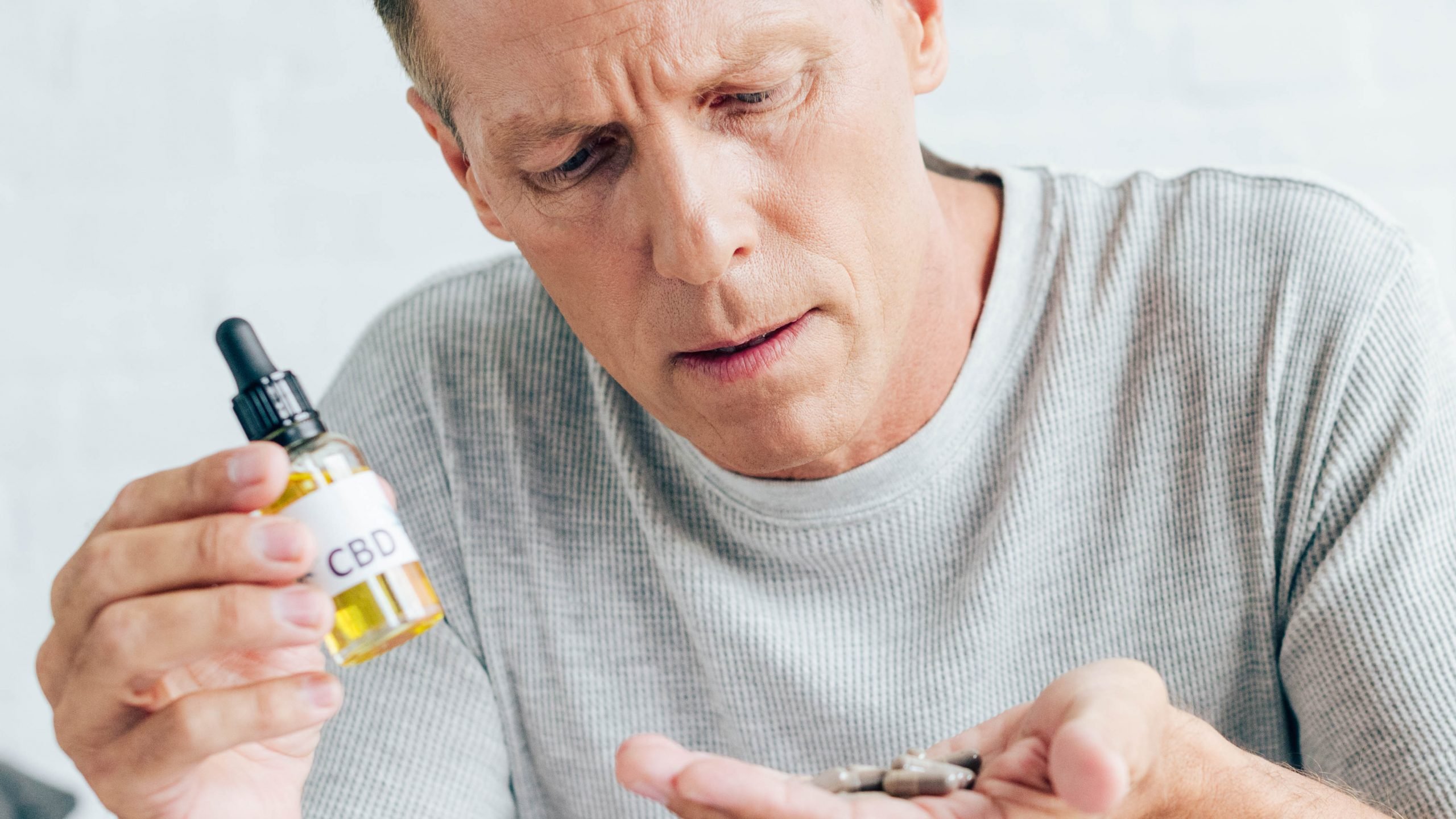 There are several ways you can use CBD oil to alleviate pain. In this section, we briefly cover each form of CBD, highlighting its pros and cons so you can decide which type of product suits you best.
CBD Oil Drops
What are CBD oil drops?
CBD oil drops are the most traditional form of CBD. They consist of a hemp extract that is suspended in some sort of carrier oil — mostly MCT oil or hemp seed oil — for better bioavailability and precise dosing. CBD oil comes in bottles with droppers attached to their top.
How to use CBD oil for pain
Measure out your dose of CBD with a dropper and squeeze out the oil under your tongue. Once there, hold it for about 30-60 seconds, then swallow.
Pros & Cons of using CBD oil for pain
Pros
Cons

Precise dosing
Fast absorption
Fast onset (15–20 minutes)
Relatively high bioavailability (35%)
Ease of use

Not the most convenient way to take CBD
Full-spectrum CBD oil may have an unpleasant, botanical taste
CBD Capsules
What Are CBD capsules?
CBD capsules are just hemp extracts contained in a carrier oil and covered in an easy-to-swallow softgel form. Each capsule comes with a fixed dose of CBD, making the dosing easier than with CBD oil.
How to use CBD capsules for pain?
You just take them like regular capsules, swallowing down with water.
Pros & cons of using CBD capsules for pain
Pros
Cons

Easy to dose
Convenient
Low-profile
No need to play with the dropper
No odor or flavor

Low bioavailability (4–20%)
No flexibility when it comes to dosing
Delayed onset (40–90 minutes)
CBD Topicals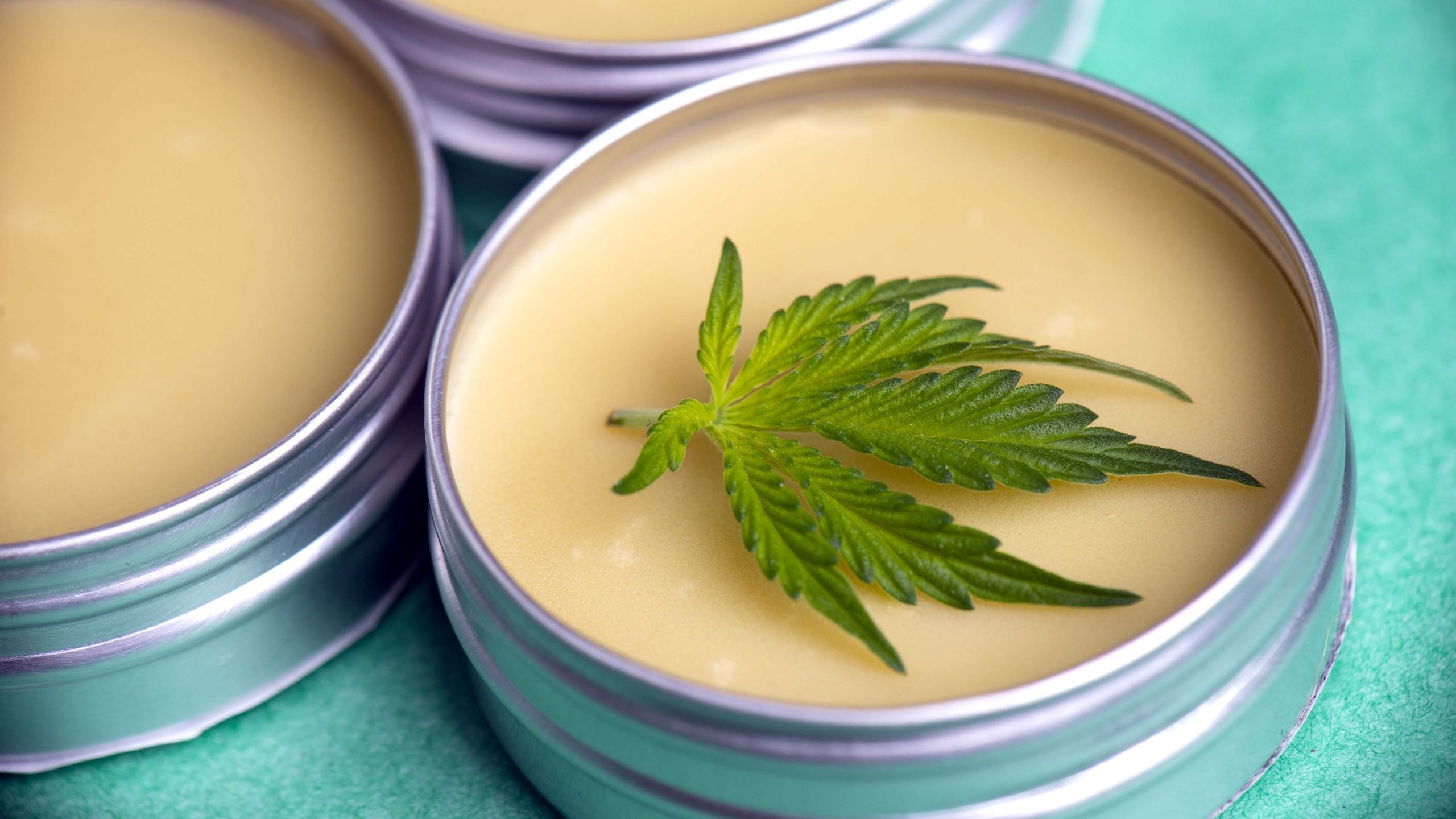 What are CBD topicals?
CBD topicals are products intended for external use. Their role is to fight localized problems on the body as well as to nourish and protect the skin against environmental damage.
How to use CBD topicals for pain
Take a liberal amount of your CBD ointment and rub it onto the affected area, waiting for the effects to take hold.
Pros & cons of using CBD topicals for pain
Pros
Cons

Great for localized pain
They often come with other healthy ingredients, such as menthol or lavender
Easy to apply
Fast-acting relief
CBD Vapes
What are CBD vapes?
CBD vapes are products designed specifically for vaporization. They range from dried CBD hemp flower to CBD dabs and E-liquids. You must buy a vaporizer or vape pen to use this route of administration.
How to use CBD vape oil for pain
You just inhale the vapor created by your product in a vaporizer through its mouthpiece. Once the vapor enters your lungs, it absorbs into their tissues and passes right into the bloodstream, where it reaches the cannabinoid receptors in your endocannabinoid system. CBD vapes combine the enjoyability of inhaled cannabis with the functionality of tinctures.
Pros & cons of using CBD vape oil for pain
Pros
Cons

Convenience
Ease of use
High bioavailability (56%)
Fast onset (effects noticeable within minutes)
A healthier alternative to smoking
Low-profile
Superior aromas and flavors

High-quality vaporizers and vape pens can be expensive
Difficult learning curve
Not the best route of administration for gut pain
What Are the Side Effects of CBD Oil?
The main reason why CBD oil is so popular today is its non-intoxicating nature and a ridiculously short list of side effects. In fact, even doses of over a gram and one-half of CBD have no side effects on health whatsoever.
This means that CBD is entirely safe for consumption — even the WHO acknowledged it in 2017.
You won't experience any of the side effects linked to using conventional pain killers, such as addiction, liver failure, heart attack, stroke, or ulcer.
The worst that may happen to you are the following:
Dry mouth
A temporary drop in blood pressure
Dizziness
Diarrhea*
*Diarrhea isn't the side effect of CBD per se. It's rather a consequence of taking too much oil at a time, meaning your body has to flush it down somehow.
Finally, you should be aware of potential drug interactions with CBD. Cannabidiol engages with many types of drugs that are processed in the liver. This reaction is similar to what grapefruit juice produces when taken in conjunction with certain drugs — both CBD oil and grapefruit juice act on the same enzyme responsible for processing the active ingredients in prescription medications.
If you're taking any pain killers, consult with your doctor to determine whether or not those drug interactions are possible in your case.
Where to Buy CBD Oil
Due to being completely non-psychoactive, CBD oil is legal and widely available in most places across the world. Some countries have their restrictions regarding the cannabinoid profile of CBD products — Thailand, for example, has banned all CBD products except for isolate — but if you live in the US or Canada, you're safe and sound.
If you want to find high-quality CBD oil for pain management, you have two options:
Buy CBD Oil Near Me
Buying CBD oil locally is very convenient because you just walk into a store and grab a product you like. There's no need to register an account, fill in shipping forms, and stuff — not to mention that you can ask the staff at the store for recommendations based on their knowledge.
This brings us to the downsides of buying CBD oil in head shops and dispensaries.
First off, products sold in dispensaries are often priced a few times as higher as those that you can find online.
There's also a chance that these products had been improperly stored before they arrived on the shelves, so they may not be as potent as they originally were.
Finally, relying solely on the knowledge of one person isn't the best way to do your research on a CBD company.
Here's a better way to buy CBD oil:
Buy CBD Oil Online
The majority of people buy CBD oil online and there's a good reason that you consider this option too.
Buying CBD oil online gives you access to a wider range of products. You can choose between different forms of CBD and compare the prices of your potential vendor to get yourself the best deal possible.
But more importantly, you can do meticulous research on any company that sells CBD oil online. Read their website, check how they manufacture their products, ask for lab reports, and never take anyone's word for granted. Companies like to boast about the quality of their products, but nothing verifies marketing claims other than reading reviews from other consumers or checking the Certificate of Analysis of your CBD oil.
Speaking of which, let's take a look at the dos and don'ts of buying CBD oil.
How to Buy CBD Oil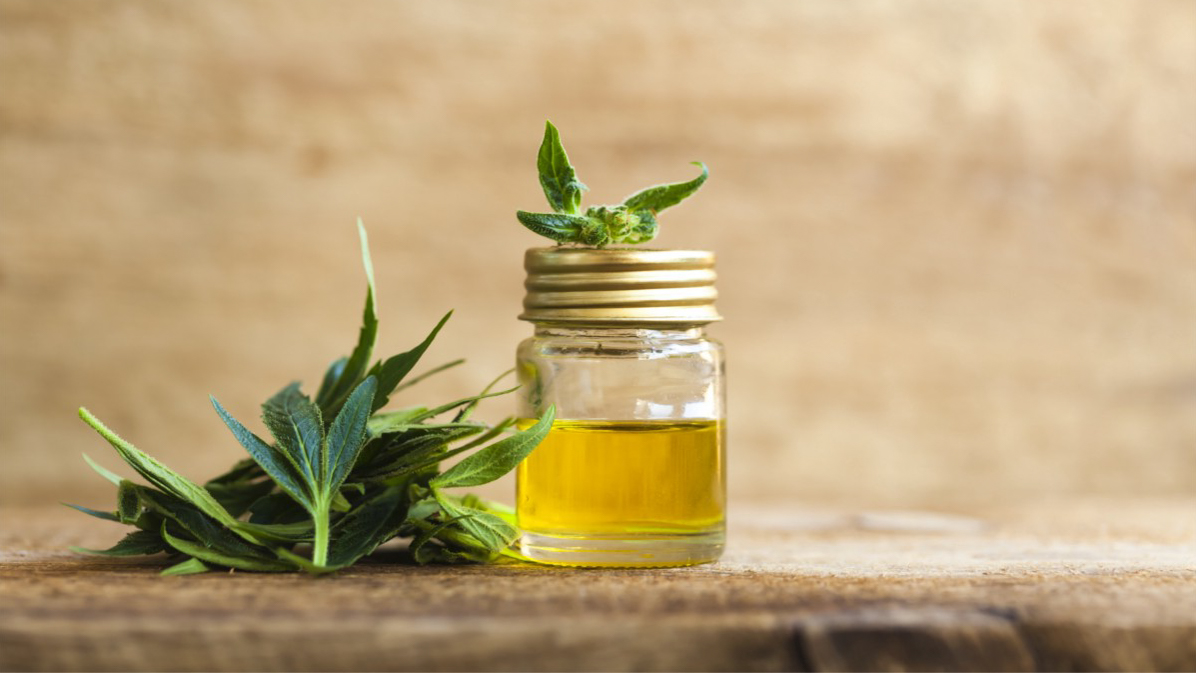 If this is your first time trying CBD oil for pain, there's one thing we'd like you to be aware of — no two CBD oils are made the same.
In fact, there's a large degree of difference when it comes to the quality of CBD extracts. Although the industry has finally established some quality standards for CBD products, it's still easy for beginners to fall into the trap of buying "cheap CBD oil."
Here's how to avoid the traps:
1. Check the Hemp Source
Hemp plants are bioaccumulators, meaning they absorb both the good and bad substances from their environment. When planted and grown in polluted soil, the hemp will focus on drawing the toxins from the soil instead of absorbing the nutrients. This, in turn, results in low-CBD and contaminated plant material.
Some companies refine their extracts after extraction, so impurities will eventually be gone — unfortunately, at the cost of potency and overall quality of the product.
That being said, always buy CBD oil from companies that use organic hemp plants from local farmers. Such plants will always give CBD-rich flowers, free of impurities and toxins.
2. Choose CO2-extracted CBD Oil
CO2 extraction uses pressurized carbon dioxide to extract CBD and other valuable compounds from hemp. Companies use CO2 in its supercritical state; supercritical CO2 has the ability to change its state from liquid to gas as it runs through the extraction chambers — leaving behind a cold liquid extract.
CO2 extraction is currently the safest of all extraction methods because it doesn't involve the use of toxic solvents like hydrocarbons (e.g. propane, butane). CO2-extracted CBD oils are clean, potent, and should contain the full spectrum of cannabinoids and terpenes.
3. Look for the "Low-THC" Stamp
The "low THC" stamp means that your CBD oil contains 0.3% THC or less. Buying a product with this stamp greatly reduces the risk of getting a mislabelled product. Believe it or not, the law enforcement doesn't care that your vendor was claiming the CBD oil had only trace amounts of THC and was 100% legal.
4. Read 3rd-party Lab Reports
A Certificate of Analysis from a 3rd-party laboratory is the only quality proof you can get from a company that sells CBD oil. This certificate contains a complex report on the analyzed sample in terms of its cannabinoid and terpene profile, as well as potential contaminants such as pesticides, fungicides, mycotoxins, and heavy metals.
Every company out there has the option to send samples of their products for content analysis to one of those 3rd-party labs.
If you can't find Certificates of Analysis on the company's website, it's a clear sign its transparency leaves a lot to be desired and thus you'll be better off with CBD oil from another brand.
5. Read Reviews from Other Customers
Anecdotal evidence may not be "statistically significant" for researchers, but it's often the ace card for many brands. Look for companies with much positive feedback on their website and 3rd-party retailers to get a bigger picture of the company you're about to trust with your money. If you're buying from a newcomer brand that doesn't have many reviews online, you can read industry reviews or blogs with CBD oil recommendations and see if your brand was mentioned there.
Final Thoughts on the Best CBD Oil for Pain & Other Serious Problems
As CBD is gaining global acceptance, scientists are publishing new studies on cannabinoids and their health benefits every month. Soon enough, experts are mapping out the complex mechanisms behind the painkilling properties of CBD and other cannabis derivatives to support those suffering from both acute and chronic pain of all different sources.
According to the current research, CBD oil can reduce pain through:
Inhibiting inflammation at several different levels
Preventing oxidative damage
Relieving muscle tension and localized inflammation
Interacting with the vanilloid receptors in the brain that regulate inflammatory pain transmission
When it comes to pain management, CBD shows promise as a natural and safe alternative to commonly prescribed painkillers.
We hope that our guide has helped you understand how CBD works for different types of pain, and how to find a reputable manufacturer on the booming market.
Do you benefit from using CBD oil for pain? Where do you feel the biggest difference? Share your stories in the comment section.