Most high-end CBD products have one thing in common: they're expensive.
There are ways to bring down the cost of manufacturing and charge lower prices to consumers, but most of them mean producing a less-effective – or even dangerous – product.
Lazarus Naturals has decided to go the lower-price route by using a safe but less than the optimal process by which they extract cannabidiol (the scientific name for CBD) from hemp. It means the company's products are dramatically less expensive than you'd expect, but still deliver CBD in a safe and acceptable manner.
"Cheap" sounds good, of course. But is the method used to get there worth the cost savings?
Let's find out.
Lazarus Naturals: The Background
Lazarus Naturals is one of the most transparent companies in the CBD industry. That's probably not surprising since the company is actually owned by its employees, not a third-party investor or some other bigger firm.
It was formed in 2014 by Sequoia Price-Lazarus, who began working on a process known as "cannabinoid isolation" in the medical marijuana industry. That experience translated very well to the extraction of CBD from the hemp plant. So once the decision was made to produce and sell cannabidiol products, Price-Lazarus brought on board other managers and staffers who believed, as he did, in making high-quality cannabidiol products available to all consumers.
The company believes that "all consumers" should include those with limited financial resources or difficult medical situations, so Lazarus Naturals became one of the first CBD producers to offer huge discounts (up to 60%) to the disabled, veterans and those with low incomes. Documentation of hardship, veteran status, or medical condition is required to obtain those discounts.
Lazarus Naturals has a robust community outreach program to help others in need. It also belongs to all major national and state hemp and herbal products organizations in the industry, including the U.S. Hemp Roundtable.
The company's reputation in the CBD industry, and in its home state of Oregon, is stellar. We can understand why.
Lazarus Naturals: The Approach
Many CBD producers produce "a CBD oil," "a CBD lotion," and so on. Lazarus Naturals is happily an exception, with a smart variety of formulations, potencies, and flavors/scents of most products. And in addition to its full-spectrum CBD offerings, there are some THC-free, CBG, and CBD/CBG options as well.
Lazarus Naturals is very careful about the hemp that its cannabidiol is sourced from, maintaining an exceptional level of control. 70% of the hemp is grown on its own farms, with the other 30% grown by local Oregon farmers who have been chosen for the quality of their growing methods. All of the hemps are organic and non-GMO.
That brings us to the "yeah, but…" issue we mentioned in the introduction to this review: the less-expensive method that Lazarus Naturals uses to extract cannabidiol from hemp. It's called ethanol solvent extraction, which can be problematic if a company isn't very careful; many producers who use this method end up with traces of the solvent in their CBD.
That's where testing comes into play. If ethanol is present, it shows up in third-party testing – and test results of Lazarus Natural products show that no ethanol is contained in their CBD. The conclusion that can be drawn: this is one of the few companies that properly uses ethanol extraction, and its products are safe and non-contaminated. (A media report had claimed to find contamination in one of the company's products, but it turned out that the product was a counterfeit.)
The truth still remains that extraction with ethanol solvents produces less-effective cannabidiol than a more-expensive method like supercritical CO2 extraction and that it leaves a taste that's "more raw" than usual. However, that trade-off – less-effective and raw-tasting CBD at a much less expensive price – may very well be worth it to you.
Lazarus Natural uses all-natural ingredients, except when absolutely necessary to ensure proper consistency in topical products. The company uses hemp seed oil instead of slightly more-effective MCT oil as a carrier at times, but that's not a huge problem. And almost all of its products are vegan and gluten-free.
All in all, we can find very little to find fault with; as you long as don't mind the ethanol extraction, Lazarus Naturals uses high-end sources and methods to create its entire product line.
Lazarus Naturals CBD Oil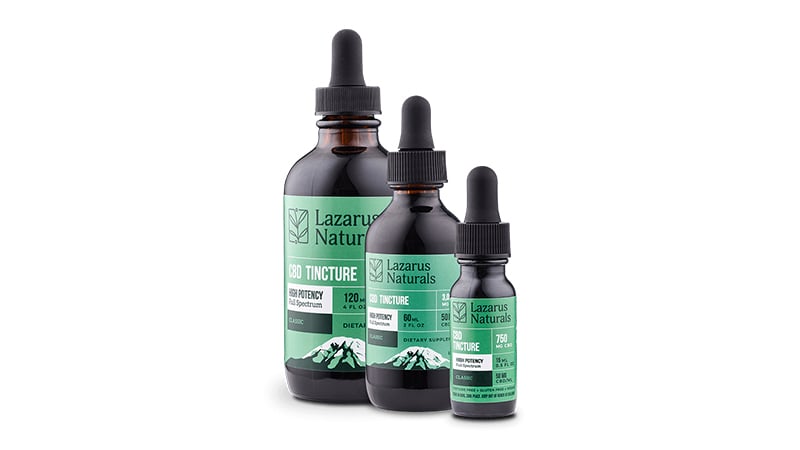 Since the selection of Lazarus Naturals CBD oils (the company, like many others, calls them tinctures) is so robust, it only makes sense to start there.
There's a great choice of products to match individual consumers' desires. Full-spectrum CBD oil comes in two strengths, "standard potency" at 20mg/ml and "high potency" at 50mg/ml. The standard potency oil is unflavored (and as we've mentioned, raw-tasting); the high potency oil is available in unflavored, chocolate mint, and French vanilla/mocha flavors, with the flavorings all-natural.
Lazarus Naturals also offers CBD isolate oil, meaning it contains no THC at all. That reduces the entourage effect benefits provided by the normal 0.3% THC content in full-spectrum oil but also ensures that users will never fail a drug test. (Full-spectrum CBD triggers drug tests very rarely.) Isolate oil is only available as a high-potency product, and the flavor options are different: unflavored, blood orange, and winter mint.
Next up, the company's oils containing either a mix of full-spectrum CBD and the cannabinoid CBG or just CBG isolate with no CBD at all. CBG has its own health benefits, and also helps with the effectiveness-boosting entourage effect. The CBG: CBG oil contains 25mg/ml of each cannabinoid, the CBG isolate oil contains 50mg/ml of CBG. Both are unflavored.
Finally, there are two products you don't see sold very often. The first is Lazarus Naturals CBD RSO, better known as "Rick Simpson Oil" and named after a well-known cannabis activist. This powerful, full-spectrum product (100mg/ml) is CBD-rich and can be used in a variety of ways, including being mixed into food or creating home-made edibles. The company also offers full-spectrum CBD coconut oil, a full-spectrum product with 50mg of cannabidiol per teaspoon and suitable for use in cooking or baking, or eating straight from the jar.
That's one of the best selections of oils we've seen from any producer, they're manufactured extremely well (again, with the extraction method disclaimer), and they work well.
Lazarus Naturals CBD Capsules

There's also a smartly-designed mix of easy-to-swallow vegan, gluten-free CBD capsules on the company's menu.
The full-spectrum capsules are available in three strengths: 10mg, 25mg, and 50mg. All contain added d-Limonene to prevent heartburn (suffered by some people who swallow any type of capsule) and additional amounts of the terpene Beta-Caryophyllene, believed to be effective against pain.
There are also two varieties of CBD isolate capsules, each containing 25mg of CBD and formulated for additional benefits. The Energy Blend also contains caffeine, vitamin B, and several other energy-boosting herbs; the Relaxation Blend has added botanicals like chamomile and L-tryptophan (which the body converts into serotonin) which encourage relaxation and sleep.
Lazarus Naturals CBD Topicals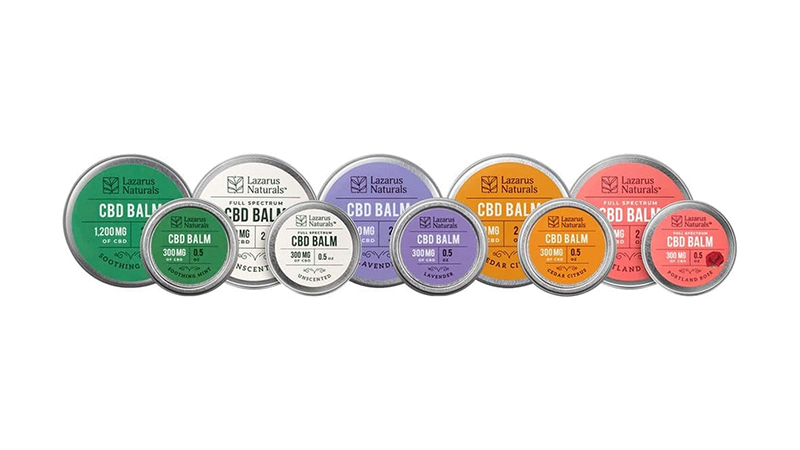 Most producers that manufacture and sell CBD topical products use CBD isolate as the primary ingredient. Lazarus Naturals, by comparison, uses full-spectrum CBD. That arguably makes them significantly more effective.
The company's CBD lotion isn't completely vegan, since beeswax is used for consistency and spreadability. However, the lotion is loaded with organic natural oils in addition to a very high dose of cannabidiol for topical products: 50mg per teaspoon. That dose, in and of itself, makes this an extremely potent product. The lotion comes in unscented, Pacific pine and Portland rose options.
The second category of Lazarus Naturals topical is the full-spectrum balm. This product is also non-vegan, and it contains a moisturizing synthetic oil made from natural ingredients (which can cause skin irritation in a small percentage of users). But the organic mango butter and extremely high CBD content (50mg per teaspoon) make this another great choice for the topical pain of arthritis or strained muscles. The CBD balm comes in four varieties (lavender, cedar citrus, soothing mint, and Portland rose) plus unscented.
The last topical product on the list is CBD massage oil, a whole-spectrum, all-natural product that contains jojoba, sweet almond, and coconut oils as well as 50mg of cannabidiol per teaspoon. It provides a relaxing feeling that eases pain when used for massages, and the high content of CBD is once again at a level you won't find in most competitive brands.
Lazarus Natural Pet CBD

We can't forget our best friends when it comes to the medicinal benefits of CBD, and Lazarus Natural offers both CBD oil and CBD treats for pets.
The all-natural, gluten-free oil contains 20mg/ml of full-spectrum cannabidiol, which is a high dose for a pet CBD product; be very careful using it with small pets. It's available in wild salmon and unflavored varieties. There's also a THC-free CBD isolate oil for pets.
The pet treats come in two varieties with appropriate and natural added ingredients, "Vitality" (sweet potato flavor) and "Mobility" (salmon flavor). Each treat contains a relatively-high 5mg of full-spectrum CBD; again, use caution when giving them to small pets.
Lazarus Natural: The Verdict
When reviewing CBD products we try to present a balanced picture, both the positives and the negatives. We had a difficult time, however, when reviewing Lazarus Natural CBD. The only negative we could find – of any kind – is that the company uses a somewhat less-preferable extraction method in order to keep prices low.
But as we've explained, Lazarus Natural is very careful to ensure that the manufacturing process is completely safe, as are the products it creates. Just as importantly, the lower effectiveness of the company's solvent extraction process is more than compensated for by its widespread use of full-spectrum cannabidiol and its higher-than-normal potency options.
For those reasons, we give the full product line from Lazarus Natural extremely high grades. It's excellent CBD at an absolutely terrific price.