Many companies, in all industries, try to convey a positive sales message with their brand name. And it's sadly not unusual to see that the message is based solely on marketing strategy – not reality.
There's nothing, for instance, to prevent anyone from putting the word "natural" in the name of a CBD company, even if their products are far from all-natural. It's quite common, in fact.
So when you see a CBD producer calling itself Kat's Naturals, it's only common sense to look a little deeper. Just how natural are the company's products? Is it an honest description or just marketing fluff?
We're pleased to report that the CBD products from Kat's Naturals are indeed all-natural. In fact, almost all of the ingredients used in the company's oils, topical and other product lines are organic. That's a rarity in the CBD industry and a clear signal that the company's products are worth paying attention to.
And when you dig a little deeper into the story behind Kat's Naturals, you understand that "natural" isn't just a brand name. It sums up the founder's approach to life and health.
Let's do that digging.
Kat's Naturals: The Background
The founder of Kat's Naturals, Kat Merryfield, is a professional nutritionist and herbalist. She had been producing natural farm-to-home products on a small scale for a decade, when her husband Brian (a 13-year military veteran) began showing the signs of – and was diagnosed with – PTSD.
She redoubled her efforts to create natural, healing products that could benefit her husband, settling on CBD as the best possibility. Kat credits those products with helping Brian get his life back, and it put her on a crusade to help veterans and others benefit from the medicinal power of cannabidiol (the full name for CBD).
Kat's Naturals grew quickly and began sourcing hemp and other ingredients from reputable vendors, always intent on producing organic, natural, high-quality products. As the company grew, Kat committed to donating a portion of her annual profits to veterans' support groups as another way to give back to the community.
Her background in herbal nutrition has always been accompanied by a deep concern for the environment, demonstrated in several of Kat's Naturals' regular policies. Containers are kept to the smallest size possible and are sold in minimalist packaging to reduce the amount of material and packing materials that need to be used and recycled. And all hemp and organic oils are sourced locally, to reduce the impact of long-distance transportation on the environment.
That's all impressive and praiseworthy, but needless to say, the real test of the name "naturals" depends on the products and their ingredients. We're pleased to say that the company passes that test as well.
Kat's Naturals: The Approach
Considering the fact that Kat started her business by growing all of her own ingredients organically in her backyard, it isn't surprising that Kat's Naturals has maintained those standards as the business has grown.
Hemp is sourced from just three organic farms in Tennessee, where the company is based. The hemp is 100% organic and non-GMO, and Tennessee has some of the most stringent farming regulations in America.
Cannabidiol is extracted from hemp via the supercritical CO2 method, the most expensive way to do it but also the most efficient because it retains almost all of the CBD's potency throughout the process. The carrier oil used in most of the company's products (the ones which require a carrier) is hempseed oil. That's the second-best choice after MCT oil (which is used in one oil variety), but hempseed does contain a bounty of fatty acids and vitamins so it's a good choice for its health benefits.
One of the stumbling blocks that many CBD producers trip over is the quality of ingredients they add to their products. Kat's Naturals doesn't stumble, using only natural essential oils for flavoring and no other unnecessary artificial additives.
There's always some disagreement about the cannabidiol used in CBD products. Most people agree that full-spectrum oil, which contains all of the components of the hemp plant – including the minuscule amount of THC legally allowed in hemp sold in America – is more effective. That's because THC and the other components work together in an entourage effect to increase the effectiveness of CBD. However, some fear that even a tiny THC presence in their CBD could cause a positive drug test.
Kat's Naturals leans toward satisfying those who want their cannabidiol THC-free but does also offer a few full-spectrum products. That means their selection offers the best of both worlds.
There's almost nothing to argue within the way that Kat's Naturals formulates and produces their CBD products. It's almost perfect. And the products' performance and effectiveness are just as good as you'd expect from such a careful and thoughtful process.
Kat's Naturals CBD Oils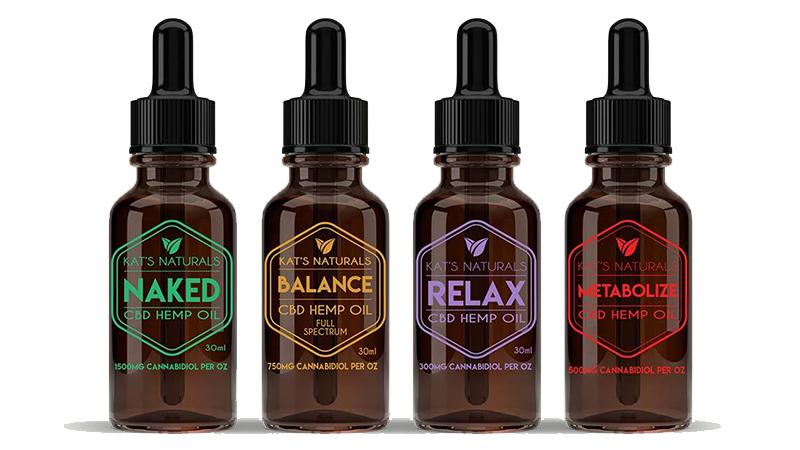 There are six different Kat's Naturals CBD oils, each formulated for a slightly different purpose.
The strongest "consumer-strength" CBD oil is produced in two varieties. They are each manufactured from CBD isolate with no THC content, meaning there's a lesser entourage effect than full-spectrum oil would provide. Each contains 50mg/ml of cannabidiol. The "Naked" oil is made from just CBD and a hemp seed carrier oil, with no added flavoring; "Heal" oil is the same product with organic peppermint essential oil added to cover the natural hemp flavor.
Why do we say that "Naked" and "Heal" are the company's strongest consumer oils? Because they also produce a "professional strength" CBD that provides 100mg/ml of CBD isolate. Kat's Naturals says that oil has essentially the same potency as prescription cannabidiol, at about one-eighth of the price. This oil uses MCT oil as a carrier and is flavored with organic wild orange essential oil.
"Balance" is Kat's Naturals' only full-spectrum oil. It delivers 25mg/ml of cannabidiol, contains organic peppermint essential oil for flavoring, and uses MCT oil (the best choice) instead of the hempseed oil used in most of the company's CBD oils.
The low-potency option is called "Relax," and it contains CBD isolate (10mg/ml strength) along with hemp seed carrier oil and organic wild orange essential oil for flavoring.
One final choice is called "Metabolize." It is made with a mix of CBD and CBG; the latter is another cannabinoid from the hemp plant with its own medicinal properties. There is 33.3mg/ml of each cannabinoid in the formulation, and since CBD isolate is used, additional terpenes (primarily humulene) are added to try and recreate the entourage effect. The formula also contains a mix of organic essential oils, including grapefruit, peppermint, ginger root, and cinnamon, to provide additional health benefits as well as a pleasant flavor.
It's a smart assortment of CBD oils, and they work well.
Kat's Naturals CBD Capsules

There are no "standard" CBD capsules on Kat's menu, but there are "professional strength" ones. Each contains 20mg of cannabidiol (CBD isolate) as well as something called growth cell oligopeptide, which the company says dramatically increases the CBD's absorption, as well as several amino and organic acids.
Kat's Naturals CBD Topicals

There are four products to choose from in Kat's Naturals topical assortment, including two varieties of organic CBD cream. One includes capsaicin, which calms painful areas with heat while the cannabidiol is taking effect and also helps boost circulation. The other variety has added arnica, which homeopaths believe can provide additional and faster pain relief. Each is also supplemented with a variety of natural essential oils and botanicals aimed at increasing the cream's health and wellness benefits.
The company's professional strength CBD cream contains 33% more cannabidiol (it's CBD isolate). It also includes an ingredient used in the medical field which helps with transdermal absorption, along with emu oil, arnica, and a number of organic essential oils and botanicals. This cream comes in an easy-to-use precision applicator.
Finally, Kat's Naturals CBD skin serum combines CBD isolate with a number of essential oils, vitamins, and skin nutrients to create a healing and moisturizing addition to a skincare regime.
Kat's Naturals Vape Products

Relatively few CBD producers sell e-liquid that allows you to vape cannabidiol. Kat's Naturals offers an organic e-liquid that contains only THC-free CBD, added terpenes, and the necessary ingredients (propylene glycol and vegetable glycerin) that make it vapeable. The amount of cannabidiol in the liquid is relatively low, but that's for a reason – it's so you can vape as needed or desired without inhaling too much CBD.
A higher amount is contained in the stand-alone, organic vape pen sold by the company; it's designed for use before bed and also includes the cannabinoids CBG and CBN.
Kat's Naturals CBD Edibles

Two types of chocolate are on the menu: 70% dark chocolate and peppermint-flavored white chocolate. Each contains decarbed full-spectrum hemp and all ingredients are organic. Kat's Naturals also sells activated (decarbed) hemp that's ready for you to include in your own recipes.
Kat's Naturals CBD Skin Care Products
These products are all sold under the brand name "Fhenix." They include daytime replenishing cream, nighttime repair cream, anti-fatigue eye cream, and a CBD-infused mask. Each is THC-free and includes the relevant organic oils and botanicals you'd expect to see in moisturizing, replenishing, revitalizing, and anti-aging skincare products.
Kat's Naturals CBD Pet Products

Three organic CBD oils for pets are available from the company, all marketed under the "Cannaivore Pet Farmacy" brand. The first two contain an enormous amount of cannabidiol by pet dosing standards when measured by the usual mg/ml method and given to pets. Each drop contains 2.5mg of CBD, though, so it is possible to control dosages. Just be very careful when using this oil and only use a few drops, particularly with small pets.
One of those oils is called "Rally" and contains CBG and CBN, as well as CBD, isolate. The other is called "Comfort" and only contains full-spectrum cannabidiol.
Kat's "Mend" oil delivers a more reasonable 5mg/ml (.25mg of CBD isolate per drop) and also contains CBG.
Kat's Naturals: The Verdict
The many options in Kat's Naturals product lines show what can be accomplished when a producer is fully devoted to delivering the highest-quality CBD possible, in products that are all-natural and organic.
We would like to have seen more full-spectrum choices rather than a reliance on CBD isolate since we feel the added entourage effect is worth the inclusion of a tiny amount of THC. But that's just nit-picking.
We're extremely impressed with all that Kat Merryfield has done with her company – maintaining the highest possible standards while increasing Kat's Naturals' industry presence and expansion.
In short, these are some of the best CBD products we've ever reviewed.