In this article, we'll be outlining five of the best CBD capsules and softgels on the market followed by a buyer's guide on this convenient form of cannabidiol.
By signaling and modulating a wide range of essential functions, CBD oil can significantly improve our quality of life. There are over 20,000 scientific studies on PubMed with references to the therapeutic properties of cannabinoids. People use it to cope with everyday maladies as well as more serious health problems because it's a natural and safe compound.
CBD products are available in many forms. Oil drops and tinctures were one of the first products to debut on the market, but many people consider them anything but convenient — hence the rise in the popularity of CBD capsules.
They are small, easy to take, and offer a pre-measured dose in each serving. They're also a great option if you dislike the taste and texture of CBD oil.
However, not all capsules are manufactured the same way. There's plenty of untested, mediocre products on the market, some of which can even be dangerous to your health.
Below we highlight the best CBD capsules from companies that offer organic and lab-tested products, with a vocal community of supporters, including us.
Best CBD Capsules & Pills in 2022: Our Top 5 Picks
1. Royal CBD (Best CBD Capsules Overall)

Product Details
| | |
| --- | --- |
| Total CBD | 750 mg |
| Total count | 30 capsules |
| CBD per serving | 25 mg |
Why Royal CBD Offers the Best CBD Capsules
Our editor's pick, Royal CBD specializes in making premium-grade, honest CBD extracts for the general user. The company has a very specific line up of products, including its simple CBD softgel capsules.
These little CBD softgels contain a decent dose of 25 mg of CBD per capsule. They're made from full-spectrum CBD, so each capsule delivers the whole range of cannabinoids and terpenes. The hemp extract has been infused into high-grade MCT oil for improved absorption and extra nutrients such as heart-healthy fatty acids.
This potency is ideal for the average user, or those who need higher doses of CBD in their routine and don't want to take more than 2 capsules at a time. While these capsules clock in slightly higher than the competition, the price is well justified. These are THE best premium CBD capsules from organic hemp, extracted with CO2, and rigorously tested in a third-party laboratory. Every step of the manufacturing process is made under sharp control.
Not to mention the classy packaging that's going to look just as nice in your supplement cabinet as it will at your office desk.
These capsules are a real bargain when it comes to high-end CBD products.
Pros
Cons

Made from locally grown organic hemp
Extracted with supercritical CO2
Infused with full-spectrum CBD
Easy to swallow softgel form
25 mg CBD per capsule
3rd-party tested for potency and purity

Product Details
| | |
| --- | --- |
| Total CBD | 750 mg |
| Total count | 30 capsules |
| CBD per serving | 25 mg |
About Gold Bee
Gold Bee is another premium brand with roots in California. This company has started with a selection of high-grade MCT oil and hemp seed oil and has now expanded the product catalog with CBD products, such as honey-flavored CBD oil, pain relief topicals, and full-spectrum CBD capsules.
This is a similar level of quality to Royal CBD. Gold Bee sources its hemp from local farms that it's partnered with to create a proprietary blend of CBD-rich strains, with precise ratios of CBD, THC, CBC, CBG, CBN, and terpenes like limonene, myrcene, pinene, and more. Although not certified by the USDA, these plants are cultivated using organic methods, with no pesticides or growth boosters.
At 25 mg of CBD per capsule, this product is designed to leverage all the benefits of high-potency CBD oils but with a more convenient format and easier dosing.
I only wish that Gold Bee had a lower potency option in its CBD capsule range for people who want the same level of convenience but need less CBD oil in their routine.
Pros
Cons

Sourced from US-grown organic hemp
Contains full-spectrum CBD
25 mg of CBD per capsule
Third-party tested for potency and purity
3. CBDPure (Best Transparency)

Product Details
| | |
| --- | --- |
| Total CBD | 750 mg |
| Total count | 30 capsules |
| CBD per serving | 25 mg |
About CBDPure
CBDPure offers high-potency softgels made with a very simple formula. These capsules contain 750 mg of CBD per bottle, breaking down to 25 mg in each piece. While this potency is definitely above average, CBDPure recommends one bottle for a one-month supply, which is very difficult to achieve for most users, who usually need to take 2-3 capsules daily.
Everything else about this company leaves nothing to be desired. The hemp is sourced from organic hemp, it's processed using pressurized CO2, and CBDPure goes above and beyond in describing every step of the manufacturing process, from farming to testing and packaging.
The reason why we put them in third on our list of the best CBD capsules is the price. CPDPure's capsules come in around $0.13 per mg, which is a lower than average value in my opinion, especially if you consider companies like Royal CBD and Gold Bee.
Pros
Cons

Sourced from organic Colorado-grown hemp
Extracted with supercritical CO2
Lab-tested for potency and purity
90-day return policy

More expensive than competitor brands
4. Hemp Bombs (Best CBD Isolate)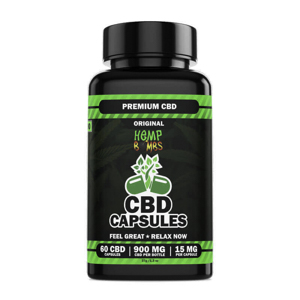 Product Details
| | |
| --- | --- |
| Total CBD | 75 mg – 1800 mg |
| Total count | 5 – 60 capsules |
| CBD per serving | 15 mg – 25 mg |
About Hemp Bombs
Hemp Bombs CBD capsules contain 15–25 mg of CBD oil and you can choose from a wide range of package sizes, from 5 to 60 count. With great diversity, the company caters to both first-time users and CBD veterans.
These capsules are made with CBD isolate, so they're great if you're suffering from stress, anxiety, or sleep problems because they are loaded with calming and anti-stress ingredients. These are broad-spectrum pills, meaning they contain CBD oil and other non-psychoactive cannabinoids but without THC, being a nice middle ground between full-spectrum extracts and CBD isolate.
I'd like to place Hemp Bombs a bit higher on this list, but they're definitely not the best CBD capsules out there. Despite their high potency and extra ingredients, there's no full entourage effect due to the lack of trace amounts of THC. Therefore, they might not be as efficient as full-spectrum extracts, requiring the user to take higher doses throughout the day.
Another downside is the form of those capsules. These pills are quite large, which some users may feel uncomfortable with.
But on the other hand, if you want premium broad-spectrum CBD capsules at a regular market price, then Hemp Bombs will be your best bet.
Pros
Cons

Sourced from organic hemp
Extracted with CO2
0% THC
Wide product range
Third-party tested for CBD and contaminants
Up to 1800 mg of CBD per bottle
5 strengths to choose from

No synergy from other cannabinoids
Only traditional pill form available
5. CBDistillery (Best Price)

Product Details
| | |
| --- | --- |
| Total CBD | 750 mg – 1800 mg |
| Total count | 30 – 60 capsules |
| CBD per serving | 25 – 30 mg |
About CBDistillery
CBDistillery is one of my favorite brands because they combine high-quality products with affordable prices — something that has been the company's mission since they started out as a small craft business.
Today, this company is one of the largest CBD suppliers in North America, offering a wide range of CBD extracts in different forms. CBDistillery's capsules are available in two concentrations: 25 mg and 30 mg CBD per capsule. When compared to the market standards, the price point of these capsules is competitive at $0.08 per mg of CBD, especially when you consider their potency. Depending on your needs and lifestyle, CBDistillery offers full-spectrum CBD softgels as well as isolate-based capsules.
With that said, I have some doubts about the hemp source of CBDistillery's products. The company claims that its hemp is non-GMO but there's little information about how the hemp is cultivated and processed. We only know that it's sourced domestically and manufactured in Colorado.
Are these the best CBD capsules on the market?
Well, they're one of the best.
But they are definitely the best CBD capsules in their price category.
Pros
Cons

Available as full-spectrum CBD or isolate
Extracted with CO2
Third-party tested for potency and purity
Very affordable

Made from non-organic hemp
Only one potency option available
What is CBD?
CBD, or cannabidiol, is one of the two major cannabinoids found in the cannabis plant. Unlike its cousin THC, CBD is non-psychoactive, so it won't get you high. Nevertheless, cannabidiol offers a myriad of health benefits, providing balance to the essential biological functions in the body. CBD products can improve your response to stress, reduce anxiety, lower pain, inflammation, and reduce the frequency and severity of seizures.
Cannabidiol is usually derived from hemp, not marijuana, so the majority of legal CBD products in the U.S. contain 0.3% THC or less. This means that CBD oil from hemp won't get you high, either.
CBD is incredibly safe and can be taken in many different forms, such as oil drops, edibles, vapes, topicals, and capsules.
What Are CBD Capsules?
CBD capsules are pills that contain cannabidiol extracts that have been contained in a carrier oil to increase its volume. Modern CBD capsules are covered in softgel shells that make them easier to swallow.
The main benefit of CBD capsules is their convenience. They're small, they have no odor or flavor, and each capsule contains a fixed dose of CBD.
You don't have to use a dropper; you just take them as you would take any other pill supplement.
Not to mention that CBD capsules are more discreet than CBD oil.
Below we break down different types of CBD capsules.
What Are the Benefits of CBD Capsules?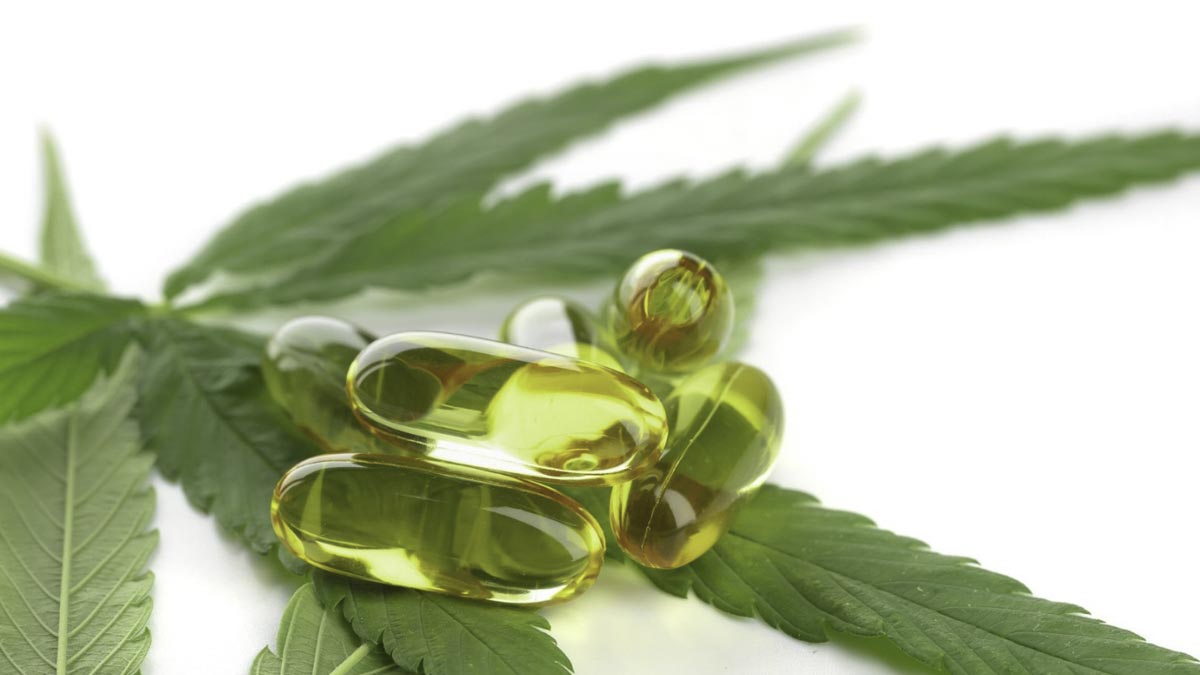 Due to its complicated legal status, it was previously difficult to conduct studies on the benefits of CBD. Still, there's a lot of promising research pointing to cannabidiol as a natural and effective alternative to pharmaceutical drugs for many serious conditions.
Common research areas with regards to CBD include:
Anxiety and depression: Studies show that cannabidiol can reduce the symptoms of depression as well as a wide range of anxiety disorders. It modulates the activity of serotonin receptors in the brain, leading to feelings of well-being and emotional stability.
Chronic pain: CBD products have remarkable anti-inflammatory properties and can be used to reduce inflammation-induced pain in conditions like arthritis or fibromyalgia.
Cancer: Many cancer patients support their treatment with CBD, mainly to relieve the side effects of chemotherapy, such as pain and insomnia. Recent research has also shown that CBD can trigger apoptosis, the death of cancer cells. One study has also found that a combination of chemotherapy and CBD in rats with pancreatic cancer tripled their survival rate.
Sleep disorders: CBD can promote healthy sleep cycles on top of reducing stress and resulting in sedation when taken in higher doses. CBD users often find it easier to fall asleep and stay longer in the deep sleep stage. CBD can also improve sleep patterns in people suffering from chronic pain.
PTSD: According to one study, CBD can relieve the symptoms of PTSD and improve sleep quality in those who suffered from traumatic events in the past.
Glaucoma: Glaucoma is triggered when glutamate destroys retinal cells. Cannabidiol and other cannabinoids have been proposed as potent neuroprotectants, including retinal neurons.
Irritable bowel syndrome (IBS): CBD can help the body control the neuroimmune system, which connects gut microbes, the immune system, and the nervous system; it does it through reducing intestinal inflammation.
Different Types of CBD Capsules
CBD capsules are usually extracted with CO2. Pressurized carbon dioxide acts as a solvent, traveling through different extraction chambers and pulling CBD along with other beneficial compounds from the plant material.
CO2 extraction is the safest and most efficient method of making CBD products because it always yields clean and potent extracts.
After the initial extraction, CBD can either remain full-spectrum or be isolated from the other compounds and turned into crystalline powder.
Full-spectrum CBD contains traces of THC (0.3% or less). If for any reason, you don't want any THC in your CBD capsules, you can choose the ones made from isolated cannabidiol.
Here we explain the difference between those two types of CBD capsules:
| | | | | |
| --- | --- | --- | --- | --- |
| Cannabinoid spectrum | How is it extracted? | THC content | What does it look like? | Can you fail a drug test using this type of CBD capsules? |
| CBD isolate | CBD oil is cooled after initial extraction so that CBD can be further isolated from other cannabinoids and terpenes. The result is a product that contains pure CBD. | 0% | Crystalline white powder | No |
| Full-spectrum CBD | CBD oil is extracted from the hemp plant and then contained in a carrier oil. This type of CBD capsules contains a variety of cannabinoids, terpenes, and polyphenols | 0.3% or less | Translucent yellow / dark green (depends on filtration and whether or not CBD has been decarboxylated) | Yes |
How to Take CBD Capsules?
CBD capsules are one of the simplest and fastest methods of taking CBD. As with any health supplement, oral ingestion is the way to go. When you take CBD capsules and swallow them down with water, their content needs to pass through your liver, where it gets metabolized. From there, it absorbs into the bloodstream and starts to send signals to the endocannabinoid system — providing its benefits.
This consumption method has one downside aside from a range of benefits. The aforementioned first-pass effect in the liver causes a delay in the onset of effects. Therefore, they may need about 30–90 minutes to take hold.
The capsule itself is either made of vegetable cellulose or animal gelatin. If you're vegan or vegetarian, you should avoid animal derivatives in your product and look for plant-based CBD capsules. Inside the capsule, CBD oil is usually infused into other ingredients (MCT oil) to bulk out the capsule and improve its absorption.
What Makes CBD Capsules and Pills Different?
Although CBD capsules show lower bioavailability than oil drops, they offer a few perks that outweigh that little drawback for many consumers.
First, CBD capsules lack any odor or taste, so if you dislike the earthy aftertaste of CBD oil, this may be an ideal alternative.
Moreover, CBD capsules are easier to take. There's no need to use a dropper or hold the oil under the tongue for a minute. You just swallow them down with water.
CBD capsules might take a little longer to produce their effects than CBD oil, but some say the effects last longer.
Dosage is also simpler with CBD capsules than with other forms of CBD because each capsule has a clearly defined dose.
Plus, you can avoid the sugar found in CBD edibles.
Are CBD Capsules Safe? What Are the Potential Side Effects?
CBD capsules are generally considered safe. The WHO issued an extensive report on cannabidiol in 2017, in which they stated that it's a natural and safe substance, with no potential for abuse or addiction.
That being said, taking too much CBD in your capsules can lead to a few mild side effects, such as:
Dry mouth: This side effect is typical of all cannabis-based products because cannabinoids interact with the cannabinoid receptors in salivary glands. This, in turn, can temporarily slow or inhibit saliva production. You can reduce the cottonmouth effect by drinking plenty of water before and after taking a CBD capsule. Another way to ease that discomfort is to chew or drink something sour because they stimulate the production of saliva.
A temporary drop in blood pressure: High doses of CBD can result in a drop in blood pressure that can make users feel dizzy. This side effect usually wears off quickly, but those with naturally low blood pressure or taking medications for low blood pressure should consult their supplementation plans with their doctors.
Appetite changes: Studies show that CBD can act as a mild appetite suppressant, but according to some people with eating disorders, it can actually stimulate appetite in a healthy way.
Sedation: Those who take CBD capsules to sleep better use higher doses of CBD because it makes them feel drowsy and helps them fall asleep. However, you need to make sure you know how CBD affects you before you operate a vehicle, because it may turn out that you don't need much CBD to experience drowsiness.
Diarrhea: Larger doses of CBD can lead to diarrhea because the substance in the capsules interacts with the digestive system. This is a very rare side effect, but if you experience this, you may want to take a lower dose next time.
Most importantly, you should check with your doctor before taking CBD capsules, especially if you have any medication prescribed. CBD interacts with many prescription drugs — they're metabolized by the same enzyme in the liver — which may lead to so-called second-hand side effects. You want to make sure that those interactions don't occur.
Things to Consider Before Buying CBD Capsules

In this section, we list the essential considerations for first-time CBD capsule shoppers.
Here's what you should pay attention to:
Dosage: How Many CBD Capsules Should You Take?
CBD capsules are available in different concentrations, from 10 mg to 50 mg of CBD per capsule. Some bottles only have a total concentration of CBD listed on them (e.g. 750 mg) but the majority of CBD capsules also break down the potency of CBD in each piece (e.g. 30 capsules with 25 mg each).
The optimal dosage for each individual depends on a wide range of factors, including age, gender, weight, metabolism, what you're treating, and whether you want to boost your alertness or help yourself fall asleep without problems. We generally recommend starting out with a low dose and increase if needed, but if you want more precise guidance, take a look at the table below, where we provide dosage recommendations by weight:
| | | | |
| --- | --- | --- | --- |
| Weight Group | Low Dosage | Moderate Dosage | High Dosage |
| Light (less than 130 pounds) | 10 mg | 12 mg to 15 mg | 16 mg to 20 mg |
| Medium (130 to 230 pounds) | 20 mg | 22 mg to 25 mg | 26 mg to 30 mg |
| Heavy (over 230 pounds) | 30 mg | 32 mg to 35 mg | 36 mg to 50 mg |
Animal Derivatives (for Vegans and Vegetarians)
The majority of CBD capsules contain gelatin, which is an animal derivative. This may be an ethical problem for those consumers who are vegetarian or vegan. If that's your story, you can look for CBD capsules made with vegetable cellulose. They might be more expensive but aren't any worse than CBD capsules made from gelatin.
Legal Status
Laws regarding cannabis are complicated and vary from country to country. Hemp-derived CBD capsules are legal in all 50 states, but if you live outside of the USA., make sure to check with your local regulations. While hemp is legal in over 40 countries, it's better to be safe than sorry.
Drug Testing
Full-spectrum CBD capsules contain trace amounts of THC, which could show a false-positive result on a drug test if you consistently use high doses. If your job requires drug testing, you may want to switch to CBD capsules that are made with isolate.
Lab Reports: Are Your CBD Capsules Tested?
Lab results aren't obligatory, but companies should provide complete reports from third-party testing because it's legitimate proof of the quality of their products. Customers feel more confident about the quality of CBD capsules when they can actually verify its content using laboratory analysis.
Other Ways to Take CBD
If capsules aren't your thing, you may want to try other forms of CBD products. There are plenty of options:
CBD oil: Oils come in dropper bottles, and usually require users to place a few drops under their tongue.
CBD vape liquid: CBD E-liquids are specially formulated to be heated and vaporized in a vape pen.
CBD edibles: This category includes all food infused with CBD, but gummies are currently the most popular type of CBD edibles. You just chew them like regular gummy bears.
CBD spray: Sprays are less potent than other forms of CBD but they offer a hassle-free application directly in your mouth.
CBD topicals: Topical products are intended to work well for physical discomfort in problematic areas.
CBD Capsules FAQ

Why Should I Take CBD Capsules?
CBD capsules offer many benefits that you won't find in other types of CBD products. Firstly, the dosage is much easier to figure out, since the capsules contain a fixed amount of CBD per piece. Capsules are also great for those who dislike the taste of hemp, which is often difficult to mask in other forms of full-spectrum CBD. Last but not least, capsules are familiar, easy to take, discreet, and allow you to avoid sugar and flavorings often found in CBD products like gummies.
Can I Fail a Drug Test Using CBD Capsules?
That depends on the cannabinoid spectrum of your capsules. If you consistently use full-spectrum CBD products, the trace amount of THC may show up on a drug test. If you have a job that requires regular drug testing, the safest option is to use capsules made from CBD isolate or, at least, broad-spectrum products that contain all the cannabinoids and terpenes but without any traces of THC.
What Happens if You Take Too Much CBD?
CBD capsules are considered to be a low-risk product. Some people who take CBD capsules may experience mild side effects, such as dry mouth, changes in appetite, blood pressure drop, drowsiness, or diarrhea. You should always check with your doctor before buying CBD capsules to avoid potential interactions with prescription drugs.
Can CBD Capsules Make You Feel High?
No, it's not possible. Although CBD capsules may contain trace amounts of THC (0.3% or less), they don't produce psychoactive effects, and therefore, can't get the user high.
Key Takeaways on CBD Capsules
It's great that users can take their supplements in more than just one way. Although CBD oil is still the most popular product, capsules are chasing its tail rapidly. On top of offering people a pre-measured dose of CBD, capsules are convenient to take, easy to swallow, and more discreet than traditional drops. They are also odorless and flavorless.
In the list above, we highlighted some of the most reputable brands in the U.S., including our editor's pick, Royal CBD. You'll notice that all of the companies listed here offer similar concentrations of CBD in their products, but as always, the devil lies in details. Keep our buyer's guide in mind when shopping for CBD capsules online and watch out for sketchy companies that offer you a cure-all for a bargain.
Enjoy and stay healthy!