Running through the lower back to the legs, the sciatic nerve covers a vast and sensitive area that can produce intense pain when pushed too hard.
Causes of sciatic pain vary from bone spurs in the spine to herniated discs, which may be accompanied by factors such as advanced age, passive lifestyle, obesity, and diabetes.
Sciatica pain typically occurs on one side of the body — with rare exceptions.
Individuals seeking help with sciatica may find little success with over-the-counter painkillers, so they start turning to alternative treatments, such as CBD topicals and oils. These two types of cannabidiol-based supplements are often picked as complementary therapies for different sources and levels of pain.
Could CBD also help with the management of sciatic pain? In today's article, we'll delve into current studies and see how the experts perceive this idea.
We'll also provide you with our list of the best CBD brands and their products in 2022.
CBD Oil for Sciatica: Best Brands & Products in 2022
Editor's Choice: Royal CBD
Best Value: Gold Bee
Runner Up: CBD Pure
Best THC-free: Hemp Bombs
Best Variety: CBDistillery
Looking for the best CBD oil for sciatic pain? New companies enter the market every day, selling different forms of CBD with various formulas, sizes, and potencies. There's a large degree of difference when it comes to the quality of these products, so choosing the right CBD oil for the first time can be daunting.
That's why we've put together this ranking. After trying 40+ brands, we have selected the top 5 companies that sell the best CBD oil for sciatica. These are the top-of-the-ladder vendors in 2022; each of the companies listed here uses non-GMO hemp, makes their products with CO2 extraction, and has Certificates of Analysis to prove their potency, purity, and quality.
1. Royal CBD (Editor's Choice)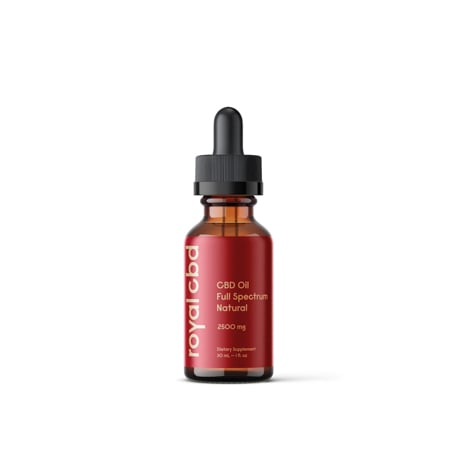 Product Details
| | |
| --- | --- |
| Potency | 250 mg – 2500 mg |
| Available Flavors | Natural, Berry, Mint, Vanilla |
| CBD per serving | 8.3 mg – 83.3 mg |
Why Royal CBD is the Best CBD Oil for Sciatica
Royal CBD is a brand from California that specializes in the production of full-spectrum CBD from organic hemp plants. Aside from their best-selling CBD oil, the guys at Royal CBD oil also offer softgel capsules, THC-free gummies, and two types of broad-spectrum topicals.
When it comes to the Royal CBD oil, customers can choose from four potency options, including 250 mg, 500 mg, 1000 mg, and 2500 mg. The strongest bottle provides 83 mg of full-spectrum CBD in every milliliter, leveraging the idea of the entourage effect. These oils contain all phytonutrients that naturally occur in hemp, which is the desired format among the majority of users.
The Royal CBD collection is gently extracted with supercritical CO2 and thoroughly tested in an independent laboratory for its CBD content and purity levels.
Pros
Cons

Made from locally grown organic hemp
Extracted with supercritical CO2
Infused with full-spectrum CBD
Available in 4 strengths and flavors
Up to 2500 mg of CBD per bottle
3rd-party tested for potency and purity
Great natural flavor

Not available in local CBD stores (this may soon change)
No CBD vapes
Product Details
| | |
| --- | --- |
| Potency | 300 – 1200 mg |
| Available Flavors | Natural, Honey |
| CBD per serving | 8.3 mg – 33.3 mg |
About Gold Bee
Although Gold Bee doesn't have any high-potency oils in its product lineup (yet), this company seriously makes the best-tasting full-spectrum CBD oil we've ever tried. Gold Bee stays true to its name, infusing its CBD products with a natural honey flavor that masks the botanical taste of hemp extracts.
Gold Bee is a great company if you want to try out different CBD dosages or if you already have experience with CBD products, but your daily dosage doesn't exceed 40 mg. Similar to Royal CBD, Gold Bee uses organic hemp plants from Colorado farms. The other ingredients, including the carrier oil and flavorings, are organic as well.
Pros
Cons

Sourced from US-grown organic hemp
Contains full-spectrum CBD
Up to 33 mg CBD/mL
Great potency range for beginners
Third-party tested for potency and purity
Great honey flavor

No high-strength CBD oils
3. CBD Pure (Runner Up)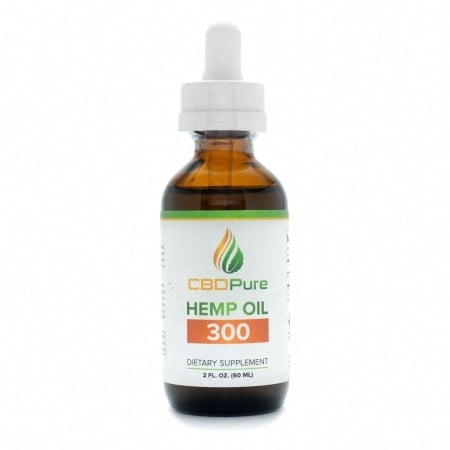 Product Details
| | |
| --- | --- |
| Potency | 100 – 1000 mg |
| Available Flavors | None |
| CBD per serving | 3.3 – 33 mg/mL |
About CBD Pure
CBD Pure is another company specializing in making low-potency CBD oils. The guys at CBD Pure doesn't offer the broadest selection of products out there — they only sell CBD oil and capsules — but the formula behind their extracts is close to perfection.
CBD Pure sources their hemp from local organic farms and uses low temperatures to pull the cannabinoids and terpenes from the plants — which makes them able to preserve the original chemical profile of hemp in the final product.
The CBD Pure sublingual drops are available in four concentrations: 100 mg, 300 mg, 600 mg, and 1000 mg. The 1000 mg is the latest addition to the company's collection.
CBD Pure offers a 90-day Satisfaction Guarantee program for people who aren't ready to commit on the first date. If you're not satisfied with the results, you can send your order back for a full refund.
Read our CBD Pure Review for more information.
Pros
Cons

Sourced from organic Colorado-grown hemp
Extracted with supercritical CO2
Lab-tested for potency and purity
90-day return policy

Low potency
No topicals available
4. Hemp Bombs (Best THC-free)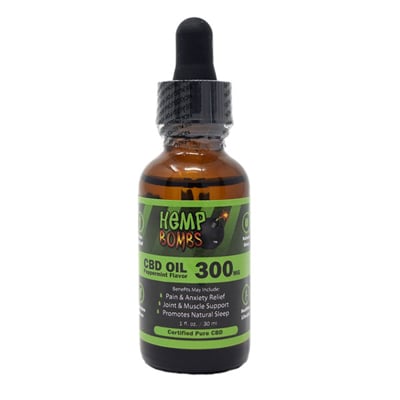 Product Details
| | |
| --- | --- |
| Potency | 125 – 4000 mg |
| Available Flavors | Natural, Acai Berry, Orange Creamsicle, Peppermint, Watermelon |
| CBD per serving | 4 – 133 mg/mL |
About Hemp Bombs
Hemp Bombs is your best bet if you're looking for isolate-based CBD oils or products that carry a broad spectrum of cannabinoids.
Hemp Bombs sells only THC-free products, catering to those who must undergo drug tests at work and cannot afford to test false positive for THC — which is a common concern among users who take high doses of CBD oil on a daily basis.
Hemp Bombs CBD oils are available in four tantalizing flavors, including Acai Berry, Peppermint, Orange Creamsicle, and Watermelon. However, these flavors are achieved through synthetic flavorings.
Keep in mind that CBD isolate doesn't produce the entourage effect, which is much desired among consumers. But on the other hand, these products are more versatile than full-spectrum extracts due to the lack of hempy flavor. If you're looking for a product that will evoke some of the entourage effects, we recommend trying Hemp Bombs' broad-spectrum CBD oils. They are available in a variety of concentrations, from 125 mg to 4000 mg of CBD per bottle.
Pros
Cons

Sourced from organic hemp
Extracted with CO2
0% THC
Available as broad-spectrum or isolate
Third-party tested for CBD and contaminants
Up to 4000 mg of CBD per bottle
5 strengths to choose from

Infused with synthetic flavorings
No "entourage effect" from other cannabinoids and terpenes
Most people don't need such high doses of CBD oil in their routine
5. CBDistillery (Best Variety)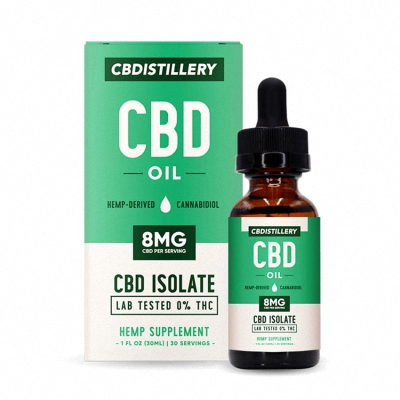 Product Details
| | |
| --- | --- |
| Total CBD | 250 – 5000 mg |
| Available Flavors | None |
| Potency | 8.3 – 166 mg/mL |
About CBDistillery
CBDistillery is a daughter brand of Balanced Health Botanicals and one of the largest suppliers to the North American market. The company offers CBD in various formats, from traditional oil drops and capsules to mouthwatering edibles and all-natural topicals.
The CBD oil sold by CBDistillery is available as full-spectrum or broad-spectrum CBD; the latter is labeled as "pure oil" and contains all the non-psychoactive cannabinoids and terpenes, but with no traces of THC. The THC has been removed later during a series of extraction processes.
The oil is available in virtually every potency you can find online, from 250 mg to a whopping 5000 mg of total CBD. If you won't find better products in this price range. Speaking of which, so if you don't mind the fact their hemp isn't organic, these are the best CBD oils for sciatica pain in their price range.
Pros
Cons

Available as full-spectrum CBD or pure CBD oil
Extracted with CO2
5 potency options to choose from
Up to 166.6 mg of CBD per bottle
3rd-party tested for potency and purity
Very affordable

The hemp isn't organic
No flavored oils available
The website gets clunky sometimes
Why People Are Turning to CBD Oil for Sciatica Pain?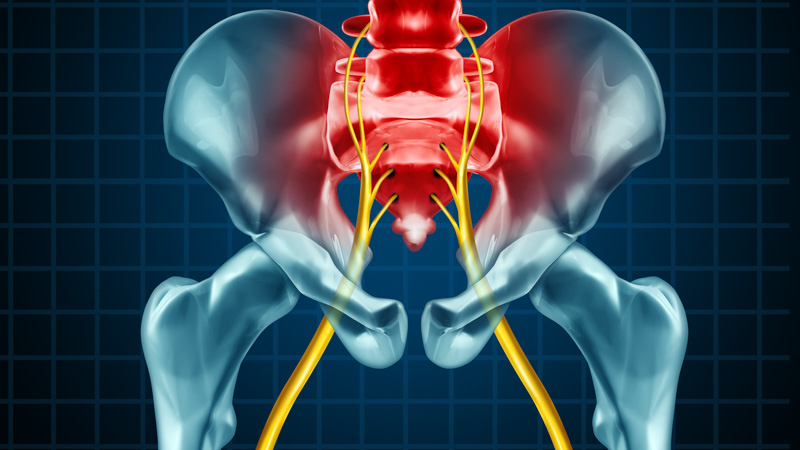 For many people around the world, CBD has become a game-changer when it comes to pain management, including sciatica pain.
The majority of positive results when it comes to using CBD oil for sciatica comes from anecdotal evidence. However, studies have already highlighted CBD as a potent anti-inflammatory and analgesic compound. These properties may support people's narrative about CBD oil as an alternative treatment for sciatic nerve pain.
What is Sciatica?
According to Mayo Clinic, sciatica is a painful feeling that radiates from the sciatic nerve, which is located in the lower back area, spreading through the hips, buttocks, and down each leg.
Sciatica usually occurs on one side of the body so that it can be confused with either leg pain, hip pain, or back pain — all of which are symptoms of this condition.
However, the pain doesn't derive from an injury in the said areas. It's a result of a compressed sciatic nerve, triggered by either a bone spur (hard bumps forming on the spine), herniated disk, or spinal stenosis (narrowing of the spine).
Who is Likely to Suffer from Sciatic Pain?
People whose job involves heavy physical labor are particularly prone to develop sciatica pain. Those with a passive lifestyle, especially sitting for long periods without taking breaks for walking or stretching, may also suffer from this ailment.
Sciatica is annoying; simple sneezing or coughing can deteriorate the painful sensation. In severe cases, the pain can be so intense that it can compromise a person's daily performance.
Can CBD Cure Sciatica?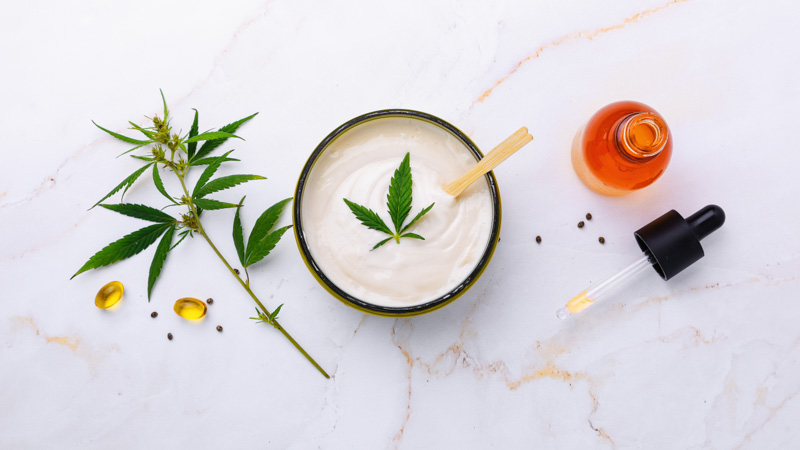 CBD doesn't cure sciatica because it doesn't target the main reason behind the sciatic pain.
However, cannabinoids like CBD have been found to bring remarkable results for pain relief in neuropathic and inflammatory pain, both of which occur in sciatica.
In a 2004 study, sciatic pain was classified as a combination of neuropathic and other kinds of pain (1). Another study, performed by the Massachusetts General Hospital (MGH), linked chronic sciatica to an inflamed nervous system (2).
Neuropathic pain results from injuries or illnesses of the somatosensory system. This system is an element of the sensory nervous system that controls pressure, pain, touch, and mobility.
Inflammation, in turn, occurs when the immune system releases a gust of antibodies as a response to an infection or injury.
This response causes blood vessels to dilate as a way to pump more blood into the injured tissue — causing some parts of the bodies to become red, painful, and swollen.
One large animal study found that the transdermal application of CBD was helpful in reducing inflammation and behaviors associated with pain in rat subjects with arthritis (3).
However, sciatica and arthritis are not the same medical conditions, and no study has yet investigated the effectiveness of CBD in easing sciatic pain.
So, while CBD oil may not cure sciatica, it's anti-inflammatory and pain-relieving properties may come in handy for helping alleviate some of the pain experienced by sciatica sufferers.
CBD Oil & Sciatica: How CBD Works to Relieve Its Symptoms?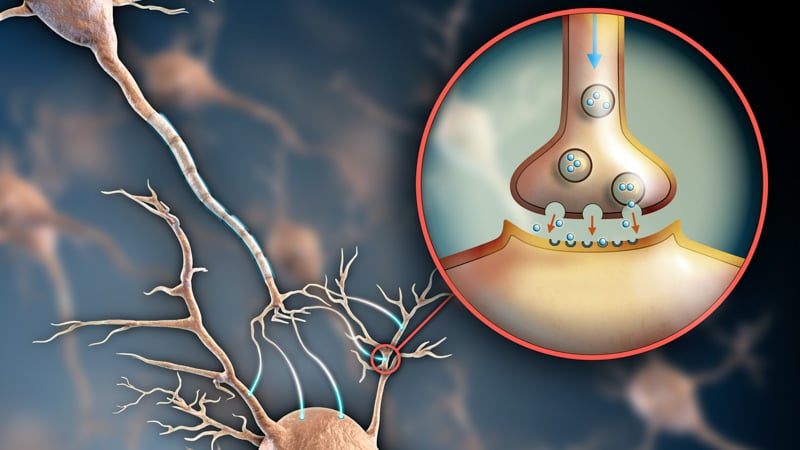 As mentioned, CBD may be helpful for sciatica patients when it comes to pain management. The key to understanding that mechanism lies in CBD's relationship with the endocannabinoid system (ECS).
The ECS is a major regulatory network consisting of receptors and transmitters that help the body maintain internal balance (homeostasis) throughout all biological functions, including brain function, immune communication, pain perception, and more (4).
The ECS also controls the performance of the central nervous system. There are three main components of the ECS: cannabinoid receptors, endocannabinoids, and enzymes that help metabolize cannabinoids.
The ECS' two main cannabinoid receptors are CB1 and CB2.
The CB1 receptors are most abundant in the brain, spinal cord, and tissues. CB2 receptors, in turn, occur in the peripheral nervous system as well as in the immune system cells.
Endocannabinoids are our native chemical messengers that bind to cannabinoid receptors and help the ECS maintain the aforementioned homeostasis. However, cannabinoids aren't exclusive to humans. Plants, too, release them. Plant-derived cannabinoids are referred to as phytocannabinoids, and you can find them in cannabis (both marijuana and hemp).
When CBD interacts with the ECS, it indirectly interacts with either CB1 or CB2 receptors depending on where it's needed the most. This interaction allows CBD to manifest its anti-inflammatory and pain-relieving effects.
Studies have found that the body's glutamatergic system affects the efficacy of some analgesic medications used in neuropathic pain treatments. This system is responsible for managing the discharge of glutamate, a neurotransmitter produced by the nerve cells in the brain (5).
Glutamate is a critical compound in many of the body's biological processes.
Compromised glutamate can trigger the onset of injuries and worsen diseases, including seizures and brain damage after a stroke.
CBD and other cannabinoids are known to block the release of glutamate, which may help in fighting neuropathic pain, which is common in sciatica patients.
CBD's analgesic and anti-inflammatory effects can also ease the nerve pain experienced by people suffering from this condition.
However, CBD oil doesn't address the underlying cause of constricting the sciatic nerve.
The Pros and Cons of Using CBD Oil for Sciatica
Pros
CBD's remarkable safety profile has been mentioned by various health organizations and medical professionals. CBD is generally well-tolerated by humans, even in doses as high as 1500 mg daily (6).
Hemp-derived CBD oil is legal to produce and sell under the 2018 Farm Bill. However, the U.S. Food and Drug Administration still refuses to acknowledge the therapeutic qualities of hemp-based products.
You can easily find CBD oil over the counter. You don't need a doctor's prescription, unlike for marijuana-derived CBD oil, which is made from "medical cannabis."
Due to its skyrocketing popularity, CBD oil is available in various kinds of products, from tinctures to gummies, vapes, and topicals.
Cons
Despite its high safety profile, CBD oil has a few minor side effects, including fatigue, dry mouth, and changes in appetite.
Individuals taking other prescription medications should consult their plans to supplement CBD with a qualified medical practitioner. That's because CBD interacts with the active substances in these medications by inhibiting the enzyme responsible for breaking them down.
Research to support the use of CBD as an effective therapy for people with sciatica is still inconclusive.
CBD vs. Alternative Treatments for Sciatica

CBD oil is a promising alternative treatment for patients with sciatica due to its pain-relieving and anti-inflammatory benefits.
The treatment strategies established by doctors for sciatica patients always aim at lowering the levels of pain and inflammation that are the main markers of this condition.
Conventional sciatica therapies include over-the-counter painkillers and anti-inflammatory drugs such as aspirin, ibuprofen, and naproxen. Doctors also recommend physical therapy and the utilization of ice or hot packs to reduce the painful sensation.
While the nonsteroidal anti-inflammatory drugs (NSAIDs) are a popular option among doctors who treat sciatica pain, NSAIDs can only relieve nociceptive (physical) pain, and thus aren't the best long-term solution.
Like we said, sciatic pain may involve a combination of neuropathic pain and other kinds of pain.
In a 2004 study, the authors came up with a theory that mixing both anticonvulsant and antidepressant substances could help relieve sciatica pain since both have been proven successful in easing neuropathic pain.
Likewise, CBD oil has well-documented anticonvulsant and antidepressant properties, which would explain why people use it so eagerly as a natural, safe alternative for sciatic pain treatment.
CBD may also work in a similar way to ice or hot packs and anti-inflammatory drugs, which doctors use to reduce inflammation and pain caused by a constricted sciatic nerve.
Buyer's Guide: How to Choose the Best CBD Oil for Sciatica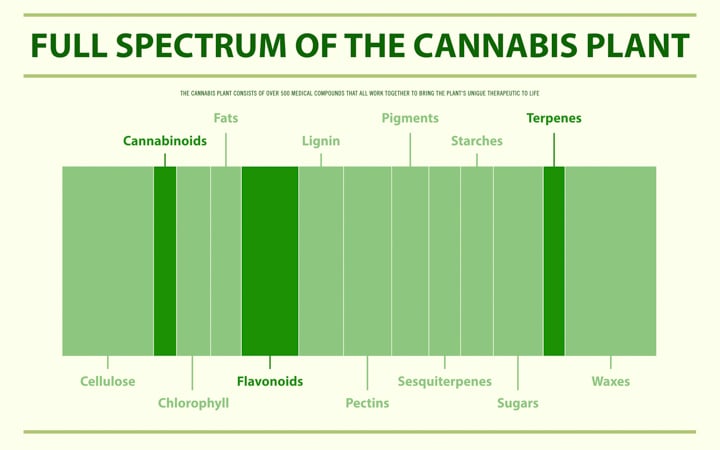 Patients with sciatic pain should carefully choose their CBD oil if they want to relieve pain and inflammation caused by their medical condition successfully. Here are a few steps you can take to save time and money on CBD supplements:
Look for full-spectrum CBD: CBD oils are labeled as either full-spectrum, broad-spectrum, or CBD isolates. Most people choose full-spectrum CBD oil because it contains all the phytonutrients from hemp, which work together in synergy to help the body process CBD more efficiently. Broad-spectrum CBD can evoke some of that synergy, but they lack trace amounts of THC that occur in full-spectrum extracts. CBD isolates are mostly for people who are regularly tested for drugs at their workplace and are afraid of taking any amounts of THC in their product. However, isolated CBD doesn't produce the synergy you can get from full-spectrum CBD oil.
Make sure that CBD is legal where you live: hemp-derived CBD oil is legal in all 50 states, but each state can place its own limits on the labeling and accessibility of CBD products. When shopping for CBD online or locally, make sure that you choose hemp-based products because CBD can also be extracted from marijuana plants. Marijuana is subject to different regulations in hemp, so it's important that you're able to distinguish between these two types of cannabis.
Prioritize on buying products from reputable brands: look for companies that use organically grown hemp to produce CBD oil. The best CBD products for sciatica are extracted with supercritical CO2, which is a heatless and solventless method. As such, it yields pure and potent products without hurting the environment on the way or posing a risk to the consumer's health.
Only purchase CBD oil that has been tested by an independent laboratory: CBD companies have an option to send samples of their products to third-party laboratories for content analysis. These laboratories will verify the potency of CBD in the product; they will also look for potential contaminants to make sure the CBD oil is free of any dangerous substances. Reputable companies post the reports from the lab analysis on their website — or make them available on request.
Check for customer reviews: lots of positive reviews, especially on third-party websites, are indications of a product's high quality.
How Much CBD Oil Should I Take for Sciatica? (CBD Dosage Explained)
The FDA hasn't approved a standardized CBD dosage chart or recommendations. In fact, no regulatory body has tackled this subject yet.
Existing studies don't suggest specific CBD doses to relieve pain and inflammation in humans.
The majority of the research on the analgesic and anti-inflammatory properties of CBD comes from animal subjects.
When trying to figure out the optimal CBD dosage for your individual situation, you can follow the dosage instruction provided by the brand on the product's label.
Different CBD brands have their unique product formulas, with different amounts of CBD and other supportive ingredients, hence the discrepancy in recommended dosages for CBD users.
In general, humans can take high doses of CBD without experiencing dangerous side effects. However, it's advisable to start administering CBD at lower doses until you feel an improvement in your pain management.
Remember that CBD isn't the go-to sciatica treatment for patients. If you want to incorporate CBD oil into your daily routine, we suggest that you consult with your doctor first, as CBD can interact with conventional painkillers and other prescription medications.
How to Take CBD Oil for Sciatica?
The skyrocketing popularity of CBD oil has given rise to a plethora of various products that have recently emerged on the market. Each of these products has its own administration method.
For example, sublingual drops are the most popular CBD product among users. This form of CBD requires the user to place a few drops of CBD oil under the tongue, wait for about 60 seconds, then swallow the oil. The first effects should come after 15–30 minutes from ingestion.
People who don't like the taste of natural CBD oil can choose from flavored options or mix CBD oil to their food or drinks.
Meanwhile, oral products like CBD-infused gummies and CBD capsules provide a premeasured dose of CBD in each piece. They are easy to take on the go, but this convenience comes at the cost of their onset. The effects of oral CBD products may need up to 90 minutes to appear.
CBD vapes are available for users who need fast relief from their symptoms. This form of CBD delivers the highest amount of CBD to your body and acts within minutes after inhalation. However, vaporized CBD has the shortest duration of effects, usually up to 2-3 hours.
Lastly, there are CBD topicals, such as CBD creams, salves, gels, and lotions, that help with localized discomfort. Users can easily apply topical CBD on the parts of the body affected by sciatic pain, including legs, buttocks, hips, and lower back.
CBD users usually take CBD oil twice a day — one dose in the morning and one in the evening. However, if you're looking for professional guidance on using CBD for sciatica, we recommend that you see a knowledgeable health professional before buying CBD oil.
Final Thoughts: Is CBD Oil Effective for Sciatica?
Multiple studies have demonstrated the remarkable anti-inflammatory and pain-relieving properties of CBD. Considering the results from those studies, CBD can be an effective tool for the management of painful medical conditions, including sciatica.
Although it's difficult to deny the therapeutic potential of CBD, research is still inconclusive when it comes to treating sciatica specifically with this cannabinoid. We need more human trials targeted at this subject to be able to make definite claims about its efficacy.
Sciatica patients should still consult with their doctors before taking CBD oil to alleviate their symptoms since CBD doesn't address the cause of sciatic nerve pain, not to mention potential drug interactions.
If you're looking for the best CBD products to ease sciatica pain, always make sure to do your research on any company that sells CBD oil out there. The market is largely unregulated, with lots of mislabeled products sold online and locally. You can use our recommendations to save time on comparing different brands — all manufacturers from our ranking sell premium, lab-tested products that are safe for consumption and contain the advertised amount of CBD.
References:
Baron, R., Binder, A. [How neuropathic is sciatica? The mixed pain concept. Der Orthopade, May 2004, vol 33(5), pp 568-75.
Massachusetts General Hospital. Neuroinflammation seen in spinal cord, nerve roots of patients with chronic sciatica. Press Release, May 9, 2018.
Hammell, D.C. et al. Transdermal cannabidiol reduces inflammation and pain-related behaviours in a rat model of arthritis. European Journal of Pain, Oct. 30, 2015, vol. 20(6).
Pacher, P., Batkai, S. and Kunos, G. The Endocannabinoid System as an Emerging Target of Pharmacotherapy. Pharmacological Reviews, Sept. 2006, vol. 58(3), pp 389-462.
Osikowicz, M., Mika, J., Przewłocka, B. The glutamatergic system as a target for neuropathic pain relief. Experimental Physiology 2013, vol 98(2), pp 372-384.
WHO. Cannabidiol (CBD): Critical Review Report. Expert Committee on Drug Dependence, Fortieth Meeting. Geneva, 4-7 June 2018.