Some CBD companies sell everything but the kitchen sink, while others like to keep things simple. If this is your first time with CBD oil, having so many different CBD products available for sale can be overwhelming.
Fortunately, CBDPure is one of those companies that offer simple but perfectly formulated products from organic hemp.
The company's product selection consists of full spectrum CBD oil in four different concentrations as well as high-potency softgel capsules. We've tested all of CBDPure's extracts and we're ready to provide you with our insight into the quality of this brand.
If CBDPure happens to be on your radar, then our review can help you make the right decision without having to spend lots of time and money just to go through a lot of companies.
CBDPure Review: About the Brand
CBDPure was established in 2016 with a mission to provide high-quality CBD oil from organic hemp plants. Considering the opinions customers leave under its products, it looks like these guys are actually on a good way to achieving their goal.
CBDPure has partnered with Colorado farmers and created their own CBD-rich strains that are grown without the use of harmful pesticides and herbicides. The company claims that the CBD is derived from certified organic farms, although it doesn't have a USDA badge on its website to prove that.
The good news is that CBDPure tests every batch of its product in a third-party lab for potency and purity. You can access the lab reports upon request from the company's customer service.
To visit their website, go to www.cbdpure.com
CBDPure Product Highlights
As mentioned earlier, CBDPure's product line up includes full spectrum CBD oil and high-potency softgel capsules. In this section, we cover each product in detail.
CBDPure Hemp Oil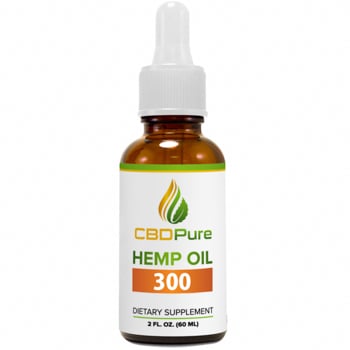 CBDPure's CBD oil is available in 4 different concentrations:
100 mg
300 mg
600 mg
1000 mg
Ranging from 3.3 mg CBD to 33.3 mg CBD per serving, these products are a good option for both beginners and more experienced users who know their effective dosage but don't use more than 30 mg CBD daily.
If you've never taken CBD oil before, or you need to relieve minor symptoms such as mild headaches, pain, nausea, and inflammation, you can start with the 100 mg CBD oil. Each serving carries approximately 3.3 mg of CBD in each serving. This option also works well with lighter people.
Now, if you need a higher dose — or something to manage anxiety or poor sleep — CBDPure Hemp Oil 300 would be right for you. Each dose contains about 10 mg of CBD.
The 600 mg CBD oil, in our opinion, provides the best results for concentration problems, disturbing chronic pain, and appetite problems. At 20 mg of CBD daily, it's the right strength to promote daily alertness and help the body prepare for sleep.
CBDPure has recently added a 1000 mg CBD oil to this collection, finally catering to the majority of CBD users. 1000 mg is considered the standard potency for most people. If you live a busy lifestyle, have to go through lots of daily stress, or exercise a lot, this is the best concentration from this company.
The aroma of these oils is quite earthy, which is typical to hemp oils, but the aroma doesn't carry over to their flavor. In fact, the CBD oils from this brand taste better than most hemp oils we've tried. The products have been thoroughly filtered and have a nice golden color while maintaining the right viscosity.
CBDPure Softgels

If you dislike the taste of CBD oil and have issues keeping the drops under your tongue, then we recommend a bottle of CBDPure Softgels instead of its oil. These convenient soft gel caps contain a premeasured dose of 25 mg of CBD per count, with a total of 750 mg of CBD.
The softgels are not only super convenient to take anywhere on the go but also very easy to swallow. You just take them as you would any other capsule, swallowing down with water. You'll definitely love this variant if you can't afford the time to use a dropper each time you need to take your dose.
CBDPure's capsules are quite potent, too. At 25 mg of full-spectrum CBD, they're only slightly less potent than the CBDPure Hemp Oil 1000.
Pros & Cons of CBDPure
Let's summarize where CBDPure shines and where the company could improve.
The Pros
Great 90-day Return Policy
When a brand has a money-back guarantee program, it means it's confident about the quality of its product. No company would risk losing money if they knew that there would be tons of customers asking for refunds.
CBDPure offers a 90-day money-back guarantee period, in which you can send back the CBD oil or capsules if you're not satisfied with the results.
Third-Party Lab Testing
CBDPure tests its products for potency and purity in SC Labs, one of the most reliable and renowned laboratories in the country. The company is also transparent about the results of those tests; the customer service will send them to you upon request.
Fair Prices
CBDPure's products contain the full-spectrum of cannabinoids and terpenes, and their quality is without a doubt top-shelf. Despite that, the company still sells them at a fair price. The quality of CBDPure's CBD oil and capsules, as well as their effectiveness and costs, make this brand definitely one of the best suppliers in the industry.
Organic Hemp
CBDPure produces extracts from Colorado-grown hemp that has been tested for traces of pesticides, fertilizers, heavy metals, and mycotoxins.
CO2 Extraction
CBDPure uses CO2 extraction technology, which is the golden standard in the industry. Pressurized CO2 acts as a solvent that strips the plant matter off of its natural compounds, containing them in a cold, viscous liquid as it dissipates.
This method preserves the original chemical makeup of the hemp plant and doesn't require toxic hydrocarbon solvents such as butane.
Proper Filtration
The color of CBD oil can tell a lot about its quality. CBDPure's oil has a golden-yellow color, which is typical of oils extracted with CO2 and filtered from the excess plant particles.
The Cons
Limited Product Choice
As much as we love the quality of CBDPure's products, we must say it's a bit disappointing that a company with such great commitment to quality has such a limited product choice. To date, CBDPure only sells oil drops and softgels.
There are no edibles, topicals, and other popular formats offered by companies like Royal CBD.
No Flavored Options
CBDPure only offers unflavored CBD oil. Although it doesn't have an extremely tart taste, it would be nice to see some flavored varieties for more picky consumers.
Shipping Restrictions
CBDPure now ships to all 50 states, so no matter where you are in the country, you can buy your CBD oil or softgels online and have them delivered to your door. However, the company doesn't offer international shipping except for the UK.
About CBDPure Customer Service
CBDPure has very caring customer service. Whether you send them an email or snail them, you'll get a fast response, which is great for customer experience. However, the best option to get a really quick answer is to use CBDPure's support feature on its website.
The website itself is also simple and easy to navigate. The top of the page contains a menu, where you'll find a few tabs with their product selection as well as necessary information regarding the company's activity.
Another positive thing about CBDPure is its FAQ section, which is a big help for anyone who's just heard about the benefits of CBD oil and doesn't know where to start.
The company also has a dedicated section for its testimonials, where you can read verified CBDPure reviews.
Final Thoughts on CBDPure
CBDPure is a great brand if you're just getting started with CBD or you benefit from lower dosages. These are legit full-spectrum products from organic hemp, each tested in a third-party laboratory, so you can rest assured that you're getting top-shelf quality extracts.
However, if you want a wider product range or some flavored options, you may find CBDPure's collection a bit limited.
You can test out the brand's products first, especially if you have a chronic condition (chronic pain) and you're thinking of using CBD oil to see if it can ease your symptoms.
CBDPure knows that not everybody is ready to commit on the first date, so they offer a 90-day money-back guarantee, allowing you to return the product for a full refund within that period if you're not satisfied with the results.
As always, we recommend talking to your doctor first before ordering CBDPure Hemp Oil. A consultation with a qualified physician will give you a better idea of the right supplementation routine.