Whether you're growing cannabis for your use or commercial purposes, you have probably realized that there is more to it than sowing your seeds in good soil, watering them now and then, and having grow-lights.
Cannabis plants, just like any other plant, require nutrients to survive and thrive. You want your plants to produce flavorful and aromatic buds, so you need to invest in the right nutrients.
Feeding marijuana, however, is a nuanced activity. The macro and micronutrient requirements vary between strains at different stages of growth. Additionally, the various phenotypes of the same strain may have different nutrient requirements. Of all the critical environmental factors in the cultivation of marijuana, nutrients are entirely in the hands of the farmer. If the grower makes errors, the plants start to show subtle signs followed by withering.
To avoid over or under fertilizing the cannabis plants, you need to get your nutrients right from the beginning. The process requires administering the right proportions at the right time. Here are the best marijuana nutrients and products you should feed your plants.
The juice works by holding microbes dormant until they are activated by the nutrients, causing the microbes to come to life and invigorate the root zones of the plants. The juice also brings substances that escalate floral production and potency. The effectiveness, quality, and viability of the product are 100% guaranteed to increase yields.
Features
Available in multiple quantities: .25, .5, 1, 4, 10 and 23 liters
Works in both soilless or soil growing systems
You only require 8ml per gallon of water
Pros
Maximize growth and flowering of your plants
Cause your roots to have enhanced root mass, density, and branching
Improves the efficiency of nutrients intake, saving you money and time
Increase development of seedlings, clones, and transplants
Cons
May increase the growth of mold.
Verdict
Most of the best nutrients for your cannabis plants are available in this bottle of Voodoo juice. The products favor the growth and development of the plants at all stages: germinating, growing, and flowering. The 100% guarantee in boosting yields is enough to tempt you to try it.
If you are looking for a solution to invigorate your cannabis plants, look no further! SUPERthrive is an extremely concentrated non-toxic vitamin product suited for the growth of your plants, from seedling level to maturity.
Home gardeners and professionals highly recommend SUPERthrive due to its brilliant results. It quickly develops a strong root base and diminishes transplant shock. The solution revitalizes the soil and boosts the natural building blocks that make cannabis plants grow under optimum conditions.
You can use the solution to save dying plants as well as grow healthy plants. It's a proven product in maintaining healthy solid, green turf, and abundant yield.
Features
Super concentrated
No expiration date
Useful for growing other plants and vegetables as well
Pros
Meets its potential quickly by building a strong root base
Only a few drops required per gallon of water
Builds the immunity of plants
Cons
Verdict
SUPERthrive is a highly recommended product that you can use to grow all kinds of plants, including those that need foliar spraying, hydroponics, or hydro-seeding. It has a wide range of benefits to your marijuana plants, but most importantly increases the amount and quality of produce.
Golden Tree Company is one of the world's renowned manufacturers of the best marijuana. The all-in-one additive simplifies the number of fertilizers you need to increase the quality and production of your cannabis. The product can be used alone or combined with others.
The additive activates enzymes required in plant growth to boost the rate of photosynthesis. It also contains carbs, kelp, amino acids, and minerals, which can even revive dying plants. The fertilizer is suitable for hydroponics, aeroponics, coco coir, and just regular soil. All that matters is that you apply the right quantities.
Features
Improves yields by nearly 20%
It is an all-in-one solution for any plant
Only small quantities are required: use 1-2 ml per gallon for 1-3 times per week for marijuana
Pros
Can be used on all trees, herbs, flowers, and bushes
Great for sick or dying plants
Contains a wide range of ingredients required for plant growth
Reduces vegetative time by half and increases productivity by about 20%
Cons
Has a strong smell, which may be a nuisance
Verdict
This fertilizer is one of the best for your cannabis plants. It comes in 2, 8, 16, 32, and 64-ounce containers or alternative 2.25, 2.5, and 5-gallon bottles.
The Bud Candy Fertilizer by Advanced Nutrients is another top fertilizer for your cannabis plants. It's a different fertilizer with a sweet scent that makes your visit to the garden enjoyable and refreshing. Its richness is not just in the sweet smell; it has top nutrients that give a better survival chance to your seedlings and transplants.
As the plants mature, this fertilizer increases the growth rate as well as the yield. The plants receive a lot of energy from carbohydrates and amino acids present in the fertilizer, with no heavy lifting necessary. The fertilizer is available in quantities between 0.25 and 23 liters.
Features
Offers various micronutrients required for plant growth
Can be used on hydroponics and soil
Can be used in all stages of growth
Pros
Cons
Additive fertilizers are not pure fertilizers.
Verdict
There are loads of positive reviews from people who have used this product before. This additive results in healthier plants and increased yields.
Nitrogen
Potassium
Calcium
Trace elements such as Magnesium, phosphorous, and Sulfur Floramicro
It's essential in flower and fruit development, enhancing aroma and flavor, and for building essential oils. The fertilizer also improves the quality and quantity of yields. The advantage of the product is that its pH is balanced, which makes it easier for intake. General Hydroponics fertilizer works well with both hydroponic and soil-cultivated systems.
Features
Suitable for use in hydroponics
Contains necessary primary, secondary and microelements for healthy growth
Encourages root and fruit development
Pros
It's highly soluble
Highly increases yields
Cons
Small bottles may be hard to use and uneconomical.
Verdict
The General Hydroponics fertilizer is an excellent product that will make your cannabis plants thrive from the early stages of growth. The brand's Flora Grow, Bloom, Micro Combo Fertilizer set, and 1 Quart is available in packs of three. It is a small price to pay for increased yields.
Features
Flowers produce more aromatics, essential oils, and other potency factors
Leads to the production of denser flowers
Causes an increase in harvest and raises market values
Pros
Can be purchased in various sizes
Can be used in soil and hydroponics
Cons
Its use is limited to the bloom phase.
Verdict
The Advanced Nutrients Big Bud Liquid Fertilizer is an excellent booster when all other variables of growth are stable. Shop for the additive now to improve plant growth and yields.
The nutrients are all-natural and organic, offering all the requirements your plants need in one package. It, therefore, offers great convenience compared to purchasing several additives. The product is available in a 16-ounce package that you can blend with other products for better results.
Features
Has numerous nutrients and supplements
Efficient for modern methods of cannabis cultivation
Pros
Gives growers great value for their money
Only small quantities used to produce a gallon of fertilizer
Cons
Some of the ingredients used are secret.
Verdict
This product works well with marijuana producing beautiful, full leaves with a deep green color. The yield substantially increases, making the product an excellent investment.
The super chelation ensures every nutrient is available to your plants' roots and that balance-free pH technology works to calibrate and adjust the pH for you. You don't have to use harsh pH-adjusting chemicals anymore.
Features
Balance free pH perfect technology
Chelation makes nutrients available to the plants
Has Fulvic acid to increase absorption
Pros
Saves farmers from spending more resources when balancing pH
Maximum amounts of nutrients are absorbed
Ensures the steady growth of cannabis plants
Cons
You still need to regularly test pH if your marijuana is growing in soil.
Verdict
The Advanced Nutrients Bloom, Micro & Grow Pack is one of the best nutrients you will find for your weed. It's available in 1, 4, 10, and 23-liter packages. It's proven to increase the growth of your cannabis, so get your pack now.
You should use the products in the following order:
Grow big to bring brilliant green growth of your cannabis
Switch to Tiger Bloom at the onset of the budding or flowering stage
Apply Big Bloom in all stages of growth to heal root systems and increase the circulation of nutrients in plants.
Features
A three-pack of liquid fertilizer
Available in 2, 3, 4, 5 packs and a standard 32 oz. bottle
Pros
Useful in all stages of growth
Hydroponic fertilizers are also available
Can be used in other plants such as tomatoes
Cons
This pack is only suitable for soil.
Verdict
This nutrient trio is excellent for flowering cannabis. If used as directed, Fox Farm Liquid Nutrient (FX14049) Trio Soil Formula leads to the production of big buds and high THC.
10. Dyna-Gro 719010 Plant Food, 1 Quart
Dyna-Gro is one of the best nutrients for growing weed. High Times magazine awarded the company the best nutrients provider. This fertilizer is available in 3 different sizes that are all complete. Unlike other fertilizers that mostly contain the 3 major nutrients, N, P, & K, and a few other additional elements, the fertilizer contains 16 minerals required for healthy plant growth.
With all these minerals, your cannabis plants are 100% guaranteed to have healthy growth and complete all life cycle functions until you harvest the weed. The fertilizer has low soluble salts and is perfect for soils as well as hydroponics.
Features
Complete with 16 essential elements
Low quantities of soluble salts
Ideal for hydroponics and soil
Promotes vibrant growth of plants
Pros
Available in various quantities
Easy to use super concentrate
Cons
Verdict
Dyna-Gro is the product to use if you want blooming cannabis plants. It does an impeccable job at restoring plants with deficiencies because it includes all the macro and micronutrients that weed needs to thrive.
See Price on Amazon!
What to Know about Cannabis Nutrients – Buyer's Guide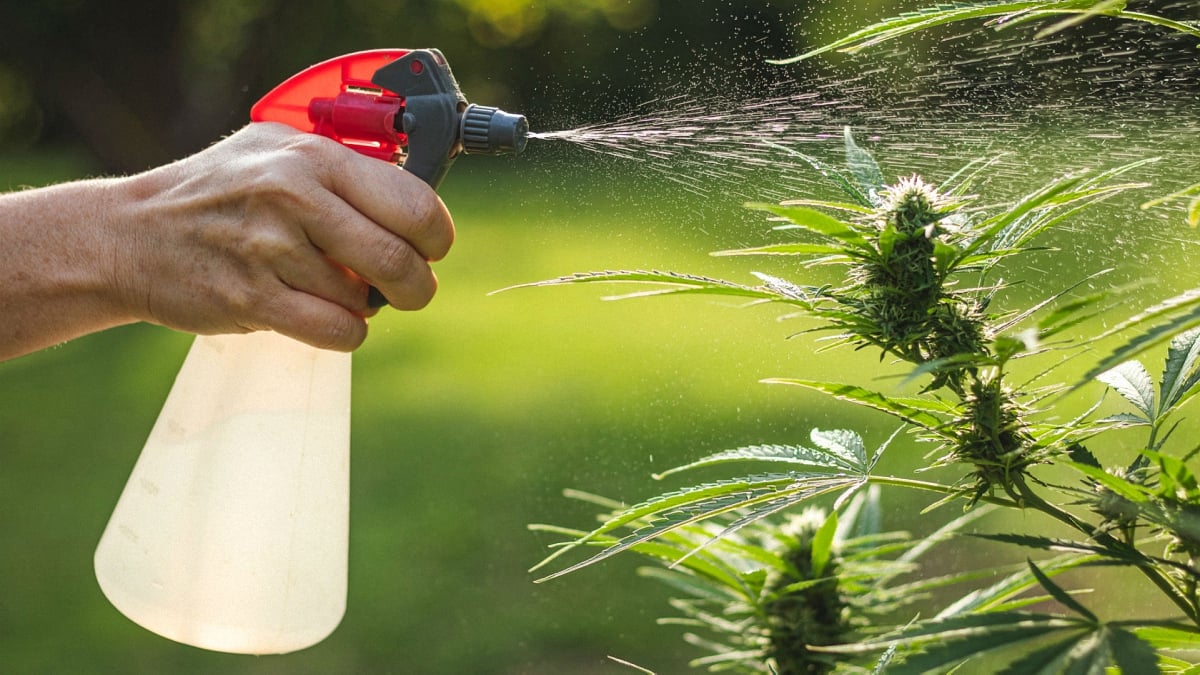 Your cannabis plant requires the right nutrients to thrive, just like any other plant. Here are some of the essential things you should consider when buying fertilizers for your plant.
The NPK Ratio
The three macronutrients – Nitrogen, Phosphorous, and Potassium – are the base of marijuana growth. You will want to apply NPK base nutrients in different quantities for the complete cannabis lifecycle.
Vegetative Growth Phase
During the early stages of the cannabis life cycle, nutrient requirements are minimal. The plants require a high N feed, so most growers favor a 3:1:1 NPK ratio. The ratio satisfies the needs of virtually all cannabis strains. It's not just about nitrogen, but N levels should be more than P and K until bloom.
Nitrogen additives are not required for soil growers because the soils naturally contain enough fertilizers for the first month of growth. Just add water and look out for nutrient lockouts.
Flowering Phase
The transition to flowering stage causes a swing in the macronutrient requirements, which calls for adjustment of the NPK ratio.
Until mid-bloom, a 1-3-2 NPK formula should be sued and succeeded by a 0-3-3 ratio until late bloom.
Finally, add a flush of water or flushing solution for flavor.
The P&K dictates the size of the bud. This is why you will want to reduce the N quantities and increase the P&K quantities at the same time. Too much N can spoil the sinsemilla and the taste of the buds, resulting in a rough stash. You should avoid the N nutrient in the last ten weeks before harvest.
Best Cannabis Nutrients
Like any other plant, cannabis requires some essential nutrients to grow and produce a high yield of buds. The plants need a large number of macronutrients, lesser amounts of secondary nutrients, and trace amounts of micronutrients. There are about 20 essential nutrients that are necessary for your weed to germinate, grow, flower, and produce seeds.
Macronutrients
Macronutrients are in the group of nutrients required in large quantities. Some of the macronutrients are natural in the soil, while others you will need to add to the soil. Some elements – i.e., Oxygen, Hydrogen, and Carbon – do not count as macronutrients because they are so abundant. However, they are still necessary for large amounts. The ones that you can add to the soil are Nitrogen, Phosphorous, and Potassium, often known by their volumes in NPK ratios.
Generally, Nitrogen is necessary for the growth of foliage. Phosphorous helps the development of root, flower, and seed. Potassium is essential for the overall health of the plant. As explained above, however, cannabis requires different amounts of macronutrients depending on the stage of development.
Secondary Nutrients
Most sources classify secondary nutrients as macronutrients. However, plants don't require these secondary nutrients in as large of quantities as macronutrients. The amounts are significantly higher than those of micronutrients, so they can't be classified together either.
Secondary nutrients include Magnesium, Calcium, and Sulfur. These nutrients are essential in the growth of cannabis, but they may be unavailable if you fail to maintain proper pH levels.
The nutrients perform crucial functions in cannabis growth, such as promoting root growth. Calcium promotes transportation and absorption of other nutrients. Magnesium makes chlorophyll, which plants consume as food. Sulfur transports chlorophyll and aids in metabolism and transpiration. Lesser quantities of these nutrients are necessary, but this doesn't imply they are less critical.
Micronutrients
This group represents minerals and elements that are not highly available on Earth and are also not required in high quantities by cannabis plants. However, they are still necessary. They include Zinc, Copper, Iron, Boron, Manganese, and Molybdenum. Like other nutrients, they have a unique function to serve the plant.
Here are some of the functions:
Zinc: Used in the development of leaves, branches, and stems. It is necessary for mature and maturing cannabis plants.
Copper: Helps with the growth of plant proteins and is used to strengthen branches and stems.
Iron: Essential for chlorophyll production. Yellowing of leaves might show iron deficiency
Boron: Aids in the development of root tips. It also promotes the transportation of sugars and the absorption of Ca.
Manganese: Supports chlorophyll production and photosynthesis. It also helps with enzyme interactions.
Molybdenum: Helps process nitrogen.
Feeding Schedule
Generally, the quantity of fertilizer you supply to your cannabis plants depends on the size of the plant and the growing stage. You can add fertilizer to the water before you introduce it to the plants, which gives the plants a more balanced ratio.
You should only feed fertilizers and nutrients to the plants a few times or when the plants start looking like they lack nutrients.
The feeding schedule of cannabis depends on whether you are growing outdoors or indoors. If the plants are outdoors, you will need to give them more nutrients because they grow taller, thus require high Nitrogen quantities. If the plants are grown indoors, they will have a grow-light link set up, so they don't need as many nutrients.
Organic vs. Synthetic Nutrients
When shopping for nutrients for your marijuana, you will often face a decision: whether to choose synthetic or organic fertilizers. There are benefits and demerits of using both.
Synthetic: Also known as chemical fertilizers, synthetic nutrients often have quick results. They act quickly and help your plants to show vigorous growth in a short time. They are the solution to bringing higher yields in a short time. These fertilizers are also active in hydroponic systems. They keep the system running without contamination and increase the potency of crops. The efficiency may vary, however, depending on the strain and growing medium, among other factors.
Organic Nutrients: On the other hand, organic nutrients are all-natural and do not affect the ecology. They are effective when cannabis is grown in the soil. They give the plants a superb taste and aroma. However, when used in a hydroponic system, they can cause clogging or promote the growth of unwanted plants.
Watering and pH Levels
Besides nutrients, there are other factors to consider when it comes to growing marijuana. You need to think about water and pH levels.
Water pH is especially an essential factor if you are growing in a hydroponic system. The first red sign when it comes to pH is when you notice that the plants are displaying particular deficiency signs despite supplying them with enough fertilizers. These deficiencies could be a result of your water pH not being satisfactory to the plant, which reduces the ability of the plant to absorb nutrients.
Hydroponics requires an alkaline medium, so the pH must be between 5.5 and 6. If you are growing in soil, pH should be a bit more acidic; between 6 and 7.
Make sure you water the plants regularly but be careful not to over-water. Too much water with little airflow can cause roots to rot. You'll have to experiment to reach the optimal amount of water because several variables can affect it. The optimal water quality depends on the climate, environment, and strain of cannabis.
Final Thoughts
As with growing any plant, growing marijuana requires close attention to the nutrients that you supply your crops. If grown in a hydroponic system, marijuana can even be fussier than other types of plants because it doesn't have access to the best cannabis nutrients.
The guide above should help you grow healthy plants. You can perfect your growth process by purchasing any of these materials and getting to work.