Over the years, the art and science of growing cannabis evolved exponentially. YAY!
Lots of research has gone into creating a standardized process for growing both medical and recreational marijuana worldwide, especially if you consider the seemingly infinite number of new strains that show up every day.
The continuous search for the best process for growing cannabis has also led to an explosion in the use of indoor systems- also called hydroponic systems. These systems have become popular because they give you complete control of your strain. You're able to control factors such as fertilizer, soil texture, humidity, light, heat, and more.
The best hydroponic systems for marijuana not only allow you to provide your plants with all these factors but also ensure you develop some of the best strains on the market. These systems are essential for serious growers.
There are various types of hydroponic systems, depending on your goal. For example, commercial growers love the nutrient film technique, which uses watertight channels to deliver nutrient solutions to the roots of your plants. The main objective here is to get the plants to grow as fast as possible – which is a critical goal for a commercial grower.
You can also try out the wick system, which is excellent for beginners and home growers. Another popular method is the deep water culture system. Its simplicity is its biggest draw, combined with its effectiveness.
If you are actively looking to start growing marijuana, there are lots of options from which to choose. We've gathered 10 of the best hydroponic systems we could find on the market and reviewed them all below. This guide aims to make it easier for you to start within the next couple of days.
So, what are the best hydroponic systems out there?
Features
Six air stones – premium
Electric-powered air pump
Six low profile buckets (each bucket is 3.5 gallons)
A bag of high-quality clay (10L)
A 50-inch roll of ¼" air tubing
Pros
Detailed assembly instructions
High-quality accessories and buckets
Large air stones
Cons
Verdict
The HTG Supply Bubble Brothers system is not only one of the best deep water culture hydroponic systems out there, but you are almost certain of better flavor and bigger yields. Its large air stones mean that this system provides your plants with better oxygenation than similar systems, resulting in faster growth. Despite the loud pump, you should be all over this grow kit.
Its ability to retain water also eliminates the need for constant refills. This feature also means you can use the hydro system to grow a wide range of plants – from small to large-sized marijuana plants.
Features
Built using high impact plastic materials
Quality accessories
100% manufacturer's warranty
2-gallon reservoir
Pros
Ability to retain copious amounts of water
Durable and sturdy structure
Can grow a minimum of four plants at a time
Cons
Poor quality and loud air pump
Reservoir too small
Verdict
General Hydroponics Waterfarms is a simple but efficient hydro grow system. Despite its drawbacks – a small reservoir and a weak air pump – the system is excellent for beginners of hydroponics. It is also a great option if you are looking to grow a massive plant fast due to its ruthlessly effective drip-feed system. It is also backed by a warranty, meaning you can buy this with some assurance that any issues will be taken care of immediately.
Click here to buy it on Amazon now.
It is soil-free and allows you to grow twelve plants at the same time. The production is impressive when you compare it to similar systems. Its soil-free system eliminates the risk of pesticide and heavy metals contamination, or any other risk associated with growing plants in the soil.
Features
7-liter water tank
24-watts LED lights
12-seed pods
Eco-friendly PET tank
Smart control panel
Low water level alert system
Pros
You can grow a large number of plants – 12
Eco-friendly
Aesthetically pleasing
Energy-saving LED lights
Comes with 3 months supply of essential nutrients
Cons
Electric cords of the LED light tend to be all over the place.
Verdict
The Ideer Life Indoor Gardening Kit is one of the most straightforward systems to use. It is also quite functional. The bamboo structure is a welcome sight, rather than the plastic structures that we have come to expect from similar hydro systems. Its LED lights help accelerate plant growths and yield, by maximizing the photosynthetic energy the plants need to grow.
Click here to get yours on Amazon
It's easy to set up, and its aeration system is one of the best out there. Oxygenation of your plants is not a problem with this system.
Features
44 GPH aeration system
Water level indicator system
Bucket drains
5-gallon bucket
3 Grodan Rockwool starter plugs
Pros
Lightweight
Inexpensive and easy to use
A quiet air pump system
Portable and easy to carry system
Cons
Airstone is of poor quality
Starts to struggle as the plants grow bigger
Verdict
The Deep Water Culture Hydroponic Grow System is a solid kit for beginners. It allows you to get going and growing your plants with minimal effort, in little time. Its deep water culture system also means your plants are infused with oxygenated water all the time, which results in faster growth and abundant yields.
Click here to purchase on Amazon.
It works best when growing medium and large-sized plants. Growing those sizes is possible because of its ability to distribute oxygen effectively along with nutrients to the root systems of your plants.
Features
Vortex sprayer
17-gallon reservoir
3-part flora kit
6-inch plastic cups
CocoTek caps and liners
Pros
Easy to set up and use
Comes with a complete kit and quality accessories
Stylish but functional
Cons
Drain hose leaks with consistent use
Verdict
The Rainforest 66 hydro system is a sound choice if you plan only to grow medium or large-sized plants. Its well-designed structure also means you can show off your hydroponic system to your guests without worrying about some hideous looking plastic structure. It comes ready to set up, and the accessories don't disappoint.
Click here to purchase on Amazon.
The control panel is also a smart one, and prompts you to add water and nutrients once your plants need these them – the two are essential elements to growth. Plus, it automatically handles the lights. The best part of this system is you get a gourmet herb seed kit once you buy it. Who doesn't want to grow Genovese basil alongside cannabis?
Features
10-watts LED light system
Smart control panel
Gourmet herb kit included
Pros
Energy-efficient LED light system
Easy to set up
Hydro system means your plant is not at risk from any soil contaminants
Easy to clean
Cons
Needs constant monitoring
Verdict
Although you need to monitor your plants continually, the AeroGarden Sprout system is an efficient grow kit. Its LED system adjusts to the time of the day to deliver the right amount and color of light needed. With the proper lighting and nutrients, you end up with faster growth and healthier yields than you would typically get from similar systems.
Click here to purchase on Amazon.
The ebb and flow system is automated and provides your plants with the right amount of water at every point in time. The same also applies to oxygen and nutrients. With this, plants receive appropriate nourishment and oxygenation.
Features
Flood and drain kit
211 GPH pump
20-gallon reservoir
Tray stand
Pros
Affordable
Effective growth system
Quality accessories
Can be converted to a drip system
Can grow 16 – 25 plants in a small area
Cons
Verdict
The Viagrow Ebb & Flow Hydro System delivers fast growth and high yields. It comes with a sturdy all-metal structure, which means you can use it for a long time. Its automated ebb and flow system are huge positives, as it eliminates or reduces the need for constant intervention while growing your plants.
The advantage of its self-watering system is your plants get a constant supply of oxygenated and nutrient-rich water. These two factors combine to ensure you get the best results with minimal effort.
Features
Aeration kit that includes air stone, air bubbler, and pump
Growth and nutrient starter kit
Water pump
Water lines
Customized reservoir
Pros
Water and aeration system combine to provide optimal oxygenation
Easy to use self-watering system
Comes with a ready to plant system
Cons
Lack of detailed instructions
Verdict
The H2OtoGro hydro system lets you accelerate your plant development and growth. While it lacks detailed instructions on how to set up, you shouldn't have significant issues setting it up, especially if you have used a hydroponic system before to grow cannabis.
Click here to purchase on Amazon.
An efficient 30-watt LED system that can be controlled by an interactive control panel allows your plant to take maximum advantage of the photosynthesis process, leading to faster growth and higher yields. The control panel also notifies you when you need to add water or nutrients or to kill the lights. Best of all, it occasionally prompts you with helpful tips, ensuring you are never unawares while growing your precious plants.
Features
30-watt LED lighting system
Smart control panel with LCD screen
Includes gourmet herb kit with plants such as Thyme, Mint, Thai Basil and Genovese Basil
Pros
Interactive smart screen for easy monitoring
Can grow up to seven plants
Easy to set up
Perfect for beginners
Cons
Made of cheap-looking plastic
Verdict
The Miracle-Gro system is one of those hydroponic systems that personifies the term "small but mighty." If you are ready to have an indoor garden that is green all year round, then this is one system that the company made with growers such as you in mind. It is also quite easy to set up, as everything you need to get started comes with the kit.
Click here to purchase on Amazon.
The Active Aqua system is also the only one that comes with a fail-safe overflow mechanism. If the float valve fails, the emergency valve instantly shuts down your system, preventing any spillage or damage due to flooding. It comes with 12 pots for growing your plants. However, you can expand these to 48 pots. So, are you ready to produce all the cannabis you need for the holidays at once?
Features
12-pot system that can expand to 48
5-gallon reservoir
Essential nutrients and flora included
Smart control panel
Fail-safe overflow protector
Water and aeration pumps
Pros
You require minimal water
Great for beginners
Can be programmed to run automatically on its own
The fail-safe mechanism ensures your growing area never floods
Starter nutrients and flora enhance yields
Cons
Verdict
If you need a system that does all the work while you harvest your yield, the Active Aqua hydroponic system is perfect. The combination of its smart control panel and the fail-safe mechanism is hard to find in similar hydroponic systems.
Click here to purchase on Amazon.
What to Look for When Buying a Hydroponic System – Buyer's Guide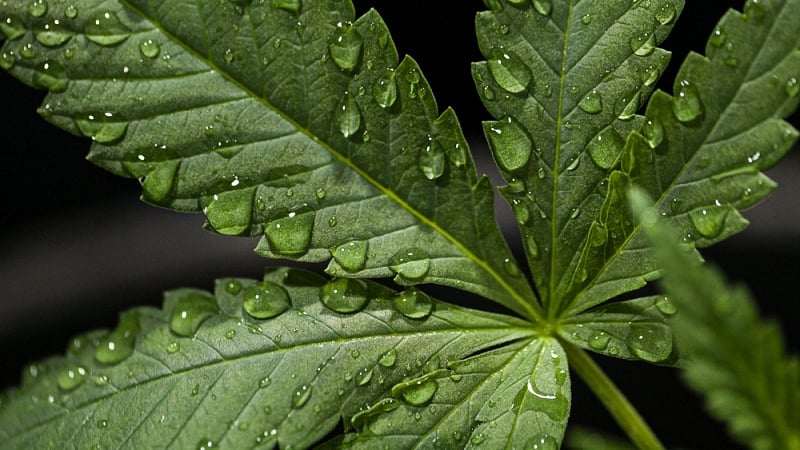 Purchasing a hydroponic system for growing marijuana can be confusing, especially if it's your first time. There are various brands, all claiming to do different things and use different hydroponic systems. To avoid getting confused, you need to know the factors you should use when trying to evaluate and decide which hydroponic system fits your requirements.
Here are some key factors to focus on when buying your hydroponic system.
Types of Hydroponics Systems
There are various types of systems depending on your expertise or your specific requirements for growing.
The Aeroponics System
An Aeroponics system consists of an air chamber – sometimes called a growth chamber – that you periodically infuse with the nutrient solution your plant needs for growth. This method requires no growing medium, such as soil. Instead, it operates simply be supporting proper aeration of the plant's root system.
Some of these systems are basic and easy to use, while others are complex and can also use pumps and other smart control features. If you are planning to grow larger plants, then you should probably get the complex systems.
The Deep Water Culture (DWC) System
DWCs are one of, if not the most straightforward, methods for growing marijuana. Also called the "reservoir method," this system has your plant roots suspended in oxygenated and nutrient-rich water. It has air pumps that aerate the water with oxygen, preventing the plants from drowning.
Deep Water Culture systems also generally feature the use of plastic buckets and net pods, which hold each plant inside a bucket.
The Drip System
The Drip concept is a popular hydroponic system for commercial and home growers. It works by slowly feeding a nutrient solution to the roots of the plant or directly on the grow medium. You usually can alternate the speed and frequency at which the solution drips. The measured drips ensure that the roots have a constant supply of nutrients and moisture needed for the plant's growth.
The drip systems usually operate by reusing the nutrient solution and recirculating it through the growing medium. The method helps to prevent flooding. Constant recycling, however, comes with its issues like a change in pH levels. Monitoring the pH levels of your growing medium is a must when using a drip system. Drip systems are preferable for beginners because they are easy to install, use, and maintain.
The Ebb & Flow System
Also called the "Flood and Drain," this hydro system is an alternating system of flooding the growing area with the nutrient solution at a specific time and then slowly drain it back into the system's reservoir for reuse. A water pump and timer enable the process.
As most plants require some dry periods to aid root expansion, the ebb and flow system is an effective hydroponic system. The functionality is one of the primary reasons for its popularity.
The Nutrient Film Technique (NFT) System
The NFT works by supplying a continuous stream of nutrients in solution to the bare roots of your plants. A tilt channel recirculates the solution, creating a downward flow of nutrients over the roots. With the Nutrient Film Technique, you don't need a growing medium. The plants also receive a high amount of oxygen as only the tips of their roots are infused in the nutrient solution.
The NFT system works well for starting your plant growth and specifically smaller plants. If you are looking to grow your plants fast in a limited space, then the NFT is perfect for that. You may, however, struggle if it's a large plant.
The Wick System
Wick systems are the most straightforward and most affordable hydroponic systems you can get for growing your marijuana. You don't need any pumps, timers, or electricity. All of it comes with a form of cloth or any other fibrous material which acts as the agent to diffuse the nutrient solution across the growing area.
With wick systems, you need a growing medium. Always pick a growing medium that drains well – vermiculite – over one that absorbs an excessive amount of nutrients, such as coconut fiber.
The AeroGarden System
These systems are mostly the product of one brand, Miracle-Gro. These systems are usually well designed and come with LED lights and smart control panels that control the light intensity and colors.
There are still debates as to whether the AeroGarden system is a unique hydro system. If you look closer, the set-up appears similar to a hybrid of the DWC and Drip hydroponic systems. However, some argue that it is more of an Aeroponics system.
Growing Site
Do you plan to grow your plants in your kitchen or garage? The space in your growing area plays a significant role in your final choice. If you plan to produce a small number of plants, then space shouldn't be a major challenge. However, if you are growing for commercial and plan on getting a hydroponic system with a lot of pots or grow pods, you need to find a space that works.
You also need to worry about flooding and ensure you get a system that has a mechanism to prevent overflows or flooding. Floods can be an issue, especially if you are going to be using the kitchen or somewhere sensitive as your growing area. You don't want to walk in from work someday and discover your kitchen floor has flooded and cabinets damaged.
Size of the Growing Pot or Bucket

These are usually measured in gallons and are an essential factor for the size of plants you plan to grow. Most novice growers overlook this point. Within a few weeks of fast growth, a large-sized plant will likely outgrow the bucket if it's too small. Transferring plants to a bigger bucket can be a sensitive job, especially if you have no one around who can do it without damaging the plant or stifling its growth.
Expandability of the Grow System
The ability to expand the grow kit as your production increases or your needs change is an important attribute. Scalability matters, especially if you are a beginner who catches on quite fast. Not every system has this ability, so you need to specifically look for it when shopping for your hydroponic system.
Smart Hydroponic Systems
With the rise of artificial intelligence, growers are beginning to prefer to invest in systems that can automatically do most of the work once programmed. And so should you.
These systems simply require that you set the cadence, amount of nutrients, and oxygen the plants need. Once you have set that up, it automatically starts to do that for you, so you can focus on other more critical tasks.
Final Thoughts
By now, you should be a pro at picking the exact system that fits your specific needs. You should also note that no matter how confusing the options might be, your choice will depend on your growth goals and available space as well as whether you are growing for commercial or home use.
The good thing is that with a hydroponic setup, you have control over all the necessary elements needed to create the perfect strain of marijuana. From water to the sort of light they receive, you can go beyond just planting the seeds and hoping things turn out alright. It also has become more accessible with the rise of programmable hydro systems, so you can set up, relax, and watch your plants grow with minimal fuss and effort.