Growing cannabis outdoors is a common practice, yet it leaves a lot of variables out of control. With no way to regulate the weather and light conditions, growing outside means you're at the mercy of mother nature.
One alternative that allows for more precision and control while growing is indoor growing. If you've decided to switch from outdoor growing to indoor growing or have decided to get started in the industry as an indoor grower, there are some crucial tools you'll need. Arguably, the most essential tool, the indoor grow tent, is key to a successful weed production operation.
Hunting down the perfect grow tent can be overwhelming if you're new to the practice. There's a multitude of different tents available online and in stores; it can be rather difficult to differentiate between the ones that are worth their stuff, and the ones that aren't. Adding special features to your shopping lists like hydroponic capabilities or lighting can make your search even harder.
Fear not – that's where this guide comes in. If you're on the search for the best grow tent, we're here to make it a whole lot easier. Below, we've gathered information about the top ten best grow tents out there and brought it all together here to make your shopping that much more straightforward. Keep reading for the best features to look out for when buying a weed grow tent as well.
The faster you finish your shopping, the sooner you can start growing.
It comes with a 2-year warranty, which is better than you'll typically find in the industry. Maybe that's because its construction consists of durable, high-quality materials and hardware.
It's thick, waterproof, reflective, and sturdy overall. If you're looking to get real serious and hang lights, it even comes with support beams that can handle it.
Features
Long last zippers made of high quality
D-shaped doors for easy entry and exit
Easy to set up
Pros
High-quality, long-lasting zippers
Doesn't need any tools to install
Also available in other, smaller sizes
Cons
Not guaranteed to defend against light leaks
Verdict
The VIVOSUN is an excellent grow tent. It's big enough to support a larger operation and made with the kind of materials that can handle it. The lack of a leaking defense is a shame, but you can fix the tent with patches if necessary. If you're a veteran of indoor cannabis growing, this is our top recommendation.
With premium light output, protection against light leaks, and a 99% reflective interior, you're getting maximized power inside your tent to make the plants grow.
Even though it's on the smaller size, it's still extremely heavy-duty. With metal connectors and bars, CoolGrows designed this kit to last.
Features
Small indoor size
Perfect for beginners
Made up of 99% reflective material for maximum light
Pros
Size is perfect for indoor recreational gardening
Contains light within a tent with leak protection and high reflectivity
Easy-to-remove floor tray to make cleaning easy
Cons
The zipper gets stuck a lot.
Verdict
This tent is our top choice if you're looking for something small to get you started growing cannabis indoors. The zipper sticking is a hassle, especially when you're going in and out frequently, but this is a minor inconvenience. Otherwise, the CoolGrows tent is ideal for those just starting on the homegrown weed journey with its price tag and size.
iPower engineered this tent for hydroponics. It consists of heavy-duty, 3-ply vinyl material to keep cleanup quick and easy. You'll get maximum growing power from its reflective internal material and full light leak protection.
If you're looking for a good grow tent to make money, this is a safe bet. With some of the best growing conditions for weed out there, it's optimal for a serious grower.
Features
Durable, long-lasting construction
Great ventilation support
Full protection against any light leaks
Pros
Reliable ventilation to keep things aerated despite hydroponics
Can count on it to last you many years
Self-adjusting unit
Repels pests
Cons
Adjusting the height isn't the easiest.
Verdict
This kit is our top recommendation for indoor hydroponic weed tents. The height could become an issue if you need to adjust it while growing. However, it's a self-regulating unit, meaning it offers some of the best growing conditions for weed. The iPower will serve beginners to intermediate growers alike.
SUNCOO's grow tent is the perfect choice for those new to the growing scene that are looking to get high-quality production without taking up too much space. Seasoned growers will appreciate the number of features included.
This tent provides top-grade material that resists snags and keeps internal conditions controlled. You also can regulate with ease the humidity, temperature, and light within the tent. Mesh viewing windows make it easy to track your progress without coming in and out.
A 600-D mylar interior and 95% interior reflection guarantees a good grow.
Features
Great ventilation support
Durable, long-lasting construction
Mesh windows for easy viewing
Pros
Easy to control conditions and check in on plants from the outside
Robust materials and construction to last years
Great size for indoor
Cons
The light reflection inside the tent is only at 95%, which is on the low end within this roundup.
Verdict
If you're looking for solid construction that will withstand the test of time, an option for ample space and are on a budget, this is an excellent choice.
The small size comes with a moderate price tag, but it's worth it when you consider the quality it provides. With 100% light leak protection and 100% reflective interior, your plants will thrive in this small space.
You'll love the features that make it easy to assemble, maintain temperature, resistant to pests, and optimize growing conditions.
Features
Heavy-duty, durable zippers
Maintains steady temperature
Full protection against light leaks
100% reflectiveness
Easy to set up
Pros
Durable zippers to keep things safely inside
Excellent maintenance and regulation of internal growing conditions
Installation is easy but also comes with a manual, just in case
Cons
More expensive than most other models
Verdict
For a small but high-quality indoor growing experience, look no further than this one from Apollo Horticulture. The company made this mylar hydroponic tent to last. It is easy to manage and great for those committed to investing in their growing.
marijuana grow tent kit
manufacturer Best Choice Products. It's also a very affordable option, making it a top candidate for those looking to get started on a budget.
If you're new to the indoor gardening practice, you'll find it easy to get started with this Best Choice tent. Everything from setup to maintaining internal conditions to cleaning it is a breeze.
The fabric does the heavy lifting, with 600D polyester material that stays resistant to heat and tears. Even though protection from heat matters, it's still crucial to get a bit of ventilation as the plants grow. Unique ventilation outlets make it easy to adjust based on your plants' needs.
This tent does lack external viewing windows and has large doors – which means that to see your plants, you'll have to come inside the tent and quickly close the door behind you. There's also no product warranty, but with such durable materials from a trustworthy manufacturer, you likely won't miss it.
Features
Includes removable PVC support
Polyester material resistant to heat and tears
Affordable
Pros
Removable interior parts for easy cleaning
Durable fabric that keeps heat out but allows for ventilation
Great for beginners that have a budget
Cons
Large doors make it easier to lose heat and light when entering and exiting
Verdict
If you're new to indoor growing and don't want to dive in with a massive investment at first, this is an excellent way to dip in your toes.
You'll find that with this tent, your plants are extremely well-protected from the elements outside the tent boundaries. Even still, you'll be able to peek in on your progress as you wish with convenient external viewing windows.
You shouldn't have an issue with any light leaks in this tent, but a simple patch can always cover up any small holes. With the Gorilla brand, you can trust that you're getting a high-quality LED grow tent.
Features
Made of diamond-shaped Mylar fabric
Heavy-duty, durable construction
Made from reputable manufacturers
Pros
The specialty fabric engineered specifically to grow marijuana indoors
The material is also heavy-duty, meaning you can count on this tent to last a long time
Gorilla is a trusted brand in the cannabis growing industry with great reviews
Cons
Openings in the fabric may allow for a few light leaks
Verdict
The Gorilla tent is a smart pick to make if you want something in which you can invest. The great brand and unique material have proven to grow high-quality cannabis. Even more, its durability means it's going to last for the long haul and offer you plenty of growing in the future.
The square shape and design are perfect for hanging lights that equally reflect on all your plants. Even with a large number of plants, you'll find great space and functionality in this tent from Yield Labs.
Features
The shape allows for even distribution of light
Full 100% reflectivity
Interior is waterproof
Pros
No worry of inadequate lighting due to weird shape
Guaranteed 100% reflectivity
Waterproof lining protects from fungal growth or excess moisture
Cons
Large size that might be too large for the average indoor grower
Verdict
If you are serious about growing and have no time for light leaks or low reflectivity, look no further. This is a top bet for someone who wants to grow a lot of plants and grow them well.
Made up of 600D heavy duty mylar, this tent provides maximum light that helps your weed grow to be the best it can be. It's also incredibly durable, supported by a solid metal frame. You'll find it a breeze to install, likely taking up less than 20 minutes.
Features like a removable floor and top-of-the-line ventilation system make it an even more attractive product.
If you're a discrete grower, you'll love the look of this tent. It looks just like a regular wardrobe from the outside, so your privacy will stay protected.
Features
Easy to set up
Durable, long-lasting material
Maximum light efficiency
Discrete looks just like a wardrobe
Pros
Can assemble as a one-person team in less than half an hour
Solid metal frame provides durable protection
The discrete design will blend in with your home
Cons
Zippers aren't the highest quality, leading to gaps and snags.
Verdict
If you want to stay low-key about your growing hobby, this tent that could double as a wardrobe will keep things private while still producing fantastic cannabis.
With this seal of certification, you can trust that your plants won't be contaminated or release any dangerous gasses.
The material is top-notch. Zero light leakage and 100% reflective interior gets maximum light to your precious plants.
Take it to the next level with this tent, thanks to the 0.8mm poles that allow for growing lights to hang. Even without lights, the poles come in handy to store equipment and keep things neat.
Features
Certified eco-friendly
Double-stitched interior
Comes with discreet shipping
2-year warranty
Pros
Keeps sustainability in mind and protects the environment
Specialty fabric techniques add durability and ventilation
An extended warranty that you can trust to last
Cons
The poles don't fit as perfectly as one would hope
Verdict
If you care about the way your growing affects your environment and vice versa, this should be your top pick. It's both reliable and environmentally thoughtful. The ill-fitting poles are a downside as they can tend to make the tent warp a bit. However, with the warranty, this option is for anyone who cares about investing in both their long-term growth and helping Mother Earth.
What to Consider When Buying Weed Grow Tents – Buyer's Guide

If you're still unsure about which growing tent you want to spend your money on, it can help to know a little bit about what to look for when shopping for one. It's also helpful to research the growing practice itself so you can predict what your needs will be.
Before you buy, make sure you ask yourself what's important to you and seek out a tent that can provide just that. Below are a few things to consider before buying online.
Size
Grow tents are available in a wide range of sizes to accommodate a variety of indoor spaces. The interior size and height are two crucial factors to take into account when you're browsing products.
A lot of beginners overlook the height when buying a tent, but it's one of the most critical concerns. Ideally, you want to try to maximize the height of your tent to place the grow lights in the right spot. When you have extra height on top, you'll also leave room for things like wall fans, air filters, and ducting.
Keep in mind that since you need all of these features included inside the tent, you won't be able to use all the space to grow. For example, if you're looking at a 5 x 5 grow tent, you'll likely only have about 4 x 4 space for plants.
So first, you'll need to determine how many plants you want to grow. You'll also need to decide what strain you want to grow and what method you will use to grow: soil-bound or hydroponically.
At a minimum, your grow tent should be two feet tall. However, as tall as your space will allow is always best.
Durability
You can expect the cost you pay for the tent to reflect in its durability. Lower-end products typically consist of thinner, flimsier materials, which can lead to problems down the road. Things like broken joints, zipper snags, and light leaks might not seem like a big deal at first, but they can be a real hassle. They can also slow down your growing production.
Remember – you'll need to use this tent daily. It will get jostled around a bit, so invest in something sturdy enough to handle it.
Features
While additional features aren't necessary to create an optimal growing environment, they can certainly enhance the experience and make things easier. Some tent features that might appeal to indoor growers include:
Exterior Viewing Windows: This allows you to check in on the progress without having to go entirely in and out of the tent. Visibility is essential so that you can maintain the environment inside your tent.
Cinchable Ducting Vents: Vents that you can cinch allow you to get a tight seal on the lower intake and exhaust ducts where you'll need to connect your fans.
Large Doors: A wide opening makes it easier to access your plants and bring equipment in and out.
Floor Trays: Removable floor trays will collect any moisture or runoff and make cleaning a breeze. Again, this will help you longterm in maintaining the environment inside the tent.
Bars for Lights: Lights are crucial to your indoor growing operation, so consider looking for a tent that comes with bars included to hold the lights.
Multiple Tents vs. Various Chambers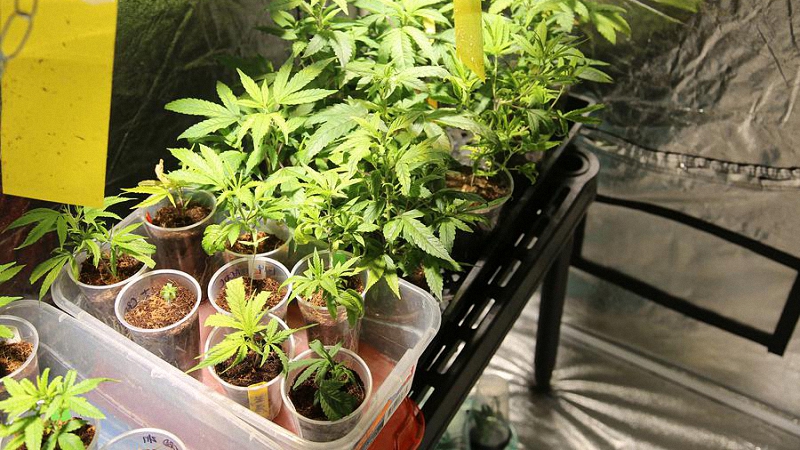 How serious are you looking to take your indoor growing operation? If you're trying to grow a large quantity or more than one type of plant, you need to decide whether you'll be doing multiple tents or using various chambers within a giant tent.
Both options will serve the same purpose. If you have more space, you might enjoy the separation of two tents. If you're tight on space, a tent with chambers is probably the better option.
Weight Capacity
Something that many people skip over when browsing online is the tent's weight capacity. Your tent will need to support various equipment, so make sure it can handle its load. If necessary, check the weight of the lights and other equipment you plan to bring into the tent to see if the listed weight capacity is in the right range.
Ducting/Cord Ports
Make sure you check out the ventilation in a grow tent before you buy it. Ventilation is paramount to successful plant growth. You'll struggle to get that with poor quality ducting and cord ports.
Aside from the quality of the parts, you also want to account for the number of ports. Ensure it will be able to support the equipment you plan to use while growing.
How Do Grow Tents Work?
Grow tents don't work by some mysterious power. It's quite simple — the indoor tent controls the environmental conditions around your plants to offer the ideal reflectivity, light, humidity, temperature, and ventilation for prosperous plants.
These aren't necessary for indoor growing, but they do offer some of the best results. It's also a great way to nurture cannabis plants from the seeds.
Two of the most important benefits a grow tent offers is reflectivity and protection.
Reflectivity: The tent will contain the light emitted from your grow lights by essentially trapping them within a reflective environment. The reflectivity concentrates the amount of light your plants are getting, so they'll be happy and healthy. It will also make the most out of your light sources, cutting down on energy costs for the grower.
Protection: One great thing about indoor marijuana growing tents is the protection they offer from damage. When a plant is sitting on a table or otherwise regular household area, it's easy to knock over or disturb it. When the plants are kept safely inside the tent, it can keep the plants out of reach from guests, kids, and pets. They also keep out disease and pests that could seek to damage your plants.
What Materials Comprise Grow Tents?
Typically, indoor growing tents have thick, heavy-duty materials. The outside is often polyester, nylon, mylar, Oxford cloth, or other similar material. This outer fabric bonds to a reflective inner material. While you might never have to know this term, the reflective fabric is technically called biaxially-oriented polyethylene terephthalate.
Keep in mind that your grow tent doesn't have to be made out of these materials to be high-quality. As long as the materials meet the requirements of producing, you should have a solid home for your indoor growing project.
The requirements include:
Materials are safe to grow cannabis inside
The outer layer consists of a durable fabric
The interior provides high reflectivity
The interior supports moisture control
The interior prevents against tears and damage
The interior includes double-stitching for durability
How to Create the Ideal Indoor Gardening Setup
If you're ready to get started on your indoor cannabis growing setup, this is what you need to do.
If you purchased a marijuana grow tent kit, it should come with all the supplies you need to get it successfully set up. Aside from that, you'll need your cannabis seeds, seed starters, growing containers, fans, grow lights, ventilation ducts, and filters. It's also helpful to have extra tools such as a humidifier; dehumidifier; heating unit; AC unit; and thermo-hygrometer, which tracks both temperature and humidity.
Trying to make your job that much easier? Add these items to your shopping list before you get started setting up your indoor garden:
UV Sunglasses – polarized glasses will help you handle all the reflectivity within the tent
pH meter – to ensure the plants are growing at the right level pH
Plant gender ID kit – helpful for plant identification
Fertilizers – get plants growing faster with the help of a good fertilizer
Once you've checked off everything listed above, you're ready to start setting things up. First, clear out space where you plan to put the tent. Keep in mind this process can take a long time, so make sure your schedule allows for several hours of setup.
Next, begin setting the actual tent up by following the directions included in the kit. Luckily, most indoor grow tent kits today are user-friendly. You can set up most in less than 30 minutes.
After the tent is up, start hanging the grow lights within the assembled tent. If you're not sure what to use, rope ratchets are the safest bet. They'll also make hanging your equipment easy.
Now that you have hung the lights, you'll want to install your exhaust fan. You also can hang the fan inside the tent to reduce the noise it will create. The placement will create optimal circulation within the growing environment.
With the exhaust fan installed, it's time to connect your filter. A carbon filter is a sound choice to keep strong smells at bay.
Finally, you'll want to zip everything up to double-check that everything is operating safely enough to produce vigorous plants and discreetly enough to work for your lifestyle.
Grow Tent Advantages
Still not sold on whether or not you should pick one of the grow tent kits listed above? Here are some of the top advantages you'll enjoy while growing with an indoor tent:
Portability: The tent is a lightweight way to move or transport all of your growing supplies. Some tents are even collapsible, which can help to save ample space.
Versatile: Even if you decide to give up on the cannabis growing game after a while, you can still use these indoor tents to grow other plants!
Pest Control: One of the most significant advantages is the decreased probability of a pest invasion on your plants. Pest control features can save you tons of money as it mitigates the risk of you losing plants to nature's elements.
Efficiency: Growing inside an indoor tent is one of the most energy-efficient ways of growing. The enclosed nature of the tents conserves light, heat, and energy to make the most out of the small space they have.
Smell Reduction: If you're trying to grow cannabis discreetly indoors, the smell alone will give you away without a tent to contain it. The tent helps to confine the odors within its boundaries and away from your other living spaces.
Final Thoughts
As you can see from the above, there's a lot that goes into finding the best tent for growing weed indoors. What might seem like a simple pick from the outside gets a whole lot more complicated when you take into account the special features, pros and cons, budget limitations, size requirements, and other vital details.
We've dug through the research to present you with the ten best options for indoor marijuana growing. You'll find that they are each high-quality products in their regard. Now, all you have to do is consider what you want as far as size, functionality, and style.
Whether you're looking for the best overall value, the best hydroponic grow tent, the most durable material, the most affordable price point, the highest reflectivity, or the most trustworthy manufacturer, we've covered them all. Hopefully, after reading this guide, you have a better idea of what to pick. Good luck and happy growing!