Budding cannabis growers often shoot for the moon and go the hydroponic route instantly. However, the high cost of the equipment and the level of experience necessary to successfully grow plants in water means that this often results in disappointment.
What many weed growers don't know is that, with the right materials and care, extremely high-quality results are possible by growing in soil.
One of the most critical decisions a cannabis grower has to make is the type of soil in which they are going to grow their plants.
Believe it or not, there is an enormous variety of soil options available on the market. There are many factors to consider when choosing the right soil for your plants.
In this post, we'll show you our ten favorite options and also discuss the various factors that should shape your decisions when choosing the best soil for weed.
Perfectly balanced pH means that cannabis plants can absorb its many nutrients rapidly, and FoxFarm knows this. The company specifically engineered the FX14047 to result in extremely rapid root development and plant growth.
Add to this the convenience of being able to use the soil straight out of the bag, with no additional preparation or treatment needed, and you've got a product that is an excellent choice amongst the best soil for weed.
Features
Shipment contains 2 cubic feet of soil.
Size: 29.5 x 18.2 x 4.5 inches.
Weight: 57 lbs.
Pros
Ready for use straight out of the bag
Adjusted pH means optimized nutrient absorption
Soil composition results in aggressive plant feeding
Fruit and flower production is greatly enhanced
Grows plants with a robust physical structure
Light texture means excellent drainage
Cons
Has been known to attract aphids.
Verdict
The FX14047 Happy Frog is a fantastic option all around for those wanting that added kick in their weed growing endeavors. It can boost your investment and output.
Not that this is the only thing this soil has to offer. Added fertilizer and the inclusion of perlite makes this a nutrient-rich soil that will grow beautiful buds. Perlite is a type of volcanic glass that is used in potting soil specifically to create the texture necessary to lighten the soil.
Black Gold 1302040 8-Quart All Organic Potting Soil is also known for aiding in very rapid plant growth. This product is excellent for a grower who is happy to do a bit of tinkering with the soil.
Features
Shipment contains 2 packs of soil
Size: 12.6 x 12.2 x 7.5 inches per pack
Weight: 10.75 lbs per pack
Pros
Known for being exceptionally pest resistant without the use of chemicals
Ships with two convenient packs – meaning that you won't need to seal the bag if you don't use all of the product
Added perlite gives the product fantastic drainage
Suitable for growing plants directly from stems
Cons
Can develop mold
May need some additional nutrients to reach full potential, but this is standard for many products
Verdict
Black Gold is a better option for experienced growers and the best all-around choice for those concerned with growing their weed in organic soil.
3. Espoma SS8 8-Quart Organic Seed Starter
Most growers use this product as a "starter" to kick off the growth process and repot the plants later to a more appropriate location or soil.
The Espoma contains several extremely unique micro-organisms and nutritional matters. Aside from the standard nutrients like sphagnum peat moss and perlite, it also includes a unique blend of mycorrhizal fungi referred to as "myco-tone."
Myco-tone is especially beneficial in helping the development of plant roots. Robust roots mean strong plant structure and also excellent absorption of both nutrients and water. The substance is also known to reduce the "shock" of undergoing soil transplant.
Features
Size: 8 x 5 x 5 inches
Weight: 5.65 lbs
Pros
Useful for growing plants directly from seeds
Specialized "starter" soil
Reduces stress on plants that will you plant to transplant to a different soil
Counts myco-tone as a critical ingredient – a nutrient that has numerous benefits for young plants
Cons
Verdict
If you need to repot or start a new plant from the seed stage, this starter option is for you. It isn't a longterm solution, so it's best to have a secondary soil to bring weed to its full potential.
The Coco Loco mix is an exceptional product that ships in a large quantity. Growers consistently rate the mix as one of the best soils for weed growing on the market, and the reasons are easy to see.
Features
Two cubic feet bag
Size: 29.5 x 4.5 x 18.2 inches
Weight: 40.2 lbs.
Pros
Exceptional balance of water retention and drainage
Added coconut fiber (coir) provides plants with water and nutrients as needed
Good drainage means low humidity – conditions that prevent mold, root-rot and pest infestation
Cons
Only available in some US states.
May need additional perlite for aeration.
Verdict
If you're living in a wetter climate, this option is for you. FoxFarms specially designed this mixture to eliminate excess moisture. The only downside is that it's unavailable outside the US.
One feature that this soil prides itself on is the speed at which plant roots grow in it. The quickened process is due to the abundance of mycorrhizal – fungi that helps plants absorb nutrients more effectively.
Features
5 cubic feet bag
Size: 30 x 4 x 20 inches
Weight: 38 lbs.
Pros
Exceptional pH balancing resulting in optimized nutrient uptake
Contains a scientifically balanced combination of nutrients
Rapid and robust root growth aided by the perfect amounts of mycorrhizae
Cons
Known to attract flies
Relatively expensive given the size of the bag
Verdict
A nutrient-rich option that will help weaker plants establish their roots, but comes at a price tag.
The abundance of natural nutrients in the Roots Organics Rod Original soil means that your cannabis plants can thrive for many weeks before you need to add more fertilizer.
Features
5 cubic feet bag
Size: 18 x 27 x 5 inches
Weight: 30 lbs.
Pros
The heavy-duty bag prevents ruptures and spillage that can occur during shipping
Contains extra-long coco fiber for excellent drainage and water retention balance
Richly composted over two years
Cons
Large amounts of perlite – may not be ideal for everyone
Verdict
Roots Organics is another solid organic option for those looking for optimal drainage. But with an abundance of perlite and a higher price tag, some may not prefer this option.
What's important to note is that as a concentrated product, this soil will require you to mix it with organic potting material to create the soil for planting your cannabis seeds.
Features
5 cubic feet bag
Size: 7 x 5 x 20 inches
Living Soil technology
Pros
Super highly concentrated soil brimming with massive quantities of nutrients
5 lbs of the concentrate are sufficient for 25 gallons of treated containers
Suitable for vegetable growing as well as cannabis
Cons
A strong odor may be a little overwhelming for indoor use
Verdict
Since this is a concentrated soil, it is an investment that yields more. But it is also more hassle since you have to mix it with another potting soil, so it may not be for everyone.
In this case, the Mother Earth perliet mix has undoubtedly earned the certification. It may be slightly unconventional because it is composed almost entirely of perlite and coconut husks, but it is still considered one of the most beautiful weed soils around.
Features
50-liter bag
Size: 16.9 x 8.5 x 8.5 inches
Weight: 26 lbs
RHP certified
Pros
Extremely high coco fiber and perlite content
A great alternative to traditional, peat-based growth materials
Coir content means excellent drainage and water retention balance
High perlite content results in excellent aeration
Cons
The chemical odor may be overwhelming
Verdict
For those super worried about humidity or water retention, this is the soil for you. Mother Earth has engineered it to aerate and drain.
Whether you are just starting as a weed grower, or if you're a seasoned veteran, this soil is going to give you everything you need. If you have the budget, and the space to accommodate the large, heavy bag, this is the cannabis soil you're seeking.
Features
Contains 3 cubic feet of soil
Size: 14 x 18 x 3 inches
Weight: 78 lbs.
Pros
Nutrient sources: bat guano, fish & crab meal, earthworm castings, moss, Forest humus, and more
Boasts exceptional pH balance: between 6.3 and 6.8 pH
Grows hearty plants that yield beautiful, rich cannabis buds
Cons
The big, heavy bag may be cumbersome to ship and carry
A little on the expensive side
Verdict
The Ocean Garden potting soil is an excellent choice for weed growers who are growing more than just a few plants.
10. Miracle-Gro Potting Mix, 16-Quart
As the name suggests, using this soil mix is going to result in big plants. Miracle-Gro's objective is to deliver the perfect combination of nutrients, drainage, and airflow for maximum plant size. The manufacturer's tests have proven that plant size is double when using Miracle-Gro over unfed plants.
Features
16-quart bag.
Size: 3.9 x 12.8 x 21 inches
Weight: 8 lbs.
Pros
Ideal for indoor use. Growers in an apartment or with limited space will love this soil
Scientifically engineered to stimulate growth
One bag feeds plants for a period of up to 6 months
Very affordable price
Cons
Verdict
Only for people growing in a container, Miracle-Gro is an especially great choice for those growing indoors.
What to Look for When Investing in Soil for Growing Cannabis – Buyer's Guide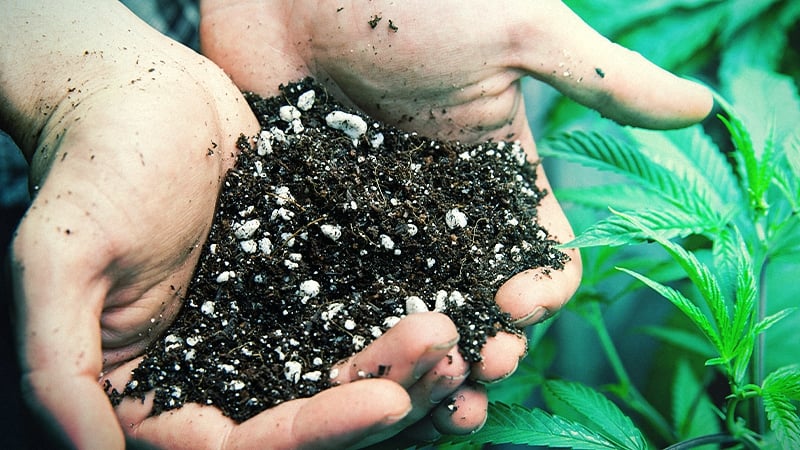 As you can see from the amount of information provided for each of the options above, there is a massive amount of factors to consider when buying soil for cannabis growing.
– What questions do you need to ask?
– What research do you need to do before deciding?
Let's take a more in-depth look at the finer points of making a selection.
Texture
Soil texture typically possesses one or a combination of the following textures:
The predominant features of these soil types are as follows:
Sandy
Acidic (low) pH levels
Large grain size
Excellent drainage (poor water retention)
High oxygen levels
Poor nutrient retention
Silty
Variable pH levels
Medium grain size
Plenty of nutrients
Great water retention
Provides physical stability for plants
Clay
Acidic (high) pH levels
Small grain size
Excellent water retention (poor drainage)
High mineral content
When it comes to soil texture for cannabis, the truth is that an intelligent combination of the three textures is best. This type of soil texture is what growers refer to as loam.
Soils sold for the growth of weed will be this kind of loamy mixture. A general rule of thumb is the following ratio:
40% clay
40% silt
20% sand
The Correct pH
pH is an index of the soil's hydrogen potential, which is an indicator of its acidity or alkalinity. The pH scale ranges from 1 (most acidic) to 14 (most alkaline). A pH of 7 is considered neutral. Soil's pH level plays a huge part in determining the type of plant that can flourish in it.
Cannabis is a plant that prefers the soil to be slightly acidic. Most experts agree that a pH level if 6 is ideal, but that anything between 5.8 and 6.3 should be adequate.
Ambitious gardeners often tweak their soil pH levels, but most of the products on the market nowadays have been pre-adjusted to the ideal value.
Throughout the growing process, it's worth checking the soil's pH level to keep it around pH 6. pH testers are relatively affordable and available at most large retailers.
Water Retention
It makes sense to an inexperienced weed grower to plant seeds in soil with the best water retention. However, the truth is that a balance between drainage and retention is what you should be seeking. A good rule of thumb is to have a bias towards drainage over water retention for healthy cannabis plants.
Mineral Composition
Cannabis needs to grow in soil that provides plenty of minerals:
Sulfur
Nitrogen
Calcium
Carbon
Phosphorous
Manganese
Potassium
Minerals contribute to the soil's ability to provide the plant with chlorophyll and proteins necessary to thrive. The correct mineral composition also plays a significant role in the capacity of the soil to maintain its pH level.
Well-aerated soil also means that cannabis plants have access to gas-based elements like oxygen, nitrogen, and carbon dioxide. For this reason, the texture of the soil also needs enough air retention, so the plant does not suffocate.
Nutrients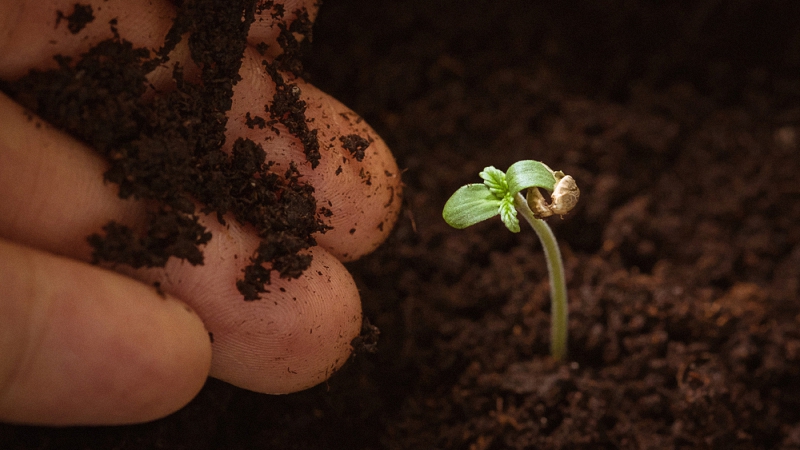 The nutrients refer to the organic matter embedded in the soil that helps plants absorb nitrogen and remain healthy. Even though plants obtain most of their nutrition from converting sunlight, a healthy amount of decaying plant and animal matter in the soil also contributes to their overall health.
Potting soil ideal for cannabis contains a variety of organic matter from a surprising spectrum of natural sources.
Typical examples of nutrients included in cannabis soil are:
Worm castings (also known as vermicast)
Bat guano
Peat moss
Fish meal
Bone meal
Glacier rock dust
When considering a soil for your cannabis plants, try to find the product that has a wide variety of nutrients as possible. However, it is worth bearing in mind that you can supplement your soil's nutrient composition with fertilizers and other products.
Final Thoughts
As you can see from our buyer's guide, there are plenty of factors to consider when looking for the soil that's going to give your plants the best quality buds.
While we urge aspiring growers to learn everything about the fine art of growing weed, you can rest assured that our soil selection above contains products that are more than adequate as a starting place.
Happy growing!