When considering these questions, forget about price for a moment.
If you wanted a really great pizza, would you grab something from the supermarket's frozen food section, or stop by your favorite pizzeria where they bake delicious pizzas to order?
Would you prefer a package of Chips Ahoy or hot-from-the-oven chocolate chip cookies baked at a local specialty shop?
The answers are obvious. Products that are handmade with care are almost always going to be of higher quality than those that come from some remote assembly line.
The answer to the next question is just as obvious.
Would you rather buy CBD from a big-name producer who won't even disclose where they buy their hemp, and outsource much of the manufacturing process? Or would you opt for CBD from a small company whose employees even help pick and shuck the hemp before they manufacture their own products?
You've probably guessed that Recepta Naturals fits the second description. It's a cannabidiol operation that's growing in size and popularity (cannabidiol is the scientific name for CBD), but it's still a hands-on operation that produces a small line of high-quality CBD products.
We asked at the start of this review that you temporarily forget about price, but it's time to bring it back into the discussion.
Careful CBD production with rigorous standards and procedures is expensive. And Recepta Naturals products aren't cheap. So the big question becomes whether the high cost of this CBD is worth it.
Let's answer it.
Recepta Naturals: The Background
Recepta's backstory is similar to that of many other producers but still meaningful. In 2015 founder Rusty Scott was trying to overcome the pain of a serious knee injury but got sick of prescription drugs, and since he lived in Colorado where it was legal, he tried CBD. He could tell it was helping, but not as much as he'd expected from the hype.
That led him to build his own company, which would use the best hemp and highest production standards to create the very best cannabidiol products available. Recepta Naturals was founded in late 2015 and has since built a reputation for quality, with a staff of true believers dedicated to the company's core mission of creating "good products from good ingredients" and marketing them with no false claims or hyperbole.
As the business grew, Scott oriented his business more toward "wellness" and less toward relieving specific illnesses or medical conditions. That focus has encouraged a significant following in the athletic community, not just people dealing with issues like stress, arthritis, or other types of pain. And it's led to partnerships with a number of athletes (or former athletes) from mainstream sports like football and hockey, to up-and-coming sports like MMA and skateboarding.
Recepta Naturals is based in the suburbs south of Denver, and its owners and employees participate in a robust philanthropic outreach program (called Recepta Gives) to help people in their local community, as well as broader social, animal rights, and environmental causes.
Sounds good so far. Next on our review checklist is checking out how Recepta's products are made.
Recepta Naturals: The Approach
Many high-end CBD companies brag that they are a "seed to shelf" company, meaning they control everything involved in the process of creating their products. Recepta Naturals goes a step further.
This producer doesn't just give growers the hemp seeds (or cultivars) to use; Recepta actually owns its own supply chain, meaning it has its own family-owned farm where the hemp is grown before it's sent to the company's processing facilities. As we've mentioned, staffers participate in the harvesting and shucking off the plants, something we've never heard of before.
The organically-grown hemp is shucked by hand and not by machine, and only the hemp flower is harvested. Why does that matter? Most companies include stems and stalks when they extract CBD from hemp, but those plant components contain less cannabidiol, flavonoids, and terpenes so they "water down" the yield. Using only flower increases costs, but creates a more effective product.
Receptra Naturals relies on the ethanol extraction method to remove CBD from hemp. There's some controversy in the industry about the ideal way to extract cannabidiol; conventional wisdom has favored supercritical CO2 extraction, but many premium brands have switched to ethanol extraction; it may produce slightly less-effective CBD, but preserves more of the hemp components' integrity. And there's a good reason why those components (including terpenes, flavonoids, and other cannabinoids like a tiny amount of THC) are so important.
When they're all present in what's called full-spectrum CBD, they all work together in an "entourage effect" that boosts the performance of cannabidiol. If they're all removed (creating what's known as CBD isolate), the product isn't as effective – although there's no THC to occasionally trigger a drug test. Receptra Naturals primarily sells full-spectrum CBD, with a few broad-spectrum options (meaning they have no THC but all other components remain).
It's common to see high-quality producers include the bare minimum number of ingredients in their products, but Recepta does things slightly differently. They add selected botanicals to many of their formulas, in order to boost the products' ability to help with specific issues. Importantly, only all-natural and/or organic ingredients are used.
We have two small issues with this company. They don't always make clear the carrier oil(s) that are used to distribute the CBD, because they don't provide ingredient lists for all of their products. They only say they use a "selected blend of carrier oils," but there are some mentions of MCT oil (the best choice) and hempseed oil (second best) on their website, so we assume those are among their "selected" oils.
The second issue is a smaller one. Recepta doesn't allow you to access COAs (certificates of third-party analysis) for their products unless you've purchased them and have the batch number. That prevents interested shoppers from checking out the documents that show percentages of cannabinoids and freedom from hazardous substances.
Those are small points, though. More important is the fact that Recepta Naturals clearly uses almost all of the very best processes possible to create and manufacture its CBD products. And they're definitely among the best we've found.
Recepta Naturals CBD Oils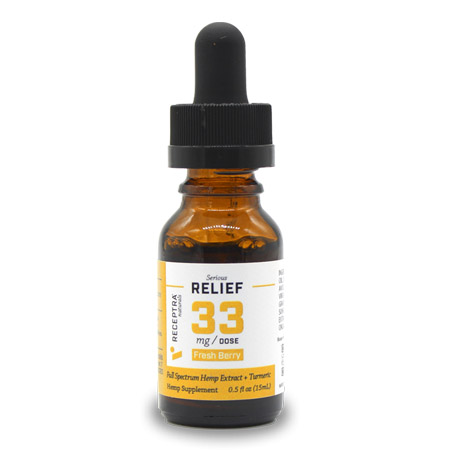 The company places an extra descriptor on all of its oils (which they call tinctures or drops), so it can be a bit confusing to figure out which one of the products is "regular" CBD oil. It's "Serious Wellness," a rebooted version of Recepta's original product. It's strong, with 50mg/ml of cannabidiol and no other potency options.
This oil is designed simply for maximum effectiveness, although the company provides some conflicting information about it. The Recepta website says the only ingredients are full-spectrum CBD and MCT carrier oil, but the label on the bottle says the fresh berry flavor is contributed by organic ingredients.
There are three other varieties of Recepta Natural CBD oil:
"Serious Relief" is available in 33mg/ml and 66mg/ml dosages and also contains turmeric, avocado oil, and extra vitamins (plus fresh berry natural flavorings). There's a 33mg/ml THC-free "Serious Relief" choice made from broad-spectrum CBD as well, as an option for those concerned about failing a drug test.

"Serious Rest" is sold in 25mg/ml potency and has added linalool, valerian root, chamomile, and natural vanilla flavoring.

"Seriously Relax" is also a 25mg/ml full-spectrum CBD oil that contains lavender and limonene in addition to ginger and lime flavorings.
As we've already noted, these well-made and effective products are rather expensive. They're also quite strong for new users or those with mild pain or symptoms, so taking fewer drops would be a good idea until you're used to them.
Recepta Naturals CBD Capsules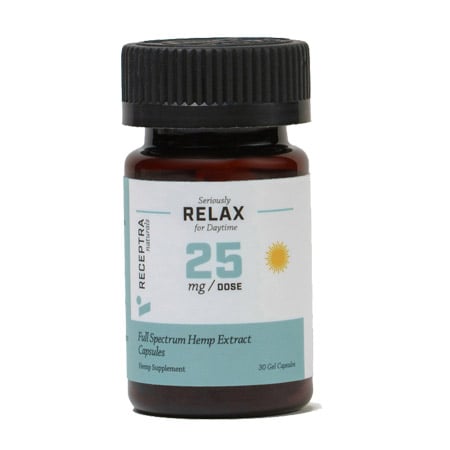 The Serious Rest and Seriously Relax formulas are available in the gelcap form. Each capsule contains 25 milligrams of full-spectrum CBD, along with the collection of additives mentioned in the CBD oil review section for each formula. The gelcaps are made from bovine gelatin, so they are not vegan.
Recepta Naturals CBD Edibles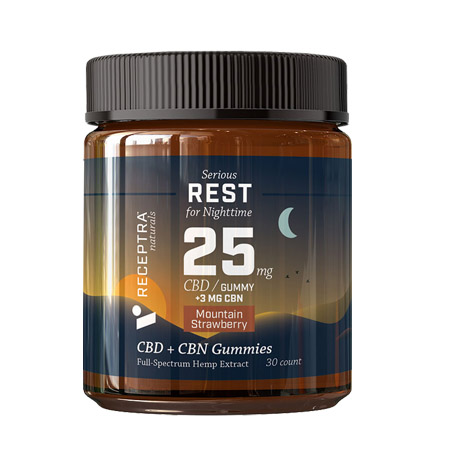 There's only one option here, Serious Rest Gummies, and they're pretty strong at 25 milligrams per candy. They have the same added ingredients as the CBD oil of the same name, plus a small amount of extra CBN, a different cannabinoid that is believed to help with sleep and other health issues. These are full-spectrum gummies with natural strawberry flavoring, and the ingredients used to make the actual gummies are all-natural.
Recepta Naturals CBD Topicals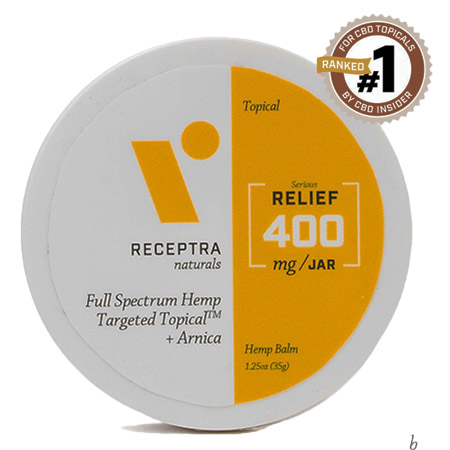 Recepta offers six versions of its Serious Relief full-spectrum CBD formula blended into topical products, with arnica added for its anti-inflammatory properties. Four of them are a thick cream, one is a body oil and the final choice is a roll-on stick.
Three of the creams are designed to target specific types of aches and pains: those resulting from exercise, yoga, skiing, and snowboarding. Each contains a different mix of extra natural ingredients and scents. The fourth is a more general pain treatment, as are the body oil and roll-on.
There is one additional topical choice, a THC-free broad-spectrum CBD cream.
Recepta Naturals CBD for Pets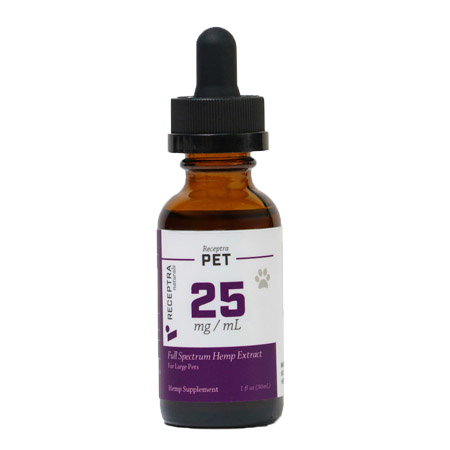 The company produces a full-spectrum CBD oil which it says is suitable for "cats, dogs, birds and other critter companions." This oil contains just cannabidiol and organic MCT carrier oil and is available in 16mg/ml and 25mg/ml dosages; that's extremely potent and probably too strong for cats and small dogs. If that describes your pet, only use a few drops for small pets until you establish a dosage baseline.
Recepta Naturals CBD: The Verdict
Some CBD producers simply do everything the right way. Sure, we wish there were complete ingredient lists readily available for all of Recepta Naturals products, and that COAs were available for products before purchase. We also wish there were less-potent options for their products since not everyone needs 50 or 60 milligrams of CBD per dose.
That's nit-picking, however. These are high-quality products, among the best you can find. They're designed smartly, produced very carefully to maintain quality throughout the process, and they work well. Sure, they're pricey – but Recepta Naturals is a great example of the old adage "you get what you pay for." In this case, you pay for outstanding CBD.