There are times you don't have to worry about a product's quality. Other times, you have to go on faith.
For example, you might be buying a new car, or a dishwasher, or a turkey. In those cases, you can rely on past experience or brand reputation to choose a Mercedes or a Ford, a GE or an LG, or a Butterball.
But when you're shopping for something that's only been on the market for a short time – like CBD, which was only legalized for sale in all 50 states in late 2018 – past experience and brand reputation often aren't useful benchmarks. An educated decision may have to depend instead on deeper research into a manufacturer's background and processes, as well as the components or ingredients they use to make their products.
That's the lengthy process we're usually faced with when we review cannabidiol products (cannabidiol is the full name for CBD).
The research isn't made any easier, however, when a producer maintains an opaque online presence. When a product or market is in its infancy, one of the best ways to build trust is through transparency. The more you know about a company, the better you can feel about trusting the products it sells. The less you know, the more questions you may have.
That brings us to Empire Wellness.
This CBD producer hasn't been in the industry since its early days. It isn't particularly well-known. It doesn't even publish its address on its website. Yet Empire Wellness products are seen around the country (as well as in the company's online store), apparently because of a robust wholesaler program.
What's behind this producer, and can its CBD products be trusted?
Let's find out.
Empire Wellness: The Background
You won't see any major details about Empire Wellness on the company website. They rely on boilerplate statements that they "work closely with a whole range of experts," they "believe that natural, alternative treatments using CBD really are the future," and they "are looking into expanding into a variety of exciting areas including smoke and vape shops, dispensaries, health food stores" and so on.
There's nothing wrong with any of that, of course – but it doesn't provide any valuable information. To learn more, we had to dig a little deeper.
It turns out that Empire Wellness was founded by Joshua Newman. He got his start in business, with no money to work with, drop shipping electronics sourced from China. He moved on to start companies selling hoverboards, vitamins, and supplements, investing much of the proceeds in the stock market.
Now, he sells CBD products. He's put a lot of effort into marketing through celebrities and social media influencers and wholesaling his products to vendors around the country. Empire Wellness has now grown to the point where the company is pushing out a lot of product, and it's doing what Newman seems to be best at making money. After all, he's a marketer at heart.
That's not necessarily the type of background that would inspire confidence in a product that many customers rely on for medical benefits. Of course, it's not disqualifying, either.
It simply means we have to look a lot closer at exactly how Empire Wellness sources its ingredients, and how it designs and manufactures its products.
Empire Wellness: The Approach
That last sentence should probably have read "we have to try to look a lot closer," since Empire Wellness doesn't make it easy to understand how the company produces its CBD products.
It claims those products are high-quality, all-natural and GMO-free, but doesn't say in any company mission statements or product descriptions that the hemp it sources is "organic" or "organically-grown." Strangely, the product labels do claim that the hemp is organic; we just wonder why they don't just tell you that important fact while you're shopping.
From digging around the bowels of the Empire Wellness website, we gather that the hemp comes from Colorado; then again, some of the product labels say "grown, produced and packaged in the great state (sic) of Colorado, Florida, and Oregon." The company brags that its hemp is grown "on a large scale, to produce plenty to go around." Our apprehension: that's an approach most often used to ensure high volume (and high profits) rather than quality control.
Empire Wellness's lack of transparency really shows when it comes to one of the key questions about CBD production. How is cannabidiol extracted from the hemp the company sources? Other than saying "we use state-of-the-art manufacturing facilities," the company is silent on that issue.
That's unfortunate since some extraction processes preserve more of the CBD's potency than others, some maintain the optimal balance of the CBD's components better than others – and some are simply unsafe. We'll give Empire Wellness the benefit of the doubt and assume they use a safe extraction method, but there's no way to know whether it's the right choice to create high-quality CBD products.
We do like the fact that the company offers both full-spectrum and isolate versions of many of its products. Full-spectrum, of course, contains the other cannabinoids, terpenes and flavonoids naturally present in hemp, providing the entourage effect that boosts the performance of CBD. CBD Isolate is THC-free, meaning it won't trigger a positive drug test, but also won't be as effective as full-spectrum cannabidiol. Giving customers a choice, though, is a good thing.
No ingredient lists are offered for products sold on the Empire Wellness website. Some pages do have small-print versions of the product labels, so with the help of reading glasses, we can tell that some products are indeed made with all-natural ingredients. For others, there's no way to substantiate the all-natural claim – and no way to know what's inside.
One final note on Empire Wellness and transparency: most high-quality producers make third-party testing results for all products easily accessible on their websites. This company doesn't. You have to specifically email them to ask to see the COA (certificate of analysis) for any product you might be interested in. That's really not a hoop anyone should have to jump through – and could lead some to ask what they might be hiding. Hopefully, nothing. But it would be nice to be able to confirm that with a simple click.
Empire Wellness does offer several products, like smokable CBD flower, resin, and wax, that aren't produced or sold by most vendors. And ingredient lists aren't really necessary for those types of products.
For more common CBD oils, gummies and topicals, however, there's really no reason to hide that information, or the COAs, or the details of how they're produced. Sadly, this is one of the least transparent CBD producers we've found.
Empire Wellness CBD Oils

We honestly don't like to harp so much on transparency, but it has to be said: this is one of the only CBD producers that doesn't disclose its oils' milligrams/milliliters doses on the website, on the product label, or anywhere else. We had to do the rough calculations on our own. Why are the calculations rough? Because the company doesn't specify the size of the bottle on its website or on the label, either.
There are two varieties of Empire Wellness CBD oils. One, available in what appears to be 16.6mg/ml and 50mg/ml dosages, is made with full-spectrum cannabidiol. The other, available in what appears to be 5mg/ml and 23.3mg/ml strengths, is made with CBD isolate. On the bright side, there are no other ingredients other than organic MCT coconut carrier oil, making this a "pure" CBD product. That does also mean there are no added flavorings, so the taste is somewhat raw.
Empire Wellness CBD Edibles

There's a large selection of full-spectrum CBD-infused gummies on Empire Wellness's menu. They're available in different shapes, flavors, and potencies, from 20 milligrams "Stuffed Straws" to 62.5 milligrams "Fruit Snacks." These are strong gummies and they taste good, but there's no complete ingredient list available to confirm their all-natural status.
Also available is CBD "Relaxation Syrup." This is simply flavored syrup (cherry or grape) containing a relatively small amount of cannabidiol, to be mixed into water or any other beverage. Again, no ingredient list is provided; it appears to be made with full-spectrum CBD since there's a THC-content disclaimer on the label. We're not sure, though.
Empire Wellness CBD Topicals

The only topical option is a fairly strong CBD pain relief cream. What else is in it, and is full-spectrum or isolate CBD used to make it? We wish we could tell you, but the company doesn't say.
Empire Wellness also sells bags of CBD isolate powder, most commonly used by consumers in cooking or baking. This product could have been listed in our next section as well since it can also be used to dab. The powder is available in nearly two dozen strains that regular pot smokers will recognize, from Sour Diesel and ACDC to Gorilla Glue and Grape Ape. There's also an option to buy CBD isolate without added terpenes. (Oh, the company adds terpenes to the isolate? Apparently so, since there's a "no terpenes" choice. Did anyone say transparency?)
Empire Wellness CBD Smokable Products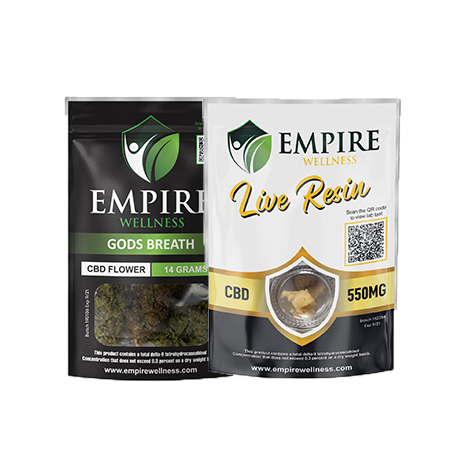 This lineup starts with the CBD flower. There are five strains (Tropicano, Gods Breath, Monroe, Waldo, and CBG Glee) sold by the gram, and it's a full-spectrum flower with all of the hemp's components still intact. You can also choose 1.3-gram pre-rolls, although the strain of these smokables isn't disclosed.
Additionally, Empire Wellness sells two types of waxes. The CBD full-spectrum Live Resin Wax comes from a mix of ACDC and Charlotte's Web hemp plants, and the CBG Wax contains high levels of the "alternative" cannabinoid CBG and is THC-free. Each is sold by the gram.
Empire Wellness: The Verdict
This is one of the CBD brands that's showing up more and more in CBD and vape shops, convenience stores, and drug stores, and the products are reasonably priced. For occasional users who want to just grab some CBD off the shelf, it's not a horrendous choice. And some who regularly use Empire Wellness products are happy with the choice. The smokables, in particular, taste delicious.
However, the company's stunning lack of transparency in its online presence – and even on some of its product labels – definitely gives us a great deal of pause.
We have no way of knowing whether widespread distribution and profits are the driving forces behind Empire Wellness. There's not a lot of information available that would contradict that distinct possibility, though. And considering the large number of transparent, high-quality producers in the industry who offer comparable products – we'd choose to spend our money with someone else.