"We need to start a new business with growth potential. Any ideas?"
"Well, the CBD industry really seems to be exploding, and it's supposedly going to be a $25 billion business by 2025."
"Sounds great! Let's get into CBD immediately! Anyone know where we can source it?"
That seems to be the way many of today's CBD producers have gotten into the business – popping up out of nowhere, blasting the internet with ads, and reselling products they've purchased from wholesalers.
While that approach may be terrific for the companies' profit margins, it's turned the CBD marketplace into the Wild, Wild West for consumers.
How do you find a reputable cannabidiol producer (cannabidiol is the full name of CBD) that you can trust?
One of the best ways is to search for a company that got into the CBD industry long before it was popular, and long before CBD was legal for sale throughout America. It's even better if the company is focused on researching the effects and benefits of cannabidiol, rather than just consumer sales.
And the icing on the cake is finding a producer which has invested an enormous amount of time, effort, and money into building the highest-quality production capability in the business.
It just so happens that we've found one of those trustworthy companies. It's called PlusCBD Oil.
PlusCBD Oil Review: The Background
PlusCBD was founded in 2012 as a subsidiary of another firm, CV Sciences, which operates internationally and focuses on sports medicine, nutrition, dietary supplements, and neuroscience as well as CBD production. Among its other businesses, CV Sciences also produces CBD-based prescription drugs for the medical community; they're currently developing a cannabidiol-based medication that may help people stop smoking.
The operation was launched by a father and son based in San Diego, and now employs a wide range of experts and specialists dedicated to CBD's role in health and wellness. There are also three education officers on staff to help spread the word about cannabidiol and its potential benefits.
One of the company's most noteworthy moves was to obtain a GRAS (Generally Recognized as Safe) designation from the U.S. Food and Drug Administration; CV Sciences became the first CBD producer in history to receive that certification. The GRAS process took five years and cost hundreds of thousands of dollars.
The focus on demonstrable quality has paid off. PlusCBD Oil and its sister companies now rank as the second-largest CBD producers in America, with more than ten percent of the total market share. The popularity of these products isn't because of clever marketing, or low prices made possible by cutting corners during the production process. It's because of PlusCBD's reputation, quality, and effectiveness.
It's not easy to maintain that focus when your company is growing rapidly. From all indications, CV Sciences and PlusCBD Oil has done it – without charging sky-high prices.
PlusCBD Oil: The Approach
We'll admit that we were a bit suspicious when one of the first things we learned about PlusCBD Oil is that they source their hemp from overseas. We usually look for American-sourced hemp as the first signal that a company is serious about their products since U.S. farming regulations are stricter than in most other nations – and many substandard producers work with cheap hemp from third-world countries.
We felt a lot better, though, when we found out that PlusCBD's hemp is grown in Holland. Not only is the climate their ideal for the crop, but the country has very high agricultural standards. Most Dutch farmers use organic and completely-sustainable growing practices; that's why the country is one of the top five food exporters in the world. (There's one exception when it comes to this company's sourcing: in some of its products, it adds CBD extract from some of its own Kentucky-grown hemps to boost potency.)
All of the Dutch hemp sourced by PlusCBD is grown with fully-organic methods (Europe doesn't have an official certification program for organic farms) and is non-GMO. The cannabidiol is extracted at the company's American facilities with the supercritical CO2 method, a safe and environmentally-friendly process that preserves the greatest amount of CBD potency after extraction.
Most of the company's products contain full-spectrum cannabidiol, which retains all of the hemp's other cannabinoids (including less than 0.3% THC, an amount which won't produce any psychoactive effects), terpenes, and flavonoids. Full-spectrum CBD is the preferable choice because the additional hemp components work together in an "entourage" effect to boost cannabidiol's effectiveness.
The one surprise we found is that PlusCBD generally uses extra-virgin olive oil instead of slightly-more efficient MCT oil as a carrier, but the difference between the two certainly isn't a deal-breaker. All other ingredients (including flavorings for the CBD oil) are natural, many are organic, and all products except for one or two of the topical options are vegan-friendly.
Everything's made in a company-owned state-of-the-art facility, the third-party testing is on target, and QR codes allow consumers to track every product's progress from seed to shelf. PlusCBD is a great example of a CBD producer that does things right – and that shows in their CBD's effectiveness.
PlusCBD Oils

Unfortunately, it's a little confusing trying to sort out the CBD oils that this company sells.
It claims to have three varieties of oil: gold formula, total plant complex, and raw formula. When you shop for them, though, it seems that the only difference between "gold" and "total plant" is that the latter is unflavored. There's also a separate product sold as "maximum strength," which is the one containing extra hemp extract grown in Kentucky. There's no sign of the raw formula when you're shopping; you have to look for "plus."
Once you figure it all out, though, there really are three different types of CBD oil available from PlusCBD.
The standard oil, whether it's labeled "gold" or "total plant," is sold in relatively low potencies of 8.3mg/ml, 10mg/ml, and 12.5mg/ml. We honestly don't understand why a stronger CBD oil isn't on the menu. "Maximum strength" oil comes in at 25mg/ml, a good dose for most people but still not overly strong. PlusCBD claims that its oils are actually more concentrated and therefore more potent than its competitors', but the numbers tell the story.
Then there's the "raw" or "plus" option, which contains both CBD and CBDA and is a very good product that very few producers offer. CBDA is the precursor to CBD, meaning it's the raw form of CBD which is only activated when heated. But research has recently shown that CBDA may have its own analgesic properties and could be particularly effective in treating anxiety. The dosage still isn't strong, though, at 8.3mg/ml.
The "Gold" oil is sold in peppermint, monk fruit, and goji-blueberry flavors, "total plant" oil is unflavored, and "maximum strength" and "plus" are only available in peppermint flavor. All flavorings are natural, and all of the CBD oils are vegan.
The standard and "plus" options are also sold in spray form and come in several flavors.
PlusCBD Oil Capsules

The company's full-spectrum CBD softgels can be categorized in the same basic way as its CBD oils. The only difference between them appears to be that the "gold" variety contains 15mg of full-spectrum cannabidiol, the "total plant" softgels contain 10mg, and the "maximum strength" capsules actually deserve that label, at 50mg apiece. Each contains extra-virgin olive oil as a carrier plus preservatives, all in vegetarian capsules.
Once again, there's an exception. PlusCBD also sells "raw" capsules containing both CBD and CBDA, but for some reason, only five milligrams of each.
PlusCBD Oil Edibles

The only edible product offered by PlusCBD is CBD gummies. They are each infused with 10mg of the company's "gold" full-spectrum CBD, contain all-natural sweeteners and flavors (cherry mango or citrus punch), and are gluten-free.
PlusCBD Oil Topicals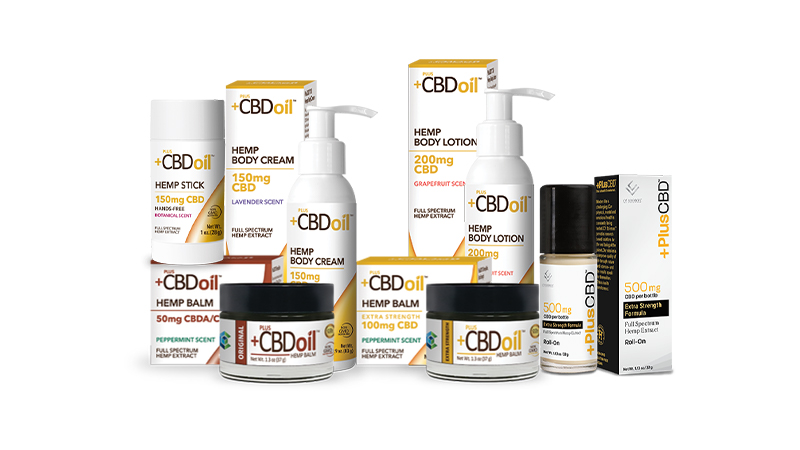 PlusCBD offers a more robust selection of topical products.
In addition to full-spectrum cannabidiol, the CBD balms are loaded with natural oil extracts like sweet almond oil and willow bark extract which are commonly used for easing minor irritations and skin conditioning,. They're peppermint-scented and there are two options: "original" containing both CBD and CBDA, and "extra strength" with twice as much CBD but no CBDA. PlusCBD balm is also sold in stick form.
CBD balm has a thick consistency, but the other PlusCBD topicals are thinner and easier to spread. The lavender-scented cream and grapefruit-scented lotion are soothing and moisturizing, while the CBD skin serum is chock-full of healing botanicals you'd typically find in a high-quality herbal skincare product.
PlusCBD: The Verdict
We like this company – a lot. Their commitment to the potential and benefits of CBD has been evident for nearly ten years, and the processes they use to create their high-quality cannabidiol products are completely in line with that commitment. Add in the fact that they use all-natural products, most of them organic (including the hemp, of course), and you can tell that PlusCBD isn't just pro-CBD, it's pro-health and wellness.
It's not all roses and perfume. The company's rather-confusing way of categorizing and describing its products probably doesn't give them as much credibility as it should, and we're still baffled by the lack of high-potency products, even under the "extra strength" banner.
That brings us to our verdict: PlusCBD is an outstanding choice for top-of-the-line, lower-potency CBD products, and it's worth trying to figure out which one you want to purchase. If you're in need of high-strength cannabidiol, though, you might want to look to another high-end producer.