It's not easy to know how reliable some CBD producers really are.
The government may have legalized the sale of CBD, but it doesn't conduct testing or grant approval to CBD products on the market. That's why it's so important for would-be purchasers to look closely at the manufacturing processes used by CBD companies. It's usually the only information available on whether the products are as good as the sellers claim they are.
MedTerra is one step ahead of most of its competitors, though. The company is part of an innovative Kentucky program that requires approval for all hemp grown in the state and used to produce cannabidiol (CBD's full name).
Since the crops from which MedTerra's CBD is sourced have to pass muster with state authorities, that's automatically a good sign for product quality. The cannabidiol will automatically be "better" than some of the cheap generic products sold online, in local shops – and these days, even in some convenience stores and gas stations.
How much better is MedTerra than some of the other brand names in the CBD industry? Let's find out.
MedTerra: The Background
Like most companies manufacturing CBD products for the consumer market, MedTerra was formed right around the same time that the Hemp Act legalized the sale of CBD. Founder Jay Hartenbach and his team say they got into the industry because of their passionate beliefs in the medical possibilities offered by cannabidiol.
What they created was a seed-to-sale operation in which the hemp is grown on Kentucky farms, and the cannabidiol is processed and the products are produced in their own facilities. That's a very good way to maintain standards, avoid contamination, and ensure quality.
MedTerra's participation in the innovative Hemp Pilot Research Program, the Kentucky state initiative we mentioned earlier, is another excellent way to ensure quality. All hemp is grown and all CBD is extracted according to the guidelines set by Kentucky's Department of Agriculture, which oversees the program. This isn't a unique distinction in the state; several hundred cannabidiol processors now participate in it. It's definitely an indication of high-end CBD, however.
Another indication is transparency. There's no way to know much about no-name companies that make the CBD oil you might pick up at a convenience store. MedTerra apparently has nothing to hide, though. Not only do they completely disclose their production methods and ingredients (and back up their words with readily-available third-party testing results), their facilities are open to visitors during business hours.
MedTerra: The Company's Approach
Producers who sell the best CBD products all use very specific growing and production procedures to guarantee the highest quality possible.
As you'd expect from MedTerra's reliance on seed-to-sale procedures, the company follows all of the best practices we would want to see in their CBD oils, capsules, and other products.
The hemp is organically grown and non-GMO, farmed with care on Kentucky farms which are all part of the Hemp Pilot Research Program.
Cannabidiol is extracted from the hemp with the supercritical CO2 process, which is the most expensive approach but also maintains the greatest amount of the CBD's potency.
The carrier oil is MCT coconut oil, the best choice for efficient distribution of the cannabidiol.
No artificial or synthetic ingredients are used to manufacture any of MedTerra's CBD products.
The company also has several experts on cannabinoids and holistic medicine on staff and on its board of directors, to consult on possible improvements and innovations in MedTerra's processes and approaches. (They also have several consulting veterinarians on the board, since the company produces CBD for pets as well).
It's important to note one important difference between MedTerra and many other high-end CBD producers: MedTerra does not manufacture or sell any full-spectrum cannabidiol products. They always remove the minuscule amount of THC (less than 0.3%) that's naturally contained in CBD extracted from hemp. That means their products are always made with broad-spectrum CBD (everything but the cannabidiol) or CBD isolate (none of the other cannabinoids, terpenes, or flavonoids normally extracted with the CBD).
Does that really matter? It does, in a way. All components of the hemp plant work together in full-spectrum CBD, to enhance the effectiveness of the cannabidiol by what's known as the entourage effect. When the small amount of hemp's THC is taken out of the equation, the impact of the entourage effect is lessened somewhat. The difference doesn't make broad-spectrum or isolate "worthless" – just a little less effective.
MedTerra doesn't explain exactly why THC is always removed before production and sale; they simply position it as a positive. Some people do believe that removing psychoactive THC from CBD products is a good thing, fearing that the THC could make them high or cause them to fail a drug test. In reality, the minuscule amount of THC in CBD can't produce mind-altering effects, and it's very rare that a drug test would detect it.
Bottom line: MedTerra's products may not have all of the medicinal power of some high-quality, full-spectrum CBD alternatives. However, they're manufactured properly and they're still very, very good.
You'll also see if you visit the company's website, that they brag about being "U.S. Hemp Authority certified." There's nothing wrong with that; just don't think it means MedTerra has received some sort of government approval. The U.S. Hemp Authority is an industry group, and being certified only indicates that a company has promised to use the best standards to produce CBD and "self-regulates" its operations. Again, that's not a bad thing – it's just not a big deal to factor into your decision-making process.
And there are a lot of MedTerra products to consider.
MedTerra CBD Oils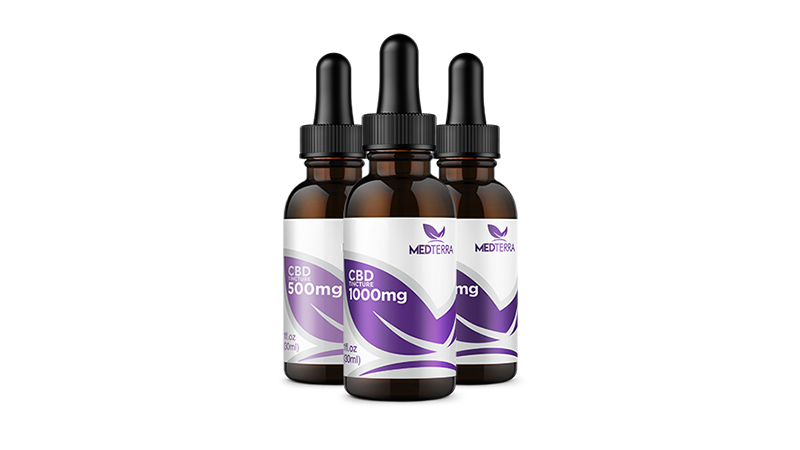 The company's biggest seller is its broad-spectrum CBD tincture. Be aware that "tincture" and "oil" are used interchangeably the industry, and that MedTerra's tincture is really CBD oil. As a broad-spectrum product, it's bound to be a little less effective than the full-spectrum oils sold by competitors.
However, it's still sourced from American organic hemp and manufactured with the industry's best practices, including supercritical CO2 extraction and the use of organic MCT oil as a carrier. There are also no added ingredients, except natural flavorings for two varieties of the CBD oil (citrus and strawberry mint). The natural flavor has nothing added to the cannabidiol and carrier oil.
MedTerra offers two potencies of its CBD oil: 40mg/ml (a total of 1000mg is in the entire one-ounce bottle) and 80mg/ml (2000mg per bottle). Those are good-sized doses, but you'd have to take only ¼ of a milliliter to get 10mg of CBD; that might be inconvenient for some who want small doses.
The company also offers an alternative type of oil. It contains both cannabidiol and large amounts of CBG, another substance naturally-occurring in hemp that's considered to be the best of the "second-tier" cannabinoids found in CBD. This tincture contains an equal amount of each cannabinoid, and you can choose options containing either 16.6mg/ml of CBD and CBG or 33.3mg/ml of each. The only flavor choice is citrus.
One final product is in MedTerra's CBD oil lineup: Immune Boost drops. They're used just like "regular" CBD oil, but the company has added natural substances like elderberry, ginger root, ashwagandha, and Echinacea; they're all believed to help support immune health and fight off infections. The CBD content is measured at 25mg/ml.
MedTerra CBD Capsules

MedTerra produces standard CBD gel capsules with just cannabidiol (CBD isolate, without any entourage effect) and carrier oil inside the gelcaps. It's not the most efficient or effective way to use CBD, but simply swallowing a capsule is certainly the easiest method. Two strengths are available: 25 or 50mg per dose. These are not vegetarian or vegan products, though, since the capsules are made from bovine gelatin.
There are two more versions of these easy-to-swallow products. "Good Morning" soft gels also contain caffeine, vitamins, and two types of naturally occurring amino acid for an energy boost, and spearmint-flavored Dissolvable Sleep Tablets have 10mg of melatonin added to the 25mg of CBD. The latter work quite quickly and effectively for most of those who've tried them.
Like MedTerra's CBD oil, the products are all-natural and produced to very high standards.
MedTerra CBD Topicals

For surface pain or skin issues, MedTerra sells two different types of CBD isolate cream.
The CBD Rapid Cooling Cream is available in two strengths, 250mg and 750mg per container; the amount of cannabidiol you actually get depends on the volume of cream you apply. It contains other organic substances like arnica and menthol to provide a cooling skin sensation while the CBD is being absorbed and taking effect, as well as other natural oils like basil, bergamot, and rosemary to help support muscle and joint health. This combination is also manufactured in the form of a roll-on product.
MedTerra's CBD and Manuka Cream, as you'd probably guess, also contain Manuka honey which is revered for its ability to fight skin inflammation and bacterial infections. It's sold in jars containing either 150mg or 250mg of cannabidiol.
MedTerra CBD: Additional Products

There are three different varieties of CBD gummies on the MedTerra menu and all nominally contain 25mg of CBD isolate, although not all of the cannabidiol will be available for use in your body after digestion.
The amino acid L-Theanine is added to "Keep Calm" gummies, green tea and ginkgo Biloba are added to "Stay Alert" gummies, and melatonin and chamomile are among the ingredients added to "Sleep Tight" gummies. The first two choices have a citrus flavor, and the Sleep Tight gummies are strawberry-flavored. All flavorings are natural, not artificial.
There's one final line of MedTerra CBD products: CBD oil for pets. There are three flavors of oil (beef, chicken, and unflavored), available in two potencies. All contain CBD isolate, and are made with the same attention to detail as the company's products for human consumption.
MedTerra CBD: The Verdict
This is a company that makes very high-quality CBD products, designed for optimal delivery in most of the ways that people choose to use CBD. MedTerra's involvement in the only programs aimed at raising production standards is praiseworthy, as its use of expensive but effective techniques like seed-to-sale manufacturing and supercritical CO2 extraction.
MedTerra's products work well, pretty much on a par with those from other high-end producers. Our only hesitation is the reliance on broad-spectrum cannabidiol and CBD isolate because they eliminate some or all of the extra medicinal benefits created by the entourage effect.
However, the products are very good, effective, and priced well. Unless you're suffering from severe pain or a difficult medical condition that requires the absolute maximum effectiveness, Med Terra should definitely make your shortlist.