When smart marketers launch a product in a crowded marketplace, they often search for an important quality or attribute that lets them stand apart from the rest of their competitors.
That's why Coke decided to call its zero-calorie soda "Coke Zero." Decades earlier, it's why Volkswagen marketed its new, tiny car as the "Beetle." And it's why conspicuously labeling a health and wellness brand as "organic" is a money-making strategy for the 21st century.
The strategy can be a trap, however. If it's discovered that the brand doesn't live up to its name, the clever name isn't just useless. It could be a fatal mistake from which the company never recovers.
That brings us to Joy Organics, a Colorado CBD company founded at the dawn of the legal cannabidiol era in 2018. It's a terrific brand name – if the company's products truly are organic and can live up to consumers' expectations.
As it turns out, Joy Organics doesn't guarantee that their CBD is sourced from organically-grown hemp, just that the hemp is pesticide- and chemical-free and that they use organic ingredients whenever possible. The products, however, are excellent.
There's much more to Joy Organics than the word "organic," though. Let's dig a little deeper to find out why consumers hold this company in such high esteem.
Joy Organics: The Background
Some CBD companies have an origin story based on the founders' knowledge of, and success in, growing and selling medical marijuana. Others claim to have started manufacturing high-quality CBD in order to set an example and raise the bar for the entire industry.
Joy Organics has a more personal backstory. Founder Joy Smith tried cannabidiol to help deal with pain and sleep difficulties after a recommendation from her son. She was so delighted with the results that she decided to turn her enthusiasm for CBD into a family business. She now runs it along with her husband, children, and son-in-law, not only producing CBD products but operating several stores in Colorado and Texas.
Almost since its founding, the company has been at the forefront of setting cannabidiol standards by producing what it promises to be pharmaceutical-grade CBD with maximum bioavailability (that is, the amount of cannabidiol that actually can be used by the body). The company has also committed to innovation in its manufacturing techniques, full transparency for consumers who want to know exactly what they're ingesting, and a commitment to support worthwhile charitable organizations in Colorado.
And they appear to have delivered on those promises. All reputable producers submit their final products for third party testing, but Joy Organics is one of the only companies that lab-tests at every step during the production process. The company has utilized advances in nanoemulsion technology (more about that shortly) to boost the effectiveness of its CBD capsules. And philanthropic contributions by Joy Organics continue throughout the year.
Joy Organics' success has led to a director's seat on the industry's educational and lobbying group, the U.S. Hemp Roundtable – one more sign that the company is highly respected for its products and the way it does business.
Joy Organics: The Company's Approach
There's no federal approval system for CBD products, so the best way to understand what's in any company's offerings is to look closely at how they're made. Joy Organics' transparency makes that pretty easy.
First things first: the company doesn't promise that the hemp used to create its CBD is organic. They only say that it's a proprietary hemp strain grown by farmers in Colorado, Oregon, and Montana, using natural methods with no pesticides or chemicals. We take that to mean that the hemp is grown "organic-style" but isn't certified as organic.
In reality, many growers do the same thing. They use the best organic farming practices, and then claim that their products are "organic" without going through the certification process. We actually give points to Joy Organics for being clear about how their hemp is sourced. The company does make a concerted effort to use other all-natural, organic ingredients to produce its high-end CBD products; taken as a whole, that's pretty darned good.
Joy Organics uses the best possible method to extract cannabidiol from the hemp, supercritical CO2, in order to maintain maximum potency. It uses the best choice for a carrier oil, MCT coconut oil, in most of its products; organic extra-virgin olive oil (another good choice) is used in the rest. And no artificial ingredients are used to create any of the company's products, an important attribute since they're going to be ingested for medicinal purposes.
There's one important point to make about Joy Organics CBD products: they're all produced with broad-spectrum cannabidiol, meaning the minuscule amount of THC that's naturally present in hemp has been removed from the CBD after extraction. (By contrast, full-spectrum cannabidiol retains the THC.)
There isn't enough THC in hemp to cause any psychoactive effects, and it will hardly ever show up on a drug test. But some producers, like Joy Organics, remove it just to be "safe." That process comes with a small price: THC, along with other cannabinoids, terpenes, and flavonoids, all help to provide an "entourage effect" that boosts the effectiveness of CBD. Removing the THC does lessen the entourage effect a little, but isn't a major concern.
So despite the semantics surrounding the word "organic," you're pretty much assured that you're getting a high-quality product when you buy from Joy Organics.
Joy Organics CBD Oils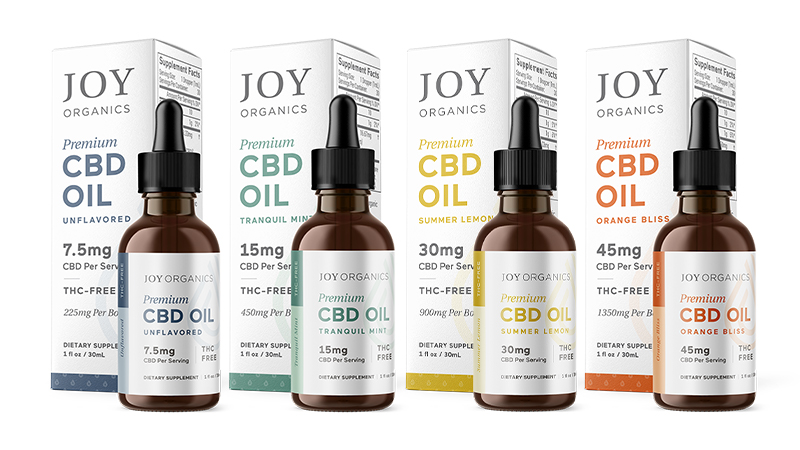 You can choose from a well-balanced lineup of Joy Organics excellent broad-spectrum CBD oils (the company calls them tinctures) produced with the best practices we've described above.
The potency choices are 7.5 milligrams per milliliter, 15mg/ml, 30mg/ml and 45mg/ml. That's a good range for most purposes and body weights; all that's missing are stronger options for those suffering from serious pain or treating the few diseases that require very high doses.
Joy Organics sells this oil in a choice of four flavors: tranquil mint, summer lemon, orange bliss, and unflavored natural. The mint and natural options use extra-virgin olive oil as a carrier, the other two use MCT coconut oil. All flavors are supplied by organic, natural essential oils, and they're the only ingredients (of any kind) added to the company's CBD oils.
Joy Organics CBD Capsules

CBD capsules are often much less effective than CBD oil. The capsules have to be broken down by the digestive system, and the cannabidiol has to be broken down in the liver before the CBD takes effect. That usually means they take much longer to act, and a good amount of cannabidiol is lost.
Enter advanced technology. Joy Organics uses (as do several other companies) a process called nanotechnology, which decreases the size of the CBD particles inside the capsules and makes them water-soluble – making the cannabidiol easier for the body to absorb and use. Capsules still take longer to work than CBD oil, but this process makes almost all of the cannabidiol available to the body.
Joy Organics broad-spectrum CBD capsules are actually softgels, which are easier to digest than hard-shell capsules. They're all-natural but made from bovine gelatin, though, so they're not vegetarian- or vegan-friendly. The gel caps come in two strengths containing either 10mg or 25mg of CBD.
There are two other types of softgels in this Joy Organics product line. One variety has added curcumin to help with joint pain, the other includes melatonin to help with sleep. Each is only available in 25mg doses.
Joy Organics CBD Topicals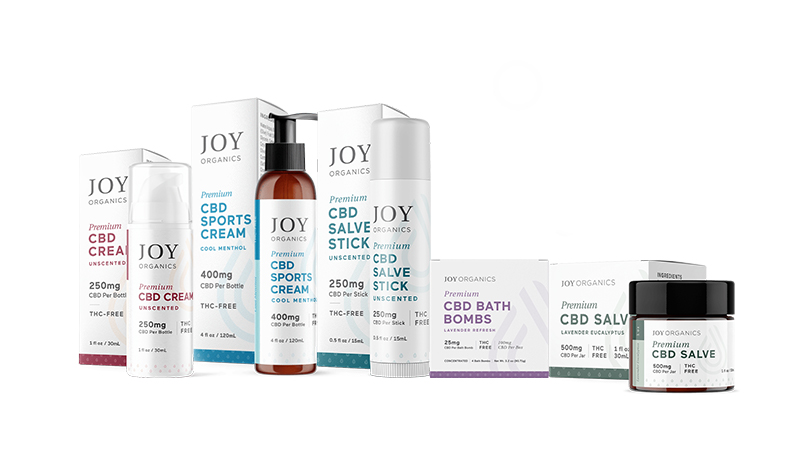 Joy Organics offers five different types of broad-spectrum topical CBD, best used for surface aches and pains but also often effective for skin problems like acne.
CBD Salve has two organic essential oils (lavender and eucalyptus) added to the cannabidiol, with organic MCT oil and beeswax used for consistency and spreadability. It's aimed at soothing sore muscles and supporting skin health.
CBD Cream is designed to ease pain and boost skin health. It contains a number of added ingredients including safflower, aloe vera, and organic olive oil, But it also contains additives like alcohol and potassium sorbate, which makes this the "least-natural" product in the lineup.
CBD Sports Cream contains menthol and camphor as well as cannabidiol, so it's a cool and soothing cream that can be used during and after workouts to ease aching muscles. It contains a number of essential oils along with the potassium sorbate found in the regular cream, but no alcohol is added.
CBD Salve Stick is a roll-on product that's unscented and easy to use. It contains lots of goodies for the skin including organic shea butter and rosemary extract, as well as CBD.
CBD Bath Bomb is the newest addition to the Joy Organics lineup, with CBD and added lavender oil intended to provide a calming and soothing bath after a long day.
Joy Organics: Additional Products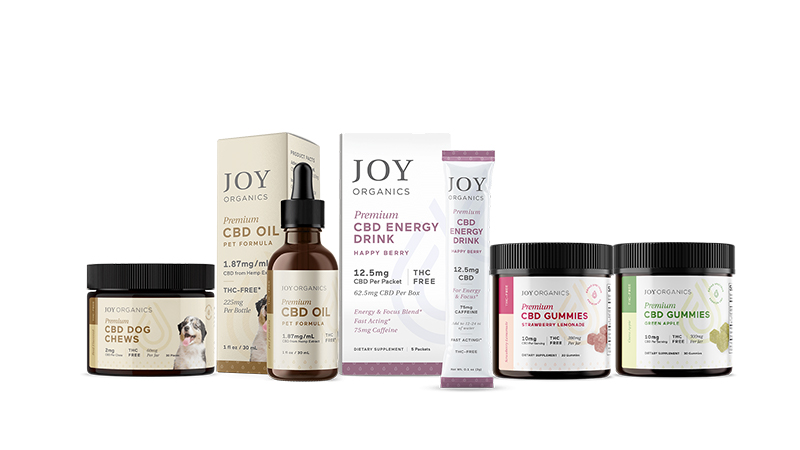 The Joy Organics product lineup is rounded out by three other offerings.
CBD Gummies: These gummies are available in green apple and strawberry lemonade flavors, and each contains 10 milligrams of CBD. The flavors are provided by citric acid and natural flavorings.
CBD Energy Drink: Each box contains five packets of powder which can be mixed with water for a quick energy boost (thanks to 75mg of caffeine) as well as the health and medicinal benefits provided by 12.5mg of CBD. There is a well-balanced mix of vitamins and minerals in there as well.
CBD for Pets: Here's a way to help your best friend experience the benefits of cannabidiol along with you. Joy Organics offers both oil and dog chews containing broad-spectrum CBD; the oil is available in two strengths, and the treats contain 2 milligrams of water-soluble CBD apiece. Both have a dog-friendly bacon-and-sweet potato flavor.
Joy Organics: The Verdict
Some may think we've spent too much time analyzing the "organics" question that we feel is raised by the company name "Joy Organics." We think it's a fair issue to discuss since the very name of the company implies something which may be close to accurate but isn't literally true.
Let's put that aside, though. Joy Organics has created an outstanding, diverse line of CBD products with an attention to quality and product testing you won't find from many competitors. From their efforts to use organic ingredients whenever possible, to their implementation of testing at every stage of production, this company does indeed set the standard for the CBD industry in many ways.
The only real question we have concerns Joy Organics' decision to focus exclusively on broad-spectrum CBD, rather than also offering full-spectrum CBD products for those who want the benefits of a complete entourage effect.
But that's a relatively small issue. In the big picture, Joy Organics unquestionably deserves its reputation as a top-tier producer of high-quality CBD products.