With the rapidly-growing popularity of CBD, many producers are scrambling to add new varieties of CBD (also known as cannabidiol) to their product lines.
Rushing CBD products to market has its risks, though. CBD is usually taken internally for its medicinal and health benefits, so cannabidiol's quality determines whether it will work well. And it takes a lot of time and effort to design, produce and test new types of CBD products before they're ready for sale.
That automatically raises red flags – at least, to us – when we see a company offering a huge number of different CBD products. Koi CBD fits that description. Tinctures, shots, softgels, gummies, vapes, flower, balm, gel, inhales, skincare products, bath bombs; that's a lot to produce in an industry where quality is crucial – and the products have only been legal for sale since late 2018.
Does Koi CBD pull it off successfully? It's time to dig a little deeper.
Koi CBD: The Background
Most of the companies now selling CBD only jumped into the market when the sale of cannabidiol was legalized by the U.S. Farm Act of 2018.
CBD was produced before that, however, particularly in states which had already legalized the sale of medical marijuana. So there was actually a CBD market prior to 2018, and Koi CBD became a player in 2015. Since then, the company has been producing CBD oil (which Koi, like many manufacturers, calls tincture).
So it would appear that Koi CBD has accumulated the necessary expertise to be able to expand its offerings over time. Why do we say "appear?" Simply because the company doesn't disclose a whole lot of information about the backgrounds of co-founders Brent Brunner and Brad Ridenour. All we can find is that Ridenour was in the e-cig business before starting Koi.
Both have done interviews discussing the importance of standards and quality in the CBD industry, and Koi CBD belongs to organizations like the U.S. Hemp Roundtable which are dedicated to raising those standards. So the signals are positive; this appears to be a reputable manufacturer with the ability and desire to create high-quality CBD.
Koi CBD products are available on the company's website and in a few company-owned stores; they're also sold by many independent CBD stores around the country.
Koi CBD: The Approach
The Food and Drug Administration doesn't regulate, inspect or approve cannabidiol, nor does any other federal agency. That means the industry operates in something like a Wild West environment, and the only way to get a real handle on a producer's commitment to quality is to look at how it sources its hemp and produces its CBD products.
The good news is that Koi CBD appears to follow most of the best practices for creating high-end products, at least according to its description of the manufacturing processes it uses.
There's that word "appears" again – we use it because the company has offered different information in different venues. One of the co-founders has told an interviewer that Koi grows its own hemp on organic farms in Colorado, Kentucky, and Oklahoma, but the firm's website says it sources hemp extract through validated organic vendors. The organic part is good, and there's no reason to believe there's anything untoward going on. We just think more consistent stories would give us a slightly higher level of confidence.
Koi CBD has all of the hemp (or hemp extract) shipped to its California facility for third-party testing and processing, and the removal of all traces of THC – the psychoactive cannabinoid only present in minuscule amounts in hemp, and not enough to make you high. The THC-free cannabidiol that remains is called broad-spectrum CBD, and it can be a good or bad choice depending on your outlook.
There's no chance that broad-spectrum cannabidiol will trigger a drug test because there's no THC in it. That's really the only positive. Here's the negative. When THC remains in CBD it works together with the other components naturally found in cannabidiol, boosting the CBD's potency by what's known as the entourage effect. In other words, broad-spectrum CBD isn't quite as effective as full-spectrum CBD that has a small amount of THC left in.
A few of Koi CBD's products instead contain what's known as CBD isolate, which has had everything except the cannabidiol removed. There's no entourage effect in isolate at all, so the products won't deliver the same level of benefits as broad-spectrum (or full-spectrum) CBD.
The company adheres to most of the other best practices for CBD production: supercritical CO2 extraction of the cannabidiol, the use of MCT coconut oil as a carrier oil, readily-available third-party testing results, and – for the most part – no artificial ingredients. However, there are a few exceptions when it comes to flavorings and other additives, as artificial flavors or non-natural additives are used in some of Koi CBD's products.
Our conclusion is that Koi CBD doesn't produce the very highest-quality cannabidiol products on the market, but they're definitely at least in the second-tier of CBD manufacturers.
Koi CBD Oils

Like many CBD producers, Koi uses the term "tincture" instead of "oil" to describe its products designed to be dropped under the tongue (they can also be mixed with food or beverages, but aren't as effective when used that way).
There's actually a difference since tinctures are manufactured with the use of an alcohol solvent. Normal production of CBD oil uses a different method to extract cannabidiol like CO2 extraction, which is then mixed with a carrier oil. Koi uses the second approach, so we prefer to use the more accurate description "oil" for their "tinctures."
The company sells one basic CBD oil, in a variety of flavors and potencies. It's produced as described above, with cannabidiol sourced from organic hemp, supercritical CO2 extraction (the best choice), and MCT coconut carrier oil, with only flavoring agents added to the formula.
Beware, though, that they add Stevia to all of their flavors to make them taste sweeter; that natural sweetener can lower blood pressure in some people, and some research has indicated that it may be linked to other serious health issues.
Koi CBD oil flavors currently available are spearmint, peppermint, orange, lemon-lime, and strawberry. All are flavored with natural oils or flavorings except for strawberry, which has both natural and artificial flavorings. There's also an oil with natural hemp flavor, as nothing else is added except carrier oil.
The potencies you can choose from range from 8.3mg/ml to 66.7mg/ml when you buy smaller, 30ml bottles of CBD oil, but only 25mg/ml and 60 mg/ml strengths are available in larger bottles.
Koi offers one other product we haven't seen sold by many other companies: CBD shots. Each 2.5-ounce bottle contains 25mg of cannabidiol – and a lot of other ingredients, which vary by flavor. Watermelon and Raspberry Punch shots are "wellness" products, although there are no natural ingredients we can see that actually would enhance wellness. Peach Iced Tea shots are "sleep aids" and contain melatonin and other natural sleep enhancers. All flavors of shots do contain artificial ingredients like flavors and preservatives.
Koi CBD Softgels & Gummies

There are two versions of Koi's CBD capsules. One contains just 25mg of broad-spectrum cannabidiol (plus carrier oil, added terpenes, and emulsifiers that are mostly natural), the other also contains chamomile and a milligram of melatonin to help with sleep. The softgels are made from bovine gelatin, so they're not vegetarian or vegan.
Tropical fruit-flavored, with 10mg of broad-spectrum cannabidiol per gummy, these are easy-to-carry treats with the CBD evenly distributed throughout. They're well-made, although they're also loaded with calories since they contain both corn syrup and sugar.
Koi CBD Topicals

Topical CBD can be an effective way to treat surface muscle aches and pains, and Koi offers this type of cannabidiol in two different forms.
The company's "Healing Balm" is sold in travel (0.5 ounces) and full-size (1.7 ounces) containers, and there are two strength options when you purchase the full-size jar. Beeswax, a common ingredient in CBD topical, is used to maintain the texture of the balm; more than a dozen natural oils plus aloe vera are added as skin moisturizers and restoratives.
Koi also offers a roll-on, pain-relieving broad-spectrum CBD gel that contains even more natural oils than the balm, as well as menthol to cool the skin while the cannabidiol is taking effect. It comes in one size and one strength and is easy to apply.
Koi CBD Skin Care Products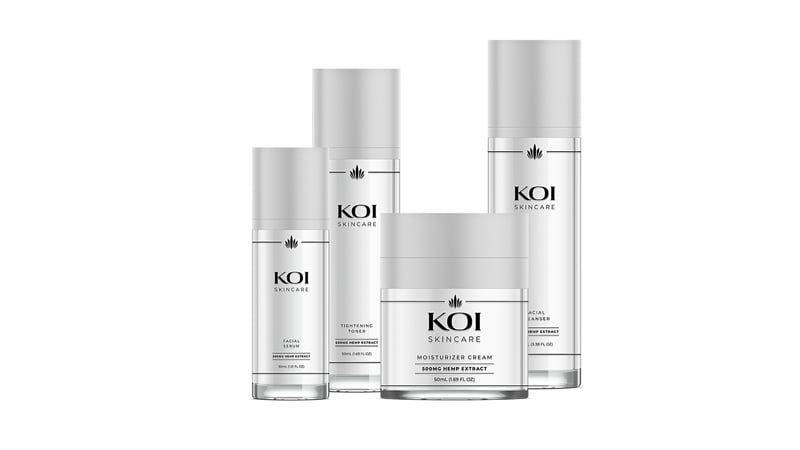 Some skincare product manufacturers are beginning to offer CBD creams and serums. Koi already sells a broad range of these skincare products: moisturizer cream, facial cleanser, facial serum, and tightening toner. They're all infused with generous amounts of cannabidiol, in addition to the usual types of skincare ingredients you'd expect. Almost all are natural botanicals, but a few non-natural ingredients are mixed in as well.
Koi CBD Vape and Smoking Products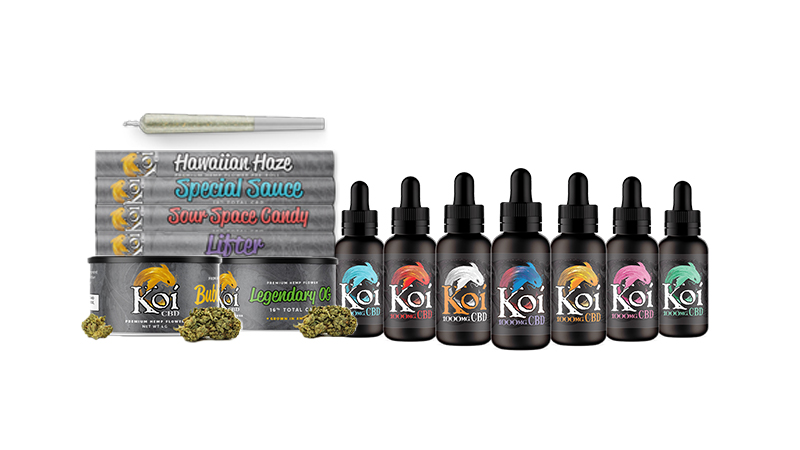 Here's one area where Koi CBD really stands out. The producer offers a great variety of products allowing you to vape cannabidiol – and that's one of the most efficient ways to get CBD into your body.
There are seven flavors of Koi vape juice (from Pink Lemonade to Vanilla Caramel Custard), sold in 30ml bottles, and suitable for use in just about any vape pen or full-size vaporizer. Three strengths (8.3mg/ml, 16.7mg/ml and 33.3mg/ml) are available, and the cannabidiol is CBD isolate. Some of the flavors do contain artificial flavoring agents.
We're far from done. The Koi Stik is a small, easy-to-use personal vaporizer that's USB-rechargeable, and can be used to vape any of the company's CBD vape juices (or any other juice, of course). You can also buy extra "Koi Pods," the small inserts into which you put the vape juice; they allow you to easily switch out different flavors of CBD juice.
Then there are flowers. Yes, just like pot, you can smoke full-spectrum hemp flower (the only full-spectrum product that Koi sells, which still contains less than 0.3% THC) in order to receive the benefits of CBD with the sensory experience of smoking weed. Three strains are available: Bubba Kush, Legendary OG, and Sour Space Candy – but again, these are not marijuana. They just have the same strain names.
Finally, Koi sells pre-rolled CBD flower in singles or five-packs, containing a full 20% CBD (but again, nowhere enough THC to get you high). These are available in Hawaiian Haze, Lifter, Sour Space Candy, and Special Sauce strains, and each pre-roll contains one gram of hemp flower.
Koi CBD Inhalers

Here's a product you won't see offered by many producers. It's an aerosol inhaler, similar in construction to asthma inhalers, which allows you to breathe in 5mg of broad-spectrum CBD per puff without having to worry about vaporizers. The propellant is safe, although there are dehydrated ethyl alcohol and Stevia in the aerosol product. Two flavors are available, mojito mint and dreamsicle.
Koi CBD: The Verdict
Koi CBD follows most of the industry's best practices for creating high-end cannabidiol oil, capsules, edibles, and other products. The CBD comes from organic hemp, it's extracted with the best possible method, MCT oil is used as a carrier, and third-party testing is always used to ensure quality.
But even though many of Koi CBD's products are branded as "Koi Naturals," the majority of them do contain at least one or two artificial or non-natural ingredients, mostly as flavorings. That's not optimal for those who want to find the very best CBD on the market.
To us, that knocks Koi CBD down a notch and puts it into the second tier of cannabidiol producers. And the pricing also puts the company on the second level of manufacturers, with costs certainly higher than average but not ridiculously expensive.
That's not a bad place to be. Only a few companies check off every single box when it comes to creating the highest-possible quality CBD products; most manufacturers fall far below that level.
The bottom line: Koi CBD is very, very good – just not the very, very best. And the enormous range of products the company offers, particularly in the vape and smoke arena, is one of the best you'll find.