Articles explaining the potential health and wellness benefits of CBD often mention the fact that the most effective ways to consume cannabidiol (the complete name for CBD) are by dropping oil underneath the tongue or by vaping.  Both methods introduce cannabidiol into the bloodstream almost immediately, allowing it to work quickly and without losing potency.
It's easy to buy CBD oil. It's sold by hundreds of companies online, at local CBD stores, and it's even available at some drug and convenience stores.
But how do you vape cannabidiol? CBD oil is made for internal consumption, not to be put into vaporizers. And most Internet vendors aren't a great deal of help; they usually sell oil, capsules, edibles, and topical CBD products. You may find CBD vapes at specialty stores, and some e-cigarette vendors sell them, but the selection will be limited at best.
Enter CBDfx.
The company does offer a pretty good selection of standard CBD products on its website – but what it really specializes in is cannabidiol produced specifically for vaping.
From pre-loaded CBD vape pens and accessories to a nice selection of CBD juice that can be used in any vaping equipment, CBDfx may be the complete online source available. There's just about everything that a newbie or a longtime CBD vaper could want.
And of course, all of the more standard types of CBD products are on sale as well.
Are they any good? Let's find out.
CBDfx: The Background
This isn't one of those companies that popped up out of nowhere to sell CBD as soon as it was legalized in late 2018. CBDfx has been around since 2014, based in California, where medical marijuana – and CBD – had been legal for quite some time. Today, the company says it's the fifth-largest privately-held cannabidiol operation in the world.
Co-founders Jameson Rodgers and Ali Esmali were in the vaping industry. They decided to enter the CBD market after hearing family and friends sing the praises of this relatively-unknown (at the time) cannabinoid. Since they were already quite familiar with vaping, CBDfx's first product was a cannabidiol additive for vape juice.
The company grew rapidly, first producing vape-related CBD products and then branching out. High quality, devotion to wellness, and transparency have guided the CBDfx expansion, as awareness of what the company can and can't do on its own. Many of its non-vape products, like CBD gummies, are outsourced to experienced partners.
CBDfx is already a well-known brand with strong distribution online and in smaller stores around the country. The owners are upfront about what they want to do next: produce and distribute high-end CBD products that are featured in upscale chains like Urban Outfitters and other big-box retailers.
Many manufacturers and distributors of cannabidiol products are virtually anonymous, leaving you to wonder who's behind the company and whether they can be trusted. CBDfx is a great example of the exact opposite approach: a CBD producer willing to admit that it's out to make a good profit and win widespread distribution, while still insisting on high-quality processes and concentrating its manufacturing efforts on what it does best. We give CBDfx excellent marks on this front.
CBDfx: The Approach
That description of CBDfx sets the bar high for the way the company designs and manufactures its products. We weren't disappointed when we pulled back the curtains.
CBDfx sources its hemp from organic, non-GMO farms in America, and extracts the cannabidiol with the best possible method, supercritical CO2 extraction. That ensures the CBD retains maximum potency; it's the most expensive way to do things, but it's a sign that the producer is committed to the highest quality possible.
The manufacture of most cannabidiol products requires that the CBD be combined with a so-called carrier oil, which is used to distribute the cannabidiol properly. The best choice is an MCT (medium-chain triglyceride) oil like coconut oil, and once again, that's how CBDfx does it.
Most of the company's products contain what's known as full-spectrum CBD, meaning it contains all of the components of the hemp plant like terpenes, flavonoids, and other cannabinoids (including less than 0.3% THC content, which is nowhere near enough to make you high). That's also optimal since the other ingredients work together to boost the potency of CBD.
Speaking of ingredients, CBDfx is committed to quality there as well. No artificial ingredients are added to the company's products, even those like gummies and capsules, which require the inclusion of sweetening or emulsifiers (although Stevia is used as a sweetening agent, which could be problematic for some). The products are vegan-friendly, too.
The usual third-party COA (certificate of analysis) is provided with the company's products to prove they contain the promised amount of CBD and other cannabinoids and contain no harmful pesticides or chemicals. CBDfx also does its own additional testing at eight different stages of production to ensure quality.
In other words, these are all-natural products clearly designed to promote health and wellness – even if the production costs a little more. You'll see that reflected in CBDfx pricing, which is above the market average but not unreasonable for the quality that's provided. 
CBDfx Vape Products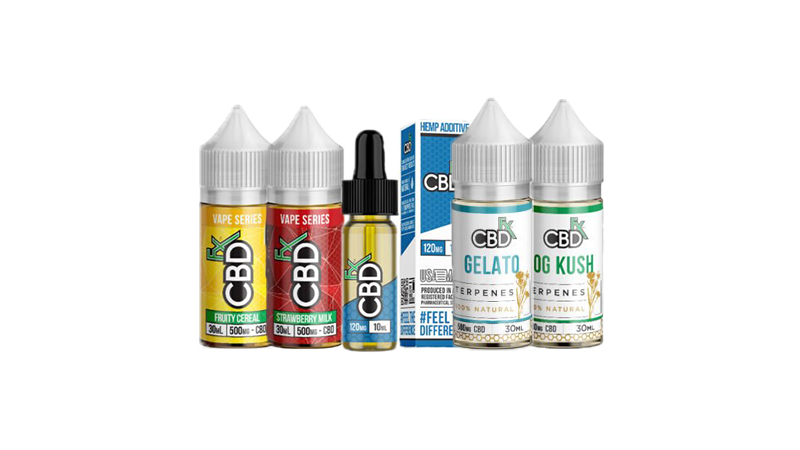 This producer made its bones selling CBD vape products and continues to offer an enormous assortment of them, so it seems only right to start here.
Those who are already vapers, or ready to commit to vaping cannabidiol, will most likely be shopping for CBD vape juice, which can be poured directly into their vaporizers or vape pens. CBDfx carries at least five flavors of juice; Blue Raspberry, Wild Watermelon, Strawberry Kiwi, Strawberry Milk, and Fruity Cereal are most commonly available, but the company makes other flavors as well.
All contain the bare minimum number of ingredients, just full-spectrum cannabidiol from organic hemp, natural flavoring, and the two chemical bases required to create vape juice (propylene glycol and vegetable glycerin, known as PG and VG). All choices are delicious, deliver what they promise, and are available in two or three strengths depending on flavor.
CBDfx produces a different type of vape juice as well. It's a juice made from CBD isolate but contains added terpenes, in an effort to provide some of the entourage effects that are missing in the isolate. The flavors are based on those of classic marijuana strains, including OG Kush and Pineapple Express – but of course, don't contain THC and won't get you high.
The company's original product, CBD vape oil additive, is still around. It's simply a mix of full-spectrum cannabidiol, PG, and VG, and it's ready to be added to "regular" vape juice to let vapers easily consume CBD.
Finally, CBDfx offers pre-filled disposable vape pens containing all of its varieties of juice, vaporizer kits, and refill cartridges, plus full-spectrum CBD wax for experienced smokers who like to dab.
CBDfx CBD Oil and Capsules

The company also sells the standard CBD oil (called tincture by some manufacturers), which you drop under your tongue, and shouldn't be confused with vape juice.
CBDfx labels this oil as "Calming Tincture for Sleep," although unlike similar CBD oil sold by competitors, it doesn't add melanin or other natural sleep aids to the oil. The calming effect is said to be contributed by added CBN; that's another cannabinoid that naturally occurs in the hemp plant, believed to have medicinal properties somewhat different than CBD.
This is an unflavored product, but Stevia (a possible problem for some users) is added to sweeten the bitter taste of hemp. Four strengths of this CBD oil are available.
The same full-spectrum oil is sold in easy-to-swallow vegan capsules as well, with each capsule delivering 30mg of CBD. The "Morning Capsules" contain CBD, CBG, L-Tyrosine (for focus), the anti-inflammatory curcumin, and caffeine; the "Night Capsules" contain CBD and CBG, but also valerian root, magnesium, and "sleep-enhancing terpenes."
CBDfx CBD Edibles and Drinks
Most of the producer's edibles come in the form of vegan gummies, each supplying 5mg of CBD. There is a large selection to choose from, with different added ingredients in each variety. They include "sleep" gummies with added melatonin, men's and women's multivitamin CBD gummies, and gummies with added biotin to help with healthy skin and nails. Plain berry-flavored CBD gummies are also on the CBDfx product list.
One "edible" we haven't seen anywhere else is the company's broad-spectrum CBD sublingual strips. The minty strips contain either 15mg or 25mg of cannabidiol and take just seconds to dissolve under the tongue, the optimal spot for quick absorption.
Finally, CBDfx sells two flavors of CBD "shots." They're two ounces of lemonade or berry-flavored beverage containing 20mg of full-spectrum cannabidiol, plus the mostly-natural ingredients used to make the drink.
CBDfx CBD Topicals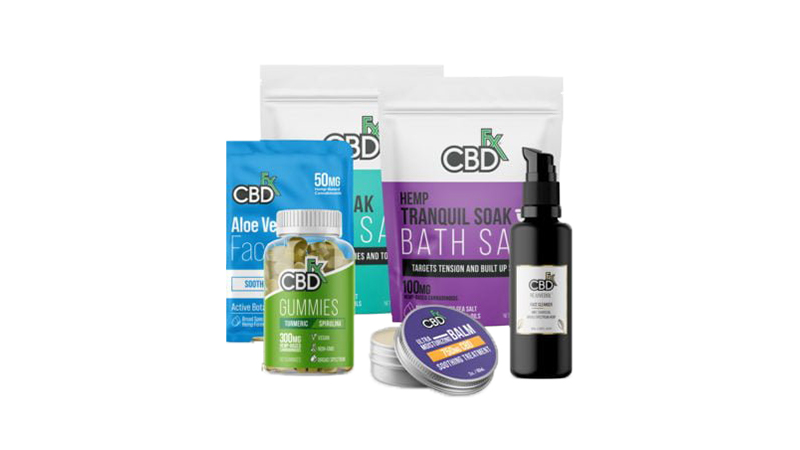 Several of CBDfx's cannabidiol-infused topical products are designed, as you'd expect, to deliver the medicinal effects of cannabidiol to aching joints and muscles. The CBD muscle balm also contains camphor oil, peppermint oil, and wintergreen oil to cool the skin while the CBD takes effect, while the company's muscle and joint hemp cream (sold in two strengths) also have menthol, caffeine, and white willow bark extract mixed in. Both are all-natural.
It doesn't stop there. There's also CBD calming balm, CBD moisturizing balm, CBD bath bombs, and bath salt, CBD massage oil, CBD face cleanser with rejuvediol, CBD face oil serum, and five different types of face masks all containing – of course – CBD. The company pledged to vastly grow its offerings in a wide spectrum of product lines, and there's no doubt about the follow-through.
The last CBDfx offering (at least, for now) doesn't fit into the topical category, but we'll add it here anyway. It's CBD oil for pets, sold in three strengths (for small, medium, and large pets), with exactly the same ingredients as the oil the producer makes for humans.
CBDfx: The Verdict
We don't want it to seem that we didn't find anything to criticize about CBDfx. In some cases, the company doesn't label their website or products with the amount of cannabidiol per milliliter or serving; you have to calculate it yourself. And it's surprising that given CBDfx's devotion to transparency, they don't supply information on terpenes on their third-party certificates of analysis.
Those are minor points, however. We found CBDfx to be one of the best producers in the industry because of its high-quality products, its dedication to quality, organic and vegan products, and its interest in bringing the benefits of cannabidiol to consumers in a huge variety of categories.
The prices are reasonable, the CBD works well, and there's something for just about everyone. We wish there were more alternatives for the many buyers who prefer CBD oil rather than CBD vape – but for those who do vape, or are interested in getting started, this is about as good as it gets.