Reviewing CBD products can be similar to an Easter Egg hunt. You have to dig under rocks and look behind obstacles to find what you're searching for.
It's simply not realistic for reviewers to sample every brand for several months since there are hundreds of producers and thousands of products to try. That would take years. Instead, writing CBD reviews usually requires a full understanding of how the products are designed and manufactured, as well as detailed research on the company that makes them.
All of the information you need to assess a CBD brand is out there somewhere, but you may have to search all over the Internet to find it. Sadly, lots of producers just aren't as transparent as they should be.
Two reasons could explain the lack of transparency. Either the people in charge of marketing and web design aren't good at their jobs, or the company is trying to hide something.
This lament isn't a veiled plea for sympathy. We enjoy researching quality CBD producers and digging out the key details.
This is actually our way of praising Green Roads CBD, one of the most transparent producers in the cannabidiol industry. (Cannabidiol is the formal name of CBD.)
Green Roads readily and prominently discloses all of the important details about its products, how they're created, and how they're manufactured. That's easy to do when a company has nothing to hide; Green Roads CBD products are high-quality, effective, and priced fairly.
Just how good are they? Let's find out.
Green Roads CBD: The Background
The evidence clearly shows CBD's promise as a treatment for a number of medical issues, but CBD producers aren't legally allowed to discuss that publicly. The FDA can slap them down hard if they do since the government hasn't approved cannabidiol as a medical treatment (except in one very specific instance involving childhood epilepsy).
It's pretty clear why most people use CBD, though. And that's one reason why Green Roads stands out among its hundreds of competitors: the company was co-founded by a licensed compounding pharmacist, with more than two decades of experience.
Laura Fuentes joined with a friend, Arby Barrasso, to create Green Roads CBD in 2013 after she'd crafted CBD oils and topical products for family members. Fuentes is the company's CEO, but she still creates the formulations for all Green Roads products (along with two other pharmacists she's brought on board). Most of the big players in the CBD industry have brought medical experts on board as consultants over the years. But as far as we can tell, this is the only company actually owned and run by one.
The dedication to quality and safety that Fuentes developed over her 25 years of preparing medications is still one of the guiding forces in Green Roads' approach to creating and producing CBD. Another is the full transparency we mentioned earlier, shown by the company's full disclosure of all production methods and ingredients. The quality of Green Roads products has been recognized not only by customers but with CBD industry awards for "Best CBD Products" and "Most Innovative Product."
Green Roads started by producing high-end CBD oil but has gradually expanded its offerings to include capsules, edibles, topicals, and other products. Quality is still paramount, yet the company has also grown its reach beyond online distribution. Green Roads CBD is now sold across the country in health food stores, CBD shops, pharmacies, smoke shops, and even yoga studios and juice bars.
From all indications, this is a company grounded in health and wellness – which produces products designed to provide the medical benefits that they're not really allowed to talk about.
Green Roads CBD: The Approach
Green Roads sources its hemp from American farms that use organic growing methods, primarily farms in Colorado, California, and Kentucky. "Certified organic" hemp would be even better, but it's extremely difficult and expensive to receive certification for multiple farms in multiple states. Organically-grown hemp sourced and used by a reputable producer is just fine for the creation of high-quality CBD.
Hemp plants are shipped to the company's Florida production facility, where cannabidiol is extracted from the hemp via the supercritical CO2 method, recognized as the best way to retain almost all of the CBD's effectiveness. But what comes next in the Green Roads manufacturing process is unusual.
Most companies infuse carrier oil with cannabidiol to create CBD oil. This company, however, has created a unique way of blending the two with several other ingredients that maximize the CBD's absorption. It's one of the signature touches contributed by the company's CEO/co-owner, an experienced compounding pharmacist, and it's one reason why Green Roads CBD seems to work better than most competing products. It also helps to lessen the natural, raw taste of hemp.
The company offers a wide assortment of full-spectrum, broad-spectrum, and CBD isolate choices. Full-spectrum contains all of the hemp plant's components, which boost the CBD's effectiveness through the so-called entourage effect. Broad-spectrum removes only the minuscule amount of THC that helps slightly with the entourage effect, but also might trigger sensitive drug tests. CBD isolate is just cannabidiol with no other cannabinoids, terpenes, or flavonoids. Full-spectrum CBD is ordinarily the best choice, but having a choice is even better.
Green Roads relies on the best option for a carrier oil, MCT oil. As we've mentioned, though, other ingredients like sunflower lecithin and sunflower seed oil are added to help boost absorption. Nearly everything added to Green Roads CBD products is natural, with a few exceptions like the artificial flavors added to some of their edibles. Complete COAs (third-party certificates of analysis) are readily available online for all products.
In short, this company not only does everything right in creating and manufacturing its CBD – it does some things that aren't typically seen even from high-end producers. We were impressed.
Green Roads CBD Oils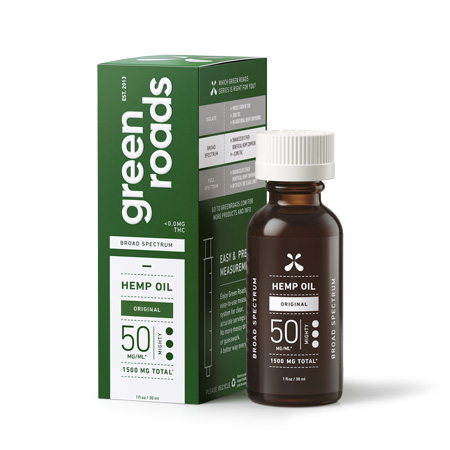 Perhaps the best choices in the Green Roads lineup are the variety of CBD oils that are available.
The "flagship" product is the company's original blend full-spectrum oil, available in three potencies: 10mg/ml, 25mg/ml, and 50mg/ml – an excellent range of strengths. This oil is unflavored so it has a subtle hemp taste, it uses MCT oil as a carrier, and it has several other natural ingredients blended in to boost absorbency.
Green Roads also manufactures broad-spectrum CBD oil that's THC-free. The potency choices are the same, but you can choose from the natural, mint breeze, or apple-kiwi flavors (all flavorings are natural, not artificial).
The third option is "Sweet Sleep" oil, combining 25mg/ml of broad-spectrum cannabidiol, plus CBG (a different cannabinoid with different properties), and melatonin. This oil is naturally-flavored with blueberry extract.
Each variety of oil is also sold in 25mg/ml single-serving packets.
Green Roads CBD Capsules

Most companies that offer CBD capsules or soft gels usually take their oil formulation and put it into a capsule. Green Roads does it differently.
The producer's "regular CBD" soft gels are made with CBD isolate rather than full-spectrum or broad-spectrum cannabidiol, and there are no added ingredients (except water, MCT carrier oil, and hemp seed oil). There are also two types of specialty capsules; "Relax" add GABA and 5-HTP to the CBD isolate, and "Sleep" contains melatonin in addition to the CBD isolate. The soft gels and capsules each contain 25 milligrams of cannabidiol, and the specialty capsules (but not the soft gels) are vegan.
Green Roads CBD Edibles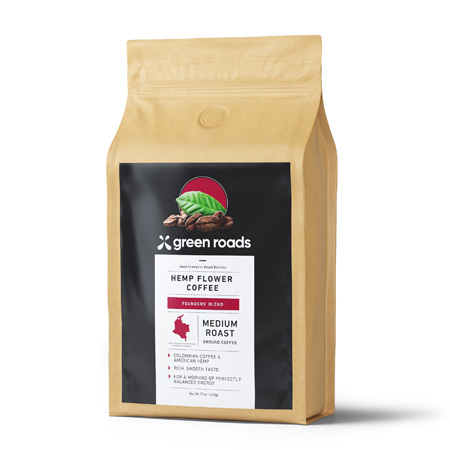 You can choose from several types of Green Roads CBD gummies. But unlike many producers, the company offers a much greater selection of edibles.
The gummies each contain 10 milligrams of CBD isolate, are sold in "Relax" and "Sleep" versions, and come in assorted flavors of blackberry flavor. They do contain artificial colors and flavors. Green Roads CBD Froggies provide a big dose of broad-spectrum CBD – your choice of 25 milligrams or 50 milligrams – in a large piece of sweet candy (again containing some non-natural ingredients). Then there are dark chocolate bars infused with 15 milligrams of CBD isolate per square – and occasional holiday treats, like Candy Cane Crumble CBD chocolate available during the holidays.
Finally, award-winning Green Roads Hemp Flower coffee is a blend of Columbian coffee and US hemp; the company says the amount of CBD in the blend varies by the batch. There are three flavors of this coffee: original blend, French vanilla, and hazelnut.
Green Roads CBD Topicals

Green Roads CBD-infused topicals come in several forms. There are creams and roll-ons; there are products designed for muscle and joint relief and for skin relief; there are blends with capsaicin and capsicum to provide heat while the CBD takes effect, and others with peppermint and eucalyptus to provide a cooling sensation instead. Different potencies of each product are available, and they are all-natural.
The company also offers an "Indulgence" line that features bath bombs containing CBD and essential oils to provide experiences like "Uplift," "Peace" and "Refresh," plus roll-on products with the same basic ingredients.
Green Roads CBD for Pets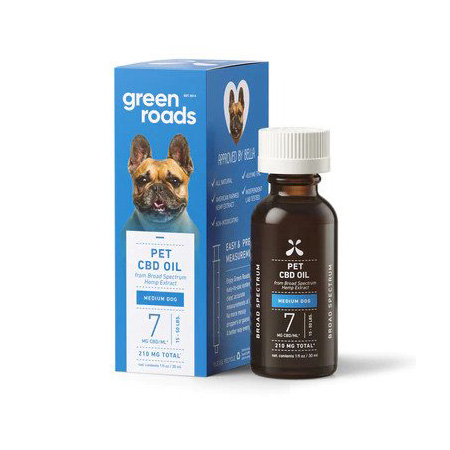 A separate collection of Green Roads CBD oils has been specifically designed for pets, with a clean formulation containing only broad-spectrum cannabidiol and carrier oil. There's 20mg/ml oil for large dogs, 7mg/ml oil for medium-sized dogs, and 2mg/ml CBD oils for small dogs and cats. Green Roads is one of the only producers we've found whose dosage levels are actually sensible ones for pets, and the formulas again show the care that the company takes in creating its products.
Green Roads CBD: The Verdict
We're guessing that, if you've read through most or all of this review, you've reached the same conclusion that we have. Green Roads CBD is the perfect example of a company that produces cannabidiol products for the right reasons and in the right ways – creating outstanding lines of CBD oils, capsules, edibles and topicals.
The prices you'll pay for Green Roads products are a little higher than average, but certainly not unreasonable for their high quality. In fact, you'll find that most high-end producers charge more for CBD products than this company does.
Add it all up, and you've found one of the best CBD producers in America.