Everyone talks glowingly about the medical benefits that CBD may provide.
Everyone, that is, except doctors and reputable CBD companies.
There's a reason for that. A large amount of scientific and medical research has shown that cannabidiol (the longer name for CBD) can apparently help treat an enormous number of diseases and conditions. Medical issues ranging from anxiety and insomnia to severe pain and high blood pressure, appear to respond well to CBD. There's even preliminary research suggesting that cannabidiol may help fight cancer.
Here's the problem, though. CBD was legalized for sale across the nation in 2018, but it isn't yet regulated by the government.
That means agencies like the Food and Drug Administration haven't approved its use as a medical treatment (except for one form of childhood epilepsy) – making it illegal for CBD manufacturers to claim that their products provide medical benefits. Many doctors are even afraid to suggest or even discuss CBD with their patients, for fear of losing their license to practice.
So when you see a CBD producer with the name cbdMD, it might be natural to trust their products. After all, if doctors are behind a company's offerings, you could assume that they're more trustworthy than a random brand you see online or on the shelf of your local store.
Unfortunately, that's not the case. cbdMD is only a brand name.
Doctors apparently don't have anything to do with this company's products. It's just a name that was seemingly chosen to create the impression that its CBD was created or approved by medical professionals.
That doesn't mean, of course, that cbdMD's products aren't good ones. Let's find out if they are.
cbdMD: The Background
CBD is a huge industry these days, and cbdMD is a huge company. It certainly wasn't founded by doctors; it was created by Scott Coffman, the founder of Blu Electronic Cigarettes after Blu was sold to a major tobacco company. Coffman later sold cbdMD to a company called Level Brands, which (among other endeavors) licenses Kathy Ireland's health and beauty products. In fact, the famous model is the company's chief brand strategist.
Level Brands wasn't fooling around. After the acquisition, cbdMD became the only "pure-play" CBD company (meaning CBD is all it does) listed on the New York Stock Exchange. Today, the company is worth nearly $200 million and its products are distributed in thousands of outlets, as well as sold in cbdMD's online store.
President Calvin Coolidge has often been credited – somewhat incorrectly, as it turns out – with saying "The business of America is business." It doesn't seem incorrect to say, however, that the primary business of cbdMD seems to be business. The company's marketing efforts have greatly boosted its sales through social media influencers and numerous celebrity endorsements, mostly from athletes who've joined what's called "Team cbdMD."
So cbdMD is huge. It spends a lot of its efforts on marketing. The company was founded and is run by business people, not doctors. But to be fair, a huge business with widespread product distribution and a wealth of endorsements can still manufacture and sell quality products – as can a company that uses a somewhat misleading (to our mind) brand name.
Let's see how cbdMD's product line measures up.
cbdMD: The Approach
What stands out most is that this company produces only broad-spectrum cannabidiol products.
As you probably know, the hemp plant contains a number of substances other than CBD, including terpenes, flavonoids, and secondary cannabinoids. When the substances are all retained after cannabidiol is extracted from hemp, they work together in an "entourage effect" that enhances the performance of CBD. That type of CBD is called "full-spectrum."
The opposite approach is to remove all of the other naturally-occurring components of hemp, leaving virtually-pure CBD, known as CBD isolate.
There's a middle ground, though. One of the cannabinoids naturally presents in hemp is a tiny amount of psychoactive THC, which contributes to the entourage effect and isn't enough to make you high. Unfortunately, in rare cases, it can lead to a positive drug test for marijuana. Removing only the THC creates what's known as broad-spectrum CBD; it eliminates the possibility of testing positive but also diminishes the entourage effect a bit.
cbdMD uses broad-spectrum CBD in all of its products, but with a twist. They call it "Superior Broad Spectrum," but in reality, it's a lab-created version. The company actually creates CBD isolate first. Then it extracts two other cannabinoids, CBN and CBG, and combines all three with selected terpenes in a specific ratio.
The resulting CBD is predictable because the ratios are carefully measured. Is it better than "real" broad-spectrum CBD? cbdMD claims that it is. We aren't scientists, though, so we can't say either way. What we do know is that other companies that produce extremely high-quality broad-spectrum cannabidiol don't go through all of these gyrations. We also know that a number of the components that contribute to the entourage effect are not present in cbdMD's version of broad-spectrum CBD. In short, we're somewhat dubious.
The hemp from which the cannabidiol is extracted is non-GMO and organically-grown in America. The size of this company certainly prevents it from owning its own farms or working with a few family hemp farms, as smaller producers often do. However, domestic, organically-grown hemp is a good start.
cbdMD is a little vague about how it extracts cannabidiol from hemp. It says in some of its documentation that it uses the CO2 extraction method, but elsewhere it says that it uses ethanol extraction to create the isolate used in its "superior" broad-spectrum CBD. We're a bit confused by that, but CO2 and ethanol extraction methods are both solid choices (although the supercritical CO2 process is preferable to standard CO2).
The company uses MCT coconut oil (the best option) when a carrier oil is required to distribute the CBD in its products, and almost all of the other ingredients in its products are natural (including natural flavorings). Third-party testing results are easily available on cbdMD's website or with a brick-and-mortar purchase.
Our overall impression: this is a good product that's made well. Does it measure up to those sold by other high-quality competitors? That depends on whether you believe that removing some of the natural components of hemp can actually deliver better results. We're not so sure about that.
cbdMD CBD Oils

One of the advantages a large company has over "boutique" producers is that it has the resources to offer many varieties of its products. cbdMD's CBD oil (they call it tincture) is available in six potencies, from 10mg/ml all the way up to a too-high-for-most-people 250mg/ml, and in four flavors (natural, berry, orange, and mint). This is "clean" oil, containing just broad-spectrum cannabidiol and MCT carrier oil in addition to natural flavorings.
cbdMD offers one other type of CBD oil, branded "CBD PM for Sleep." It combines broad-spectrum cannabidiol (16.5mg/ml) with melatonin, chamomile, valerian root extract, and other herbs known to help those with sleep issues.
cbdMD Capsules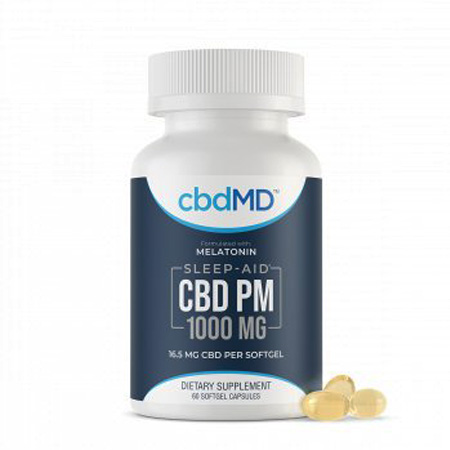 There are actually two types of CBD capsules on the company's menu. The regular capsules are made from a natural polymer and contain broad-spectrum cannabidiol (plus MCT oil) in a choice of potencies from 15 to 50 milligrams. The same ingredients and potencies are also available in softgels made from "gelatin" which isn't described further; we assume it's an animal product since the capsules are described as vegan but the softgels are not.
There are "CBD PM for Sleep" softgels as well, containing 16.5 milligrams of broad-spectrum CBD apiece.
cbdMD Edibles

The company's edibles come in just one form, but it's the most popular on the market: CBD gummies. You can choose from candies containing 10, 25, or 50 milligrams of cannabidiol. All varieties are naturally tropical fruit-flavored, and they're pretty yummy. There's also a version with an ample amount of vitamin C added to 25 milligrams of CBD.
cbdMD Topicals

There are two forms of cbdMD's topical CBD products. One combines cannabidiol with lidocaine, along with added ingredients like aloe vera, other natural extracts, and denatured alcohol; it's available in roll-on or spray form, and in several potencies. The second product is a "Freeze Gel" that combines CBD with cooling menthol as well as aloe vera and a number of botanicals, and it comes in either squeeze tube or roll-on form.
Additionally, the company sells a variety of CBD bath bombs in a number of natural scents.
cbdMD CBD for Pets

Here's another category where having lots of resources allows a company to create a large assortment of products.
cbdMD offers a wide selection of CBD oils, hard and soft pet chews, topicals, and even CBD-infused peanut butter (the last one aimed at dogs, of course). The company sells them under the brand name Paw CBD; the products have been formulated by veterinarians, and some of the choices are designed specifically for pets with hip and joint pain, or anxiety issues.
cbdMD: The Verdict
This is a very big company. Its products are widely available nationwide. It offers a very large selection of CBD products. And to be fair, its products are quite good.
However, we still have questions. Is the "superior broad-spectrum" approach that cbdMD touts really superior to naturally-extracted broad-spectrum CBD? Can a company this large, which is obviously focused on marketing and universal distribution, still create products on a par with smaller competitors? And one more that still bothers us: isn't the choice of the name "cbdMD" rather cynical, for a company that wasn't created by doctors and isn't run by doctors?
Asking those questions is a bit disingenuous on our part since we've already made clear our feelings. We'd prefer "real" broad-spectrum CBD to the lab-created version, and we'd prefer broad-spectrum CBD even more. This company seems a bit too wrapped up in growing its business to convince us that its products are as good as the very best available elsewhere. And its use of the phrase "MD" in the brand name doesn't really change our minds.
Don't get us wrong. This is a good CBD. But it's not cheap, either – and we think there are better alternatives for the money.