June 25, 2018, was a historic moment for cannabis. On that day, the FDA approved the first CBD-based drug Epidiolex.
Before making it to the market in the US, Epidiolex has been tested in many clinical studies around the world regarding the use of cannabis as a treatment for epilepsy.
The fact Epidiolex was approved by a federal agency is a huge step forward for legalization. In the US, people are still struggling to access the plant for medical purposes; the legal struggle derives from misunderstandings concerning the qualifications for joining a state's medical marijuana program.
At the time of this writing, the easiest way to get legal CBD oil in the USA is to buy hemp-derived products that have 0.3% THC or less.
In this article, we'll look at the larger picture when it comes to using CBD oil for epilepsy. We'll also highlight the most reliable manufacturers on the market so that you can avoid sketchy businesses.
CBD Oil for Seizures and Epilepsy: Best Brands in 2022
Finding high-quality CBD oil can be difficult if this is your first purchase.
Where does a company source its CBD from?
Is their hemp organic?
What solvents have been used for making your CBD oil?
What are third-party lab reports and how should you read them?
These are just the basic questions you should answer when searching for CBD oil online.
We've done the research part for you. After trying 30+ CBD brands, we've selected the top 5 companies that sell premium, full-spectrum CBD that has been tested for potency and purity.
Read on to find out why these are the best CBD oils for seizures and epilepsy.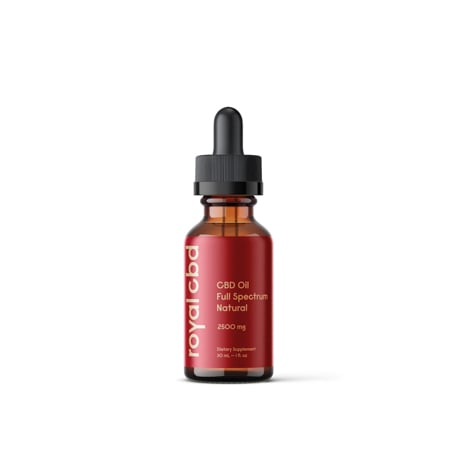 Product Details
| | |
| --- | --- |
| Potency | 250 mg – 2500 mg |
| Available Flavors | Natural, Berry, Mint, Vanilla |
| CBD per serving | 8.3 mg – 83.3 mg |
Why Royal CBD is the Best CBD Oil for Seizures and Epilepsy
Royal CBD is a relatively new brand. Launched in late 2017, the company started selling premium CBD extracts from organic hemp and quickly made its name in the industry thanks to the quality of its products. This brand combines simplicity with transparency, which is not common for new companies that try to sell everything but the kitchen sink. Royal CBD offers traditional forms of cannabidiol, including CBD oil drops, capsules, gummies, and topicals.
Royal CBD uses organic hemp and makes its products with CO2 extraction, which is the golden standard for making CBD products. These are full-spectrum extracts, meaning they resemble the original phytochemical profile of the source plant. All of the company's products have been tested in a third-party laboratory for potency and purity; they come with Certificates of Analysis proving their content.
The Royal CBD oil is available in 4 potency options, including 250 mg, 500 mg, 1000 mg, and 2500 mg. On top of the natural flavor, you can choose from flavors like Berry, Mint, and Vanilla. If you want the best option for seizures, I recommend the 2500 mg potency. This CBD oil carries 83.33 mg of CBD in each mL; it's a decent strength for neurological issues and saves you more money in the long run.
Pros
Cons

Made from locally grown organic hemp
Extracted with supercritical CO2
Infused with full-spectrum CBD
Available in 4 strengths and flavors
Up to 2500 mg of CBD per bottle
3rd-party tested for potency and purity
Great natural flavor

Not available in local CBD stores (this may soon change)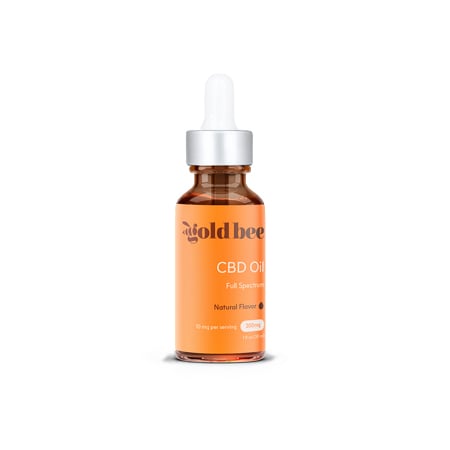 Product Details
| | |
| --- | --- |
| Potency | 300 – 1200 mg |
| Available Flavors | Natural, Honey |
| CBD per serving | 10 mg – 40 mg |
About Gold Bee
My second-best pick comes from California too. Gold Bee is another premium company that offers CBD products from organic hemp. The company's mission is to shed stigma from hemp, which was unjustly demonized for the past century, and provide the health benefits of CBD to all types of consumers.
Gold Bee has partnered with its local farmers as well as growers from Colorado to create their proprietary blend of high-CBD hemp flowers, resulting in clean and potent extracts that carry the full-spectrum of cannabinoids, terpenes, and other phytonutrients.
The reason why I'm putting this brand in the second place is that it doesn't offer such a broad potency range as Royal CBD. The maximum strength of the Gold Bee CBD oil is 1200 mg, so if your dose exceeds 30 mg daily, it may not offer the best value for the price. But if you benefit from lower dosages, this is definitely the best CBD oil you can find.
Plus, the honey flavor tastes delicious.
Pros
Cons

Sourced from US-grown organic hemp
Contains full-spectrum CBD
Up to 33 mg CBD/mL
Great potency range for beginners
Third-party tested for potency and purity
Great honey flavor

No high-strength CBD oils
3. CBDPure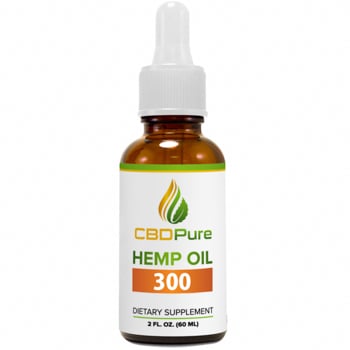 Product Details
| | |
| --- | --- |
| Potency | 100 – 1000 mg |
| Available Flavors | None |
| CBD per serving | 3.3 – 33 mg/mL |
About CBDPure
Looking for the best low-potency CBD oil on the market? Then CBDPure will be your best bet. This company covers the basic potency range for CBD extracts, offering 100 mg – 1000 mg of CBD per bottle. The 1000 mg option has been recently added to CBDPure's lineup.
Similar to other brands from this ranking, CBDPure uses organic hemp plants and makes its extracts with supercritical CO2, ensuring a high purity and potency of its products. This CBD oil contains the full-spectrum of non-psychoactive cannabinoids (with less than 0.3% THC), so you're getting the entourage effect from other hemp compounds. Full-spectrum extracts are believed to be more effective than isolates for symptoms like inflammation, anxiety, and convulsions.
CBDPure is also one of the most transparent companies in the industry. The guys at CBDPure cover every detail of their activity, from farming to testing and packaging. They also have a 90-day return policy, which shows they're confident about the quality of their products. You can return the CBD oil for a full refund if you're not satisfied with the effects.
Pros
Cons

Sourced from organic Colorado-grown hemp
Extracted with supercritical CO2
Lab-tested for potency and purity
90-day return policy

Only two forms of CBD available
Low potency
Premium pricing
4. Hemp Bombs

Product Details
| | |
| --- | --- |
| Potency | 125 – 4000 mg |
| Available Flavors | Natural, Acai Berry, Orange Creamsicle, Peppermint, Watermelon |
| CBD per serving | 4 – 133 mg/mL |
About Hemp Bombs
Hemp Bombs is a US manufacturer that sells an extremely wide range of CBD-infused products. They offer both traditional formats like oil, capsules, and gummies, as well as less conventional products, such as beard oil and tattoo aftercare. Unlike other brands in this ranking, Hemp Bombs specializes in making isolate-based extracts. The company's products contain 99% pure CBD.
Hemp Bombs CBD oil is a good option for people who need extremely high doses of CBD in their routine. At 4000 mg of CBD per bottle, it can get you supplied for months if you use it for preventive supplementation. However, keep in mind that this product doesn't contain other cannabinoids or terpenes from hemp, so you won't be getting the synergy from the entourage effect. This means that you may need to take more CBD as a result — and end up tired and sleepy.
Pros
Cons

Sourced from organic hemp
Extracted with CO2
0% THC
Available as broad-spectrum or isolate
Third-party tested for CBD and contaminants
Up to 4000 mg of CBD per bottle
5 strengths to choose from

Infused with synthetic flavorings
No "entourage effect" from other cannabinoids and terpenes
Most people don't need such high doses of CBD oil in their routine
5. CBDistillery
Product Details
| | |
| --- | --- |
| Potency | 250 – 5000 mg |
| Available Flavors | None |
| Potency | 8.3 – 166 mg/mL |
About CBDistillery
CBDistillery is one of the first companies to enter the U.S. CBD market, and one of the biggest brands in North America. This company offers full-spectrum CBD oil as well as broad-spectrum extracts. The latter products are labeled as "pure oil," meaning they contain CBD and other cannabinoids but without traces of THC.
CBDistillery caters to every type of CBD consumer, selling its oil in five different potencies — from 250 mg up to 5000 mg of total CBD. The only reason I'm putting those guys in the last place here is their source of CBD. CBDistillery doesn't use organic hemp, but this is totally understandable considering the price of its products.
My verdict? It's a great brand if you want high-quality CBD products in different forms for a wide range of symptoms — but without breaking the bank. For higher-end, organic products, I recommend the other manufacturers from our list.
Pros
Cons

Available as full-spectrum or broad-spectrum CBD
Extracted with CO2
5 potency options to choose from
Up to 166.6 mg of CBD per bottle
Third-party tested for potency and purity
Very affordable

Made from non-organic hemp
No flavored options
What is CBD?
CBD means cannabidiol, which is one of the two main cannabinoids found in cannabis plants and used in medicine today. The other compound, tetrahydrocannabinol (THC) is the cannabinoid that gets people high due to its intoxicating properties. CBD doesn't have psychoactive effects like THC; in fact, it can alter the high caused by THC while providing a myriad of health benefits on its own.
One of the greatest benefits of CBD is its impact on seizures and people who have epilepsy.
Now, CBD can be extracted from marijuana and hemp, both of which belong to the Cannabis sativa L. family. Marijuana contains high levels of THC and its legal status is a bit hazy. On the federal level, marijuana is considered a Schedule 1 substance, meaning it's illegal and punishable with prison and hefty fines. Individual states can regulate marijuana on their own. So far, 11 states have legalized the recreational use of marijuana, while 37 states have a medical marijuana program.
Hemp, on the other hand, contains only trace amounts of THC (0.3% or less). It has been grown historically for its fibers found in stalks and seeds. People have used hemp to make all kinds of items, from clothing to food to household items and ropes. Over the past few years, hemp flowers have become popular for CBD extraction.
The 2018 Farm Bill legalized the commercial use of hemp-derived CBD. It also opened the doors for scientists to study the therapeutic potential of using CBD oil for epilepsy.
In the next section, we'll discuss the relationship between epilepsy and the endocannabinoid system, the body's prime homeostatic network.
What is Epilepsy?

As defined by the Epilepsy Foundation, epilepsy is a neurological condition characterized by unpredictable seizures. It's often referred to as "seizure disorder" and affects 25% of people with neurological disorders.
Epilepsy is a spectrum disease, meaning there's a wide range of types of seizures. It's also a chronic condition unlike isolated incidents such as seizures from alcohol withdrawal or extremely low blood sugar.
People diagnosed with epilepsy are often unable to function normally during the day. Their safety becomes compromised because seizures can be triggered when a person is at work or driving a car. It can negatively impact relationships and create stigmas over patients.
The public misunderstanding of the disorder, as well as the continuous failure of conventional treatments, are the two main problems for epilepsy patients.
That's why so many people are turning to CBD oil to manage their seizures.
CBD Oil for Seizures & Epilepsy
CBD has been demonstrated as a potent anti-seizure agent in many studies, although research in this field has been difficult to conduct given the federal regulations on cannabinoids.
As mentioned, in December 2018 the government removed hemp and hemp-derived CBD from Schedule I of the Controlled Substances Act. Before that removal, human trials regarding the use of CBD for epilepsy were limited.
Scientists are still trying to understand the exact mechanism behind the anti-seizure properties of CBD. One of the difficulties researchers encounter is that the effects of CBD vary between individuals. Also, many of the studies have been based on data pulled from uncontrolled environments.
A 2017 study in The Journal of Epilepsy Research showed improvements in seizure control among patients with specific epilepsy disorders. However, researchers indicated that their study was inconclusive because they weren't able to decide if the reduction in seizures was a direct effect of CBD treatment.
Interestingly, CBD has been proposed as a novel anti-inflammatory drug. Experts speculate that its anti-inflammatory effects can trigger an anticonvulsant mechanism that prevents seizures.
The largest share of research in the subject of CBD and seizures comes from studies conducted on its synthetic counterpart H2CBD. This form of CBD showed an effective reduction of seizures in rats. The results of this study opened the way for further research on CBD because its synthetic equivalents aren't as strictly regulated; they're less liable to violate state and federal regulations.
Epidiolex: The First CBD-based Drug for Epilepsy Approved by the FDA


Epidiolex is the first CBD-based medication that passed clinical trials in the USA and has been accepted by the Food and Drug Administration (FDA). Let's take a closer look at this drug and the research on its anticonvulsant effects.
What is Epidiolex?
Epidiolex is an anti-seizure medication composed of CBD extract — the oil is 98% pure. Such a high level of purity ensures a consistent, potent dose of CBD for its users. Unlike hemp-derived CBD oil, Epidiolex doesn't contain any other cannabinoids and terpenes.
The Clinical Trials
Epidiolex was the first CBD-based drug tested in controlled clinical trials, meaning that it involved two groups of patients. The control group was treated with a placebo, while the other one took a dose of CBD for their seizures. On top of this, the trials were double-blind and randomized, so researchers didn't have any information about who was in the CBD group and who was receiving the placebo.
The Epidiolex studies targeted the treatment of two major types of epilepsy: Dravet syndrome and Lennox-Gastaut syndrome, both of which are prevalent in children.
The Findings
The study involved almost 1,000 participants. Every subject in the trial was taking other anti-seizure medications besides CBD. Those who took Epidiolex were divided into different groups based on their CBD dosage.
On top of the positive effects, some of the participants reported several adverse reactions, such as:
Changes in appetite
Lethargy
Diarrhea
Insomnia
Rash
Fatigue
These side effects were more common in those who took a higher dose of CBD. Scientists also noted that it wasn't clear if the side effects resulted from CBD or due to the prescribed anti-seizure medications that the subjects were already taking, or the interaction between the two.
For the study on Lennox Gastaut Syndrome, CBD combined with traditional anti-seizure drugs caused a significant drop in the frequency and severity of seizures in both children and adults.
In the study testing, the efficacy of CBD for Dravet syndrome seizures caused a more significant decrease in convulsive seizures compared to the control group. However, those taking CBD also showed more side effects.
Summary and Discussion of the Trials
In the summary of the Epidiolex trials, scientists concluded that the effects of CBD show great promise for the reduction of seizures through controlled treatment.
However, the studies also found a few limitations. For one, they only analyzed two types of epilepsy: Dravet syndrome and Lennox Gastaut syndrome. As mentioned above, the government has only recently given the green light for such studies, so we need some time to draw more conclusions from studies on other types of epilepsy.
The good news is that these trials are inevitable.
There are also ongoing trials investigating how Epidiolex affects people with other types of seizure disorders. For example, the Epilepsy Foundation lists several active studies that are testing the efficacy of CBD on Tuberous Sclerosis Complex and Sturge-Weber Syndrome.
Another problem that needs to be resolved is the cause of the aforementioned side effects. Is it the CBD? Or are these adverse reactions triggered by traditional meds? CBD is known for interacting with many prescription medications, so potential drug interactions may hold the answer to that question.
Anecdotes from Epilepsy Patients
Despite some obvious limits in research, it's easy to find stories of patients giving testimonies about the efficacy of CBD oil in treating their seizures. You can search parenting groups on Facebook because a large portion of anecdotal evidence comes from parents with epileptic children. While these stories aren't backed by scientific research, they do show that CBD has helped many people deal with their seizures.
Key Takeaways on CBD and Seizures
As we have seen, there's a lot to learn when it comes to using CBD for epilepsy. Scientists are still unsure how CBD helps individuals in the management of their seizures, but one thing is certain — CBD can significantly improve the quality of life of those diagnosed with epilepsy.
As with anything that affects the human brain, the impact of CBD on epilepsy is a very complex subject. Until the federal government loosens its policies surrounding cannabis-derived CBD, it may be difficult to carry out clinical trials on CBD oil.
While limited in their scope, studies on drugs like Epidiolex show promising results for epilepsy patients. The research combined with anecdotal evidence from families all across the world provides hope that we will finally understand the mechanism behind the anticonvulsant effects of CBD oil.
As with every health supplement, quality is paramount if you want to fully experience the benefits of CBD on your health. Make sure you always purchase your CBD oil from a trusted source. You can do your own research or use our recommendations to find premium-quality products at a decent price.