It's pretty impressive when you see a store whose sign proudly proclaims "Founded in 1867." (Insert your own famous year from history if you'd like.)
A long and storied history isn't a solid guarantee of quality, of course. But it's certainly a good sign when a business has operated successfully for decades or generations.
You won't find any CBD producers with that type of history. The sale of cannabidiol (the full name of CBD) sourced from hemp wasn't legalized on a nationwide basis until 2018 – and not coincidentally, that's when the vast majority of CBD vendors got into the business. Only a small number of companies, all located in states which had already legalized marijuana in some form, were creating CBD products before then.
So when you find a manufacturer that became successful in the CBD industry well before 2018, it means something. It's not all you need to know about the producer, but it's a good indication that the company does things the right way.
Meet NuLeaf Naturals, which has been a respected CBD vendor since 2014. It's always been focused on producing high-potency cannabidiol for a small product line and has more recently begun selling its products through mostly high-end retailers like Sprouts Farmers Markets.
Is NuLeaf Naturals CBD the right choice for you? Read on.
NuLeaf Naturals: The Background
Here's the background information that NuLeaf Naturals provides: the company was founded by two entrepreneurs who planted medicine aficionados.
What does it mean when a company is founded by entrepreneurs? Truthfully, it can mean almost anything. By definition, entrepreneurs start businesses.
What does it mean when a company is founded by plant medicine aficionados? NuLeaf doesn't tell us any more than that, but two possibilities come to mind.
The first is that the founders spent a lifetime learning the secrets of naturopathic and holistic healing. The second is that they're using the phrase "plant medicine" as a euphemism for pot.
Since Jaden Barnes and Bo Shirley were barely out of college when they created NuLeaf Naturals, we'd guess the second possibility is the more likely one.
It would certainly be a huge plus if NuLeaf's founders brought a wealth of health and wellness experience to the table. But it really doesn't matter if their initial experience came from growing weed, as long as their company is reputable, honest, transparent – and sells high-quality CBD.
We were pleased to find that – aside from the question of why the founders got into the industry – NuLeaf seems to check most of the boxes we consider when looking at a producer's background. (We'll get to quality in the next section).
The company has built a strong reputation among consumers and industry leaders over the years. It has a cGMP and ISO certified manufacturing facility, it's gone the extra mile to have its products certified pesticide-free by the Detox Project, and it provides strong customer service.
NuLeaf Naturals also provides financial assistance to what may be the largest group of customers we've ever seen: veterans, military personnel, first responders, social workers, teachers and students, non-profits, and of course, those with low incomes and the disabled (as well as their caretakers).
Transparency is a slightly different story. The company is transparent about its ingredients and methods, and that's obviously good. Our one problem is that they don't make third-party testing reports available on their website; you can only see them if you make a purchase or you make a special request via email. That's an unnecessary hurdle, in our view, but not a deal-killer.
So we don't think it matters whether the founders got their initial knowledge from books or bongs, or whether their experience came from growing pot or healthy botanicals. Their operations show that they care about CBD, and care about doing business the right way.
NuLeaf Naturals: The Approach
We like almost everything about how NuLeaf Naturals goes about producing its CBD products.
The hemp is grown organically on Colorado farms. The company doesn't own the farms but does control them, working with farmers to ensure that specific high-CBD strains (which also have significant amounts of secondary cannabinoids) are grown and harvested properly.
NuLeaf uses the supercritical CO2 method to extract cannabidiol from the plants. That's the process that best preserves CBD's natural potency, and it's preferred by most high-end producers.
The company manufactures and sells only products containing full-spectrum cannabidiol. That means it retains all of the other cannabinoids, terpenes, and flavonoids that are native to the hemp plant; the combination of those ingredients creates what's called an "entourage effect" that boosts the effectiveness of CBD.
Full-spectrum cannabidiol does mean, however, that the minuscule amount of psychoactive THC that's also native to the plant (less than 0.3%) remains in the CBD you buy. It's not enough to get you high, but occasionally it's enough to cause a positive marijuana test. That doesn't happen often, but it's a possibility. Those regularly subjected to drug tests often prefer broad-spectrum CBD or CBD isolate, which has the THC removed – but NuLeaf Naturals doesn't sell those varieties because they're not as effective.
One of the other ways to ensure effectiveness is to avoid diluting CBD products with unnecessary ingredients. NuLeaf takes that approach seriously. For example, there's nothing in the company's CBD oil except the CBD and the carrier oil required to distribute it. No flavorings, no sweeteners, no other "botanicals with medicinal properties." It's all CBD and all-natural and we like that, even though the producer uses hempseed oil instead of slightly more-effective MCT oil as a carrier. (MCT oil usually comes from coconuts, so NuLeaf chooses not to use it so customers with nut allergies don't experience problems.)
There's one more thing to know about the company's approach: they don't sell a huge range of products. NuLeaf Naturals only offers CBD oil, CBD capsules, and CBD oil for pets. They could probably make a lot more money if they also produced gummies, topicals, and other CBD lines, as most companies do. But even though NuLeaf now has national brick-and-mortar distribution, they've stuck to the foundational products that made their reputation.
We believe in the "if you do a few things well, that's what you should do" philosophy – and NuLeaf Apparently does too.
NuLeaf Naturals CBD Oils

We titled this section "CBD oils," but in reality, there's only one. We'll be saying that several times as we run down the company's products since they focus on perfecting just one version of each product.
The NuLeaf CBD oil contains only two ingredients, full-spectrum cannabidiol and organic hempseed oil (the carrier oil for the product). You can purchase this oil in different sized bottles, but the potency is always the same: 60mg/ml. That's not an unheard-of dose, but it's quite high for most people, as the usual starting dose is more in the 25-30mg/ml range. And since it's administered by dropper, it's not difficult to take half-a-milliliter of oil to get 30 milligrams of CBD. If you want just a microdose, each drop contains about 2.4 milligrams of cannabidiol.
This is an all-natural product, of course, since there are no added ingredients. No added flavors, however, means the oil has a distinct hemp taste which takes some time to get used to. And the beautiful golden color of this CBD oil shows that it hasn't been "adulterated" with additives.
NuLeaf Naturals CBD Capsules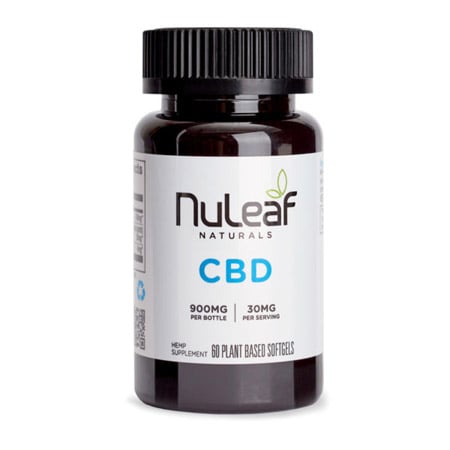 The single option for those who want to take their CBD via capsule is the company's 15-milligram softgels. Once again, there are no "extra" ingredients; the softgels contain just full-spectrum CBD, organic hempseed oil, plus water and cassava root extract for consistency. The capsules are made from vegetable gelatin, so this product is safe for both vegetarians and vegans.
NuLeaf Naturals CBD for Pets

The only pet product offered by NuLeaf is a strong CBD oil. It's labeled as "pet CBD" but to be honest, we can't find any difference between this oil and the one manufactured for human consumption. It contains only full-spectrum cannabidiol and organic hempseed oil, it's available in just 60mg/ml potency, and it's unflavored with no other ingredients added.
If you plan to use this CBD oil for your dog or cat, be very careful and always administer it by the drop. There are 2.4 milligrams per drop, and 2.4 milligrams is about the right dose for a very small cat or dog; 60 milligrams is way too much for even a large dog, so not even a Great Dane should be given a "full" milliliter dose.
NuLeaf Naturals: The Verdict
If you needed proof that people without a rigorous medical background can still create a high-end CBD manufacturer, NuLeaf Naturals might be exhibit A. To be honest, after reviewing the company's products we're actually convinced that the founders really were "plant medicine aficionados," whether (or not) they also liked to sample a little green from time to time.
NuLeaf sources outstanding organically-grown hemp, uses terrific production processes to create its CBD oil and capsules, has gone the extra mile to ensure that their facilities are top-notch, and concentrates on producing just a few very well-designed CBD products.
Those products are strong – perhaps too strong for some customers. They're also rather expensive, perhaps too pricey for those who are casual CBD users or trying cannabidiol for the first time.
The high prices are worth it, however, and the products are undoubtedly high-quality. We'd suggest that anyone who's serious about CBD should definitely put NuLeaf Naturals on the shortlist of the products they're considering.