Hair loss affects the entire population in varying degrees. Normal hair loss is considered when a person loses 100 strands per day.
However, excessive hair loss is a sign of health problems that may be caused by genetic factors, hormonal imbalances, or too much stress.
People try different products to prevent hair loss, from dedicated shampoos to various hair loss treatments and even transplants.
Recently, a compound from the cannabis plant known as CBD has been praised for its versatility when it comes to skincare and hair care. Scientific evidence suggests that it may just be the right ingredient for strong, thick, and healthy hair. Studies have shown that CBD oil can take care of your mane while also nourishing the hair from the inside.
This, in turn, translates to stronger hair over time.
Unlike marijuana products, CBD hemp oil won't make you high. Today, we'll cover the health benefits of CBD for hair, and how it can prevent hair loss.
We'll also shed light on the best CBD Oil products for general supplementation as well as for skin care.
CBD Oil Benefits for Hair: What You Need to Know
This section will be entirely devoted to the health benefits of CBD oil for common hair issues, including hair loss. We'll help you understand how CBD oil can help protect your hair follicles and nourish your scalp. Then we'll move to our buyer's guide so you can choose the right product for your needs.
CBD Oil Can Provide Restful Sleep and Reduce Stress, Preventing Hair Loss

People have gotten used to the fast-paced times they live in where too much pressure is put on our shoulders. Continuously high levels of stress can weaken your hair due to the overproduction of cortisol, which is a hormone released during dangerous situations.
High levels of cortisol in the body have been linked to poor sleep quality (1). When you have less cortisol in your system, you can get through more complete sleep cycles and enjoy a restful sleep. This, in turn, may prevent hair loss.
CBD has been shown to lower anxiety, improve sleep patterns, and help with stress management on a daily basis (2), potentially reducing the amount of lost hair.
CBD Can Curb Inflammation
Inflammation is generally a good response and a sign that your body tries to recover after an injury or a harmful event. However, chronic inflammation can wreak havoc on one's quality of life, deteriorating the state of your immune system and your hair's health, including the growth.
CBD can inhibit inflammation in the body, creating a healthy environment for hair to thrive on the scalp (3). It can also target sebaceous glands that produce sebum to lubricate hair in follicles, saving them from drying out.
CBD Oil Improves Cerebral Blood Flow
Better blood flow has many health benefits, especially when it comes to hair loss prevention. Since CBD improves cerebral blood circulation, it can transport more nutrients to hair follicles while helping the body get rid of dangerous toxins (4). As a result, your hair becomes stronger and healthier in general.
CBD Helps the Body Maintain Homeostasis
The interaction between CBD and the endocannabinoid system (ECS) is the key to understanding the source of CBD's benefits for hair loss. The ECS is the major regulatory system in the body that helps the body maintain an internal balance between all critical functions. This state is known as homeostasis.
CBD is known to modulate the activity of the endocannabinoid system, enhancing its efficacy and increasing the duration of our endocannabinoids in the blood (5). As the body returns to equilibrium, hair growth processes can run undisturbed.
How to Use CBD Oil for Hair Loss
CBD oil is available in a variety of formats, from sublingual drops to capsules, honey sticks, vapes, and topicals like shampoos or conditioners. If you want to get the most out of your CBD oil treatment for hair loss, adding organic hemp seed oil may come in handy. The hemp seed oil will provide the extra content of omega fatty acids, proteins, minerals, and vitamins — giving your hair and all-around care.
Using CBD Oil for Dry Hair and Scalp
If your hair starts to feel extremely dull and looks like straw, this may indicate an imbalance in your scalp. Adding CBD oil to your hair care routine may not only prevent hair loss but also moisturize both the scalp and hair follicles. CBD oil and hemp oil contribute to the formation of new cells on the scalp and spur the growth of new hair. Every single strand of hair consists of protein, and because CBD oil has 21 amino acids, using CBD products like sublingual drops or shampoo — to treat your scalp from both the inside and outside — can strengthen and moisturize your hair.
CBD oil is also a great source of antioxidants, which protect your hair against free-radical damage and environmental factors, keeping them healthy and strong even in rough conditions (6).
If your scalp is dry and itchy, CBD may help reduce inflammation. As mentioned, you can combine a CBD ingestible form with a topical to maximize the health benefits of CBD oil for hair and prevent excess loss.
Using CBD Oil for Hair Growth
Although many people can grow their hair down to their waists pretty quickly — not everyone is that lucky.
Some people have problems with growing hair stronger and thicker. Factors like stress, poor diet, disturbed sleep cycles can further deteriorate the condition of our hair. Fortunately, regular supplementation with CBD oil can promote healthy hair growth due to the presence of Omega-3, Omega-6, and Omega-9 essential fatty acids. Once they get absorbed through the scalp, they help boost hair growth, resulting in long, lustrous, and thick mane.
How to Choose the Right CBD Oil for Hair Loss

The abundance of brands and products, especially when it comes to topicals, makes it challenging for new users to choose the right CBD product for hair loss. The market remains unregulated because the FDA doesn't approve hemp-derived CBD as a medicine despite its many science-backed benefits. Therefore, you can find many great companies that sell premium products, but there's an equal number of fly-by-night brands churning poor quality CBD oil just to capitalize on the booming market.
Here are a few tips that will help you make a well thought out decision:
Choose organic, non-GMO hemp: Hemp plants accumulate every substance from the environment they are grown in. The best CBD oils for hair loss are made from non-GMO, organically grown plants. Doing so ensures that they only draw up the good substances. Any pesticides, growth boosters, or fertilizers can negatively impact the quality of the end product.
Look for full-spectrum CBD: full-spectrum means that the oil was produced using the entire plant. This process saves other valuable compounds aside from CBD, including minor cannabinoids, terpenes, and flavonoids. These substances allow the body to process CBD more efficiently, enhancing its health benefits for hair loss. If you don't take extremely large doses of CBD on a daily basis, and you don't have to undergo THC drug testing at work, full-spectrum CBD oils are the best option out there. Those afraid of taking any THC in their product can choose broad-spectrum CBD, which is pretty much the same except for the lack of THC. Isolates, in turn, are pure CBD products made for people who don't like the taste of full-spectrum CBD oils or are allergic to other hemp compounds.
CO2 is the best extraction method so far: CO2 extraction doesn't involve additional heat or toxic solvents that could contaminate the end product if not properly purged. In its "supercritical" state, carbon dioxide possesses both gas and liquid properties, being able to pull all the beneficial compounds from the source plant. Therefore, CO2 extraction yields clean CBD oils with consistent potency levels throughout all batches.
Always check for third-party lab reports: Independent laboratories will verify the CBD content to see whether or not it matches the concentration on the label. They will also look for potential contaminants and other unwanted substances, such as pesticides, heavy metals, and solvents. If a company doesn't have lab reports anywhere on its website, or you can't receive them on request, it's a sign that you should look for CBD oil elsewhere.
Watch out for companies making far-reaching claims about CBD: CBD oil is a highly versatile health supplement. It has a long list of scientifically proven health benefits and an excellent safety profile. Using CBD regularly can contribute to healthy hair growth and prevent hair loss through the revitalization of your scalp. However, it won't cure you out of any skin disease, so if you see a company marketing CBD oil as some sort of a magic pill, this is another worrying sign.
The above principles will help you save time and money when searching for the best CBD oil for hair loss.
Best CBD Oil for Hair Loss: Top Reputable Brands in 2022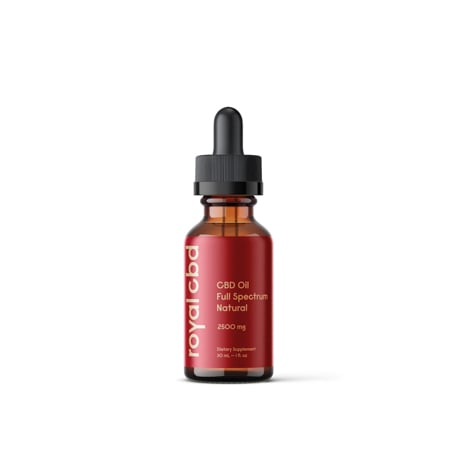 Product Details
Pros
Cons

Non-GMO, Colorado-grown hemp
Supercritical CO2 extraction
Full-spectrum CBD
Available in 4 strengths and 3 flavored options
Up to 2500 mg of CBD per bottle
Third-party lab tested for quality
30-day money-back guarantee

Slightly more expensive than the competition
Not available in physical stores (yet)
Why Royal CBD is the Best CBD Oil for Hair Loss
Royal CBD is a California-based company established by a group of cannabis enthusiasts with a goal to raise the quality standards regarding the production of CBD oils and customer service. This premium brand offers a simple product line up consisting of full-spectrum CBD oil, softgel capsules, THC-free gummies, and two types of broad-spectrum topicals.
Royal CBD oil is available in 4 potency options, including 250 mg, 500 mg, 1000 mg, and 2500 mg. You can choose from three tasty flavors, such as Berry, Mint, and Vanilla. The strongest concentration comes only in the unflavored variant to maintain the original plant's cannabinoid profile. All of the Royal CBD products are made from Colorado-grown organic hemp and extracted with supercritical CO2. This extraction technology ensures consistent potency throughout product batches without adding additional heat or solvents. The CBD oil has been suspended in food-grade MCT oil from coconut for improved bioavailability and additional health benefits, such as stable energy for the brain and support for cardiovascular health.
This oil works great for dry, itchy scalp. I have normal hair; they are relatively strong and thick. But when I'm in dryer climates, my scalp lets me know about it immediately, so I have a bottle of the Royal CBD oil always at hand to reduce the discomfort.
2. Gold Bee (Best Organic)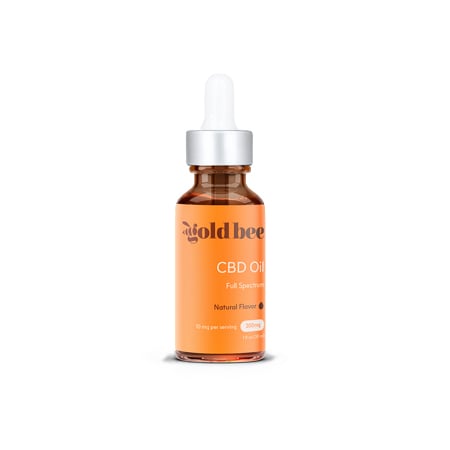 Product Details
Pros
Cons

Made from US-grown organic hemp
Contains the full spectrum of cannabinoids and terpenes
Up to 33 mg CBD/mL
Good potency range for new users
Lab-tested for CBD content and purity

No high-potency oils
No topicals available yet
Why We Recommend Gold Bee CBD Oil for Hair Loss
Gold Bee is our second-best CBD oil for hair loss. This brand makes unique, fruit-and-honey flavored CBD oil, which comes from Colorado-grown, organic hemp plants. Gold Bee is one of the few companies out there that use 100% organic ingredients in their products. Both the quality of ingredients and the honey flavor are award-winning. The CBD oil tastes surprisingly neutral, with delicate yet noticeable notes of kiwi and honey. There's no earthy aftertaste in the throat after swallowing. The lower potencies are partly responsible for that.
Gold Bee holds second place because it offers a limited potency range compared to Royal CBD. There are no high-strength oils in Gold Bee's line up. Other than that, it's a great brand that offers premium products at reasonable prices.
3. CBDistillery (Runner Up)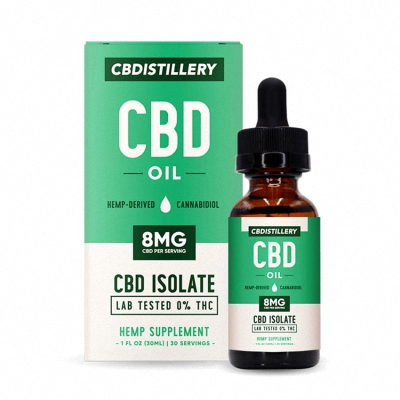 Product Details
Pros
Cons

Available as full-spectrum or broad-spectrum CBD
5 strengths to choose from
Up to 166.6 mg of CBD per mL
Third-party tested for CBD content and purity
Very affordable

Sourced from non-organic hemp
No flavored oils
Why We Recommend CBDistillery CBD Oil for Hair Loss
CBDistillery is one of the largest producers in the United States. The brand has a well-established reputation among CBD users. CBDistillery is committed to education and maintaining high-quality standards. The brand is a certified member of the U.S. Hemp Authority (USHA) after passing a third-party audit and meeting strict standards when it comes to labeling, ingredients, and the Food and Drug Administration (FDA) compliance.
CBDistillery uses non-GMO industrial hemp from Colorado, Kentucky, and Oregon. You can choose between full-spectrum and broad-spectrum versions to adjust the ratio of cannabinoids to your needs. The oil is available in 5 strengths, with up to 5000 mg of CBD per bottle. The oils are extracted with supercritical CO2 and have been granted the current good manufacturing practices (CGMP) certificate.
4. CBD Pure (Good Value)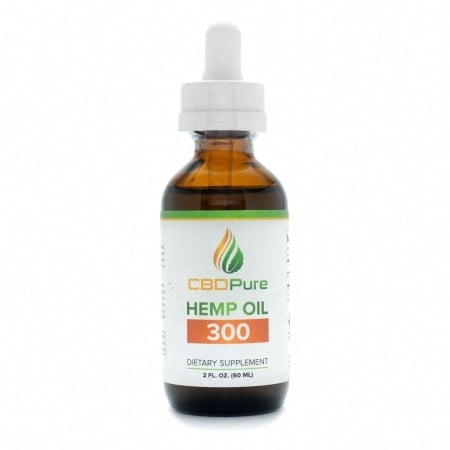 Product Details
Pros
Cons

Sourced from Colorado-grown organic hemp
Extracted with CO2
4 strengths to choose from
Lab-tested for potency and purity
90-day return policy

No high-potency oils
Only two forms of CBD available
Priced higher than competitors
Why We Recommend CBD Pure CBD Oil for Hair Loss
Similar to Royal CBD and Gold Bee, CBDPure uses Colorado-grown hemp, where the plants are cultivated without any boosters or pesticides. The company provides third-party lab reports for its products on request to leave no doubts that its CBD oil is potent and safe for consumption.
If you're a new CBD user, or if you need a product to support your hair growth and nourish the scalp from the inside, this company is a decent pick. Although CBDPure doesn't have any high-strength oils in its line up, these are real full-spectrum products that could proudly compete with more potent (and more expensive) extracts.
The oil's viscosity and color are good indicators of its quality. CBDPure's products are amber gold, which is a sign of CO2 extraction and proper filtration. The CBD in the oil has been decarboxylated to activate as much CBD in the extract as possible.
If you're looking for a risk-free way to check CBD Pure's products, the brand has a 90-day return policy, which allows you to return the product for a full refund within 90 days if you decide it doesn't work for you.
5. Charlotte's Web (Best Variety)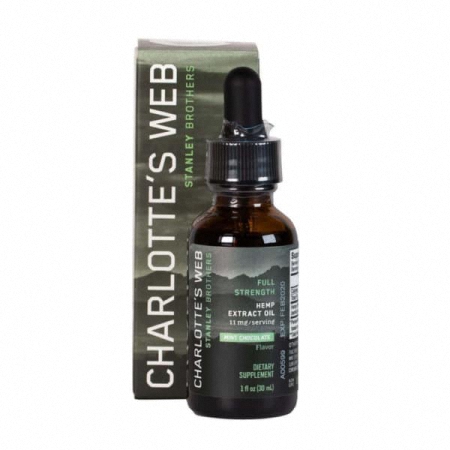 Product Details
Pros
Cons

Sourced from U.S.-grown hemp
Third-party tested for quality
Broad selection of products
Well-known brand
Veteran discount

Non-organic hemp
Olive oil extraction
Why We Recommend Charlotte's Web CBD Oil for Hair Loss
Charlotte's Web was founded by the Stanley Brothers who also popularized CBD oil in the United States, especially among parents of epileptic children. The brothers have helped a young girl (now late) Charlotte Figi went from several seizure attacks a day to one case a week. These were the times when cannabis was seen as a dangerous drug by most parents. Since then, these parents have become the most supportive group when it comes to cannabis legalization in North America. Charlotte's Web uses an olive oil extraction technology to make CBD oils, which is thought to be inferior to CO2 but more "natural." The unique extraction method and a broad selection of high-quality products — including topicals — have made Charlotte's Web one of the most reputable brands on the market.
CBD Oil vs. Hemp Seed Oil: Don't Confuse These Two Labels
When looking for CBD oil near you or somewhere locally, you'll see products like CBD oil and hemp seed oil being put on the same shelves next to each other. It's no wonder why new users feel confused. While CBD oil and hemp seed oil are two interchangeably used terms, they describe completely different products.
The difference between CBD oil and hemp seed oil is in their chemical makeup as well as in their source.
CBD oil is produced using the flowers of mature hemp plants. The flowers are covered in trichomes, which are small resinous glands where cannabinoids such as CBD are secreted. CBD oil is typically extracted with CO2 to avoid using solvents or additional heat that could compromise the original plant's chemical profile. After extraction, the CBD is infused into a carrier oil to gain volume and bioavailability. The carrier is usually a good-grade oil such as MCT oil or hemp seed oil.
Hemp seed oil is made by cold-pressing the plant's seeds. They are a popular superfood as they are packed with essential fatty acids, complete protein, minerals, and vitamins. However, hemp seed oil doesn't contain any cannabinoids.
To wrap it up, the hemp seed oil is a decent carrier oil that can complement the health benefits of CBD oil for hair loss, but you won't find any CBD in it.
We recommend combining these two products to maximize the efficacy of your hair loss treatment.
Summarizing the Health Benefits of CBD Oil for Hair Loss
CBD has many therapeutic applications, including hair loss. Although CBD oil won't cure any medical hair loss condition, you can use it to manage a variety of health problems that can negatively impact your microbiome and deteriorate the health of your mane.
To get the most out of your CBD oil treatment for hair loss, we recommend using CBD oil along with a topical product to target both internal causes of the problem as well as localized issues such as dry, itchy, and flaky scalp. You can also add hemp seed oil to your nutrition or skincare routine; its dense nutritional content contributes to healthy, strong hair follicles as well as a moisturized scalp.
Hemp seed oil is a powerful superfood; it's chock-full of essential fatty acids, exogenous proteins, vitamins, and minerals. However, this isn't the same product like CBD oil. Hemp seed oil comes from the seeds, while CBD and other cannabinoids that are extracted into CBD oil are sourced from the flowers.
Regardless of your supplementation and skincare strategy, always do your homework about any producer before buying CBD oil for hair loss to ensure that you're buying a high-quality, laboratory tested product. Doing so will help you weed out poor-quality suppliers.
What is your experience with using CBD oil for hair loss? Do you feel a difference in their amount, thickness, and overall appearance? Share your thoughts in the comments below!
References:
Scher, Anat et al. "Sleep quality, cortisol levels, and behavioral regulation in toddlers." Developmental psychobiology vol. 52,1 (2010): 44-53. doi:10.1002/dev.20410
Shannon, Scott et al. "Cannabidiol in Anxiety and Sleep: A Large Case Series." The Permanente journal vol. 23 (2019): 18-041. doi:10.7812/TPP/18-041
Atalay, Sinemyiz et al. "Antioxidative and Anti-Inflammatory Properties of Cannabidiol." Antioxidants (Basel, Switzerland) vol. 9,1 21. 25 Dec. 2019, doi:10.3390/antiox9010021
Crippa, José Alexandre de Souza et al. "Effects of cannabidiol (CBD) on regional cerebral blood flow." Neuropsychopharmacology : official publication of the American College of Neuropsychopharmacology vol. 29,2 (2004): 417-26. doi:10.1038/sj.npp.1300340
Kunos, George et al. "Endocannabinoids and the control of energy homeostasis." The Journal of biological chemistry vol. 283,48 (2008): 33021-5. doi:10.1074/jbc.R800012200
Booz, George W. "Cannabidiol as an emergent therapeutic strategy for lessening the impact of inflammation on oxidative stress." Free radical biology & medicine vol. 51,5 (2011): 1054-61. doi:10.1016/j.freeradbiomed.2011.01.007