Since the sale of cannabidiol (CBD) products has been legal in all 50 states since late 2018, the CBD industry is still in its infancy. For that reason, all sorts of operations – both legitimate producers and fly-by-night CBD resellers – are popping up on a weekly basis.
Of course, a few big companies have been around for a while and their names may sound familiar. It's certainly not unusual, though, to come across splashy ads or websites promoting unfamiliar CBD brands. You may even see positive "reviews" of those companies' products as soon as they've been released; many of those reviews are written in exchange for free products or cash. (If you were wondering, our reviews are completely honest. We don't even accept free products for review.)
But not all "new" producers operating in the CBD marketplace are really new.
One notable example is Social CBD, a big company that has been in the industry for years. Their name may be new to you even if you're a regular CBD buyer, however, because they've recently changed it. Until recently, Social CBD was known as Select CBD, a big player in both retail sales and the production and branding of cannabidiol products for huge corporations.
The producer's rebranding was simply a marketing decision, which we'll explain shortly. It's important to note that the reputation built over the last few years by Select CBD was a good one and that the company maintains the same approach to creating quality products that it's always employed.
Why the change from Select to Social? Let's dig more deeply into the details.
Social CBD: The Background
Social CBD doesn't even acknowledge its name change on its new website, so here are the details they apparently consider to be "in the past."
Select CBD was originally created as a vape company in 2017, by a man who'd had personal experience developing vaping devices for pot. Cameron Forni had a friend who'd been advised by a doctor to vape marijuana, to treat the serious complications he was suffering from GERD (gastrointestinal reflux disease).
That was a problem. The wicks commonly used in vaporizers contained material that, when inhaled, could make the disease even worse. Forni did a lot of research into the mechanics of vapes, discovered a solution (wicks made from organic Japanese cotton), and eventually started manufacturing and selling vapes to be used with weed. He moved into the CBD industry a few years later.
At first, Select CBD just sold cannabidiol vape pens. When they were well-received, the company expanded and began offering an entire range of CBD products. If you've been wondering why the name sounds familiar, it's because celebrities like Montel Williams have promoted their products over the years.
Here's what was behind the name change. When it was made official in 2019, the explanation was that Select wanted to move away from its background in the marijuana business. Left unsaid were the reasons behind the decision. One was that the company wanted to make all of its products completely THC-free, and its previous work in the weed industry could create confusion about what was in its CBD. The second reason was due to a huge corporate shuffling.
Most of Select's parent company, west coast-based Cura Cannabis, had been purchased by east coast-based Curaleaf Holdings. That made the combined entity a huge national player in weed – but Select CBD was not part of the sale. It now stands on its own, with Forni remaining as CEO. Moving away from the Select name was basically a fresh corporate start for the company, now a part of an entity called Sentia Wellness that also creates CBD topicals under other brand names.
The company still has a broad reach, not only selling its products online but in a number of retail chains. It even produces branded CBD for Sports Illustrated.
So Select CBD is now called Social CBD. Here's why history is important: it's natural for customers to look at a previously-successful company and wonder why it "had" to change its name. Was it due to product problems? Legal problems? Is there a red flag to worry about?
In a nutshell: none of the above. The company is run by the same people who founded it, and it's still based in Oregon where it's operated for years. The change from an emphasis on full-spectrum to THC-free CBD is an issue for buyers to consider, though, and we'll do that next.
Social CBD: The Approach
One of the primary selling points of Social CBD products is that they are THC-free. But there are two types of cannabidiol without the minimal THC content found in full-spectrum CBD, and Social CBD uses them both.
Broad-spectrum cannabidiol contains all of the components of the hemp plant except THC.
CBD isolate contains only cannabidiol. All other cannabinoids, terpenes, and flavonoids naturally present in hemp have been removed.
That matters because the other components in hemp work in combination through what's called the entourage effect, to boost the effectiveness of CBD. In full-spectrum products (which Social CBD doesn't sell), the entourage effect is highest. In broad-spectrum products, the entourage effect is slightly lower. In CBD isolate, there's no entourage effect at all.
The amount of THC that's in full-spectrum CBD is minuscule, and won't make you high. So why do some customers prefer THC-free products? Simply because there's no way they can mistakenly trigger a marijuana drug test. In truth, that doesn't happen very often with full-spectrum CBD either, but many people believe they're better safe than sorry.
Most of the processes that Social CBD uses to manufacture its products are the ones you'd expect from a higher-level producer. Hemp is grown organically and sourced from selected farms in Oregon, Kentucky, and Montana. Cannabidiol is either extracted with ethanol (for CBD isolate) or via steam distillation (for broad-spectrum CBD); steam distillation is safe and relatively inexpensive, while ethanol is believed by some in the industry to be the best extraction choice (others prefer the supercritical CO2 method).
The company uses MCT oil as a carrier, the best choice for distributing cannabidiol throughout the body. And when ingredients are added to the product formulas, those ingredients are all-natural.
We prefer full-spectrum CBD, but understand many people would rather go THC-free. We aren't big fans of steam distillation as an extraction method, but it's not a "bad" choice. In short, the Social CBD approach to production isn't perfect, but it's quite good – as are the products' prices.
Social CBD Oils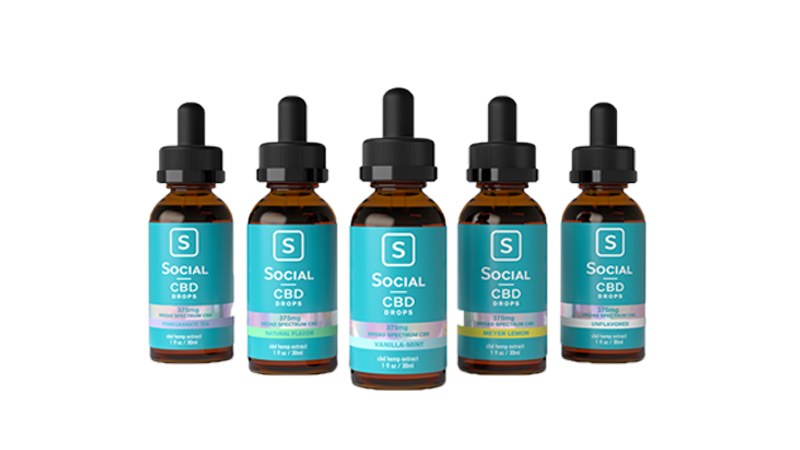 As mentioned earlier, the company sells both broad-spectrum and CBD isolate products. That means there are two different types of Social CBD oils to choose from.
The broad-spectrum oils (which they call "drops") contain only cannabinoids and MCT coconut oil, along with stevia and various natural flavorings for the vanilla mint, Meyer lemon, cinnamon, pomegranate, blood orange, and acai berry varieties. An unflavored version (with no stevia or flavorings) is also available. The potency choices for all of these oils: 12.5mg/ml, 25mg/ml and 50mg/ml.
The unflavored CBD isolate oil also contains only cannabidiol and MCT oil. Other varieties are not only flavored with stevia and natural ingredients (peppermint, lemon ginger, and lavender), but contain extra additives like turmeric intended to boost mood and anti-inflammatory effects, ashwagandha and Rhodiola for focus and energy, and chamomile and passionflower for relaxation and rest. Available potencies range from 16.7mg/ml to 66.6mg/ml.
There's one more Social product in the lineup: CBG oil. CBG (cannabigerol) is known as the "mother of cannabinoids" and believed to have different medicinal properties than CBD.
Social CBD Capsules

Social CBD uses gelcaps to deliver its cannabidiol in a more convenient form. Most of them contain 33.3mg of CBD isolate and MCT oil, as well as different botanicals, are chosen to treat different issues. "Recover" capsules also contain curcumin and black pepper extract, moringa and yerba mate are added to "Boost" gel caps, and "Rest" capsules have valerian root and passionflower in them. "Balance" gelcaps have no extra ingredients.
The gelcaps are made from gelatin, of course, but the company doesn't say whether they're vegan.
Social CBD Edibles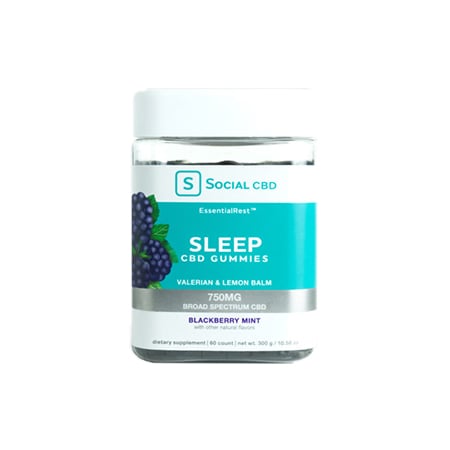 The only relevant product line in this category is broad-spectrum CBD gummies, in five varieties. Three are standard 25mg CBD candies (raspberry, lemon, and peach mango flavors); the other two are "Sleep" gummies with added valerian root and lemon balm (blackberry flavored) and "Chill" gummies with added GABA and L-Theanine (lemon flavored).
Social CBD also sells THC-free gummies – but they're also CBD-free, so we're not discussing them in detail.
Social CBD Topicals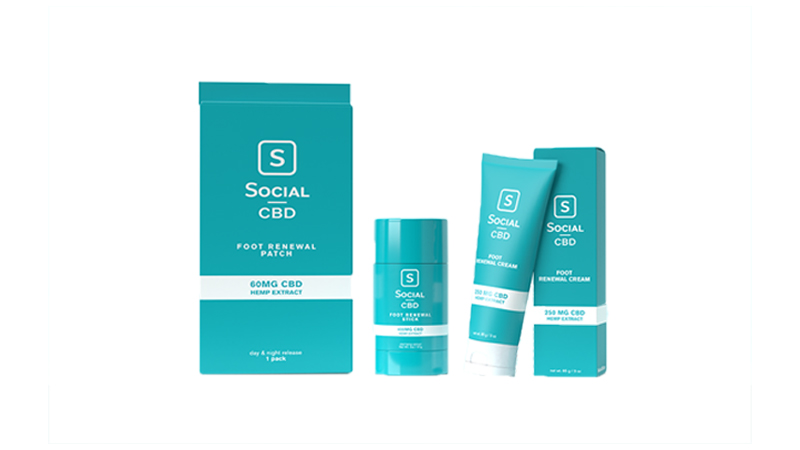 There are nine different CBD isolate topical products, some designed for the relief of surface aches and pains, others primarily as moisturizing and renewal products. They include CBD patches and stick roll-ons, muscle rub and muscle balms, body lotion (with added chamomile and lavender) and cooling spray, lip balm, and foot renewal cream.
Social CBD Vape Pens

This is where the company first made its mark (as Select CBD), and Social CBD still sells newer iterations of their famed disposable vape pens.
There are two different strengths of CBD isolate available for each of its varieties: Revive Lemon and Revive Grapefruit, Focus Peppermint and Focus Spearmint, and Relax Lavender. They're tasty and effective, but since they're disposable vapes that can't be refilled they don't last long – making them extremely expensive to purchase and use regularly.
Social CBD for Pets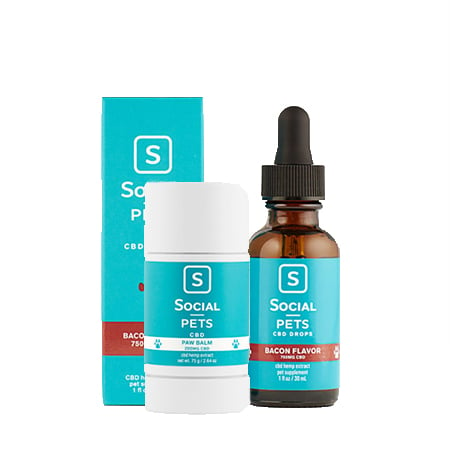 The pet formulation of broad-spectrum Social CBD oil comes in three strengths and four flavors, bacon, peanut butter, chicken, and natural. It's all-natural and made with MCT carrier oil. The company also has an unusual offering for pets: lick-proof CBD paw balm, intended for use on dry or cracked paws and infused with oregano, ginger, and lavender.
Social CBD: The Verdict
It's not easy to relaunch an established product with a completely new brand name, but Select CBD's transition to Social CBD has thankfully left most of the company's quality products intact.
They're not the very best CBD products you can find, since a few manufacturing techniques are slightly less than optimal. And as you know, we think full-spectrum CBD is a better choice simply because it's more effective.
For those who want to be sure there's no THC whatsoever in their cannabidiol, however, Social CBD offers good quality at good prices (except for their expensive disposable vapes). This is one of the better choices for broad-spectrum or CBD isolate products.