Buying marijuana can be both expensive and complicated. For this reason, a trend has emerged among the younger generation — growing marijuana at home.
To grow marijuana at home quickly and discreetly, building or purchasing a grow box is a must.
A grow box is what it sounds like: a container, made of wood or fabric, that encloses an environment perfect for growing plants (marijuana or other). This environment contains a light for the plants, fans to whisk away odors and gases, a box for the soil or hydroponic system, and reflective interior walls to keep the light contained inside the box. The box is fully customizable in terms of humidity, temperature, light levels, and other factors to make the plant grow.
Growing marijuana can be a long and tedious process, and some strains can take over nine weeks to be ready to harvest. However, it's a rewarding process because you don't need to go out and buy more every time you run out. You're also in control over what you grow and how you cultivate the plants. As you repeat the process, you'll find there is always knowledge and experience to gain. For these reasons and more, it's beneficial to buy a grow box to grow your plants at home.
To help you grow marijuana, we've compiled a list of the ten best marijuana grow boxes on the market right now. Read on to find out which marijuana grow boxes are the best value for your money.
Features
Fully smartphone-controlled
Programmable settings for customized growing controls
Energy-efficient lights
Extra features included (carbon filters and nutrients)
Pros
All-in-one design
Very sleek design fits in with any household
Steel lock for extra security
Smartphone control with a dedicated app allows full remote capabilities
Comes with grow recipes for plants other than marijuana, so it's versatile
Cons
Some reviews state that it's loud and leaks light
Verdict
This system isn't only beautiful to look at, but it packs a punch when it comes to efficiency! It's large enough for several plants, and the smartphone control comes in handy when you can't be at home all the time to watch the plants or keep track of watering and light cycles. The dedicated app comes with light and nutrient recipes for several plants, so even if you're not growing marijuana, it's an excellent choice for a grow box.
Features
Made of 16-gauge steel
Lockable
Fireproof
KIND LED lights
Automated 16-plant hydroponic system
Extra features included (fans, filters, and other items)
Pros
All-in-one: Comes with fans, filters, nutrients, meters, and lights
3-year warranty in case of accidents or breakage
Automated watering system
Extremely durable design
Cons
Verdict
This box comes fully adjustable and automated, so all you need to do is plug it, program it, and start growing immediately! It's a very pricey option, but you get what you pay for: An absolute powerhouse of a grow box that will produce beautiful plants for years to come.
Features
Comes with nutrients and a pH tester kit
Holds between 1-10 plants
Top feed drop
Hydroponic technologies
Odor control via a carbon filter
Pros
All-in-one design
Comes with free extras such as nutrients and pH tester kit
Completely fireproof design
Secure and lockable
Cons
Expensive
Some reviews state the unit produces too much heat
Verdict
This kit is especially great for beginners who need a little more help starting to grow. Still, it's an excellent option for advanced growers who just want an easygoing growing experience. It's a fantastic value for the price because it comes with pretty much everything you need. It's lockable for extra security, and it's fireproof (if that's something you're worried about!).
higher yield
without compromising too much on space. Best of all, it just looks like a sensibly small lockbox. The design and size contribute to how stealthy and discreet it is. Besides, it doesn't weigh too much, so you can install it easily!
Features
36″ by 20″ by 16.5″
Reflective internal walls
Comes with two bulbs (6500K growing and 2700K flowering bulbs)
2-year supply of moon dust
Flourawing lighting system
Extra features included (pots, starter plugs, and odor control)
Pros
Lifetime warranty
Comes with light bulbs for both growing and flowering
Comes with a 2-year supply of moon dust (nutrients)
Supreme odor control capabilities
Holds up to 9 plants
All-in-one grow box
Cons
Some reviews state it makes a lot of noise
Verdict
The Secret Garden is one of the best marijuana grow boxes on the market. Its small dimensions and appearance make it discreet, but its depth makes it able to hold more plants than many other boxes on this list and in the market. This box could be considered one of the best marijuana grow boxes out there.
Features
20″ by 15″ by 15″
Holds up to two plants
Hydroponic
Two fans (intake and exhaust)
150W grow light
Includes timer
Includes carbon filtration system
Pros
Very compact and subtle design for discreet growing
Carbon filtration system keeps the house odor-free
All-in-one design
Cons
Verdict
The Hellogrower grow box is small and stealthy, which is what you want when growing marijuana (even in places where it's legal!). The carbon filtration system allows no odors to escape, and the mylar lining keeps light inside. These features allow the plants to absorb 100% of the light and support their healthy growth. It's a fantastic buy for the price.
Features
Handmade
LED grow lights (150W equivalent)
Odor control included
Comes fully assembled
6 months of quality testing
Pros
Comes fully assembled for convenience
Backed by six months of testing by the manufacturer
Handmade design
Odor control to keep the house smelling clean
Lifetime warranty
Cons
Doesn't come with everything included (not all-in-one)
Verdict
The Cash Crop grow box is a fantastic buy for what you get. Assembly isn't required, so it's easy just to plug it in and start growing without having to worry about setup. The fact that it has six months of quality control testing proves that Cash Crop knows what they're doing and cares about the quality of their products.
Features
Mars LED lighting
Holds 4 large plants
6 feet tall
Comes with unlimited phone and email technical support
Pros
Looks like a storage cabinet
Top-quality LED lights
Spacious and roomy
Cons
Verdict
If you're willing to spend the money, the Growzilla hydroponic box is just about one of the best marijuana grow boxes out there. It's spacious, tall, and features some of the best LED lighting systems on the market. Better quality lights equal better quality plants, which makes the Growzilla absolutely worth the money.
Features
Reflective internal walls made of mylar
Exterior made of 0.8mm thick canvas
Heavy-duty metal zipper
Small observation window
Removable waterproof floor tray
Pros
Removable and waterproof floor tray
Interior tool organizer
Dual-layer ventilation opening
Cons
Does not come with everything included (not all-in-one)
Verdict
For the price, this grow box is excellent. Although it doesn't come with everything you'll need, the user reviews state that the VIVOSUN box is huge and made with high-quality materials. Plus, the floor tray is a wonderful addition for beginners (in case of any spills or accidents). When compared with other brands, VIVOSUN is one of the highest quality brands, and this is one of the best marijuana grow boxes on the market for sure.
Features
48″ by 18″ by 12.5″
Carbon filtration system
Light cover
Fan holes and fans included
Light leak prevention
Extra features included (odor elimination kit, pumps, bubblers, timers)
Comes with 300W grow light
Pros
Comes with pretty much everything you need
Respectable manufacturer with a fast response rate
Carbon filtration and odor elimination kit
The tall height allows for more plants
Free shipping
Cons
Very heavy
No built-in thermometer
Verdict
The Yield Machine delivers excellent value for what you receive in this massive kit. With everything you need and more, including the odor elimination kit in case of accidental odor release, the Yield Machine kit is in the running for the best marijuana grow box.
Features
Light-proof mylar lining (99% reflective)
Metal poles and connectors
Viewing window that blocks out white light
Removable, water-resistant tray
Pros
Comes in multiple sizes for customizable growing
Easy assembly
Affordable
Window blocks out white light to keep plants protected
Cons
Not as discreet as other options
Verdict
For those looking for a grow box that won't cost them an arm and a leg, this is the best marijuana grow box on the market. It's affordable without looking cheap and comes in multiple sizes so you can choose how many plants to grow in it. The best thing is, it's small enough to be discreet in any home.
What to Look for When Buying the Best Marijuana Grow Box – Buyer's Guide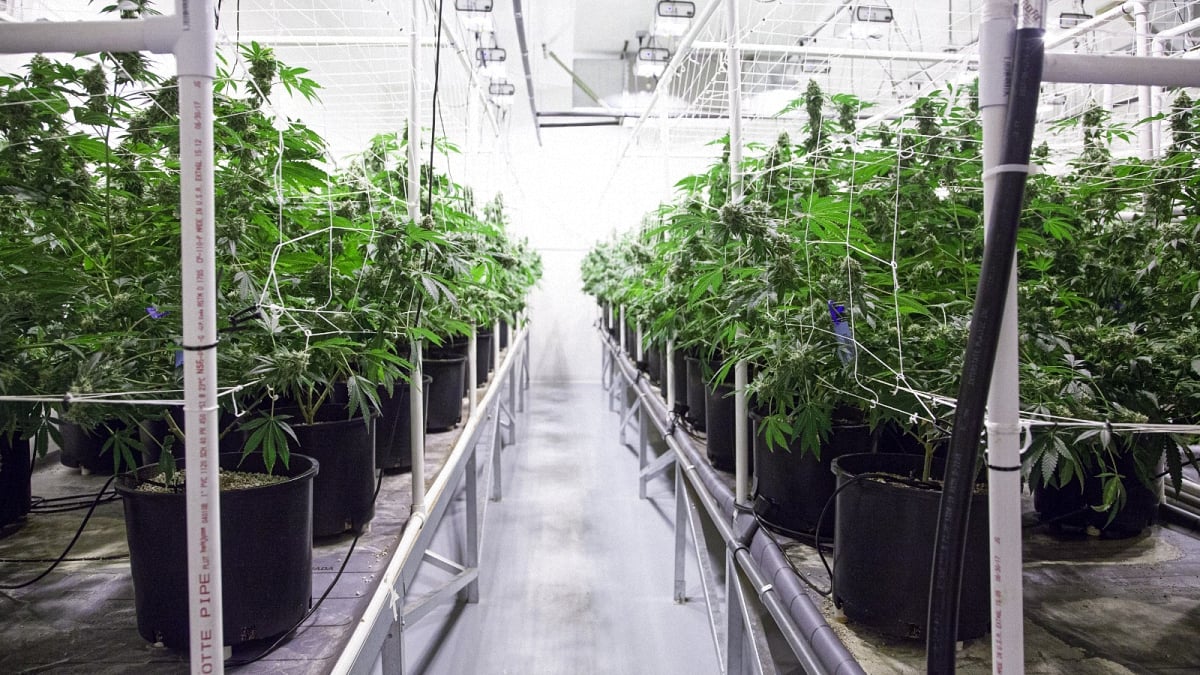 Like we've said, finding the perfect marijuana grow box can be a difficult task. With so many grow boxes on the market, endless options and customizations are possible. It's helpful to have a list of things to look for when purchasing, so the choices don't overwhelm you. It's also beneficial to have a list of other models to compare options. This buyers guide will help you know what to look for when purchasing a grow box!
Material
The best marijuana grow boxes will consist of wood. As a material, wood provides maximum insulation and sturdiness for the grow box. However, more inexpensive grow boxes will consist of a tenting material such as canvas. With either material, it matters that you consider the environment in which the plant will be growing. If it is going to be in an environment that gets a lot of activity, a wooden grow box will be optimal. If it is in a quiet environment that doesn't get a lot of foot traffic, a grow tent made of canvas material will probably be fine.
Also, remember that the interior should have a reflective foil or mylar interior so you may get maximum light usage. The LEDs or other lights will reflect off of these and keep the light contained within the grow box, which allows the plants to receive the maximum amount of light. Don't purchase a grow box that doesn't have this reflective inner lining. It should come standard, but always make sure!
Ventilation
Ventilation is critical in a growing room or box. With ventilation, you have better temperature control and fresh air supply. Fresh air will help the plants breathe, and it can help regulate the humidity. You want to minimize the humidity to reduce the risk of mold. If there are any issues with air during the growing process, the plants could be defective or even die. There should be a hole for incoming air about twice the size of the hole for outgoing air. Ensure that there is, at minimum, a passive filter for the intake air. This way, there is no way for mold to grow or insects to go into the box.
Some grow box kits will come with a carbon filtration system as well, which minimizes odor and pollutants. Carbon filters are porous, which means any contaminants or debris floating in the air will get caught in the filter and stay out of your grow box. The filer in grow tents and boxes are usually natural and contain no chemicals. Instead, they use only natural carbon, so you don't have to worry about poisoning or harming your plants. You can also find replacement carbon filters easily online or through the original manufacturer, in case you run out.
Grow Lights
Marijuana plants need light to photosynthesize, but they also need darkness. Ensure the grow box comes with grow lights so that you may establish a day and night cycle.
The type of lighting will vary, but make sure to purchase a grow box that has either LED (light-emitting diode) or HPS (high-pressure sodium) lights. LED lights do not get hot and have a longer lifespan, but they can be more expensive. HPS lights get hotter and may increase humidity, but are cheaper. To maximize the functionality of the lights, look for a grow box or tent that contains reflective internal walls or foil.
Remember, as said before, the inner lining needs to have a reflective surface such as foil or mylar. Also, if the lights came with a kit, scrutinize them carefully before installing them. If they came damaged or look questionable, contact the seller, and they should replace the bulbs. Don't try to use any other kind of bulb other than that specified in the manual or product description. Otherwise, you may have a situation where the mounts for the bulbs do not match.
Odor Control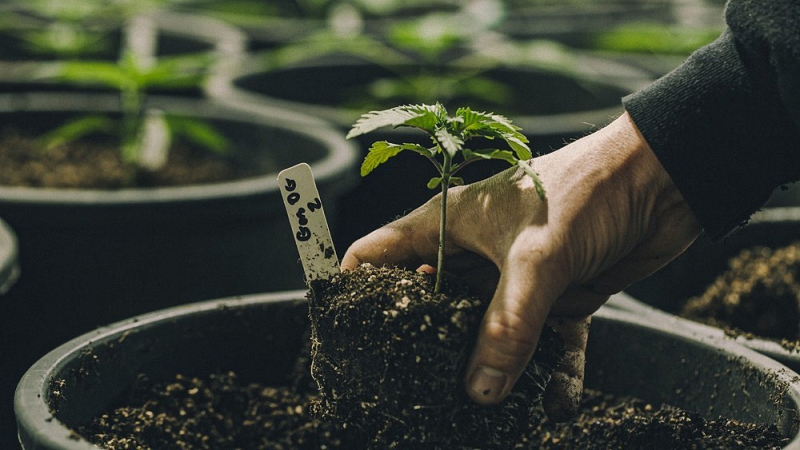 The smell is inevitable when growing marijuana. However, the best cannabis grow boxes will have some sort of smell-proofing to prevent this from happening. In combination with adequate ventilation and fans, the smell-proofing will keep the cannabis grow box discreet while keeping the plants protected and healthy. When purchasing a grow box, check to see if there are any odor control features included, such as filters to disguise the smell.
As said before, carbon filters are the best option when purchasing a grow box. These filters ensure the smell of marijuana (or other plants, depending on what you're cultivating) stays within the growing environment. It's a significant benefit if the grow kit includes a carbon filtering system.
Other Special Features
Look for a grow box that contains other special features, such as timers, pH adjusters, bubblers, extra potting soil, locking capabilities, pumps, and warranties. The grow boxes with many features such as these will, unfortunately, be more expensive, which is inevitable. However, they'll enhance your growing experience and result in higher quality plants.
pH Control: The best marijuana grow boxes will include a pH adjuster. As well, you can use a pH control kit, which will work in hydroponic environments for both soil and non-soil plants. They adjust the water or soil if it's too acidic or basic.
Timer: A timer, whether it's integrated into the box or removable, will let you know when it's time to water, change the lighting, or check on the plants. They're often programmable and combined with a self-watering and lighting system, so if you're not home when it's time to water the plants or turn off the light, a timer can ensure automation of these tasks.
Locks: The best marijuana grow boxes will include locks. These are likely going to be more expensive, but it's a must in places where you don't want anyone getting into your plants. Whether you have kids, curious animals, or nosy neighbors, a lockable box is just what you need.
Extra Nutrients: These can come with some grow kits to assist in the growing process. The additional nutrients often go along with the pH tester kit to accommodate poor soil or water.
Warranty: A necessity for even inexpensive grow boxes. Grow boxes are an investment, and they need to be able to sustain life. They protect against accidents, such as a zipper breaking or a light bulb shattering. For such scenarios, the warranty is there to replace any parts and keep you satisfied with your purchase. The best marijuana grow boxes will have a warranty between 3 years and a lifetime.
Final Thoughts
There is a lot to take in when it comes to purchasing a marijuana grow box, from factors like price to environment control, ventilation, and lighting. Some grow boxes sell as kits, with additional products such as nutrients, extra lights, carbon filters, and the like. Others are cheaper and just sell as the box itself, so you can purchase everything you want individually for more customization.
Either way, we can determine that having a grow box is one of the best things you can do when growing marijuana, so you may have complete control over the growing environment.
The benefits of using a grow box are apparent. It not only hides your plants from unwanted prying eyes, but it usually comes with almost everything you need to begin. The best marijuana grow box will be adjustable, and if you can swing it, programmable and even capable of automation. The boxes are also much more discreet than tents due to their outward appearance and insulation. With some boxes, you could even leave them out in the living room, and nobody would be the wiser!
A box with odor-proofing will not have the risk of leaking smells like a tent will, and it's much more secure when it looks like a simple lockbox than something in which you're growing marijuana. When you're in charge of every aspect of your growing experience, you can produce the plants of which you've been dreaming.
When purchasing a marijuana grow box, keep everything in this buyer's guide in mind, and you'll have no problem finding the best marijuana grow box. We hope our buyer's guide and reviews have given you a new point of view for purchasing a grow box to grow marijuana at home!