Anyone who's reading this review probably knows the difference between pot and CBD.
They're each derived from a variety of the cannabis plant, but cannabidiol (the full name for CBD) is extracted from the hemp plant rather than the marijuana plant. It doesn't get you high, because hemp contains very little psychoactive THC. CBD only delivers medicinal and health benefits.
What's important to highlight when discussing Mary's Medicinals products, however, isn't the difference between weed and CBD. It's their similarity.
They're sourced from types of cannabis plants, so the knowledge gained by cultivating pot can be put to excellent use when cultivating hemp for the production of CBD.
And when Mary's Medicinals launched Mary's Nutritionals, the CBD arm of its business, its staff included a number of cannabis experts already skilled in the company's medical marijuana operation. The company quickly earned praise for its therapeutic CBD topical products – and has continued to grow ever since.
Transdermal patches and gels are still prominently featured on the company's product menu, but that's far from the only category of cannabidiol available from Mary's Nutritionals.
Let's dig into the details of this CBD producer.
Mary's Medicinals: The Background
We've already touched on one of the elements that define the company's approach: expertise. Ever since the founding of Mary's Medicinals in 2013 and Mary's Nutritionals in 2015, the firms have relied on cannabis specialists, scientists, and botanists to help shape their farming and manufacturing techniques, as well as product development.
Among those experts: in-house chemists who are deeply involved in both research and design efforts, and continual testing of products as they move through the production process. That R&D work has paid off not only in the creation of popular products but a number of awards from the cannabis industry including "Invention of the Year," "Best New Product," "Best Transdermal" and "Most Valuable Brand."
One big reason for the success is the commitment of Mary's Medicinals to technology. It was one of the first companies in the nation to use in-house Ultra-High Performance Liquid Chromatography testing equipment to ensure the highest quality possible. It has been at the forefront of developing a new and more effective growing and extraction methods. And it was also among the first to isolate and market another powerful cannabinoid extracted from hemp, CBN.
Co-founder Lynn Honderd has been a driving force in the qualitative and commercial success of the company, and also runs Mary's Foundation for Caring, a foundation devoted to patient outreach and education on the benefits of medical cannabis, cannabidiol, and other plant-based medications. The company also works closely with a number of other groups dedicated to the wellness of cannabis patients.
All of those factors underscore the honest desire of Mary's Medicinals and Mary's Nutritionals to provide high-quality medical marijuana and CBD products, with a dedication to improving the lives of patients and customers. And while the company still sells a wealth of weed-based products (not available online, of course), its CBD business is impressive all by itself.
Mary's receives very high grades in this department.
Mary's Medicinals: The Approach
For this section and the following ones, we'll be focusing on Mary's Nutritionals, the arm of Mary's Medicinals that produces and sells CBD products. The approach the company takes in developing and selling its medical marijuana is actually quite similar, but not completely germane to our discussion of CBD.
The hemp from which Mary's cannabidiol is extracted is grown organically on Colorado farms owned by Elite Botanicals, That operation has partnered with Mary's Medicinals and several other major CBD producers to be their exclusive hemp supplier.
Unfortunately, the company doesn't disclose the extraction method it uses, saying only that it uses the highest quality and standards. Elite Botanicals uses organic alcohol extraction, a process we don't think is optimal, but we can't tell whether that's also used for Mary's Nutritionals products.
We'd normally look for assurance that supercritical or standard CO2 extraction is used because they're processes which do the best job of preserving the cannabidiol's effectiveness. We'd also be concerned about the non-disclosure policy. Everything else about the company, however, makes us fairly comfortable going on faith in this area.
All of Mary's Nutritionals' CBD products contain full-spectrum cannabidiol, meaning it contains a minuscule amount of THC (less than 0.3%) plus all other naturally-occurring cannabinoids, terpenes, and flavonoids. Those ingredients combine for the entourage effect that boosts the power of CBD, making full-spectrum the most effective choice.
The carrier oil used in products that require one is sweet almond oil, which isn't as efficient as MCT oils (like coconut oil) but still a decent choice that nicely covers the raw natural taste of hemp. Almost all of the ingredients used in Mary's Nutritional CBD products are natural.
One final sign that Mary's is in the vanguard of cannabis and wellness: it also produces lines featuring other medicinally-powerful cannabinoids like CBN and CBG – although they're not available for sale online since they also contain THC levels that are higher than legally allowed for products derived strictly from hemp.
The news isn't 100% positive, since the company does use some synthetic ingredients in a number of its topical and wellness products; its oil and capsules are completely natural, though. Additionally, no third-party test results are supplied with Mary's Medicinals products; the reports all come from the company's in-house testing.
Mary's doesn't get an A for its approach to producing CBD products, but it comes pretty close.
Mary's Medicinals CBD Topicals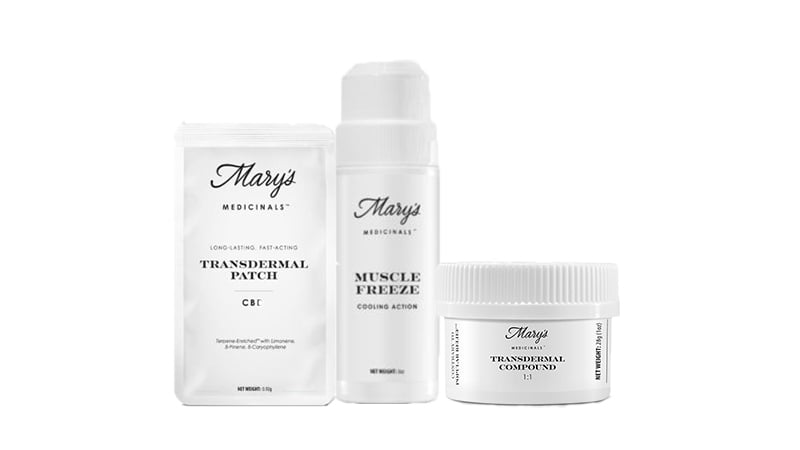 Just a reminder: all of the products reviewed here are actually sold by Mary's Nutritionals, the CBD arm of Mary's Medicinals.
The company first made its mark with groundbreaking cannabis transdermal cannabis patches and gels. And when it got into the cannabidiol market, it was the first to produce CBD patches and gels. They were just as highly-praised for their effectiveness then, and remain the gold standard in today's market.
It's important to understand that all topical CBD products are generally effective only for surface pain, particularly muscle and joint aches and pains. Cannabidiol is unable to penetrate the epidermis, so these patches aren't intended to treat full-body issues. We'll look at CBD products that can easily reach the bloodstream shortly.
The Mary's Nutritionals Elite transdermal patch delivers 10 milligrams of full-spectrum cannabidiol, which is gradually delivered through the skin for a period of 12 hours. It takes a while for the CBD to take effect, so the patches also contain eucalyptus for an immediate cooling effect on the affected area.
Additional ingredients in the transdermal patches are anti-inflammatory oleic acid, sunflower lecithin, and propylene glycol (a synthetic product) to help with the distribution of the cannabidiol, and added terpenes to theoretically increase the entourage effect. Acrylic adhesive is used to hold the patch onto the skin. Quite simply, the patches are terrific.
The other landmark product developed by Mary's Medicinals is a gel pen that directly applies cannabis gel to the skin; Mary's Nutritionals produces the same product for the application of topical CBD. There are 50 two-milligram doses in each gel pen, a convenient way to carry and administer cannabidiol. It works pretty well, but not as well as the patch.
Menthol and basil are added to the formulation to cool the skin and smell nice, and it also contains added terpenes. A potential issue, though, is that isopropyl myristate is added as an emollient, and it has been shown to cause irritation or inflammation in about 5% of patients. Discontinue use of this product if you see these possible side effects.
Mary's Nutritionals offers several other topical products as well.
Elite Transdermal Compound is a topical pain relief cream that contains menthol and a number of essential oils and mango butter for skincare benefits. It also has isopropyl myristate in the mix.
Muscle Freeze includes the same cooling ingredients as the compound, with added camphor. Also in the formulation is a different combination of essential oils, herbal extracts, parabens-free skincare additives – and isopropyl myristate plus another possible irritant, Laureth-3-dimethicone. Again, watch for possible irritation or inflammation with use.
Burn Out Topical Mist is a CBD spray with all-natural ingredients, better used for skin hydration than pain relief since not much CBD actually makes it into the skin's endocannabinoid receptors.
A quick summary: the transdermal patches are great, the gel pen is good and also convenient, but the other products aren't quite as impressive.
Mary's Medicinals CBD Oil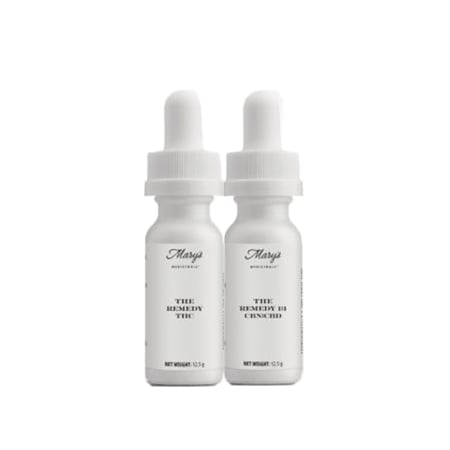 The company calls its CBD oil "Remedy Tincture." But it shouldn't be confused with its "Remedy 1:1" oil which contains bountiful amounts of THC, or its Remedy CBN: CBD oil which also contains the cannabinoid CBN. Both of those are only sold at stores, not online.
The Remedy CBD oil is a blend of full-spectrum cannabidiol, sweet almond oil as the carrier oil, cinnamon oil for its anti-bacterial properties and flavor, and myrrh for its anti-bacterial and antioxidant properties. It's quite unusual to see those types of ingredients added to CBD oil, which usually only contains cannabidiol, carrier oil, and perhaps a natural flavoring agent.
The all-natural oil works well, though, and the dosing instructions make it easier to figure out how much to take: each drop contains two milligrams of CBD.
Mary's Medicinals Other CBD Products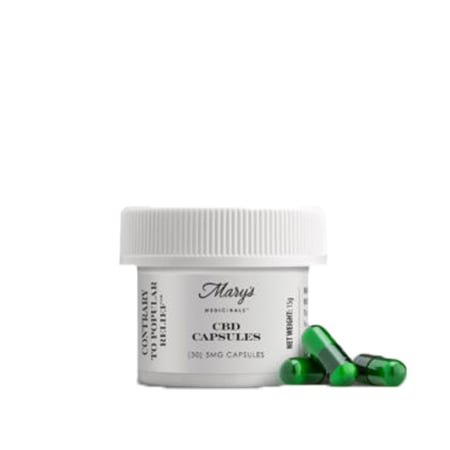 If you're already having trouble keeping Mary's Medicinals and Mary's Nutritionals straight, we have bad news. The CBD skincare products sold by the company are actually sold under a third brand name, Mary's Method. It's all the same company, though, with the same approach to cannabidiol and the products manufactured from it.
These products include body scrub, hydrating serum, face moisturizer, restorative eye cream, nourishing body serum, and mud mask; all contain CBD as well as a number of other ingredients to support specific skincare goals. They're all good performers but many do contain synthetic ingredients and should be considered primarily for skincare purposes rather CBD administration.
Ready for more confusion? The pet products sold by the company are marketed under a fourth brand, Mary's Tails. They include CBD oil (not only with bacon flavor, but a more effective carrier oil than the human CBD oil), CBD capsules, plus transdermal gel pens and moisturizing balm. All are completely natural and safe for pets.
Mary's Medicinals: The Verdict
We have mixed feelings about Mary's Medicinals (and Nutritionals, and Method, and Tails) – aside from the difficulty we had keeping the brand names straight, and navigating the company's websites to find its CBD products online.
There's no question that Mary's makes a full effort to properly research, design, and develop its products, and to manufacture high-quality CBD lines. We trust their approach, and most of their core products have shown great results.
We just wonder why they can't take the extra step to provide third-party testing and be more transparent about their production methods, as almost all of their high-end competitors do.
That leaves us very enthusiastic about their core product, the transdermal patch, which has proven to be a great choice for those suffering from the aches and pains of arthritis and other joint and muscle problems. We're a little less enthusiastic about their oil (why can't they make a version without added ingredients?) and the rest of the CBD-infused products they sell.
With the exception of Mary's Nutritionals' terrific transdermal patches, we'd probably describe our overall verdict as "quite good, with an asterisk."