There's no reason a millennial should automatically be turned down for a job in favor of an applicant with 40 years in the business.
In the same way, there's nothing inherently wrong with a CBD producer who has only recently gotten into the industry. A new company is certainly able to source the best hemp, and use the best manufacturing practices, to create outstanding cannabidiol products. (CBD's full name is cannabidiol.)
But just as you'd want to get to know a less-experienced job applicant before putting your trust in her, you should want to know as much as possible about a relatively-new CBD company before putting its products into your body.
Meet the company that calls itself JustCBD.
With only a couple of years under its belt, JustCBD sells a huge range of cannabidiol products: CBD oil, capsules, edibles, vape juice, edibles, and topicals. It's not one of the companies that's "well known" in the CBD industry, and its online presence is limited to its own website.
That could describe a newer vendor owned by experienced and reputable enthusiasts who jumped into the business after CBD was legalized a few years ago. It could also describe many of the people who began reselling low-quality cannabidiol to make some quick profits.
Which describes JustCBD? Let's find out.
JustCBD: The Background
This company talks the talk. "Cannabidiol is Mother Nature's secret miracle," they say. "JustCBD is made with industry-leading quality, honesty, and love," they say." "We believe you have the right to know what is inside your CBD products," they say.
Sounds great. But before we get to what's inside the products, we'd really like to know who's making them. On that subject, sadly, JustCBD has very little to say other than the fact that they were founded in 2017. In fact, the company doesn't disclose its owners, their history, or their experience.
Their website says that they're based in Florida with another office in London, and we were able to figure out that they're really owned by another company called JustBrands USA. We discovered that in several lawsuits filed against the firm; one claims that CBD advertised as THC-free did contain THC (and led to a failed drug test), another claims that JustCBD products contain much less CBD than advertised, and a third plaintiff claims that the company's CBD vape juice made her sick.
The company is fighting those suits and none of them has been resolved, so we don't know if any have any merit. However, we are concerned that the only way we could learn anything at all about who's behind JustCBD was by finding public records of outstanding lawsuits.
To repeat: that doesn't mean JustCBD's products aren't made well and aren't effective. It's not a good start, though.
JustCBD: The Approach
Unfortunately, JustCBD's lack of transparency continues. We tried to unearth the details of exactly how the company manufactures its CBD products but kept running into roadblocks or vague descriptions.
Let's start with hemp. JustCBD doesn't come out and say that they source their cannabidiol from organically-grown hemp, but they do say that their CBD oil is completely organic. That would lead us to believe they use organic hemp, but it would be nice if they actually said so; most producers who source from organic growers not only mention that fact but brag about it. If you dig deep enough into product descriptions you can find that the hemp is farmed in America, but it shouldn't be that difficult to find out.
The next important question is how JustCBD extracts cannabidiol from hemp because that has major implications for the CBD's potency – and its safety. For example, supercritical CO2 extraction is widely viewed as the method that preserves most of CBD's effectiveness, while extraction with hydrocarbons can leave toxic material in the cannabidiol. What does JustCBD tell us about their process? "A complex process is used to extract cannabidiol from the plant." Quite simply, that's not what we're looking for.
We've since learned that the company apparently uses the standard CO2 method of extraction. That's not the best choice, but it's not bad. Our question: why don't they just say so?
JustCBD says that some of its products contain full-spectrum CBD, with all of the hemp's other cannabinoids, terpenes, and flavonoids left in the cannabidiol in order to provide the "entourage effect" that boosts CBD's effectiveness. It says that other products contain CBD isolate, which has had all the other components removed. That process prevents any chance of a negative drug test because it eliminates the trace amount of THC naturally present in hemp.
Full-spectrum CBD is more effective, but so far, so good – giving people the right to choose is a good thing. Here's the problem. When you shop on their website, the descriptions usually don't tell you whether a product contains full-spectrum CBD or isolate. It's difficult to make a choice when you don't have the information needed to do it.
Here's the good news: JustCBD doesn't use synthetic chemicals in its products, and almost all of its ingredients are natural. It uses MCT coconut oil (the best choice) or hempseed oil (second-best) as a carrier oil in some of the products that require it, although it also uses less-desirable vegetable glycerin in others.
The company certainly has a huge and interesting product line. And most of these products seem to work pretty well, at reasonable prices.
With all that said, we're just not 100% comfortable with an approach that doesn't include full transparency.
JustCBD Oils

JustCBD sells two lines of CBD oils (or tinctures, as they call them).
The first contains unflavored full-spectrum cannabidiol and vegetable glycerin, and nothing else. We admire the simplicity of the product, although MCT oil would have been a better carrier. There are six potencies to choose from, ranging from 1.6mg/ml all the way up to 50mg/ml. That's a nice range of choices. (We had to compute the numbers ourselves because the company doesn't provide them.)
The second line of CBD oil is apparently made with CBD isolate. We don't know that for a fact, but since the other product line is labeled "full-spectrum" and this one isn't, we're guessing that this one contains isolate. (Full transparency would be nice.) The potency options are the same as we've already mentioned, but there's the option of either MCT coconut oil or hempseed oil as a carrier. Coconut oil does take the edge off the natural taste of hemp.
JustCBD Capsules

There are four varieties of JustCBD's capsules, each containing 25mg of cannabidiol (we have no idea if it's full-spectrum or CBD isolate) and MCT oil, plus different assortments of additives aimed at easing different health or medical issues.
The "Ease Discomfort" formula includes lavender, arnica, and rosemary; the "Energy" formula contains a number of vitamins (but surprisingly, no caffeine); the "Multivitamin" formula adds a different assortment of vitamins to the mix, and the "Nighttime" formula includes a healthy dose of melatonin. We can tell you that all of the capsules are made from gelatin and that they're "laboratory tested," but unfortunately JustCBD doesn't say whether or not they're vegan.
JustCBD Edibles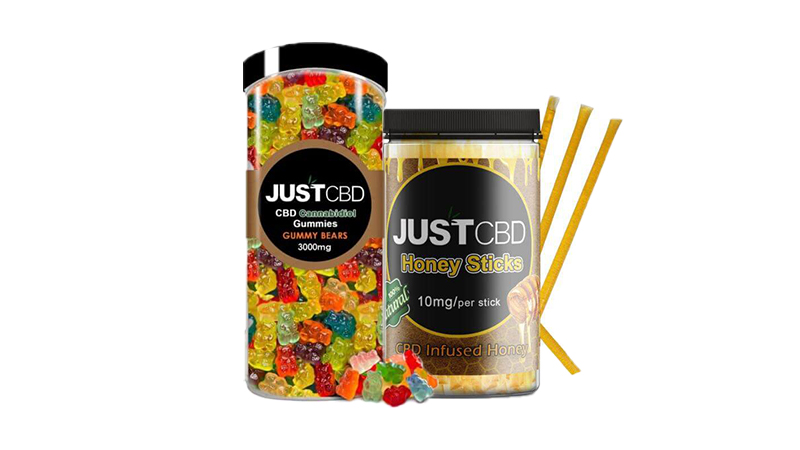 The company produces a nice assortment of edibles.
Cocoa Quinoa Bites are quite tasty but loaded with calories, fat, and carbs along with their cannabidiol. (We believe it's CBD isolate.) There's a good selection of gummies (including strawberry-champagne vegan gummy bears) that are made from CBD isolate, available in assorted colors and shapes, and with really delicious flavors; they range in potency from 8mg to 25mg of CBD apiece. And JustCBD's Honey Sticks combine 10mg of CBD isolate with all-natural honey – but also with artificial colors and flavorings.
There are two other products which we aren't sure how to categorize. The first is coconut oil infused with CBD. (Isolate? Probably.) The company says it can be used as a cooking or baking ingredient, as a tasty snack by the spoonful, as a massage oil or moisturizer. We don't see why it couldn't. The second is 99% pure CBD isolate which can be used while cooking or mixed directly into beverages or food.
JustCBD Vape Products

You've probably guessed that we have no idea whether JustCBD's vape juice is made with full-spectrum cannabidiol or CBD isolate, so we won't bother saying it. We will say, though, that there's a nice choice of flavors, and the juice contains natural and artificial flavorings as well as both PG (propylene glycol) and VG (vegetable glycerin) – vape aficionados will know what that means.
There's a good selection of potencies, and the flavors run from ones that regular pot smokers will recognize (Blue Dream, Pineapple Express, Cookies) to more traditional ones like Mango Ice and Pumpkin Spice. You can also purchase pre-filled vape cartridges that fit into branded vape pens.
JustCBD Topicals

OK, this time we won't even mention the full-spectrum/isolate question – just use your imagination.
The topical CBD products offered by JustCBD include three different potencies of pain cream, a different roll-on "pain freeze" CBD product (which contains menthol for an immediate cooling effect), "ultra relief" gel (also with menthol as well as rosemary), body lotion, massage oil, and an SPF 30 CBD sunscreen.
JustCBD for Pets
JustCBD also manufactures CBD oil or pet treats for your best friend. The oils are available in strengths of 3mg/ml, 8mg/ml, and 16mg/ml; that's a good range since small pets won't need (or be able to handle) higher doses like 16 mg/ml. The oils are produced in bacon, salmon, beef, chicken, and tuna flavors, and as for the flavorings – repeat after us – the company doesn't say whether they're natural or artificial.
JustCBD dog treats each contains 10mg of CBD and is sold as steak bites, liver meatballs, chicken biscuits, and chicken meatballs. The cat treats are sold in two different assortments of mixed flavors and aren't labeled with potency, but they appear to be nowhere as strong as the dog treats.
JustCBD: The Verdict
If you've been following along, you can probably guess how we feel about JustCBD. The key to earning trust in the CBD industry is transparency – and while this company offers a great selection of products and potencies, transparency is one thing it doesn't really offer.
Many of the products seem to work well, but we prefer to know exactly what we're consuming when using CBD. Even if you can figure out some of the details by poring over the JustCBD website or product labels, that's really no way to do business in our opinion.
There are many providers that follow best practices while also being transparent about what they sell, and who they are. We'd suggest looking elsewhere.