Enjoying the medicinal and recreational benefits of marijuana is increasingly becoming a common pastime. Growing your own plant, however, is a whole new experience. If you are ready to start growing your first ever Indica strain, you will need to know the facts.
Each strain has different properties and features. They differ in terms of physical properties like smell, color, size, and shape. They also differ in terms of how easy they are to grow. The difficulty level depends on the climate in which they thrive and the resistance of the plant to diseases.
Beginner growers will want to find a strain that fits their time, money investment, and is also manageable for their skill level. An expert grower can find a more challenging Indica strain that leads to a more impressive yield and higher quality bud.
Whatever your experience level may be, there are dozens of high-quality Indica strains that are perfect for growing yourself. From the 1970s to today, there are always new strains and types coming out that diversify the growing and consuming experience. Use these product reviews and buyers guide to help you expand your knowledge of the best Indica strains and grow the highest quality plant.
Here are some of the best Indica and Indica-dominant strains out there right now.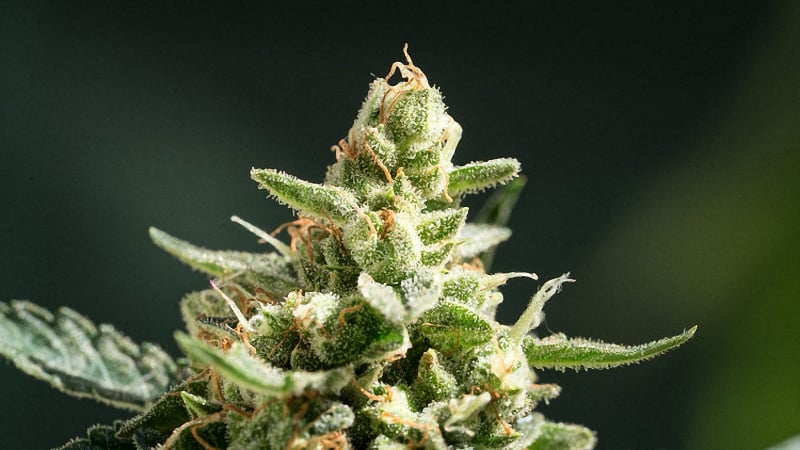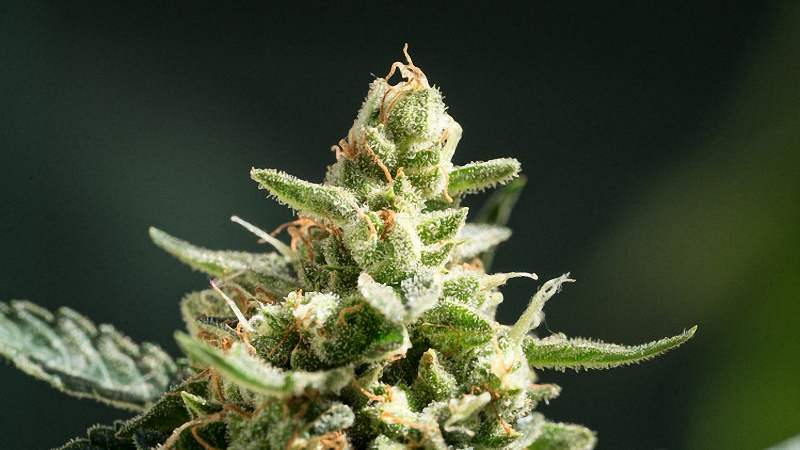 This Indica strain is known for its characteristic sweet/sour smell and flavor. Compared to other typical Indica plants, Northern Lights tends to be on the larger side. It grows quickly (as little as eight weeks flowering time) into a dark green Indica plant with highly resinous buds.
Features
THC: Up to 18%
CBD: <1%
Buds: Resinous
Smell: Sweet and spicy
Flavor: Earthy, skunky
Flowering time: 45-50 days (8 weeks)
Ideal growth conditions: Outdoors in a warm and sunny climate
Effects: euphoric, relaxed, sleepy, uplifted, happy
Pros
Famous flavor and smell are a much-lauded experience
Short flowering time makes it easy to grow these quickly
Abundant yield
Con
Grows more substantially than other Indica strains, making it more challenging to store indoors
Verdict
This famous strain combines sweet and spicy for a wholly unique flavor and aroma. Topping the list of the best Indica strains, Northern Lights is an ideal choice for those who are looking for a highly potent strain. The resinous buds and the hearty helping of THC work together to produce an intense, euphoric experience.
This sweet and flavorful strain is 75% Indica, making for mellow and manageable sedation. It was created by genetically combining OG Kush and Strawberry Cough. This plant (the seed) is only available through the use of cloning. It grows into a compact plant with dense, green buds, and it flowers in as little as 8-9 weeks. With a euphoric and energized effect, it is ideal for daytime use to mellow you out before being productive.
Features
THC: 15-17% (sometimes closer to 19% if grown effectively)
CBD: <1%
Buds: Dense
Smell: Strawberry, sandalwood, pine, citrus
Flavor: Strawberry, spicy, herbal
Flowering time: 60-67 days (8-9 weeks)
Ideal growth conditions: Outdoor/indoor with SOG growing methods and temperate climate
Effects: Energizing, euphoric, happy, relaxed
Pros
An easy plant for beginner growers
The plant tends to be compact, making it the perfect size for indoor or outdoor growth
Con
Slightly longer flowering time than other strains
Verdict
Strawberry Kush is deliciously sweet and flavorful with notes of strawberry, sandalwood, and even citrus. It is a great plant to start with as a beginner grower due to its compact size. It also thrives in many climates and locations. Its massive yield per volume ratio makes it appealing to growers of all experience levels.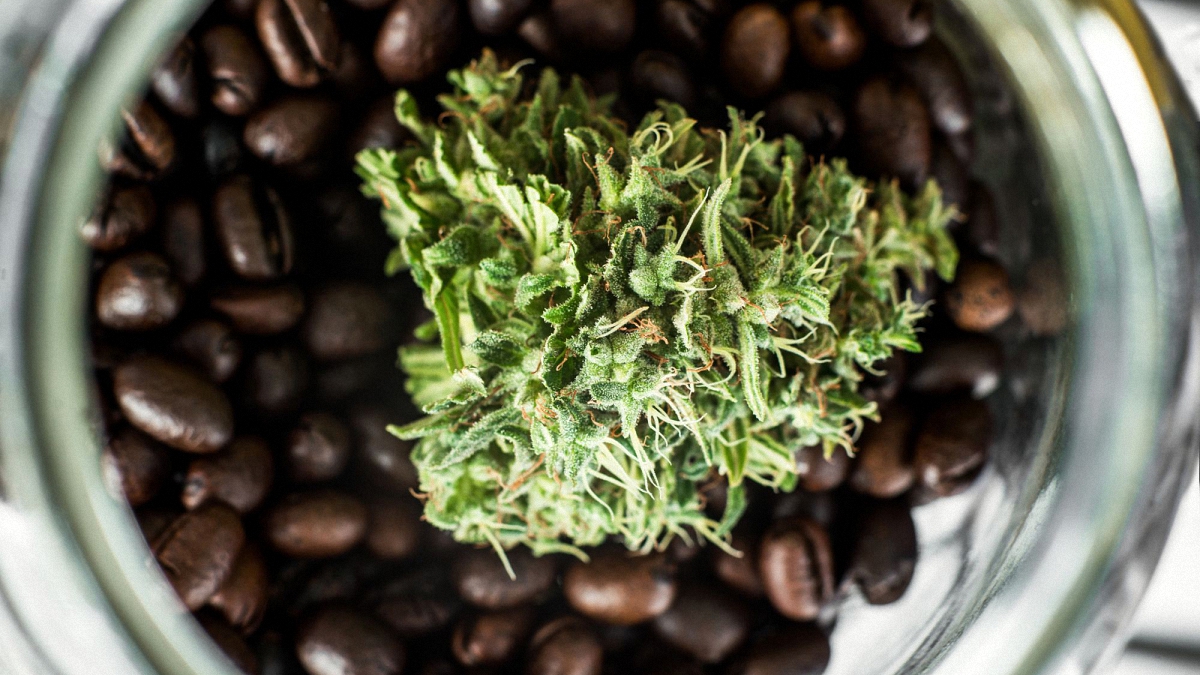 OG Kush is shrouded in mystery with myriad rumors surrounding its origins. Whether OG stands for "Ocean Grown," "OverGrown.com," or "Original Gangster," the debate is still ongoing. One thing OG Kush fans can agree on is that this plant is the bee's knees. The strain is highly popular for its ties as a descendant of the famous Chemdawg strain. It is 75% Indica, making it ideal for the treatment of insomnia, restlessness, and lack of appetite.
Features
THC: 19%
CBD: <1%
Buds: Sticky
Smell: Pine, spicy, herbal, lemon
Flavor: Earthy, spice, wood, lemon
Flowering time: 8 weeks
Ideal growth conditions: Indoor, sunny, tropical climate, protected from bugs and diseases
Effects: Euphoric, hungry, happy, relaxed
Pro
Grows compact, making it easy to grow indoors
Con
Easily weakened by bugs and diseases, making it difficult to protect
Verdict
This strain is highly popular among both recreational and medicinal marijuana users. Widespread popularity makes it a great choice to grow. Its fast flowering time and compact size make the process smoother than other plants. With 19% THC and sticky buds, OG Kush is potent as well, making for a well-rounded Indica strain.

This popular strain is one of a handful of 100% pure Indicas on this list of the best Indica strains. It typically grows into a compact, dense plant. It is heavily sedative and primarily used for sleeping and relaxing.
Features
THC: Up to 18%
CBD: <1%
Buds: Sticky, dense
Smell: Sandalwood, pungent, earthy
Flavor: Lemon, sweet, creamy
Flowering time: 6-8 weeks
Ideal growth conditions: Indoors, dry and warm, ideally with SOG technique
Effects: Heavy sedation, sleepy, uplifting, euphoric, hunger
Pro
Incredibly fast flowering time means speedier turnaround for this strain.
Con
Difficult to sustain growth outdoors.
Verdict
With origins in the mountains of Pakistan and Afghanistan, Hindu Kush is a vigorous plant that can withstand many weather conditions. It is excellent for indoor gardeners who can keep a dry climate for its ideal growth. With proper nutrients and conditions, this plant dependably grows and flowers healthily, providing more than a modest supply of buds.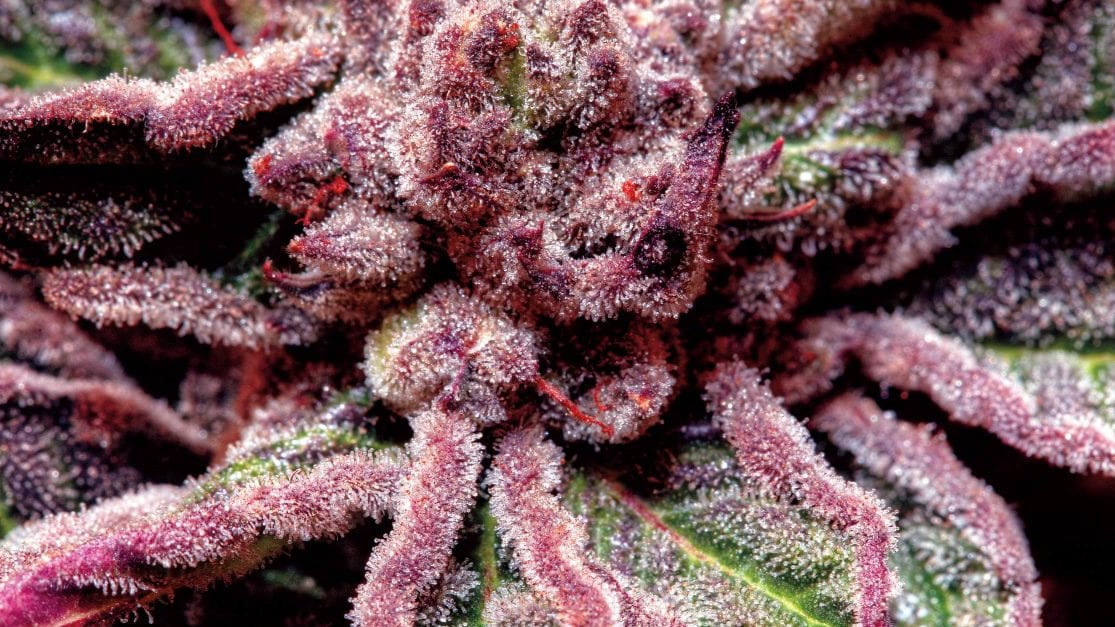 Like Hindu Kush, Purple Kush is 100% Indica. This famous strain from Oakland, CA, is the beautiful love-child of Hindu Kush and Purple Afghani. It grows dark, lush purple leaves coated with terpenes. Its distinctive peppery taste makes it a favorite among frequent users.
Features
THC: 22%
CBD: <1%
Buds: Dense
Smell: Grapes
Flavor: Pepper
Flowering time: 8 weeks
Ideal growth conditions: Outdoors (though it does fine indoors as well), frequently pruned and watered, 65-75 degrees
Effects: Euphoric, cerebral uplift, happy, sleepy, hunger
Pros
Heavily resistant to powdery mildew, making it easy to grow healthily
Compact and suitable for indoor or outdoor growth
High THC content
Con
Requires frequent watering, making it time-consuming to maintain.
Verdict
This plant is great for beginner growers due to its compatibility with both indoor and outdoor conditions. It is also ideal due to its resistance to powdery mildew, a frequent enemy of healthy marijuana plants. Anyone who has the time to dedicate to constant watering and pruning can do well with this strain.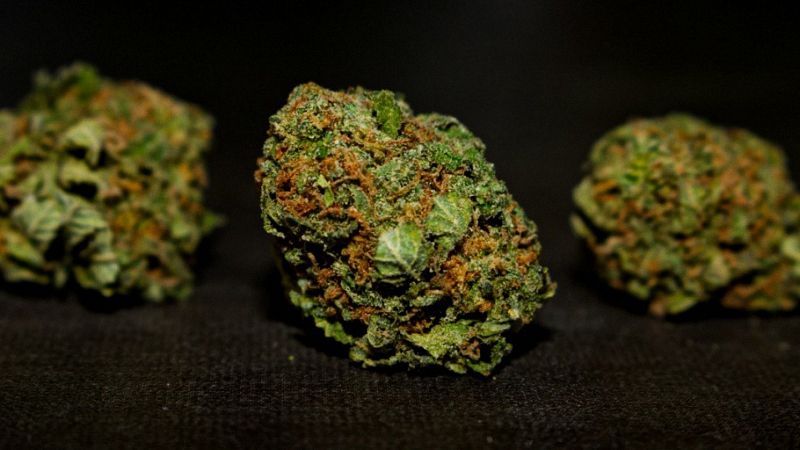 Another 100% Indica strain hits our list. Bubba Kush boasts high THC content, just like Purple Kush. In some cases, this 100% Indica strain can be closer to 90% Indica and 10% Sativa, but it still primarily derives its effects from the Indica variety. Its origins are ambiguous with ancestor contenders like OG Kush, Northern Lights, and a mysterious third strain, possibly from New Orleans.
Features
THC: 22%
CBD: <1%
Buds: Compact, resinous
Smell: Coffee, roasted nuts, earthiness, pine
Flavor: Sweet chocolate, pine, spice
Flowering time: 8-9 weeks
Ideal growth conditions: Indoors, dry and moderate, 68-80 degrees, given nitrogen, calcium, and magnesium
Effects: Hunger, euphoric, sleepy, happy
Pros
Compact and easy to grow in smaller spaces
Unique smell and taste make it a favorite among recreational users
High THC content for a more potent strain
Con
More difficult to grow than others
Verdict
This strain is better for experts in terms of ease of growth. But if you have the skill, Bubba Kush is well worth the effort. Its sweet aroma and taste, as well as high THC percentage, make it a great plant to master with lots of experience eventually.

This strain has a bit more Sativa than others at 80% Indica, 20% Sativa. But as far as Indica-heavy hybrids go, it's a crowd-pleaser with tasty blueberry flavors. It grows relatively wide and tall compared to other strains, and it needs plenty of space to expand.
Features
THC: Up to 16%
CBD: <1%
Buds: Sticky
Smell: Wild berries, pine
Flavor: Blueberries, vanilla
Flowering time: 9 weeks
Ideal growth conditions: Lots of space, outdoors, sunny with healthy soil
Effects: Euphoric, happy, relaxed, sleepy, uplifted
Pros
Fragrant and flavorful with strong notes of blueberry
High THC content
Cons
Grows wide, so it needs lots of space
Requires a highly optimized living environment, not recommended for beginners.
Verdict
This strain is another one on this list of the best Indica strains that we recommend mostly for expert and experienced growers. Beginners may have difficulty sustaining the highly optimized environment necessary for Blueberry to flourish. If you can grow it though, it produces high-quality bud that is a combination of legendary strains Afghani Indica, Thai Sativa, and Purple Thai Sativa.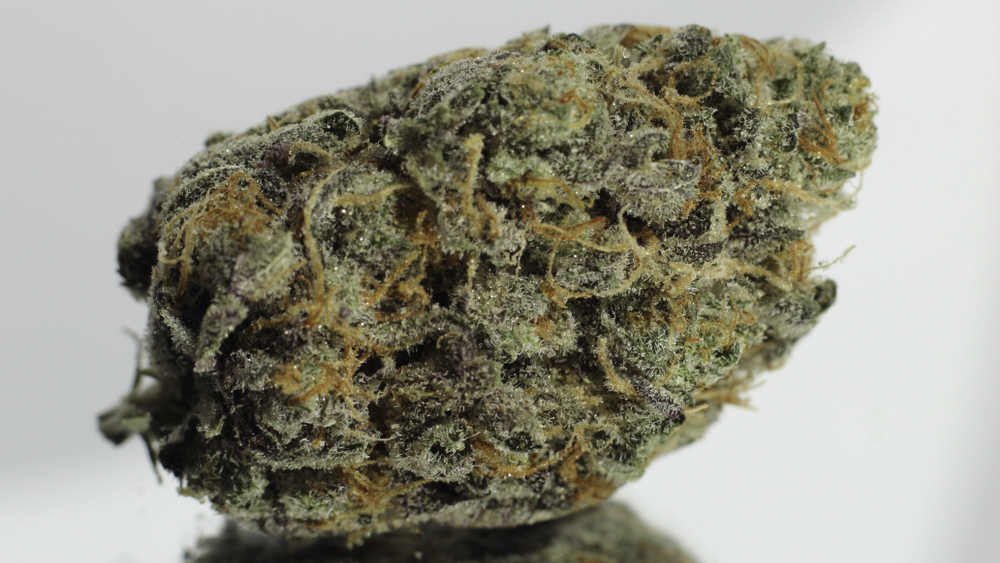 This social smoke is a combination of Skunk Haze and Ghost OG. It is a 60% Indica and 40% Sativa blend, making it more balanced than other Indica-dominant strains. It is highly potent, with an impressive up to 27% THC.
Features
THC: Up to 27%
CBD: <1%
Buds: Fluffy
Smell: Bananas, earthy, tropical fruit
Flavor: Bananas, tropical fruit, creamy, fruity
Flowering time: 7-9 weeks
Ideal growth conditions: Indoors, hydroponic setup, frequent pruning and training, lots of airflow and ventilation, 68-80 degrees, humidity below 40%
Effects: Creative, euphoric, uplifting
Pros
Grows to an easily manageable size, perfect for indoor growing
Impressively high THC content
Con
More difficult to grow; not recommended for beginners
Verdict
This 60% Indica kush is beloved among artists and creators who love its effects on their creativity and anxiety. It is a challenging strain to grow, so it is not an optimal choice for beginners. If you have a greenhouse or can create a hydroponic setup, however, growing Banana Kush can be a breeze.
This Indica-dominant strain is 80% Indica, 20% Sativa. It's moderate 14% THC makes it a mild high for users. Its origins come from the Skunk #1 and Afghani Indica. It is a compact plant, much like other auto-flowering strains.
Features
THC: Up to 14%
CBD: <1%
Buds: Dense, thick
Smell: Pungent, sweet, citrus, cheesy
Flavor: Fruity, sweet, earthy, citrus
Flowering time: 8 weeks
Ideal growth conditions: Indoor (although outdoor works as well)
Effects: Relaxed, happy, euphoric, creative, hungry
Pros
Easy to grow anywhere due to auto-flowering properties
Complex and unique smell and taste make for a full flavor and aroma experience
Con
Grows small due to its auto-flowering nature
Verdict
Super Skunk is an auto-flowering seed, meaning it follows its internal clock rather than the external conditions to determine when to flower. The seed-type means it is easier to grow these strains despite non-conducive conditions of seasonal changes or low sunlight. Indoor and outdoor growers alike can get a substantial harvest from the auto-flowering Super Skunk.
This popular strain comes from Afghani and Mexican parent plants, creating the characteristic 70% Indica and 30% Sativa hybrid. The California Dream is known for its exceptionally resinous and large buds and massive size. Not just a toker's dream, it's also a grower's dream. It can grow up to eight feet with the proper conditions.
Features
THC: Up to 24%
CBD: <1%
Buds: Resinous, large
Smell: Pungent, pine
Flavor: Mint, citrus, fruity
Flowering time: 9 weeks
Ideal growth conditions: Indoor or sunny, SCROG setup, nitrogen-rich soil, frequent pruning
Effects: Euphoric, happy, focused, heightened senses, social
Pros
Grows faster than other strains
Sturdy and dependable with fast growth and high yield.
Con
Can become un-manageable in size if put in the right conditions, which makes it cumbersome to grow indoors
Verdict
California Dream is an excellent plant for anyone with lots of open space for it to grow. It can end up massive, which means if you have space, give it a try. Beginners love that it is a dependable strain, and experts love the challenge of replicating its preferred Mediterranean climate to achieve the most abundant yield.
What to Look for When Buying Indica Strains – Buyer's Guide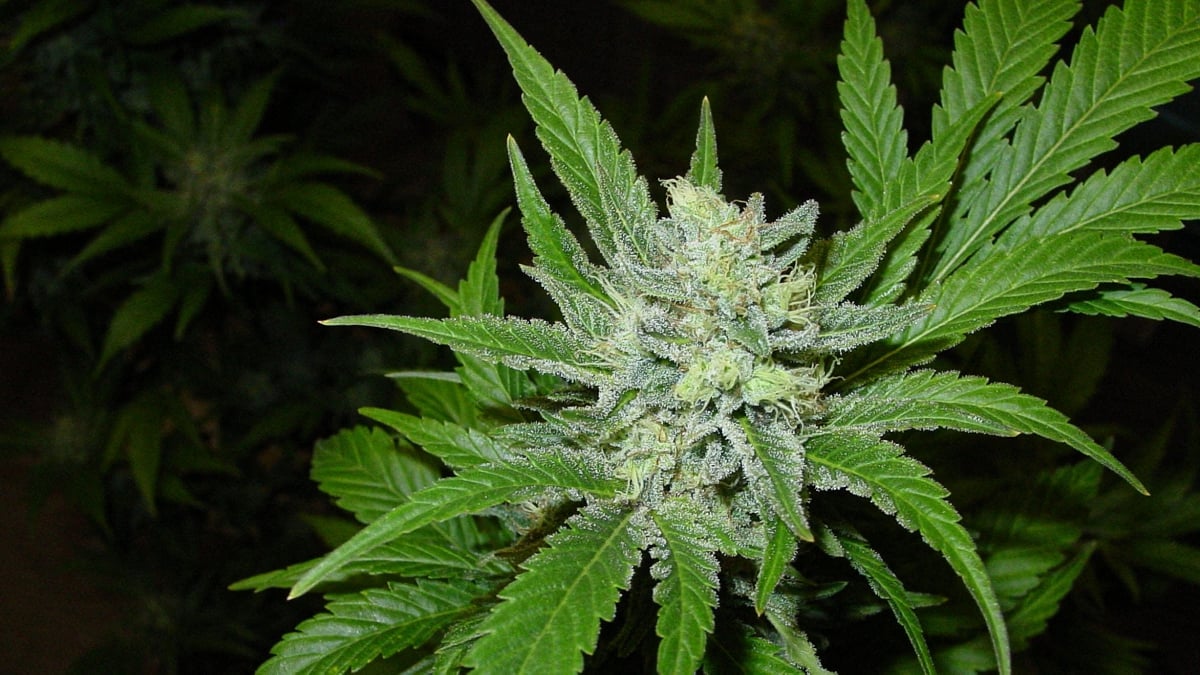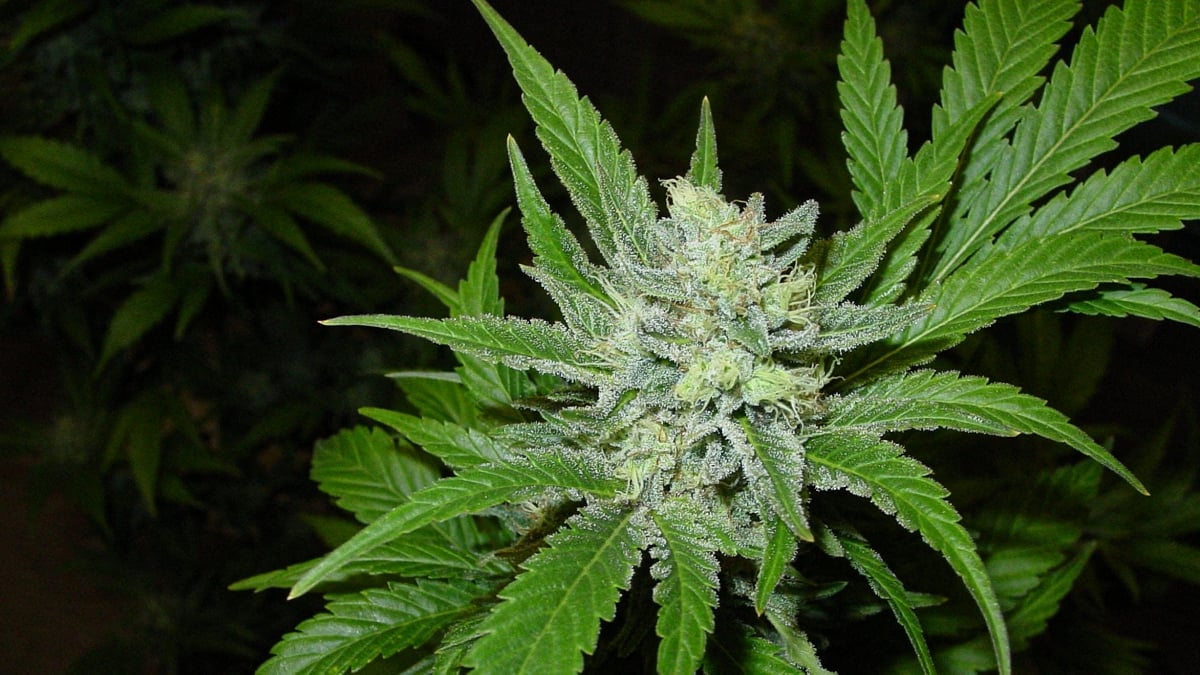 Not all Indica strains are the same. They differ in terms of several qualities, including smell, flavor, bud size, color, and more. When you're looking for the best Indica strains for both smoking and growing, you'll also have to consider other factors that may affect your harvest. The top qualities include:
Percentage Indica/Sativa
Growth conditions and methods
THC and CBD content
Whether you are a total novice or an experienced pro, it is essential to review a few pieces of information about Indica before selecting a strain to grow.
Percentage Indica vs. Sativa
A lot of cannabis on the market today will be a hybrid of both Indica and Sativa, so if you're looking for a pure Indica or an Indica-heavy strain, you'll need to figure out the ratio.
Indica strains are a specific family of marijuana that tend to share several properties. Indica plants tend to grow shorter than Sativa plants. They also produce more dense buds. On the whole, consuming Indica as opposed to Sativa means choosing a relaxing, sedative high over an upbeat and energized high.
Indica strains can range anywhere from 100% Indica to 60% Indica-dominant hybrids with 40% Sativa content. Hybrids incorporate more properties from the Sativa strain without letting it overpower the ultimate Indica effects. It also means you may get larger plants, less dense buds, and other features common to Sativa plants, despite it being Indica-dominant.
Be sure that you know what you are capable of growing before you decide on a strain in terms of space and growing conditions. Just because it is Indica does not mean it will always be compact.
Growth Conditions and Methods
Growers use various methods to generate healthy and bountiful buds. One such way is the SOG Technique. Others include the popular ScrOG method and hydroponic gardening. These are not essential, but experts do recommend them. These successful techniques can increase your yield from each plant as well as enhance the quality of the bud.
SOG Technique
SOG stands for Sea of Green. It refers to the technique in which growers mature and harvest small plants early as opposed to fewer plants over more extended periods. The technique speeds up the bud production and leads to a higher overall yield.
ScrOG Method
ScrOG stands for Screen of Green. It is another technique established to maximize the yield of growers. With ScrOG, growers attach a screen to the tops of plants, which allows more plants to receive exposure to more sunlight. It essentially optimizes the photosynthesis process with the use of simple wiring. These screens are composed of chicken wire, netting, or other materials.
Hydroponic Gardening
Hydroponic gardening is not unique to the growth of marijuana. It is an overall gardening technique that involves replacing the typical soil that contains plant food and nutrients with a water-based concoction. You administer mineral nutrient solutions to the plant via a water solvent. The result will be healthier and stronger plants.
Other Considerations
Besides these three established techniques, other necessary growing methods can help to produce healthy, fruitful plants. Be sure to consider:
Airflow/ventilation
Humidity levels
Sunlight
Pruning
If you can master these techniques and maintain the right conditions, you can grow the best Indica strains with healthy buds.
CBD/THC: Medical Properties or Recreational Properties
Many Indicas and Indica-dominant strains offer recreational and medical benefits to users. These strains cover many conditions, including:
Insomnia
Loss of appetite
Pain
Anxiety
Depression
Seizure disorders
Alzheimers disease
Cancer
Nausea
Eating disorders
And more
Indicas, in general, offer fantastic medical properties. If you are hoping to use marijuana for medical purposes, be sure to pay attention to the THC and CBD levels. The more CBD, the more medicinal properties. But CBD also can counteract the effects of THC. Depending on the intended use, you'll need to determine the CBD/THC ratios.
Final Thoughts
If you are looking to grow an Indica or Indica-dominant strain, be sure to know the facts before deciding which seeds to buy. Considerations like how much room you have, your time commitment, your experience level, and the type of product and yield you hope to produce are all reasons to choose specific strains over others.
New growers who buy a strain they have not adequately prepared for will end up wasting time and money. Whether you are experienced or new, there are strains out there that will be easier or more challenging to grow. If you learn the techniques like SOG, ScrOG, and hydroponic gardening, you can make the most out of your seeds. These methods can help them grow larger and faster with better quality bud.
Start growing today by purchasing seeds for one of the best Indica strains for growing. It is easy to buy online and get the strain that you need from a trusted source. Growing marijuana gives you a deeper understanding of the plant as well as boundless other opportunities.