It's easy to ask your dealer for a "generic" quarter or to ask a dispensary's budtender to recommend something new and cool.
It's not always quite that easy when you're a cannabis connoisseur searching for a specific strain of weed.
For example, let's say you've heard really good things about Pineapple. When you go looking for it, though, you might find Pineapple Express, Pineapple Kush, Pineapple OG, Golden Pineapple, Pineapple 99 – the list goes on and on. (It would be natural to get sidetracked by Pineapple Express since you probably loved the Seth Rogan movie.)
This probably isn't your first rodeo, so you know why there are so many similarly-named strains. Most of them are crosses between some type of Pineapple strain and another phenotype.
But if you can't find Pineapple, are Pineapple Express, Pineapple OG, or Pineapple Kush good substitutes? They can be. As with most things, though, getting the original is usually worth the extra effort.
And finding Pineapple is definitely worth the effort because of its Sativa/Indica balance, its high THC content, and its absolutely yummy taste and smell.
Pineapple: The Quick Summary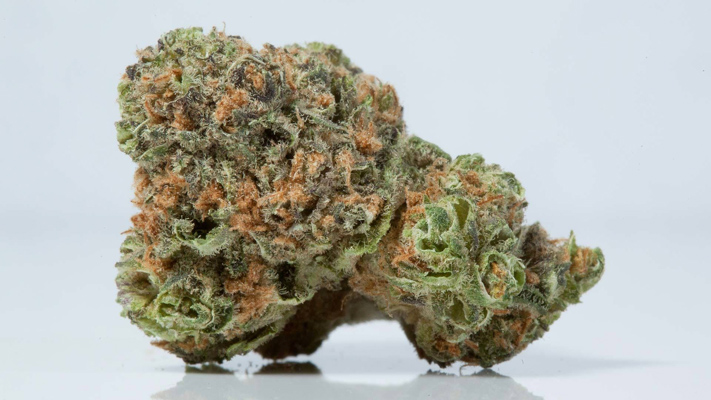 If there's one strain that exemplifies "happy," it might be Pineapple. It's a 50/50 Sativa/Indica hybrid that delivers a somewhat-cerebral and non-incapacitating high that's easy on the body. And just as importantly, it features the tastes and aromas of pineapple and other tropical fruit, mixed with the right amount of skunk to provide a "dessert weed" experience. The THC content is typically high, but Pineapple is more likely to produce a fun evening with friends than put you to sleep. CBD – Cannabidiol content is very low.
| | |
| --- | --- |
| Genetics: 50%/50% Sativa/Indica | THC Content: 16-26% |
| Effects: Relaxing, Happy, Uplifting, Sociable | Medical Uses: Anxiety, Depression |
Pineapple: The Background
Pineapple is a descendant of the oddly-named strain Ed Rosenthal Super Bud (also known as ER Super Bud or ERSB). ER Super Bud is a highly-regarded Indica-dominant strain, which was created by Sensi Seeds from a Pakistani landrace Indica and equatorial Sativa. Why does that matter? It means that Pineapple has very distinguished origins and is the product of careful and selective inbreeding of an ERSB phenotype. The final product is a stable and balanced strain with a delicious tropical flavor and aroma.
Many are surprised to learn that the more popular Pineapple Express isn't descended from Pineapple; their taste and smell are similar, but Pineapple Express's parents are Trainwreck and Hawaiian. In truth, you're unlikely to find other strains with Pineapple in their background, despite their names. This strain stands on its own and does it quite well.
Pineapple: The Effects
The first tokes of Pineapple bring an almost immediate, energizing, and cheerful cerebral high. Most users quickly feel their cares draining away and replaced by a happy satisfaction with life. You might suspect that Pineapple leans Sativa strongly because it doesn't cause even the moderate body stone of most 50-50 hybrids. But it doesn't; it's very well balanced. A body high exists, but it's relatively subtle and won't lock you onto the couch; getting up for another load of munchies won't take much of an effort.
Instead, you'll be ready to relax and interact with friends while you enjoy the happy and uplifting effects, eventually feeling refreshed and ready for sleep. Needless to say, this is a strain that's tailor-made for evening use, although it won't totally wreck you if you do have some tasks to take care of before you're ready to relax.
Pineapple: The Taste and Aroma
In a word: tasty. Smoking this strain won't make you think that you've just bitten into a ripe Hawaiian pineapple, of course, since the noticeable flavor and smell of diesel are also present. The pineapple, tropical fruit, and citrus taste and aroma predominate, however, and their sweetness is one of the primary reasons why Pineapple can be such a delightful change of pace from most pot strains.
Pineapple: Possible Medical Effects
You won't be likely to experience significant pain relief when enjoying a bowl of Pineapple since it's a 50/50 strain without a strong body stone. Some users do report that it helps ease some types of pain, like muscle aches or cramps, but this is not a strain that will make a huge dent in serious chronic pain or provide quick relief from insomnia.
It's much better for the alleviation of stress, depression, and mental fatigue. Those problems are usually washed away by the euphoric but calm effects of Pineapple's mind high. It can help some people who suffer from anxiety as well, keeping in mind the cautions we discuss in the next section.
This strain is also a good choice for those dealing with nausea or some eating disorders; high-THC strains usually are (the munchies, remember?). And the pineapple flavor can be helpful in stimulating the taste buds in people who have a poor appetite.
Pineapple: Possible Side Effects
The most important thing to consider is the high THC content we just mentioned, which can regularly hit 26% in Pineapple. Strains with that amount of THC may help ease stress, but paradoxically are more likely to cause paranoia or worsen symptoms of clinical anxiety. Those aren't common issues for most people, but Pineapple should only be chosen by experienced users who already know they can handle high THC levels without negative effects.
More benign issues may include cottonmouth, dry eyes, and headaches, but they're easy to handle and not overly common.
Pineapple: The Plant
Pineapple is an excellent strain for beginners who want to dip their toes into the growing pot. It doesn't require much maintenance, it's largely resistant to both mold and disease, and it proliferates both indoors and outdoors (although temperate climates and late-arriving cool fall temperatures are best for outdoor grows).
This medium-sized plant will flower for eight or nine weeks before an outdoor harvest is ready in late September or early October. Indoor harvests will yield somewhere around 300 grams per square meter, while outdoor ones can produce as much as 450 grams per square meter. The dark green buds grow prolifically and are covered with a thick layer of crystals.
But what's most interesting, at least to us, is that the buds are oddly-shaped – and if you use a little imagination, they look a lot like tiny pineapples.