The last few years have seen increased research into the medicinal properties and health benefits of cannabidiol, which is better known as CBD and is one of the primary compounds found in marijuana.
Studies have shown that CBD may be effective in the treatment of such varied medical conditions as chronic pain, anxiety, epilepsy, multiple sclerosis, and bowel disease.
But one of the first medical uses for cannabis, and for prescription drugs based on its properties, was treating nausea and vomiting commonly associated with chemotherapy.
Both marijuana and CBD are still being used for that purpose today. In fact, the treatment is even more common because of increased legalization, and because new research shows strong evidence that cannabinoids are effective weapons against both nausea and vomiting.
It's not just those chemo-related issues which can be relieved by CBD. Nausea caused by motion sickness, viruses, digestive issues, pregnancy, or even a nasty smell responds well to cannabidiol, particularly when administered in its fast-acting CBD oil form.
Some brands of the oil, of course, are better than others. We've looked at many, and here are our reviews of the three best CBD oils for nausea.
The Best CBD Oils for Nausea in 2022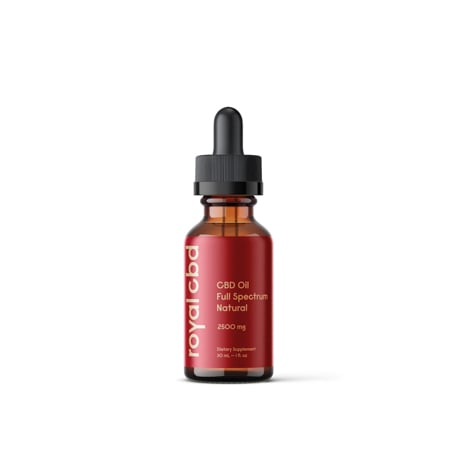 US-grown organic hemp? Check. Full-spectrum oil? Check. Supercritical CO2 extraction? Check. MCT carrier oil? Check. No artificial additives or ingredients? Check. Wide range of potencies available? Check.
Royal CBD checks all the boxes we consider for a high-quality CBD oil, but something even more important factored into our evaluation: the people who started this relatively-new company are long-time cannabis aficionados and care deeply about their products and reputation. With their release of this CBD oil, they have nothing to worry about. Their reputation is not only intact, it's enhanced.
The Royal CBD oil is available in an enormous selection of potencies, from 250mg (8.5mg/ml dose) to 2500mg (a mind-boggling 83mg/ml). For the treatment of nausea and vomiting, the 250mg oil is probably the best bet for most people, since low CBD doses have been shown to work best for nausea. However, if you weigh a lot or have a high tolerance, there's a Royal potency that will work for you as well. The four flavors (berry, vanilla, mint, and natural) are provided by natural essential oils.
A complete third-party testing report is provided to prove the oil has the proper CBD content and less than 0.3% THC, and that all terpenes and flavonoids are present to provide the entourage effect so important to the performance of CBD products. Royal's CBD oil has everything we look for, and then some.
Things We Liked:
Organic US-grown hemp
Full-spectrum CBD with all cannabinoids, terpenes, and flavonoids
Supercritical CO2 extraction
MCT coconut carrier oil
Terrific selection of potencies, four natural flavors
Things We Didn't Like:
2. Gold Bee CBD Oil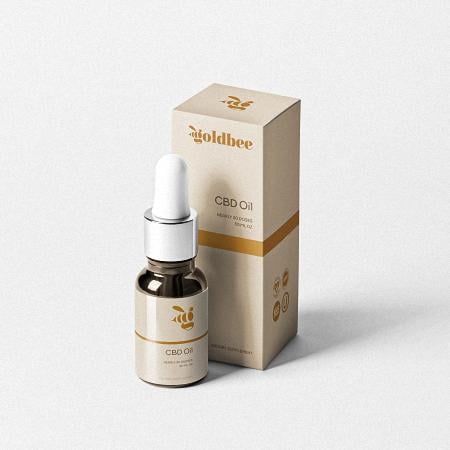 It was hard to choose between Royal and Gold Bee for our top spot. They each use top-quality American hemp (Gold Bee's comes from California and Colorado organic farms) to create full-spectrum CBD oil with <0.3% THC, they each use supercritical CO2 extraction and MCT carrier oil with no artificial ingredients, and they are each owned by people who put exceptional care into the production of their CBD products. In fact, Gold Bee performs the entire manufacturing process in one facility to ensure there's no contamination of the products.
What it came down to was the companies' selections of potencies and flavors. This CBD oil is terrific, but it's only available in strengths between 300 and 1200mg per bottle (between 10-40 mg/ml). That's more than enough for most people dealing with nausea but may limit the use of the oil to treat other medical conditions that require stronger doses. It also comes in just two flavors (honey and natural). Those two factors dropped this high-quality Gold Bee CBD oil into second place in our rankings, but not by much.
Things We Liked:
High-quality organic hemp from Colorado and California
Full-spectrum oil with the complete entourage effect
Supercritical CO2 extraction
No artificial ingredients
Things We Didn't Like:
No potency choices above 40 mg/ml
Only two flavors
3. CDBPure Hemp Oil
We also found it tough to choose between the CBD oils that came in at #2 and #3 on our list. CDBPure slipped down to #3 because there are only three potency choices (300mg, 600mg, 1000mg) and the highest was just 1000mg (about 33mg/ml), even less powerful than Gold Bee's most potent offering. The company's oil only comes in the natural flavor and it's produced via CO2 extraction (rather than supercritical CO2), which were the other reasons this product came in slightly below Gold Bee.
Don't be mistaken, though. This is an excellent CBD oil produced from organic hemp grown in Colorado and Washington State, and it's a full-spectrum oil providing the entourage effect needed for best performance. CDBPure is a well-respected company that makes very good products, and this oil is worth a long look.
Things We Liked:
Organic CBD is grown in America
Full-spectrum oil with the entourage effect
Decent price
Things We Didn't Like:
CO2 instead of supercritical CO2 extraction
Just three potency levels with the highest only 33mg/ml
No flavor choices other than natural
Using CBD Oil for Nausea: Buying Guide

Why Use CBD to Help Manage Nausea?
In the mid-to-late 20th century, when pot was still illegal everywhere and medical marijuana dispensaries didn't exist, many cancer patients used marijuana on their own to treat nausea and vomiting which commonly accompanies chemotherapy. During that period, medications based on the chemical structure of THC (the hallucinogenic compound in marijuana) were also routinely prescribed to treat those side effects.
Medical marijuana has been legalized in more than half the states since then, and CBD is available in all of them. That's led to a new surge of research into the subject. There are now scientific indications that cannabis – or the cannabinoids in it – may be just as effective as traditional prescription medications in the treatment of chemotherapy-related nausea and vomiting.
Just as importantly, drugs like Zofran, promethazine, and metoclopramide, often prescribed for nausea, can cause reactions ranging from headache and insomnia to muscle spasms and hallucinations. But CBD has no serious side effects.
As we mentioned at the start of this article, CBD has been shown to be an effective treatment for nausea, even it has a different cause than chemotherapy. That makes CBD a welcome alternative to medication.
Doesn't CBD Get You High?
Nope. It's true that CBD is one of the primary compounds (known as cannabinoids) in cannabis, and it's apparently the one that's primarily responsible for marijuana's medicinal benefits. The one with psychoactive properties is a different cannabinoid, THC.
However, there are two types of cannabis, marijuana, and hemp. CBD is plentiful in high-quality industrial hemp, but THC is not. So when CBD is extracted from the hemp plant, there's only a minuscule amount of THC present. By law, CBD from hemp can only be sold if there's less than 0.3% THC content – and that's nowhere near enough to induce pot's mind-altering effects.
Using CBD to treat nausea provides just about all of the medicinal benefits of medical marijuana without the high, and without the potential legal issues, you might face in some states when buying or using weed.
Does CBD Work to Suppress Nausea?
Most of the research into CBD and other cannabinoids are mostly described as preliminary. Since marijuana has been used for so long to treat nausea, though, more is known about the relevant interactions between CBD and the body.
Here's a brief summary. There are many conditions and illnesses which can produce nausea and vomiting, and the sensation can originate in the brain and central nervous system, the inner ear, or the gastrointestinal tract. But whenever nausea is triggered, the body releases a neurotransmitter known as serotonin. The serotonin is aimed at helping the body pass any irritants that may be causing the issue.
Unfortunately, serotonin also stimulates the GI tract and brain to make nausea even worse. That's where CBD comes in, in what could be called a "daisy chain" response.
First, CBD interacts with receptors in the body's endocannabinoid system (ECS). Then, the ECS sends moderating signals to the system that's producing the serotonin. The end result: the use of CBD helps to reduce serotonin production, easing nausea and vomiting.
Numerous studies have established the fact that CBD is a good choice to fight nausea. Some forms of CBD do it better than others, though, and CBD oil is by far the best choice.
Types of CBD
CBD products can be consumed in several different forms:
CBD oils or tinctures
CBD capsules
Vaping CBD
CBD edibles
Let's get the less-desirable choices out of the way first.
Topical creams are best used for treating muscle pain and soreness since the CBD is unable to penetrate the epidermis and reach the bloodstream to help fight nausea. Edibles and capsules must first be digested to release their CBD, making them slow to act. That's not very effective in dealing with the normally-fast onset of nausea or vomiting, and some CBD is lost during the digestive process.
That leaves us with vaping and oils. Vaping CBD is definitely effective for the treatment of nausea; for years, patients smoked medicinal marijuana for that purpose. When vaping, the CBD is absorbed by the lungs and immediately transferred into the bloodstream. However, some people have found that the act of inhaling vapor or smoke makes them feel even more nauseous, and others have a personal objection to vaping.
Using CBD oil is the best way to make CBD available for the relief of nausea. A few drops are applied under the tongue, where the sublingual glands absorb the CBD and immediately release it into the blood. Putting aside than the sometimes-unpleasant taste of the oil, it's easy to do and works quickly. (One caution: some people mix CBD oil with food to make it more palatable; that's fine for some uses, but as with edibles and capsules, CBD is slow to act when it has to be digested.
How to Choose the Best CBD Oil for Nausea?
CBD isn't regulated in the same way as prescription medications. In fact, it's not really regulated at all, except that CBD products sold in the US can contain only a trace amount of psychoactive THC. That's far below the level that could make you high.
In an unregulated marketplace, it's up to the buyer to pay close attention to the qualities of the products they purchase. Here's what to look for in the best CBD oils.
Full-spectrum oil: This means the CBD has been extracted from the whole hemp plant, and still contains all of its other cannabinoids (there are more than 100 of them), terpenes and flavonoids. Why that's important: the other substances work together with the CBD to provide what's known as an "entourage effect," enhancing its performance. Full-spectrum oil is sometimes called broad-spectrum.
CBD isolate is the other alternative. It ensures that there's 0% THC in the product, but it also eliminates the other ingredients which contribute to the entourage effect. Who would prefer isolate? Primarily, anyone who has to take drug tests and is worried that a small amount of THC content could still cause them to come up dirty. (That's unusual, but it does happen.)
Supercritical CO2 extraction (or CO2 extraction): There are several ways that producers can extract CBD from the hemp plant. The methods which are best at maintaining the cannabidiol's potency use carbon dioxide and are called supercritical CO2 (ideal), or CO2 (slightly less ideal, but still very good). Other less-effective but acceptable methods are steam distillation or cold-press extraction.
Solvent extraction is a red flag, though. The use of natural solvents lowers the quality of the CBD, and extraction with hydrocarbons can leave toxic chemicals behind.
High-quality carrier oil: CBD oil needs a "carrier oil" to help with the CBD's dispersion and absorption. MCT oil (often from coconut) or hemp seed oil are the best choices. Avoid vegetable glycerin, because its quality may be a problem and it can't carry as much CBD as an MCT oil.
Organic and all-natural: CBD oil should be extracted from organic hemp to ensure it doesn't contain hazardous chemicals or pesticides. US-sourced hemp is best because it's subject to more rigorous farming regulations. And don't buy any product that isn't all-natural; ideally, all that should be in your oil is the CBD and a natural carrier oil, without artificial preservatives or flavorings.
Finally, all reputable CBD producers will have submitted their oil for third-party laboratory testing and will make the report available to customers. Among other things, the report will confirm that the oil contains the promised amount of CBD and less than 0.3% of THC.
CBD Oil Dosage for Nausea and Vomiting
Some of the studies we've already referenced have shown that a small dose of CBD is more effective than a large one when treating nausea and vomiting.
That makes it crucial to use the right dose of CBD oil. Some manufacturers, sadly, don't make it easy. Many oils (and other CBD products) on the market only list the total amount of CBD contained in the entire bottle, not the CBD contained in each drop or dose (figured in milligrams per milliliter, or mg/ml). That requires doing some math to figure out the right dosage.
In addition, CBD oil is usually sold by "potency." Higher potency means the doses are stronger, which complicates the calculations even more.
The easier alternatives are to ask your doctor for advice or to purchase a product that's labeled with the mg/ml amounts and follow the dosage advice on the package.
Otherwise, a general rule-of-thumb is one milligram of CBD for every ten pounds of your weight. That would mean a dose of 10mg if you weigh 100 pounds, or 20 mg if you weigh 200 pounds. Remember, though, that a low dose is usually more effective against nausea. You might want to start with one-third or one-half of the recommended dose and go from there.
One other suggestion for those who aren't going to drop the oil directly under their tongue: mix your CBD oil into ginger tea. Ginger is an effective anti-nausea herb that works differently than CBD, so this approach lets the two work together to ease the queasy feeling.