CBD oil is perhaps the fastest-growing wellness trend for both humans in pets in 2022. You've likely seen it on the shelves of your local pharmacy, dispensary, or at your vet's office.
CBD oil is even popping up in pet boutiques — and for a good reason!
Dogs and cats can reap the benefits of CBD oil in a similar way humans do. All mammals have an endocannabinoid system (ECS) that responds to the cannabinoids produced by the cannabis plant.
Studies show that CBD oil can improve joint and cartilage health, boost mobility, ease behavioral problems, and reduce pain in dogs.
But can CBD oil help dogs with arthritis? Arthritic pain is a common condition in aging dogs. It can seriously compromise their mobility, which can further deteriorate the condition.
In this article, we'll cover everything current research has found with regards to CBD and dogs. We'll also highlight the best brands and products in 2022 that cater to our four-legged friends.
IMPORTANT: This article discusses the benefits of hemp-derived CBD oil. We don't recommend using marijuana-derived CBD products for dogs, as they contain significant levels of THC that is toxic to dogs.
CBD Oil for Dogs with Arthritis: Best Brands & Products in 2022
Best THC-Free: Hemp Bombs
Best Variety: CBDistillery
Not all CBD products are created equal. For example, some CBD oils contain the full spectrum of cannabinoids, while others are based on isolated compounds. Your decision should always be a result of thorough research rather than following marketing slogans. The best CBD oils for dogs are made from organic hemp and extracted without toxic solvents. Companies that care about the well-being of animals should always provide reports from a third-party lab analysis to prove the quality and safety of their products.
Below we highlight the top 5 CBD brands that offer a variety of products that can be taken by dogs with arthritis.
1. Royal CBD (Best Full-Spectrum)

Product Details
| | |
| --- | --- |
| Total CBD | 125 mg, 250 mg, 500 mg (full-spectrum) |
| Available Flavors | Bacon |
| CBD per Serving | 4 mg – 17 mg |
Why Royal CBD is the Best CBD Oil for Dogs with Arthritis:
After succeeding with its line of full-spectrum CBD oil for humans, Royal CBD has now employed the same carefully-crafted production process to create CBD oil for dogs of different sizes. The available strengths are calculated for the average weights of dogs, so they aren't as potent as the oil drops for people.
You can choose from 125 mg, 250 mg, and 500 mg bottles. Depending on the selected option, this CBD oil will carry:
4 mg CBD / mL
8.5 mg CBD / mL
17 mg CBD / mL
The company makes premium extracts sourced from organic, US-grown hemp and extracted using supercritical CO2 technology combined with MCT carrier oil to create a full-spectrum product that will leverage the concept of the whole-plant synergy. There are no synthetic additives in this CBD oil. Even the bacon flavoring is natural.
Royal CBD products are third-party lab tested, meaning these products contain the advertised amount of CBD and are free from potentially dangerous substances.
Pros
Cons

Made from locally grown organic hemp
Extracted with supercritical CO2
Infused with full-spectrum CBD
Available in 3 strengths
Infused with a bacon flavor
Up to 500 mg of CBD per bottle
3rd-party tested for potency and purity

Not available in local CBD stores (this may soon change)
A bit more expensive than other brands in this ranking
2. Gold Bee (Best Value)
Product Details
| | |
| --- | --- |
| Total CBD | 300 mg and 600 mg (full-spectrum) |
| Available Flavors | Peanut Butter |
| CBD per Serving | 12 mg – 24 mg |
About Gold Bee
Similar to Royal CBD, Gold Bee CBD oil employs its artisan manufacturing standards into the production of its CBD oils for dogs. The hemp used for Gold Bee's products comes from organic hemp sourced from Colorado and California farms. The company's products are extracted with supercritical CO2 and suspended in an organic carrier oil to produce a full-spectrum CBD extract with all of the hemp's phytonutrients left in to maximize the efficacy of CBD. The oil is just fine for dogs' taste buds with its satisfying peanut butter flavor.
Pros
Cons

Sourced from US-grown organic hemp
Contains full-spectrum CBD
Up to 24 mg CBD/mL
Great for mid-sized and large dogs
Infused with a peanut butter flavor
Third-party tested for potency and purity

No potency crafted for smaller dogs
3. CBD Pure (Runner Up)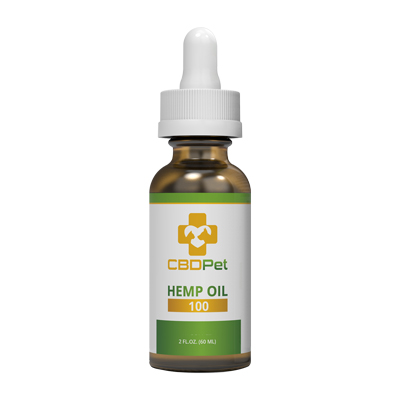 Product Details
| | |
| --- | --- |
| Total CBD | 100 mg |
| Available Flavors | None |
| CBD per serving | 3.3 mg |
About CBD Pure
If you consider Gold Bee's or Royal CBD's products too strong for your small pet, you can try the CBD Pet 100 oil from CBD Pure. This company has created a CBD oil that is specifically designed to suit small and extra-small dogs. It's a decent product sourced from American hemp and extracted with CO2. The product is suspended in hemp seed oil, which may taste more nutty and earthy than the products from the aforementioned brands.
Moreover, this isn't a full-spectrum product; it's CBD isolate, meaning it doesn't contain any compounds other than CBD. As such, this product will not produce the entourage effect that boosts the health benefits of cannabidiol. However, some people may prefer CBD isolate over full-spectrum products because they might be afraid of the trace amounts of THC present in whole-plant CBD oils. While 0.3% of THC isn't enough to get your dog high, you can go for isolate if you think it's "safer" in some way.
Pros
Cons

Sourced from organic Colorado-grown hemp
Extracted with supercritical CO2
Suitable for dogs of different sizes
Lab-tested for potency and purity
90-day return policy

No flavored oils available
Only one potency to choose from
4. Hemp Bombs (Best THC-free)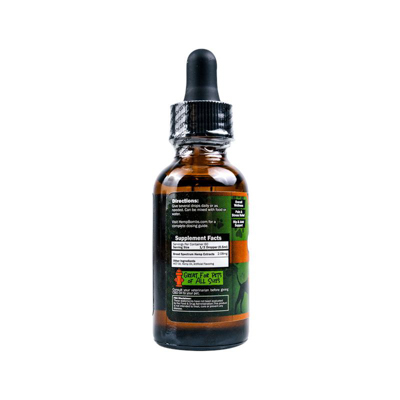 Product Details
| | |
| --- | --- |
| Total CBD | 125 – 1000 mg |
| Available Flavors | Beef, Chicken |
| CBD per serving | 4 – 133 mg |
About Hemp Bombs
Hemp Bombs is a company specializing in the production of CBD isolates for both humans and dogs. Similar to the other brands in our ranking of the best CBD oils for dogs with arthritis, this company uses the same formula as it does for humans — but in lower doses.
Hemp Bombs CBD pet oil is available in three potency options: 125 mg, 250 mg, and 1000 mg. The strongest version contains 33.3 mg of CBD in each milliliter, which makes it a great product for large dogs. If you're looking for high doses of pure CBD per serving and don't mind the lack of the entourage effect, Hemp Bombs is a decent alternative to brands that sell full-spectrum CBD.
Pros
Cons

Sourced from organic hemp
Extracted with CO2
0% THC
Up to 1000 mg of CBD per bottle
Two flavors to choose from
Third-party tested for CBD and contaminants

No "entourage effect" from other cannabinoids and terpenes
5. CBDistillery (Best Variety)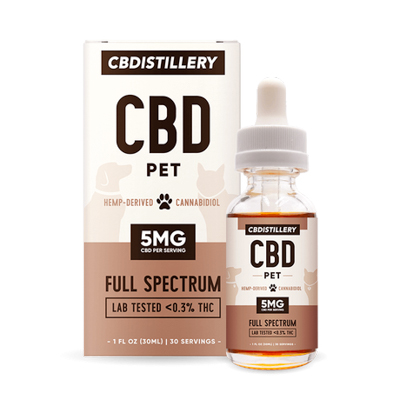 Product Details
| | |
| --- | --- |
| Total CBD | 150 mg – 600 mg |
| Available Flavors | None |
| Potency | 8.3 – 166 mg/mL |
About CBDistillery
CBDistillery is one of the trailblazers in the U.S. hemp industry. On top of selling a broad selection of CBD products for humans, this brand also offers CBD oil for dogs in two strengths: 150 mg and 600 mg of CBD per bottle. These oils are sourced from non-GMO outdoor-grown hemp, extracted with CO2, and infused with the full-spectrum of cannabinoids for the entourage effect.
CBDistillery CBD pet oil smells pretty hempy and looks greenish, which is a sign it has been suspended in hemp seed oil. As such, the product may taste hempy, so your pup may not necessarily like it. This is actually one concern we have about CBDistillery: the company doesn't offer any flavored options when it comes to pet oils.
Pros
Cons

Non-GMO hemp
Full-spectrum CBD
Extracted with CO2
3rd-party tested for potency and purity
Very affordable

The hemp isn't organic
No flavored oils available
How CBD Oil Works to Help Dogs
Cannabis has been used for its therapeutic qualities for centuries. However, the scientific exploration of its compounds is much more recent. The last few decades of research have given us much insight into the mechanisms responsible for the versatility of this plant.
One of the biggest breakthroughs that helped scientists understand why CBD and other cannabinoids are so beneficial for mammals was the discovery of the Endocannabinoid System (ECS) in the early 1990s. This system occurs in all mammalians, including dogs, and consists of a network of receptors, transmitters, and special enzymes. The ECS is the major regulatory network that controls functions like metabolism, digestion, skin health, anxiety, immune response, and more.
So, when you see CBD oil in pet boutiques, know that this isn't a scam.
CBD can have many positive effects on your dog's health.
CBD Oil for Dogs: What Are the Benefits?

High-quality CBD oil can greatly improve the quality of your dog's life, especially when it comes to aging dogs and those suffering from arthritis. Mobility issues and chronic pain are common in senior dogs, but they can actually happen at any age.
Let's take a look at how CBD oil may help dogs.
Better Pain Management
For many dogs with arthritis, pain management is paramount for maintaining the quality of life. However, CBD can help with more than just arthritic pain.
Pain can result from surgery, injury, or chronic and progressive disease such as hip dysplasia. Reducing pain is important if you want to take care of your dog's comfort.
Most doctors prescribe medications such as opioids. Although these medications are effective at first, they can also cause an array of severe side effects. These side effects include liver damage, addiction, and the risk of a lethal overdose.
On the other hand, multiple studies have demonstrated that CBD can effectively alter pain signaling and target different areas of pain, including inflammation and nerve pain (1).
Not to mention that CBD has a well-established safety profile and is well tolerated in high doses (up to 1,500 mg), even with chronic use.
Reduced Inflammation
Arthritis is accompanied by inflammation, so if your dog has this condition, you'll need something to effectively reduce its intensity. Typically, arthritis is treated with nonsteroidal anti-inflammatory drugs (NSAIDs), which is considered an aggressive form of treatment.
Unfortunately, these drugs are not safe to use in the long term, as they may result in a compromised immune system and the worsening of arthritis symptoms. This is a great concern for long-term pain management. These drugs also cause various problems with digestions and may cause damage to the liver and kidneys.
CBD has been highlighted in multiple recent studies as a potent anti-inflammatory agent (2). Dogs with arthritis can take it orally or topically to the affected areas of the skin.
One study has shown that CBD is remarkably effective against Osteoarthritis-triggered inflammation and may even slow the progression of this disease by protecting the nerves against damage caused by inflammation.
As mentioned, CBD is a safe substance with few and less severe known side effects than any other officially approved medication prescribed to dogs with arthritis.
Improved Mobility
Experts argue that CBD oil can enhance the activity of opioids and NSAIDs. In other words, taking CBD along with those potent compounds could reduce the dose and make the treatment effective without compromising on the quality of your dog's life.
However, since CBD is known to interact with many prescription medications, make sure to have a conversation with your veterinarian about your plants to introduce CBD oil to your dog's routine.
Arthritis in Dogs: Risk Factors and Symptoms

One every four dogs in the United States is diagnosed with some form of arthritis (3).
It usually happens to senior dogs and is marked by neurodegeneration in the joints. Arthritis can take many forms, but the most common type in dogs is osteoarthritis, which attacks multiple joints.
Telltale symptoms of arthritis in dogs are swelling and stiffness in the joint. Other troubling signs include:
Difficulty standing up after lying down
Spontaneous aggression towards other dogs or humans
Irritation when touched
Behavioral changes, including moodiness, separation anxiety, and depression
Tiredness and increased sleeping time
Changes in weight and appetite
Just like humans, dogs can suffer from arthritis due to natural aging, trauma, or situations when the joints' development is compromised.
Arthritic dogs, especially large breeds, often suffer from hip dysplasia, which happens when the hip joint becomes partially or entirely dislocated.
While age is one of the biggest risk factors for arthritis in dogs, other factors can make them more exposed to this painful condition. These include, but aren't limited to:
Overweight dogs
Large breeds
Genetic burden
Joint trauma in early life
Abnormal joint development
Changes in the immune system
Lyme disease
Bacterial infections
Is There an Actual Cure for Arthritis?
Arthritis is a condition that cannot be cured. Once the cartilage in joints is damaged, they usually don't recover to the full extent.
Nevertheless, it's possible for dogs to live a pain-free life and get through aging with dignity. Many dogs with arthritis can live comfortably with proper pain management and by combining different treatments.
If your dog is suffering from arthritis, you should immediately consult a veterinarian and leave no stone unturned when it comes to finding the best option to improve their quality of life.
In this section, we discuss how CBD can help dogs with arthritis.
CBD Oil for Dogs with Arthritis: Can It Help?
Finding a veterinarian who will be knowledgeable about using CBD oil for dogs with arthritis is easier said than done. Veterinary medicine tends to follow trends in human medicine, often requiring years of clinical testing before any drug gets approved by the government agencies.
As of yet, the only CBD-based drug approved by the FDA is Epidiolex. However, this anti-seizure drug is based on synthetic CBD isolate and has been made for humans, not dogs.
That said, this doesn't mean there is no research to support the use of CBD oil for arthritis. In fact, a few promising studies have demonstrated the efficacy of CBD in reducing inflammation in animal models of arthritis.
CBD's potential benefits for dogs are associated with how it interacts with the endocannabinoid system, which functions similarly in humans and dogs.
A 2017 study published in the PLOS One Journal reported that many conditions in dogs follow similar patterns to their human counterparts (4).
The mentioned study investigated the spatial distribution of the CB1 cannabinoid receptor in different parts of the nervous system of healthy canines and compared them with that of other animals, including humans.
The similarities were also highlighted in a review from the Animals (Basel) Journal. The author of the research concluded that nearly all animals share a similar endocannabinoid system.
CBD for Pain Relief, Inflammation & Joint Function
The endocannabinoid system is deeply involved in the regulation of pain, inflammation, and joint function. These traits explain the reason why cannabinoids are therapeutically effective for osteoarthritis according to a 2014 study published in the European Journal of Neuroscience (5).
CBD for Anxiety Relief in Dogs with Arthritis
In a study published in the Neurochemical Research Journal, scientists suggested that CBD could block the reuptake of serotonin, also known as the "feel good" chemical (6). Serotonin impacts a range of psychological functions, such as mood, happiness, and anxiety. The researchers believe that CBD could help stabilize mood and reduce anxiety by balancing serotonin levels in the brain.
CBD can also trigger the release of the body's natural cannabinoids such as anandamide, which regulates emotions. Increased levels of anandamide result in a better mood and guard the body against the negative effects of stress. Anandamide can also reduce behavioral signs of fear and anxiety (7).
The Pros and Cons of Using CBD Oil for Dogs with Arthritis

Pros
CBD can influence the endocannabinoid system to balance critical functions in dogs, such as immune response, inflammation, and pain signaling.
Human and animal studies have shown that CBD offers health benefits that could help dogs in treating arthritis or associated symptoms, including sleep and insomnia, anxiety, depression, tiredness, and negative changes in behavior.
CBD oil is easy to use in dogs when following the producer's instructions.
Hemp-derived CBD oil is legal in many countries. You can find it in local health stores, pet boutiques, veterinarian clinics, and online.
The U.S. Food and Drug Administration (FDA) hasn't received reports of dangerous events related to animals supplemented with CBD products. However, side effects from the accidental ingestion of cannabis products that don't come from hemp are well-documented in the scientific literature.
Cons
CBD hasn't been extensively studied when it comes to health conditions typical to dogs, and no longitudinal studies on its effects have been conducted yet.
The FDA doesn't approve cannabis for any use of animals. The agency even cautions pet owners against using CBD oil in pets and recommends consulting a veterinarian about other possible treatment options for pets. It's quite strange considering there have been no cases of adverse reactions to hemp-derived CBD oil in dogs.
Only California has passed laws that permit veterinarians to discuss cannabis use with their clients.
CBD may interact with medications prescribed by veterinarians.
There's a limited product choice for pets.
CBD vs. Alternative Treatments for Dogs with Arthritis
There are certain treatment options for arthritis that don't require the use of medications, such as the following:
Physical rehabilitation, e.g. canine massage
Weight management to reduce further pressure in a dog's joints.
Adding foods rich in Omega-3 fatty acids, which are known to be useful in reducing joint inflammation.
Aging can cause joint and muscle problems in dogs, similar to humans. And just like humans benefit from massages and rehabilitations, so can our four-legged friends.
A professional massage should help promote flexibility, stretch and relax the body, and reinforce the bond between the owner and the animal.
Not only that, but hands-on contact of massage may help your dog overcome stress during a fireworks display, thunderstorm, crowded places, or long travels.
Massages are often included in arthritis treatments for dogs due to their ability to provide pain relief and stress.
How Can CBD Oil Support the Above Arthritis Treatment?
You can also add CBD to your dog's massage routine for an all-around treatment. For this purpose, CBD topicals like creams or massage oils may come in handy.
Many CBD topicals include other natural ingredients, such as coconut oil, jojoba oil, almond oil, or menthol.
Omega-3 and Omega-6 fatty acids also occur at high levels in full-spectrum CBD oil.
These essential fatty acids are also known for their ability to inhibit pro-inflammatory cytokines, which are proteins produced by cells that interact with other cells in the immune system to control the body's response to infection and diseases.
CBD may also help dogs manage their weight. A 2008 study published in the PLOS One Journal concluded that CBD inhibits a receptor in the brain that releases ghrelin — an appetite-stimulating hormone.
Another study has reported that CBD could increase the concentrations of leptin in the brain. Leptin is the hormone that makes us feel full or satiated. It's also associated with reduced cravings for unhealthy, calorie-dense foods.
However, keep in mind that these studies weren't performed on dogs. However, the results may be relevant for canines as the ECS is the same among all mammals.
How to Choose the Best CBD Oil for Your Dog

There are three types of CBD oil you can choose for your dog: full-spectrum CBD oil, broad-spectrum CBD oil, and CBD isolate.
The full-spectrum variety contains all phytonutrients naturally occurring in hemp, including CBD, trace cannabinoids, terpenes, flavonoids, minerals, fatty acids, and vitamins. These compounds help the body process CBD more efficiently, contributing to a phenomenon known as the entourage effect.
However, full-spectrum CBD oil also contains trace amounts of THC (up to 0.3%). This may raise concerns among some dog owners.
Full-spectrum CBD oil is completely safe for dogs despite the minor THC content, as 0.3% isn't enough to cause toxicity in dogs or produce psychoactive effects.
However, if you want to benefit from CBD and other hemp compounds but without any THC in your product, you can choose the broad-spectrum version, where the THC has been removed after initial extraction.
The third type — CBD isolate — is exactly what it sounds like. It's pure CBD that has been separated from other hemp compounds. CBD oil takes the form of white crystals, which are then powdered and infused into carrier oils to create sublingual drops for dogs with arthritis.
CBD isolate provides the highest amount of CBD per serving but it lacks the entourage effect.
There are certain steps you can take to ensure you always buy high-quality products and avoid scammers, regardless of the cannabinoid spectrum in your dog's CBD oil:
Check the source of hemp: only purchase products that have been extracted from GMO-free, organically grown hemp plants from American farmers.
Look for CO2-extracted CBD: the CO2 extraction technology utilizes atmospheric carbon dioxide to pull all of the essential cannabinoids, terpenes, and waxes from the hemp plant without contaminating the end product with toxic solvent residue, as is the case with hydrocarbon extraction.
Read Certificates of Analysis: Look for the lab reports from a third-party laboratory regarding the product's potency and purity. Certificates of Analysis should be published on the company's website or, at least, made available on request.
Choose sublingual drops over other formats: CBD oil is the most commonly used form of CBD in dogs. Sublingual administration ensures a faster absorption rate, earlier onset of effects, and a relatively long duration.
You can use our recommendations or do your own research on the best CBD oils for dogs with arthritis. Just make sure to follow the above checklist and don't be afraid to ask questions when something doesn't add up about a particular product or company.
CBD Dosage: How Much CBD Oil Should You Give Your Dog?
The authors of this 2017 study found that dogs suffering from osteoarthritis appeared to be more comfortable and active after receiving a dose of 2 mg of CBD for each kilogram of their body weight (8).
However, this is the only study that examined the efficacy of CBD oil in dogs with arthritis. It was also performed on a small sample of dogs, so the results are inconclusive and thus cannot be used for giving out dosage recommendations.
If you're looking for dosage guidelines and tips on how much CBD oil you should give your dog for a particular health concern, we encourage you to check an article posted by Veterinary Cannabis Education and Consulting.
However, please note that the FDA has not approved or provided a CBD dosing chart for dogs.
There are many important considerations for figuring out the effective dose of CBD for dogs with arthritis. These factors include your dog's weight, age, diet, and severity of symptoms.
If you want to take a safe approach to dose CBD, we recommend that you start with the smallest dose possible and monitor the effects for, say, one week.
From there, you can adjust the amount of CBD as needed.
CBD is a safe substance. However, every dog is different and thus may respond differently to CBD oil. Reputable brands provide dosage recommendations based on different weight groups. We recommend following them.
Ultimately, it's your responsibility to inform the veterinarian about your plans to add CBD to your dog's routine — especially if the dog has been prescribed other medications before.
How Dogs With Arthritis Can Take CBD Oil?
There are several forms of CBD available for dogs with arthritis. Pet owners give their pets CBD oil in tinctures, snacks, and topical products such as creams and balms.
While CBD oil is a great product to help your dog manage arthritis from within, topicals are excellent for managing its localized problems, such as muscle aches or joints caused by inflammation.
Regardless of the type of CBD oil you choose for your dog, always make sure that the home environment has been arranged in such a way to make the dog feel secure and comfortable at all times.
It's worth considering keeping a journal of a log of the dog's CBD routine, responses, and behavior after each dose. Remember to share your observations with the veterinarian in charge of the dog's treatment.
Potential Side Effects of CBD
The calming effect of CBD can also cause slight drowsiness, especially when taken in high doses, according to the American Kennel Club.
The other side effects of CBD oil include:
Dry mouth
Changes in appetite
Lowered blood pressure
A properly adjusted dose of CBD shouldn't cause any of these side effects, so make sure to follow the brand's recommendations when trying to mitigate the symptoms of arthritis in your dog.
Remember: THC Is Toxic to Dogs

In a 2013 review of studies, the authors came to the conclusion that the supposed lethal oral dose of THC for dogs is more than 3g/kg.
As high as this margin of safety looks like, THC is still toxic to your dog. In animals, the clinical effects of an overdose begin within an hour following administration.
There is no specific antidote that could treat THC poisoning. However, when dogs are severely agitated, they may require the intervention of benzodiazepines.
If the dog experiences prolonged vomiting, intravenous fluids may be applied to counter dehydration and control the dog's body temperature.
Summary: How Can CBD Oil Help Dogs with Arthritis?
When it comes to using CBD oil for general health support, dog owners often wonder if CBD can help their friends in the same way it helps them. After all, CBD oil is available in pet treats aside from regular drops, so there must be a point behind infusing CBD into pet products.
Arthritis has no established treatment. However, CBD may prove an effective and safe tool for managing the symptoms of this condition, such as the inflammatory pain, anxiety, lack of energy, sleep difficulties, mobility issues, and behavioral problems.
The majority of the studies covered in our article were conducted on humans or animals like mice and rats, not dogs. Most of the available information on CBD's success in relieving arthritis is anecdotal. However, all mammalian creatures share the same endocannabinoid system — which would explain why some people are so enthusiastic about supplementing their pets with CBD.
More quality trials on CBD use in dogs should be helpful in understanding the potential therapeutic benefits and dosage.
A consultation with a veterinarian knowledgeable about cannabis use is a huge advantage that will help you figure out the right amount of CBD for your dog, establish a supplementation plan, and avoid potential interactions with medications.
Do you give your dogs CBD oil for arthritis? Are you happy with the results? Let us know in the comment section below!
References:
Burns, Tammy L., and Joseph R. Ineck. "Cannabinoid Analgesia as a Potential New Therapeutic Option in the Treatment of Chronic Pain." Annals of Pharmacotherapy, vol. 40, no. 2, Feb. 2006, pp. 251–260, doi:10.1345/aph.1G217.
Burstein, S. "Cannabidiol (CBD) and its analogs: a review of their effects on inflammation." Bioorganic & Medicinal Chemistry, vol. 23 no. 7, Apr. 2015, pp. 1377–1385.
Clark, Stephanie. "Canine Osteoarthritis and Treatments: A Review. Veterinary Science Development." Jul. 2015, 5.10.4081/vsd.2015.5931.
Freundt-Revilla, Jessica et al. "Spatial distribution of cannabinoid receptor type 1 (CB1) in normal canine central and peripheral nervous system." PloS one vol. 12,7 e0181064. 10 Jul. 2017, doi:10.1371/journal.pone.0181064
La Porta, Carmen et al. "Involvement of the endocannabinoid system in osteoarthritis pain." The European journal of neuroscience vol. 39,3 (2014): 485-500. doi:10.1111/ejn.12468
Russo, E.B., Burnett, A., Hall, B. et al. Agonistic Properties of Cannabidiol at 5-HT1a Receptors.Neurochem Res30, 1037–1043 (2005). https://doi.org/10.1007/s11064-005-6978-1
Leweke, F M et al. "Cannabidiol enhances anandamide signaling and alleviates psychotic symptoms of schizophrenia." Translational psychiatry vol. 2,3 e94. 20 Mar. 2012, doi:10.1038/tp.2012.15
Gamble, Lauri-Jo et al. "Pharmacokinetics, Safety, and Clinical Efficacy of Cannabidiol Treatment in Osteoarthritic Dogs." Frontiers in veterinary science vol. 5 165. 23 Jul. 2018, doi:10.3389/fvets.2018.00165