Fibromyalgia is a common condition that can cause a lot of pain, fatigue, and brain fog. Due to the prevalence of these symptoms in modern society, there's the dismissal of people who just don't know what is. Because of the lack of inflammation, fibromyalgia is often unfairly labeled as "psychosomatic."
Conventional fibromyalgia treatments may work for some people, but for others, they don't bring the expected results due to the specific character of some symptoms.
That's why many individuals diagnosed with fibromyalgia seek relief in natural resources such as CBD oil.
But it's not only the anecdotal evidence that supports the benefits of CBD oil for fibromyalgia patients. Science does it too.
In this article, we'll cover:
The benefits of CBD oil for fibromyalgia
An overview of earlier studies and current research
The best CBD products in 2022
Let's start with an industry overview.
Best CBD Oils for Fibromyalgia: Our Top Picks in 2022

It's not easy to find a high-quality CBD oil these days. The market is booming, but the industry itself is very loosely regulated, to say the least.
There are many great companies whose mission is to help people feel better using natural resources, but on the other hand, fly-by-night businesses aren't in the clear minority either.
Buying CBD oil, whether online or locally, requires you to pay attention to several details, including the source of hemp, extraction method, third-party lab testing, and whether the product is made from full-spectrum CBD or isolate.
If you want to save time on research, you can use our brand recommendations below. We've tested over 100 products from 40+ brands, selecting the top 5 companies that offer the best value for those dealing with fibromyalgia.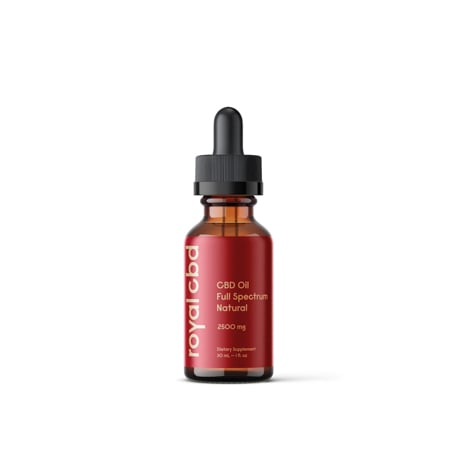 Product Details
| | |
| --- | --- |
| Potency | 250 mg – 2500 mg |
| Available Flavors | Natural, Berry, Mint, Vanilla |
| CBD per serving | 8.3 mg – 83.3 mg |
Why Royal CBD is the Best CBD Oil for Fibromyalgia
Royal CBD is a premium brand from California that uses organic hemp from local farms to make full-spectrum CBD oil. Their supercritical CO2 extraction allows even the highest potencies to retain the plant's original chemical makeup due to working at lower temperatures.
This CBD oil is available in four potency options, including 250 mg, 500 mg, 1000 mg, and 2500 mg. For strengths between 250 mg and 1000 mg, you can choose flavored options such as Berry, Mint, or Vanilla, if you don't like the natural taste of CBD oil. The strongest bottle doesn't offer any extra flavors, as it would compromise the potency of CBD.
The 2500 mg bottle is actually my favorite product from Royal CBD's line up. The hemp taste isn't overwhelming because the oil has been suspended in food-grade MCT oil from coconut. That's another serious benefit because MCT oil also improves the bioavailability of CBD.
I'm not a fibromyalgia patient, but like many people, I experience pain and anxiety from time to time, so CBD oil is my daily bread. I use it to relax and relieve muscle pain after working out, and I noticed that Royal CBD gets me the best results in those areas. The product acts quite fast and the effects stay with me for a few hours. Plus, this potency is the most affordable for me in the long run.
All Royal CBD's products are tested for potency and purity in a third-party laboratory. The guys at Royal are also aware that not everyone wants to commit on a first date, so they have a 30-day money-back guarantee program just in case you weren't satisfied with the results.
Needless to say, I didn't return mine.
Pros
Cons

Made from locally grown organic hemp
Extracted with supercritical CO2
Infused with full-spectrum CBD
Available in 4 strengths and flavors
Up to 2500 mg of CBD per bottle
3rd-party tested for potency and purity
Great natural flavor

Not available in local CBD stores (this may soon change)
2. Gold Bee (Best Flavored)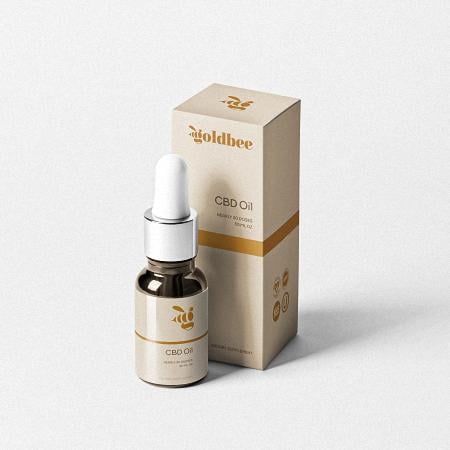 Product Details
| | |
| --- | --- |
| Potency | 300 – 1200 mg |
| Available Flavors | Natural, Honey |
| CBD per serving | 8.3 mg – 33.3 mg |
About Gold Bee
God Bee is another California-based manufacturer. The company makes honey-flavored full-spectrum CBD oil, which they source from local growers and farmers from Colorado using organic hemp plants.
The quality of ingredients, as well as the honey flavor, deserves a medal in my opinion. This CBD oil tastes very neutral, with an actual honey aftertaste — something very enjoyable compared to the tart taste of many oils I've had a "pleasure" to try. When it comes to pain and stress, I noticed similar results to what I was getting with Royal CBD, but I give Gold Bee the runner-up title because it lacks high-potency oils. This may be a downside for people with severe fibromyalgia symptoms.
But other than that, it's one of the best CBD oils in this category. And if you're a flavor chaser, you definitely need to try it.
Pros
Cons

Sourced from US-grown organic hemp
Contains full-spectrum CBD
Up to 33 mg CBD/mL
Great potency range for beginners
Third-party tested for potency and purity
Great honey flavor

No high-strength CBD oils
3. CBDPure (Best Transparency)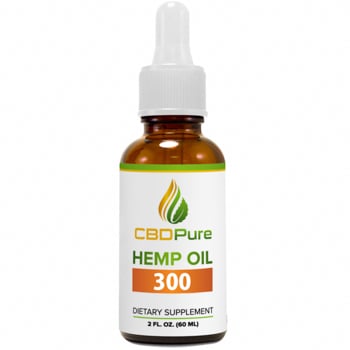 Product Details
| | |
| --- | --- |
| Potency | 100 – 1000 mg |
| Available Flavors | None |
| CBD per serving | 3.3 – 33 mg/mL |
About CBDPure
CBDPure offers mostly low-potency CBD oil, although the company has recently added a 1000 mg potency to their product selection, which is a nice nod towards people who know their dosage but want to save more money on their CBD oil.
On top of being one of the most transparent companies in the industry, CBDPure always surprises me with the way their low-potency oils work for me. This company is the benchmark for the quality of full-spectrum CBD oil. I've been getting decent results with CBDPure's product both when it comes to my mood and some of my post-injury pain in the ankle. The effects were actually pretty similar to the two other top brands in this compilation. CBDPure scores third place only because it's not as affordable as Royal CBD and Gold Bee in the long run, at least for me.
But if you want to try CBDPure's product, the company offers a 90-day return policy. You can return the product for a full refund within that period if you're not satisfied with the results.
Pros
Cons

Sourced from organic Colorado-grown hemp
Extracted with supercritical CO2
Lab-tested for potency and purity
90-day return policy

Only two forms of CBD available
Low potency
Premium pricing
4. Hemp Bombs (Best CBD Isolate)

Product Details
| | |
| --- | --- |
| Potency | 125 – 4000 mg |
| Available Flavors | Natural, Acai Berry, Orange Creamsicle, Peppermint, Watermelon |
| CBD per serving | 4 – 133 mg/mL |
About Hemp Bombs
Hemp Bombs currently offers the best CBD oil made from isolate. The guys at Hemp Bombs have covered the entire potency range for CBD extracts, with up to 4000 mg of CBD per bottle.
This CBD oil is a great alternative for those with fibromyalgia who, for some reason, want to avoid any THC in their product, while getting a very high dose of CBD per serving. Full-spectrum products contain 0.3% THC or less, which isn't enough to get anybody high, but CBD isolate is completely free of THC.
Because CBD isolate contains 99% pure CBD, it has no odor and flavor, so it's also more versatile in use than full-spectrum CBD.
However, there's no synergy from other cannabinoids and terpenes, so this company may not be the best choice for those who want the whole-plant synergy in their routine.
Pros
Cons

Sourced from organic hemp
Extracted with CO2
0% THC
Available as broad-spectrum or isolate
Third-party tested for CBD and contaminants
Up to 4000 mg of CBD per bottle
5 strengths to choose from

Infused with synthetic flavorings
No "entourage effect" from other cannabinoids and terpenes
Most people don't need such high doses of CBD oil in their routine
5. CBDistillery (Best Price)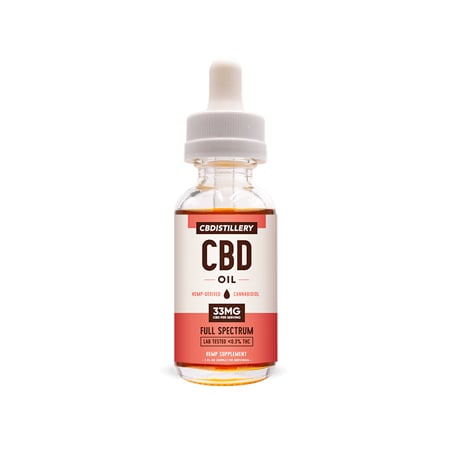 Product Details
| | |
| --- | --- |
| Potency | 250 – 5000 mg |
| Available Flavors | None |
| Potency | 8.3 – 166 mg/mL |
About CBDistillery
CBDistillery has been selling premium CBD extracts for over 5 years, becoming one of the largest suppliers of CBD oil in North America. Founded by a group of Colorado citizens with a mission to provide high-quality CBD products at affordable prices, CBDistillery offers both full-spectrum and broad-spectrum products. In the broad spectrum version, THC has been removed after initial extraction, but all the non-psychoactive cannabinoids, as well as terpenes, have been preserved.
The CBDistillery CBD oil is available in a wide potency range, from 250 mg to 5000 mg of CBD per bottle. With the strongest version, you get 166 mg of CBD per milliliter, which usually translates to a few month's worth of supplementation.
Again, I've been satisfied with the results, both when it comes to pain and irritation, but there's a reason why CBDistillery has ended in the last place of our ranking of the best CBD oils for fibromyalgia.
It's the hemp source. Unlike the above brands, CBDistillery doesn't use organic hemp plants.
Nevertheless, while this isn't the best CBD oil out there, it's definitely the best CBD oil in this price range. As mentioned, CBDistillery products are one of the most affordable ones on the market.
Pros
Cons

Available as full-spectrum or broad-spectrum CBD
Extracted with CO2
5 potency options to choose from
Up to 166.6 mg of CBD per bottle
Third-party tested for potency and purity
Very affordable

Made from non-organic hemp
No flavored options
What is Fibromyalgia?

Fibromyalgia is a chronic condition involving constant pain, extreme fatigue, and difficulty sleeping.
Some people associate fibromyalgia with some form of joint inflammation or arthritis because of the above symptoms.
However, the truth about fibromyalgia is that it's anything but those diseases. It's because the pain doesn't stem from inflammation or damage to the joints or muscles.
It's mostly soft tissue pain that occurs in fibromyalgia patients.
Researchers have yet to discover the exact cause of fibromyalgia, but they suggest that the spinal cord and the way the brain processes signals through the nerves may be involved in its development.
As mentioned, the main symptom of this condition is physical pain that causes feelings of tightness as well as twitching and even burning sensations.
Fibro fog is another common symptom that describes problems with focus.
Other symptoms of fibromyalgia include:
Breathing problems
Dry mouth, eyes, and nose
Depression
Headaches
Nausea
Numbness in limbs
Skin problems
Weight gain
How is Fibromyalgia Diagnosed?
To get a diagnosis for fibromyalgia, your doctor will have to rule out all other health conditions or diseases that could cause the same set of symptoms you're struggling with. You may also be asked to get your hormone levels checked as well as any inflammation in your body via X-ray tests.
The treatment itself may vary between individuals. However, doctors usually prescribe pain relievers, muscle relaxants, antidepressants, and sedating medicines that promote sleep to somehow manage this condition.
Since fibromyalgia typically involves pain, muscle tension, and extremely low mood, this means you'd need to take at least a few pills to get through the day.
This is why a lot of people use CBD oil for fibromyalgia.
Why Do People Use CBD Oil for Fibromyalgia?

CBD oil has many health benefits, from immune support to healthy sleep cycles, proper pain regulation, and emotional stability.
Add two plus two and you have a versatile, natural tool for making your life with fibromyalgia a lot easier.
CBD is the natural modulator of the endocannabinoid system (ECS), which is the imperative regulatory network responsible for maintaining a balance between basic biological functions. This state of balance is better known as homeostasis.
When homeostasis gets compromised, this is where many health conditions and diseases start to develop. The endocannabinoid system sends its own neurotransmitters (endocannabinoids) to cannabinoid receptors in order to restore that balance. However, endocannabinoids have a relatively short lifespan, and the ECS can't produce them in concentrations high enough to bring your body back to its previous state.
This is where CBD comes into play.
CBD signals the endocannabinoid system to produce more of its endocannabinoids. Moreover, it blocks an enzyme that breaks them down, making them more available for the body.
On top of that, CBD operates on 60 molecular pathways, both receptor-based and receptor-independent ones.
In the next section, we discuss the benefits of CBD oil for fibromyalgia.
CBD for Fibromyalgia Pain
Pain is one of the major symptoms of fibromyalgia. But even among doctors, there's a lack of understanding about the reason people with fibromyalgia deal with so much pain.
The current hypothesis points to the way their brains process neuronal stimuli.
It's possible that a pathological increase in certain neurotransmitters causes the brain to increase its sensitivity to sensations that would otherwise not cause pain.
Scientists believe that pain receptors in the brain may create their own memory that causes an overreaction to stimuli.
While there's not much research surrounding the use of CBD oil for fibromyalgia, there are many studies investigating related kinds of chronic pain.
For example, a 2015 review of studies on the use of cannabinoids for the treatment of chronic pain found 11 high-quality clinical trials. Out of those 11 trials, 7 pointed to cannabinoids as significant analgesic agents.
Another 2015 review weighing the evidence of clinically-controlled trials of marijuana — including both CBD and THC among other cannabinoids — for pain, concluded that "marijuana or cannabinoids may be effective for chronic, neuropathic, and spasticity pain.
Finally, a very recent 2017 study looked at CBD's ability to reduce the hypersensitivity of cells on the surface of the nerves of people with fibromyalgia. Researchers concluded that CBD might be a relevant treatment, although more research is needed.
CBD for Fibromyalgia and Sleep Problems
While CBD oil won't knock you out for 8 hours straight, its effects gently work on multiple levels simultaneously.
It's true that high levels of CBD can increase the duration of sleep, but it's also true that much of CBD's efficacy is due to its ability to address many secondary problems that prevent people from getting quality rest.
First, studies show that the endocannabinoid system is involved in maintaining your body's circadian rhythm (sleep/wake cycle). This is an internal clock that controls feelings of wakefulness and sleepiness throughout the day.
CBD can support the homeostasis of sleep cycles through its interaction with the endocannabinoid system, causing you to feel wakeful during the day and sleepy late in the evening.
The anxiolytic effects of CBD can also contribute to healthier sleep. According to the authors of a 2017 review of studies on CBD and sleep, CBD can curb anxiety both in animal models and in healthy human subjects.
An earlier study from 2012 showed that CBD can significantly reduce anxiety and improve REM sleep as a result.
CBD for Restless Leg Syndrome
Restless Leg Syndrome (RLS) makes it very difficult to fall asleep. It's a condition where a person has an intense urge to move their legs. A small French study looking at the use of cannabis for RLS — conducted in 2017 — showed that CBD can help reduce the frequency and intensity of restless legs.
CBD for Inflammation
While previously denied by researchers, inflammation now starts to emerge as the possible root of fibromyalgia. A 2018 study on this subject concluded that "There is increasing evidence of neurogenically derived inflammatory mechanisms occurring in the peripheral tissues, spinal cord, and brain in fibromyalgia."
How can CBD help with that? Among its many benefits, CBD is a potent anti-inflammatory. It can also decrease microglial activity, which is engaged in the development of fibromyalgia. The majority of studies analyzing CBD's effects on inflammation triggered by microglia cells have been performed in relation to other diseases such as Alzheimer's or Schizophrenia, but the results are promising for fibromyalgia patients.
In a 2011 study on the effects of CBD on microglial activity in Alzheimer's Disease, CBD was found to reduce the inflammation associated with microglial cells while promoting cellular migration — a good mechanism that actually protects healthy cells.
There are many other studies describing CBD as a potential anti-microglial agent. This may be one of the most beneficial aspects of using CBD oil for fibromyalgia.
Current Research on CBD for Fibromyalgia
Let's take a look at two significant studies regarding the use of CBD and other cannabinoids for fibromyalgia. The two countries that we're going to look at are the Netherlands and Israel
Netherlands
A 2019 Dutch study examined the effect of cannabis on 20 women with fibromyalgia. Each patient received four types of cannabis:
200 mg of CBD and THC (Bediol)
200 mg of CBD and low amounts of THC (Bedrolite)
100 mg of CBD and high amounts of THC (Bedrocan)
The researchers found that Bediol, which contained equally high levels of CBD and THC, brought relief to a greater number of participants than the placebo did. It resulted in a 30 percent reduction of spontaneous pain in 18 of the 20 women. Bedrocan was another variety that brought promising results.
However, Bedrolite, which is high in CBD and low in THC, didn't show any significant relief from spontaneous or evoked pain.
Israel
In 2019, Israeli researchers observed hundreds of people with fibromyalgia over a period of at least 6 months. 82 percent of the participants were women.
Key Takeaways on CBD Oil and Fibromyalgia
Although there's still a lack of conclusive clinical evidence that would point to CBD as an effective treatment for fibromyalgia, we have a massive number of studies regarding all of the symptoms of this condition. CBD and other cannabinoids have long been proposed as potential novel anti-inflammatory drugs and painkillers.
Not to mention preclinical studies and anecdotal evidence from patients.
If you want to buy CBD oil for your fibromyalgia symptoms, make sure it comes from a trusted source, includes the full-spectrum CBD, and has been tested in a third-party lab. You can use our brand recommendations or do your own research on the industry.
Do you use CBD oil for fibromyalgia? Share your story in the comment section!