Election day is upon us, so our long national nightmare is almost over. This presidential election has been the dirtiest, most scandalous of my lifetime, that is for sure. Anecdotally, it seems to me that this election has raised folks' anxiety levels more than most, so many will be pleased to see November 8th in the rearview mirror. It will be a very bad prank played upon our democratic republic if we are in for some type of too-close-to-call election like Bush v. Gore in 2000. As a political junkie, I've been paying pretty close attention to this election, so I've decided to share my predictions on the presidential race, the makeup of Congress and the statewide cannabis measures on the ballot. I'll do an updated blog to report on how my predictions played out.
Presidential prediction
The surge of Hispanic voters pushes Hillary Clinton over 300 Electoral College votes (I'll put her at 307) as she wins 47% to 44% nationwide. Donald Trump starts off feeling pretty decent by securing the conservative 2nd congressional district in Maine while winning Ohio and North Carolina. His campaign may even take comfort by keeping the election relatively close in New Hampshire. Then, Trump's anti-immigrant rhetoric does him in as his hopes are crushed by Florida. The Sunshine State, often the butt of so many jokes, saves our democratic republic from a candidate that is simply too authoritarian for the cannabis community, or any community, to trust, while we'll have to make sure that Hillary Clinton continues to "evolve" on cannabis policy. (Actually, even if Trump wins Florida AND Nevada, he would still need one more state; don't think that's happening.)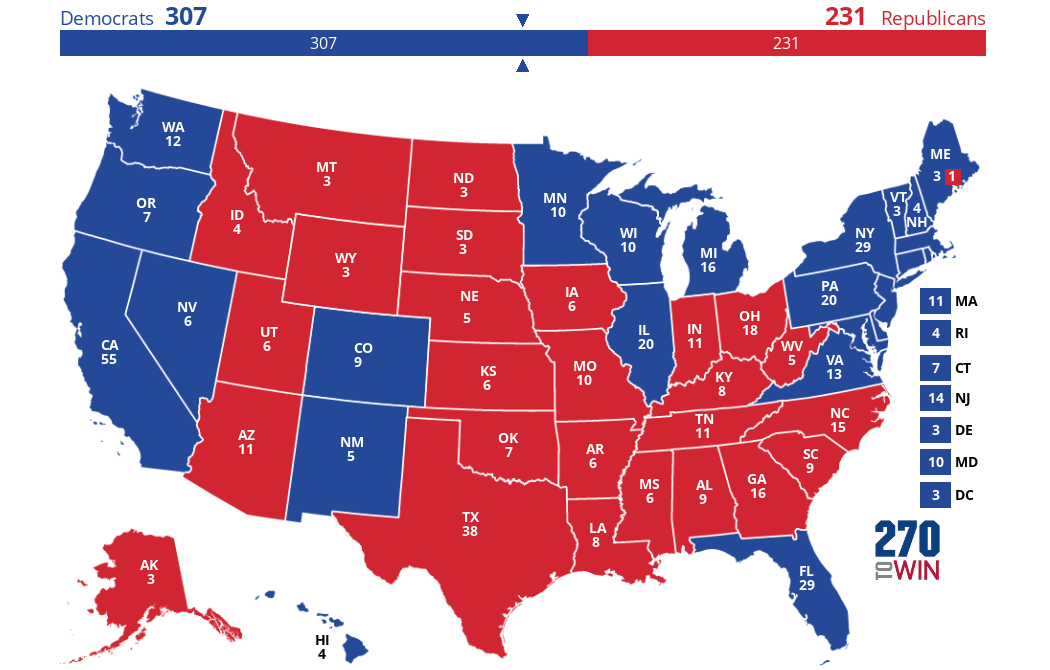 Click the map to create your own at
270toWin.com
United States Senate
My heart tells me that the Democrats pick up 5 seats to take a 51 to 49 lead in the Senate, but my head tells me that it'll be an even 50-50 split with Vice President Tim Kaine casting the tie-breaking vote to give control to the Democrats. If Jason Kander can upset incumbent Roy Blunt in my birth state of Missouri, then that'll push the Democrats to the 51-49 advantage.  Come on, Show Me State, it's time for Roy Blunt to retire, he epitomizes the corrupt influence lobbyists and special interests have in Washington. Plus, Jason Kander had one of the best campaign ads that a Missouri Democrat could ever run.
United States House of Representatives
I will admit that I haven't closely examined all of the House races. I do think that Donald Trump at the top of the ticket and the general obstructionism displayed by the Republicans in Congress will lead to the Democrats picking up 10 to 20 seats, but the GOP will remain in control of the United States House of Representatives. I'm gonna lean towards a big Democratic night, so I'll go out on the limb for predicting 20 pickups, so the GOP will maintain control of the House with a 227 to 208 edge, down from its current 247-188 advantage. Bonus prediction: Paul Ryan won't serve as Speaker of the House next session as the Tea Party completes its takeover of the GOP and dumps "the establishment" Ryan.
Statewide Cannabis Measures
I think that all five states with legalization on the ballot will end cannabis prohibition, although Arizona and Nevada will likely be nail biters, while three more states will legalize medical use. Montana will also improve its medical law. Freedom and sanity will continue its march across the nation. You should join me by going over to mjpredict.com to make your predictions and potentially win some prizes from Oregrown, a great cannabis company out of Bend, Oregon. Oh, and make a contribution to the wonderful activists at Students for a Sensible Drug Policy when you make your election predictions. My predictions (I hope I'm wrong, in that they actually pass by larger margins, but a win's a win):
Adult Use Legalization
California Proposition 64 = 55%
Maine Question 1 = 54%
Massachusetts Question 4 = 52%
Nevada Question 2 = 51%
Arizona Proposition 205 = 50.1%
Medical Measures
Florida Amendment 2 = 61%
Montana I-182 = 52%
Arkansas Issue 6 = 50.1% (??)
North Dakota Measure 5 = 50.1%
Vote. Vote. Vote.
So glad election day is here. It really ought to be a national holiday. It should be a national holiday to celebrate our democratic republic, despite all of its flaws. It shouldn't need to be a national holiday to give people time off to vote because every state should allow for voting by mail, giving citizens three weeks to study their ballots and turn them in. Voting by mail works amazingly well in the Great Northwest, everybody should try it on, I bet you like it.
No matter how you vote, just go vote. Make your voice heard and let's peacefully settle our disputes in a battlefield of ideas and continue to improve this wonderful, yet flawed, democratic republic. Let's celebrate our survival of this national nightmare of a presidential election and (hopefully) victories for the cannabis community across our great nation.
Stay Vigilant and Engaged
No matter how the elections play out, the cannabis community will have so much more work to do, even in states that have legalized cannabis. Trust our experience in Oregon, the work is just beginning, so celebrate your victory for a bit, but then get to work protecting small farmers, mom-and-pop businesses, patients and consumers from over regulation. Bernie Sanders, the preferred presidential choice of myself, and many cannabis law reformers, is already started organizing and he plans to be a progressive thorn in the side of the next president.
We need to make sure that Sanders chairs a committee if the Democrats take the Senate and make it known that there will be a HUGE political price to be paid if Sanders is cast aside after all that he has done to mobilize progressives and millennials this election. Then, we must make sure that ending cannabis prohibition will be a part of the national discussion and that we keep moving forward to improving our marijuana laws, starting with fixing banking access and the IRS tax code. I trust that we will, but it will take a lot of hard work, but we love shattering the "lazy stoner" stereotype, right?
I'm afraid that the national discourse won't improve for too long as my next political prediction is that the Tea Party-controlled House will bring forth impeachment proceedings against President Hillary Clinton, even though they won't go anywhere with a Democratic-controlled Senate. Good thing that cannabis is being legalized both medically and for responsible adult use, across the nation, huh?